Last updated on July 31st, 2023.
These delicious Homemade Cherry Hand Pies are perfect for satisfying your sweet tooth. Made with a buttery crust and a luscious cherry filling, these hand pies will surely be a hit at any gathering or simply as a delightful indulgence for yourself. Let's dive into the easy-to-follow recipe and make some irresistible hand pies!
Pies are my favorite dessert; if I had to rate them, I would say Cherry Pie is my favorite pie, right next to Blueberry pie and Pumpkin Pie. (although, Caramel pear pie and Fruit Galette are making me rethink this statement). And this recipe is taking the iconic dessert to the next level with a homemade cherry pie filling, a generous layer of cream cheese filling, and a buttery, flaky pie crust.
​Ingredients
For The Crust
​For this delicious cherry hand pies recipe (AKA Cherry pockets), I decided to use my Cream Cheese Pie Crust, but you can also use my All-Butter pie crust.
Bleached all-purpose flour
Cream cheese cut into 1-inch pieces
Unsalted butter, cold, and cut into one-inch pieces.
Salt and baking powder
Heavy cream or ice water
Apple cider vinegar
For the Filling
Fresh or frozen pitted cherries – tart or sweet cherries are good options.
granulated sugar
corn starch
Water
lemon juice
How to Make Cherry Hand Pies
Make the Homemade Pie Crust
I used a food processor, but you can also use a large bowl and a pastry blender.
Combine the all-purpose flour, baking powder, and salt in a standing mixer bowl in a food processor and pulse five times.
Add the cream cheese and pulse five times, then add the cold butter and pulse five times more.
Add the cream (or water) and vinegar and pulse about 5-7 times. The mixture should look like coarse sand and will not come together unless you press it with your hand.
Place the dough over a large piece of plastic wrap and use the ends to press it into a ball. Divide the dough into two, wrap each part, and refrigerate for a minimum of 60 minutes or overnight.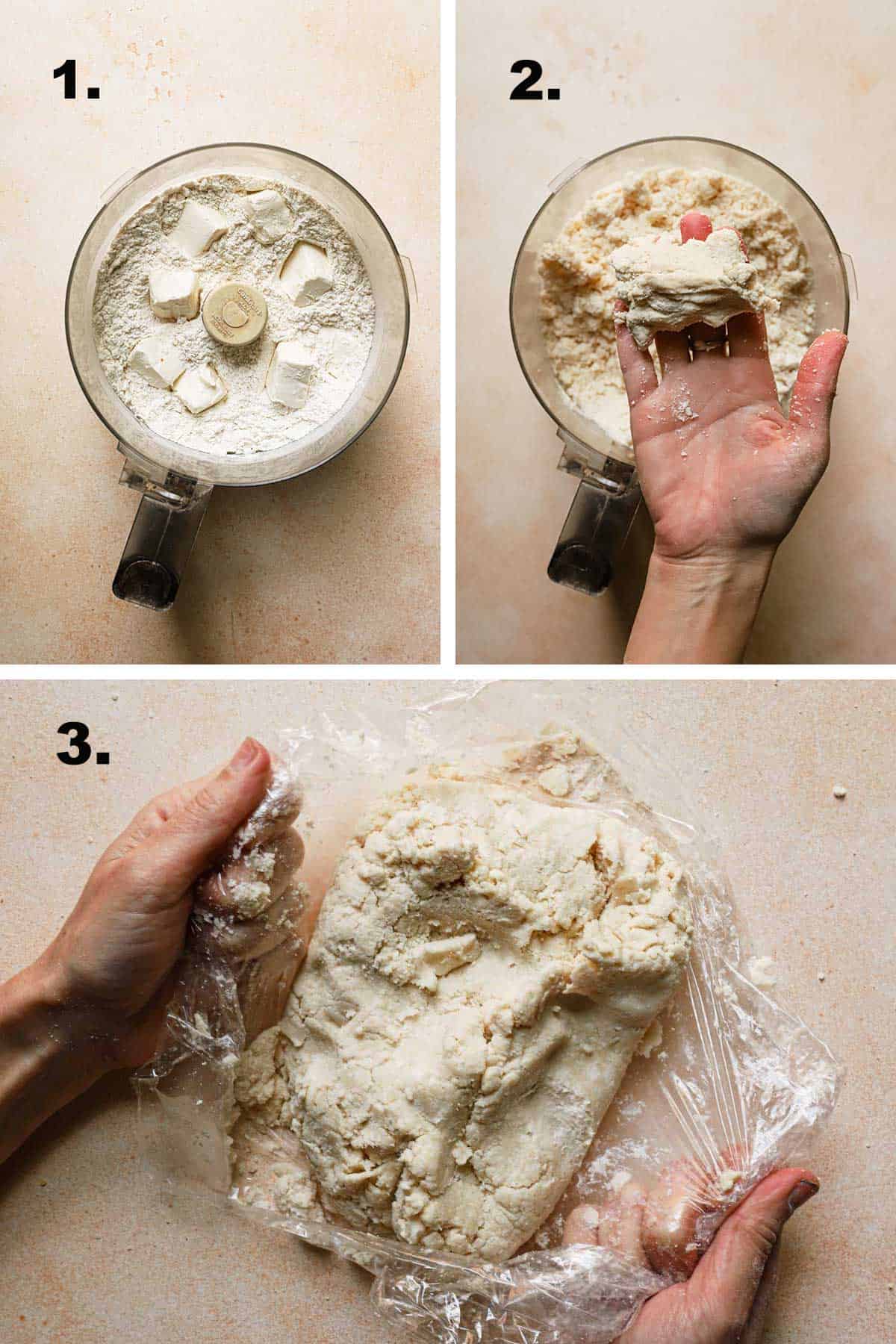 Make the Filling
Place the pitted cherries in a saucepan, toss them with lemon juice, and then add the sugar. Mix the cornstarch with the water.
Cook the mixture over medium heat; once the cherries release their juices, reduce to a simmer and simmer for 15 minutes. (if needed, add 2 tablespoons of water)
Add the cornstarch water to the cherries and cook for about one minute until the cherries thicken.
Remove from heat, place in an airtight container, and refrigerate until use.
Assemble and Bake
When ready to bake, mix the cream cheese-filling ingredients in a large bowl.
Roll out one disc of chilled pie dough to about 1/8-inch thick using a rolling pin on a lightly floured surface. Cut out the dough using a round or rectangular cookie cutter (around 4-5 inches in diameter). Place half of the cuts over a lined baking sheet.
Place a spoonful of the cream cheese and then a spoonful of the cherry filling in the center of one dough cut, leaving a small border around the edges.
Use a small cookie cutter, the back of a piping tip, or a sharp knife to cut half of the dough cuts, then cover it with the fillings and press the edges of the dough to seal the hand pie. You can use a fork to crimp the edges for a decorative touch. Repeat with the second disc.
For a golden finish, use a pastry brush to brush the tops with an egg wash (1 egg beaten with a splash of water). Bake until the crust is golden brown.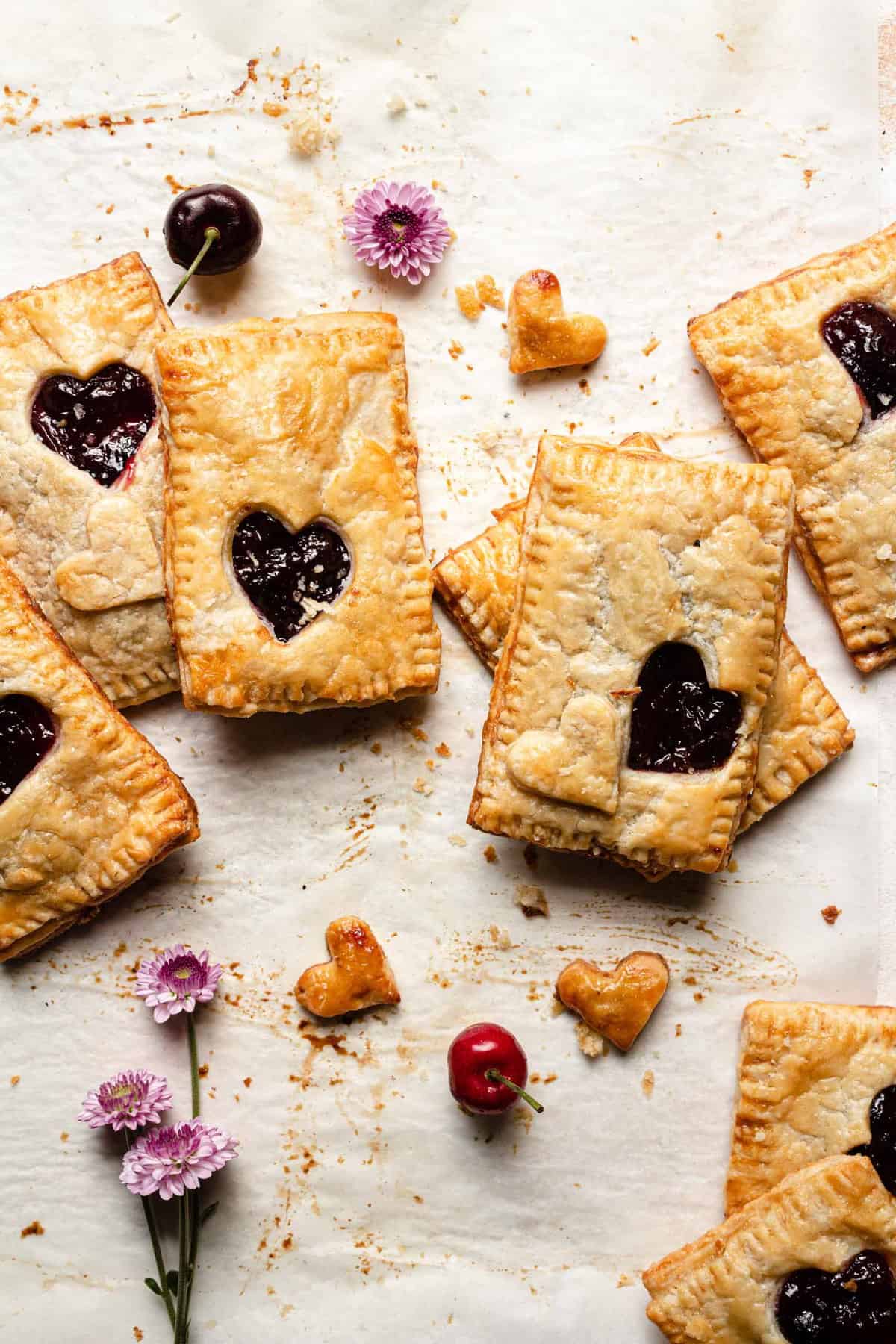 Tips
If fresh cherries are out of season, you can use frozen cherries. Just be sure to thaw and drain them before making the filling.
Adding a touch of almond extract or some lemon zest enhances the cherry flavor.
For extra texture, sprinkle some turbinado sugar, coarse sugar, or cinnamon sugar over the top of the pies before baking.
You can also use puff pastry dough to make this recipe.
Use any cherry filling left over to make some Black Forest Cupcakes, swirl it into the dough of Black Forest Brownies, or dot your Chocolate Brioche with some.
Use crust leftovers to make some delicious Pie Crust Cookies or pie pops.
Store
The cherry filling can be made up to five days ahead of time. The pie crust can be made up to three days in advance. Both should be refrigerated,
Place the cooled cherry hand pies in an airtight container at room temperature for 2-3 days. You can also freeze the unbaked hand pies and bake them directly from frozen when you're ready to enjoy a fresh batch.
FAQS
Can I use store-bought pie crust instead of making it from scratch?
Yes, you can use store-bought pie crust to save time. However, making the crust from scratch gives these hand pies an extra flaky buttery texture.
Can I use other fruits for the filling?
Absolutely! While cherries are classic and delicious, you can experiment with various fruits like apples, blueberries, or peaches for the filling.
Can I make these hand pies in advance for a party?
Yes, you can make the hand pies a day in advance and store them in the refrigerator. Warm them up in the oven before serving to bring back that fresh-baked taste and aroma.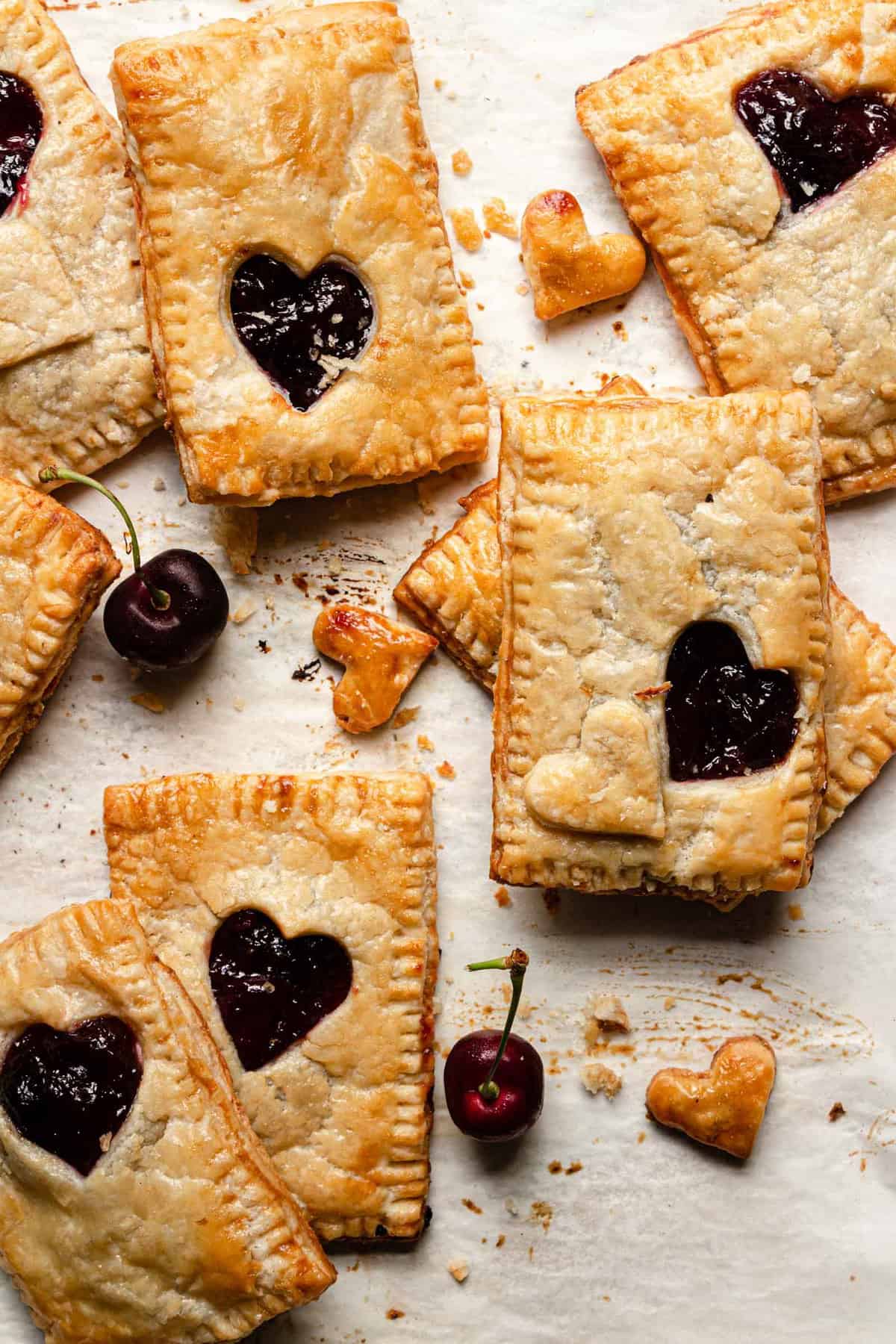 MORE RECIPES YOU WILL ENJOY
Cherry Galette, Cherry Olive Oil Cake, Chocolate Cherry Cake
Don't forget to leave a comment and tag me on Instagram when you make one of my recipes.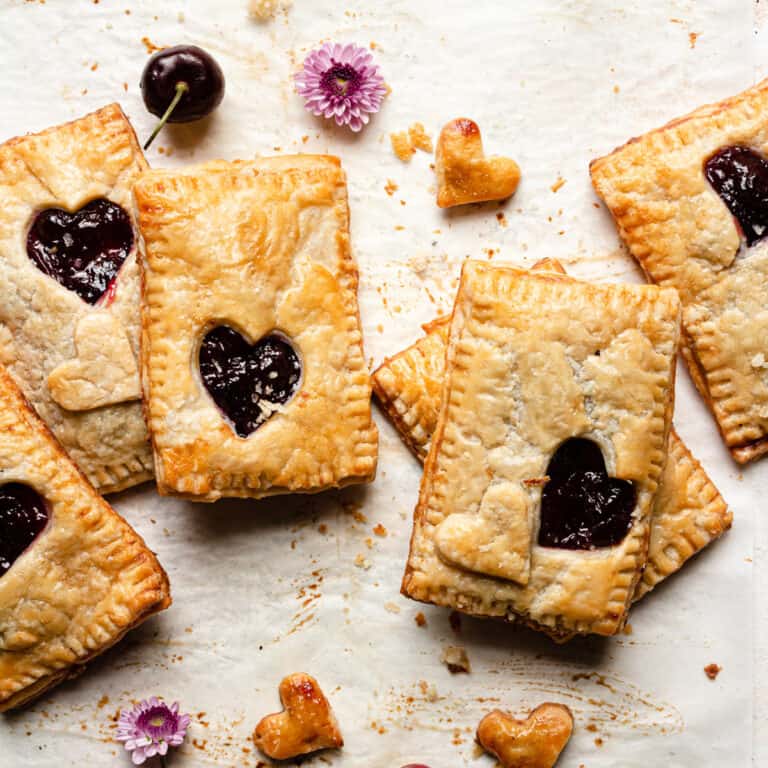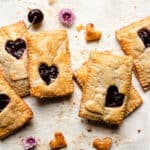 Cherry Hand Pies Recipe
A tender and flaky pie crust loaded with creamy cream cheese and cherry fillings.
Prep Time
1
hour
15
minutes
Ingredients
Cream Cheese Crust
1 1/2

Sticks

Unsalted Butter,cold.

(170 g/ 6 oz)

2 1/2

Cup

Pastry Flour or Bleached AP flour

(284 g/10 oz)

1/2

tsp

Salt

1/4

tsp

Baking Powder

1/2

pack

Cream Cheese, cold

(128 g/ 4.5 oz)

3

TBS

Heavy Cream,cold

1

TBS

Cider Vinegar
Cherry Filling
1

Pack

Frozen Dark sweet cherries OR pitted fresh cherries

(450 g/ 16 oz)

2

TBS

Water (if using fresh cherries)

3

TBD

Cornstach

3/4

Cups

Sugar

(150 g/ 5.5 oz)

1

TBS

Fresh Lemon Juice

1

tsp

Kosher Salt
Cream cheese Filling
1/2

Cup

Full Fat cream cheese, softened

(113 g / 4 oz)

1/2

Cup

Sugar

(100 g / 3.5 oz)

1

Egg yolk
Instructions
Cut the butter into 1/2" cubes, warp it in plastic wrap, and place in the freezer for at least 30 minutes.

Add the salt and baking powder to the flour. Place the mix in a sealed container or a plastic bag, and freeze for at least 30 minutes.

Place the flour mixture in a food processor and pulse five times.

Cut the cream cheese into one-inch pieces, and add it to the flour. Process until the mixture is coarse

Add the frozen butter to the mixture and pulse until the butter is a little larger than peas.

Remove the cover and add the heavy cream and vinegar and pulse five times, until the mixture looks like coarse sand.

Place the dough mixture over a large piece of plastic wrap, and use the ends to press the dough together into a ball.

Divide the dough into 2, wrap each with plastic, and refrigerate for an hour or overnight.
Cherry Filling
Mix the water and cornstarch and set aside.

Place the cherries and lemon juice in a medium saucepan. Toss the cherries with the lemon juice, then add the sugar to the pan.

Place over medium heat and cook until the cherries release liquids, then reduce to a simmer and let simmer covered, for 15 minutes.

Remove the pan from the heat and add the cornstarch, return the pan to the stove and let simmer. Cook until the filling is thick, about one minute.

Remove from heat and allow to cool to room temperature.
cream Cheese Filling
Place the cream cheese, sugar, and egg yolk in a bowl and mix to fully combined.
Assemble
Preheat oven to 375F and line 2 pans with baking paper.

Roll out half of the chilled dough to 1/8" thick. Use your choice of cookie cutter to cut the dough, and place the cutes over a baking sheet lined with parchment paper.

Spoon one tablespoon of cream cheese, then one tablespoon of cherry filling at the center of each dough cut.

Roll and cut the second disc.

Top each round with the second piece of dough that has a circle in the center, and gently press the edges of the dough with a fork to seal.

Brush each pie with egg and allow to chill for a minimum of 45 minutes.

Bake until the crust is golden brown, 20 -25 minutes. Remove from the oven and allow to cool for 1 hour before eating to let the filling set.
Recipe Notes
The cherry filling can be made up to five days in advance and the pie crust up to three days; store both in the refrigerator. 
Store the baked cherry pies at room temperature for up to three days.
If the cherries don't release liquids after five minutes, add three tablespoons of water to the saucepan.
If fresh cherries are not in season, opt for frozen cherries instead. Before preparing the filling, ensure to thaw and drain the frozen cherries.
For added texture, sprinkle turbinado, coarse, or cinnamon sugar on top of the pies before baking.
This recipe can also be prepared using puff pastry dough.