Last updated on August 16th, 2022.
These Cherry Cream Cheese Hand Pies are why summer is the best! A tender, flaky, however sturdy pie crust loaded with creamy cream cheese and cherry fillings. And the best part is that these pies are 100% portable and make for the perfect picnic treats.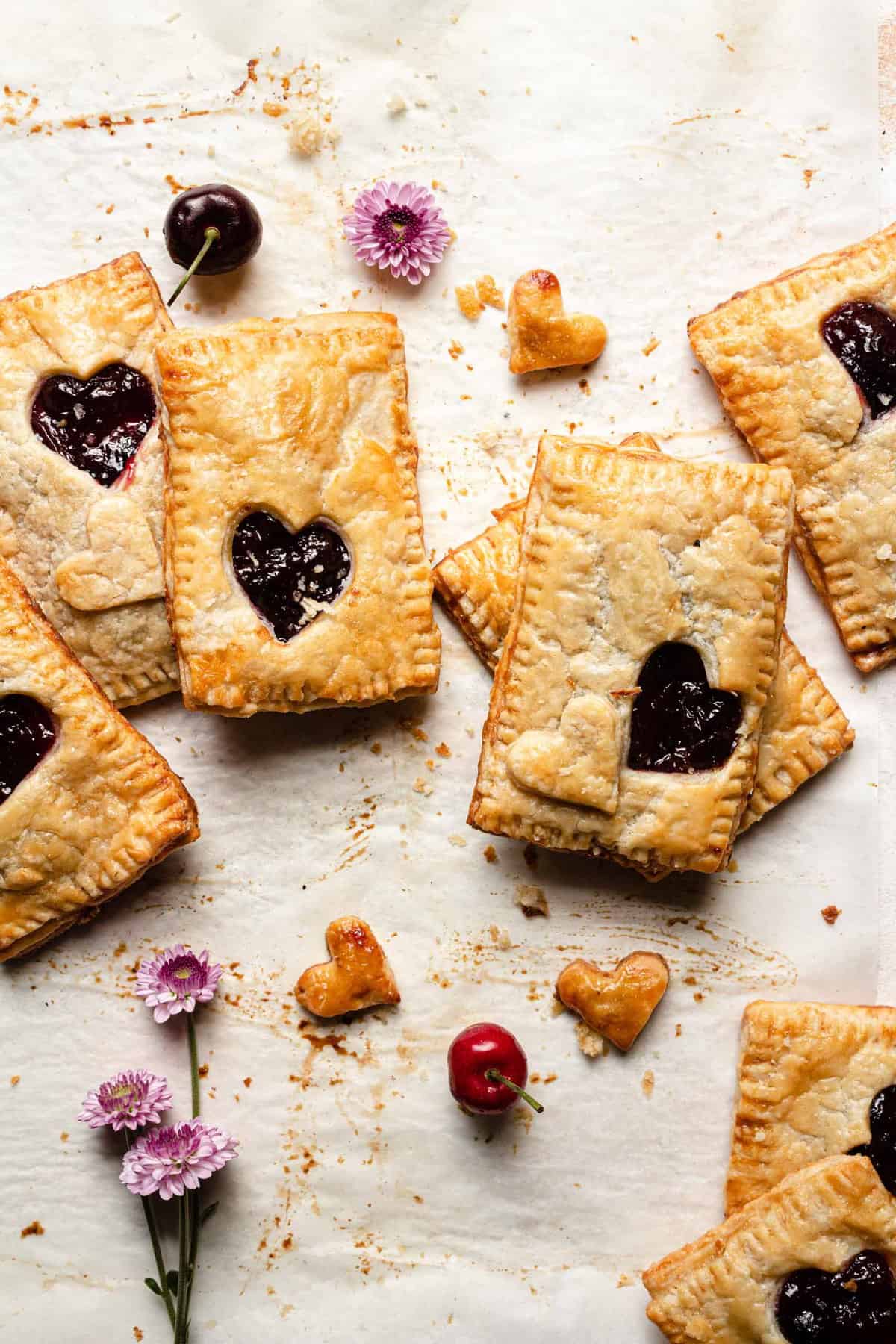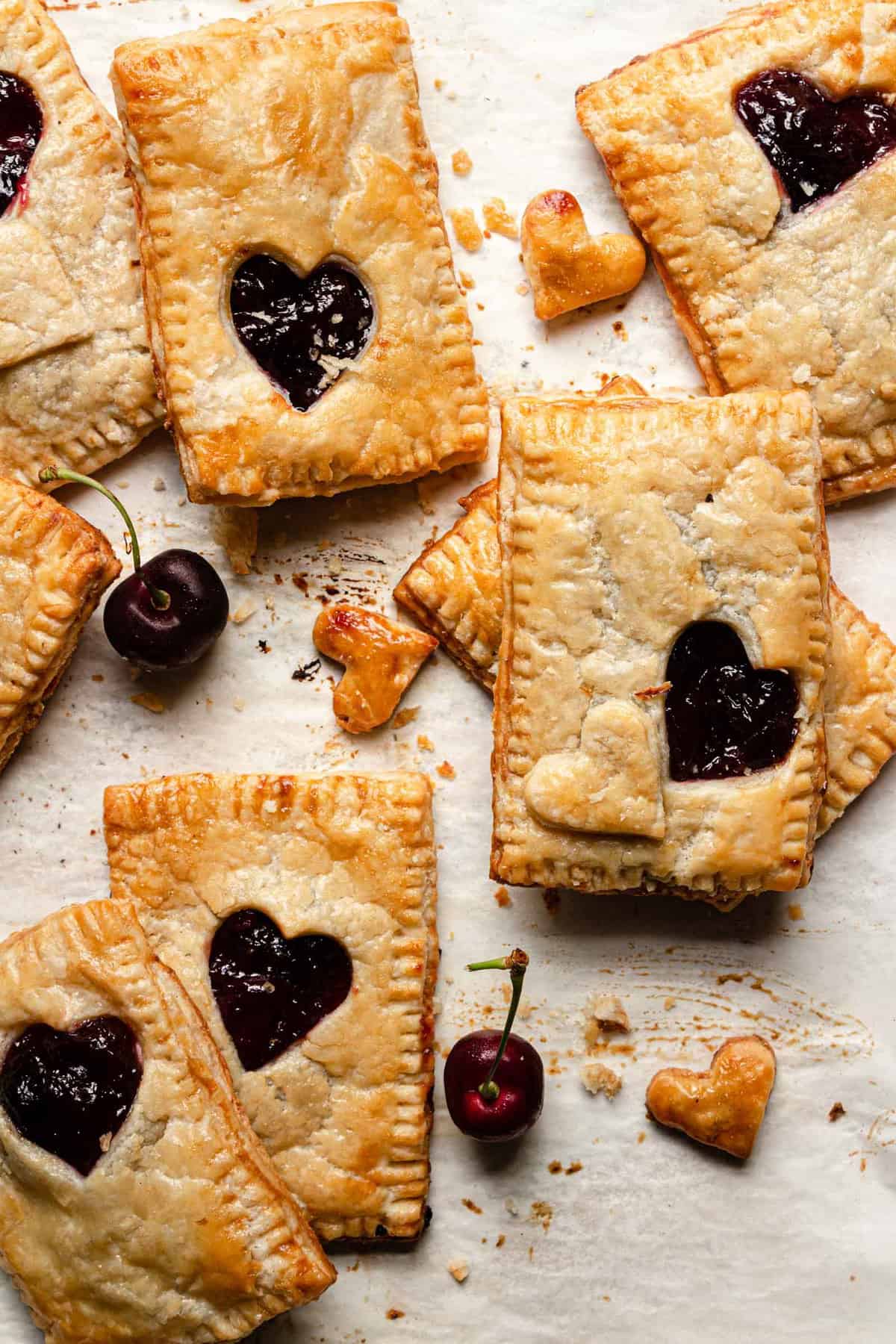 Even though Mother Nature has yet to ask for my opinion and at the risk of being a complainer, I going to go ahead and state the obvious when it comes to cherries. They are too damn small.
I know, I know that is part of their charm and beauty and yada, yada, yada.
But pitting 2-3 LBS of cherries will make any girl wish for an apple-sized fruit. I'll even settle for a plum-sized. Also, I have come to the realization that stepping on a cherry seed is just as painful as banging your toe at the table or, better yet, stepping on 1 missing piece of lego. But without the joy of blaming someone else.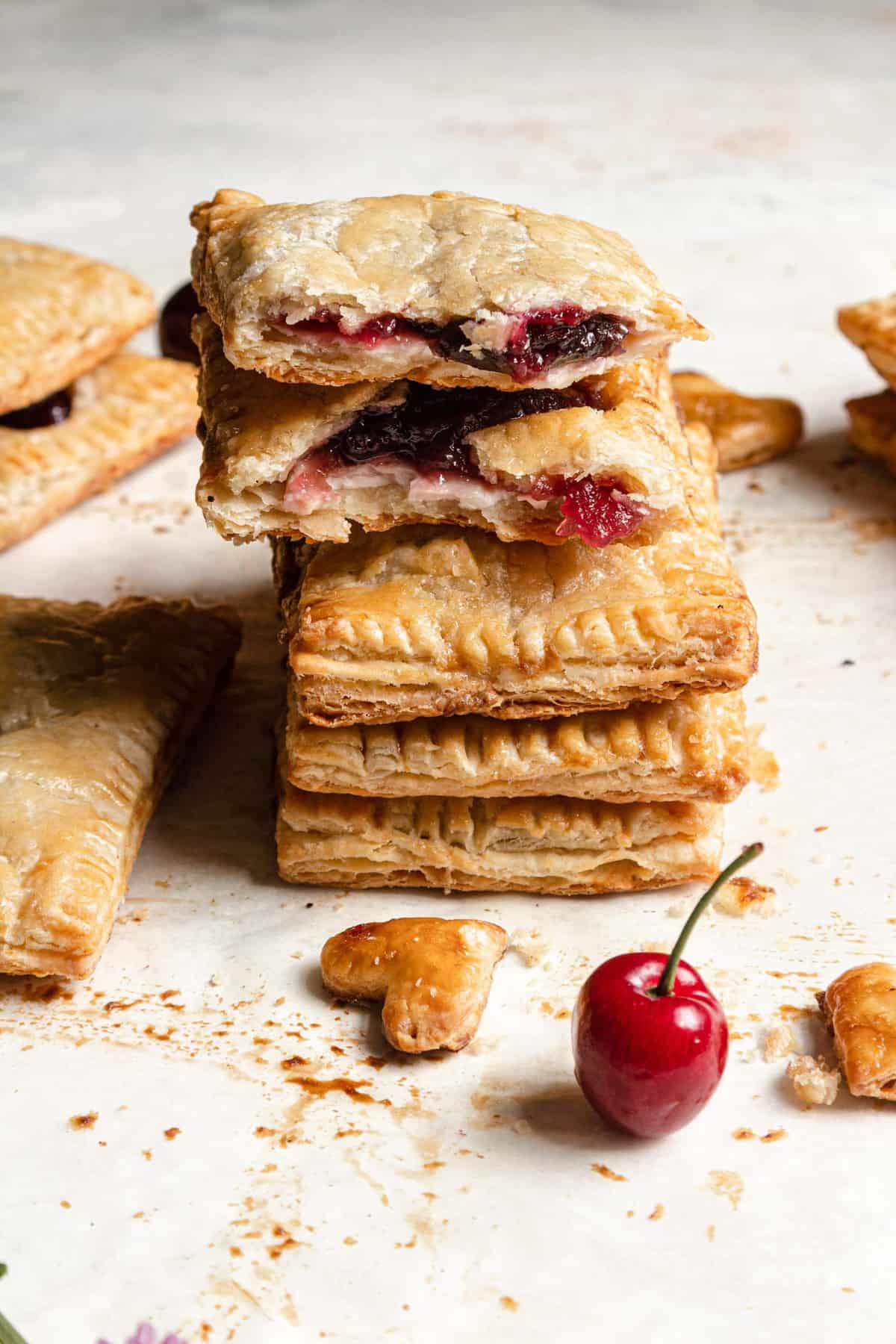 And now I will state the apparent thing again and say that it is TOTALLY WORTH IT!
Especially when the result is a fruity sweet filling covered by a blanket of buttery, flaky, and tender crust, yes, it is as good as it sounds.
And yes, I just bought 3 LBS extra of fresh cherries. Just in case I'm craving some more Cherry Cream Cheese Hand Pies, or Cherry chocolate cake, White Forest cake, or Black forest cupcakes.
What Are The Key Ingredients are in this recipe:
For The Crust:
Bleached AP Flour. This flour has a low percentage of protein which means less gluten thread and also is very common and economic. However, you can use regular AP flour or if you are a savvy pie maker, pastry flour.
Salt
Baking Powder
This pie crust combines cream cheese and butter, making it extra tender and crumbly.
Heavy cream. We are skipping the water and using heavy cream for extra flavor and tenderness.
Apple Cider Vinegar, my favorite secret ingredients in any pie crust recipe, not only it interferes with the formation of gluten but also brown the crust.
For The Fillings:
Cream Cheese.
Cherries. Frozen or Fresh.
Sugar
Lemon
Corn Starch is the thickener.
Egg yolk
Assembling And Baking These Cherry Cream Cheese Hand Pies:
You can find a full tutorial on achieving the best Pie Crust HERE.
Assembling the Pies:
Firstly, you need to choose your shape. I used a rectangle cookie cutter, but you can go with a round shape, square or even hearts.
Secondly, roll one half of the dough into 1/8″ thick and cut the dough using your cookie cutter. Do the same with the second half, this time use 1″ cookies cutter to cut the center of each piece of dough.
Now, depending on the size of your cutter, spread 1 tsp to 1 TBS of the cream cheese at the center of the dough (leaving about 1″ of bare dough) then the same amount of cherry filling.
Use a hand brush to lightly brush the edges of the dough with some water then place the second piece of dough (with the hole at the center) on top.
With a fork, gently press along the edges of the pies to seal them.
Place pies in the refrigerator and let cool for about 45 minutes.
Brush with egg wash and bake until golden brown.
Here are some more tips and notes:
Use your favorite pie crust recipe.
Freeze the cut butter and flour mixture for a minimum of 30 minutes (or overnight)- The secret for a flaky crust is to make sure you have large pieces of fat which will create the layers. The way to do that is to make sure the butter will not melt into the flour while mixing the dough. Freezing the ingredients is the best way to avoid the butter from melting.
Use your fingers or a zip lock bag to create a disc – After mixing the dough in the food processor, it will need to be pressed together to form a disc. Again you want to make sure you the butter will not melt by the moist in your hands. To do that you can either avoid using the palm of your hands by using mostly your fingers. Or, you can place the dough in a zip lock bag and press it into a disc.
Allow the discs to rest between rolling – this way the butter will cool again and prevent gluten from forming.
Roll the scraps in between two layers of plastic wrap, then place it back in the refrigerator to chill.
You can skip the cream cheese filling or simply use plain, room-temperature cream cheese.
HAPPY BAKING!!!
Here are some more recipes you might like and enjoy:
Also one more thing…
Don't forget to tag @OneSarcasticBaker on Instagram if you bake this recipe. I would love to see your creations!
Lastly, did you find this recipe usful and planning to bake it sometime the future? Then PIN THIS to your pie or baking boards.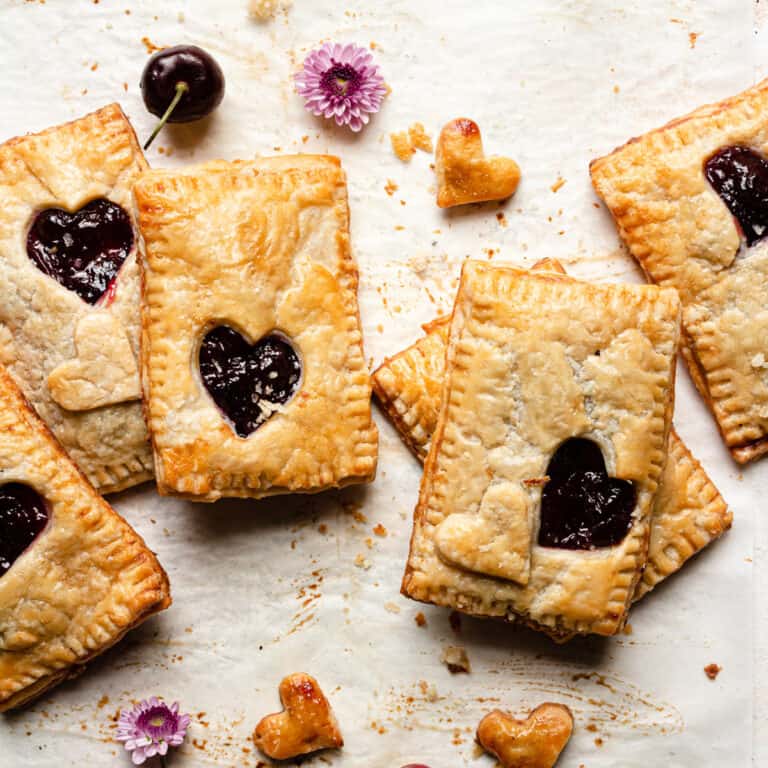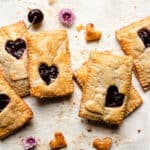 Cherry Cream Cheese Hand Pies
A tender, flaky however sturdy pie crust loaded with creamy cream cheese and cherry fillings.
Prep Time
1
hour
15
minutes
Ingredients
Cream Cheese Crust
1 1/2

Sticks

Unsalted Butter,cold.

(170 g/ 6 oz)

2 1/2

Cup

Pastry Flour or Bleached AP flour

(284 g/10 oz)

1/2

tsp

Salt

1/4

tsp

Baking Powder

1/2

pack

Cream Cheese, cold

(128 g/ 4.5 oz)

3

TBS

Heavy Cream,cold

1

TBS

Cider Vinegar
Cherry Filling
1

Pack

Frozen Dark sweet cherries OR pitted fresh cherries

(450 g/ 16 oz)

2

TBS

Water (if using fresh cherries)

3

TBD

Cornstach

3/4

Cups

Sugar

(150 g/ 5.5 oz)

1

TBS

Fresh Lemon Juice

1

tsp

Kosher Salt
Cream cheese Filling
1/2

Cup

Full Fat cream cheese, softened

(113 g / 4 oz)

1/2

Cup

Sugar

(100 g / 3.5 oz)

1

Egg yolk
Instructions
Cut the butter into 1/2″ cubes , warp it in a plastic wrap and place in the freezer for at least 30 minutes.

Add the salt and baking powder to the flour. Place the mix in a sealed container or a plastic bag and freeze for at least 30 minutes.

Place the flour mixture in a food processor and pulse to combine.

Cut the cream cheese into 3 large pieces and add it to the flour. Process until the mixture is coarse

Add the frozen butter into the mixture and pulse until the butter is a little larger than peas.

Remove the cover and add the heavy cream and vinegar than pulse until the butter is the size of a small pea.

Place the mixture in a bowl and using your fingers knead it just until it comes together.

Divide the dough into 2, wrap each with plastic and refrigerate for an hour or over night.
Cherry Filling
Drain the frozen cherries and reserve 1/4 cup of the juice.

Add the cornstarch to the juice if using frozen or to the water if using fresh, whisk to combine and set aside.

In a medium pan, combine the cherries, 3/4 cups of sugar lemon juice and salt. Allow to simmer and cook for about 15-20 minutes until the liquid reduced bu about 1/3.

Remove the pan from the heat and add the cornstarch, return the pan to the stove and let simmer. Cook until the filling is thick.

Remove from heat and allow to cool to room temperature.
cream Cheese Filling
Place the cream cheese, sugar, and egg yolk in a bowl and mix to fully combined.

Roll out half of the chilled dough to 1/8" thick. Using a 4" cutter, cut 10 disks, re-roll the scraps as well.

Do the same with the second half. Using 1" cutter cut a from the center of each dough cut, 

Remove the chilled rounds , brush each round with egg white and spoon 1 tsp to 1 TBS tablespoon of cream cheese, and one tablespoon of cherry filling into the center of each round.

Top each round with the second piece of dough that has a circle in the center and gently press the edges of the dough with a fork to seal.

Brush each pie with egg and allow to chill for a minimum of 45 minutes.

Preheat oven to 375F and line 2 pans with baking paper.

Bake until the crust is golden brown, 20 -25 minutes. Remove from the oven and allow to cool for 1 hour before eating to allow the filling to set.