Last updated on December 2nd, 2021.
"Tender, delicious and so much fun." This is the best way to describe these Pie pops. They can be made with fresh pie dough and also pie dough leftover you have lying in your refrigerator.
What are Pie-pops?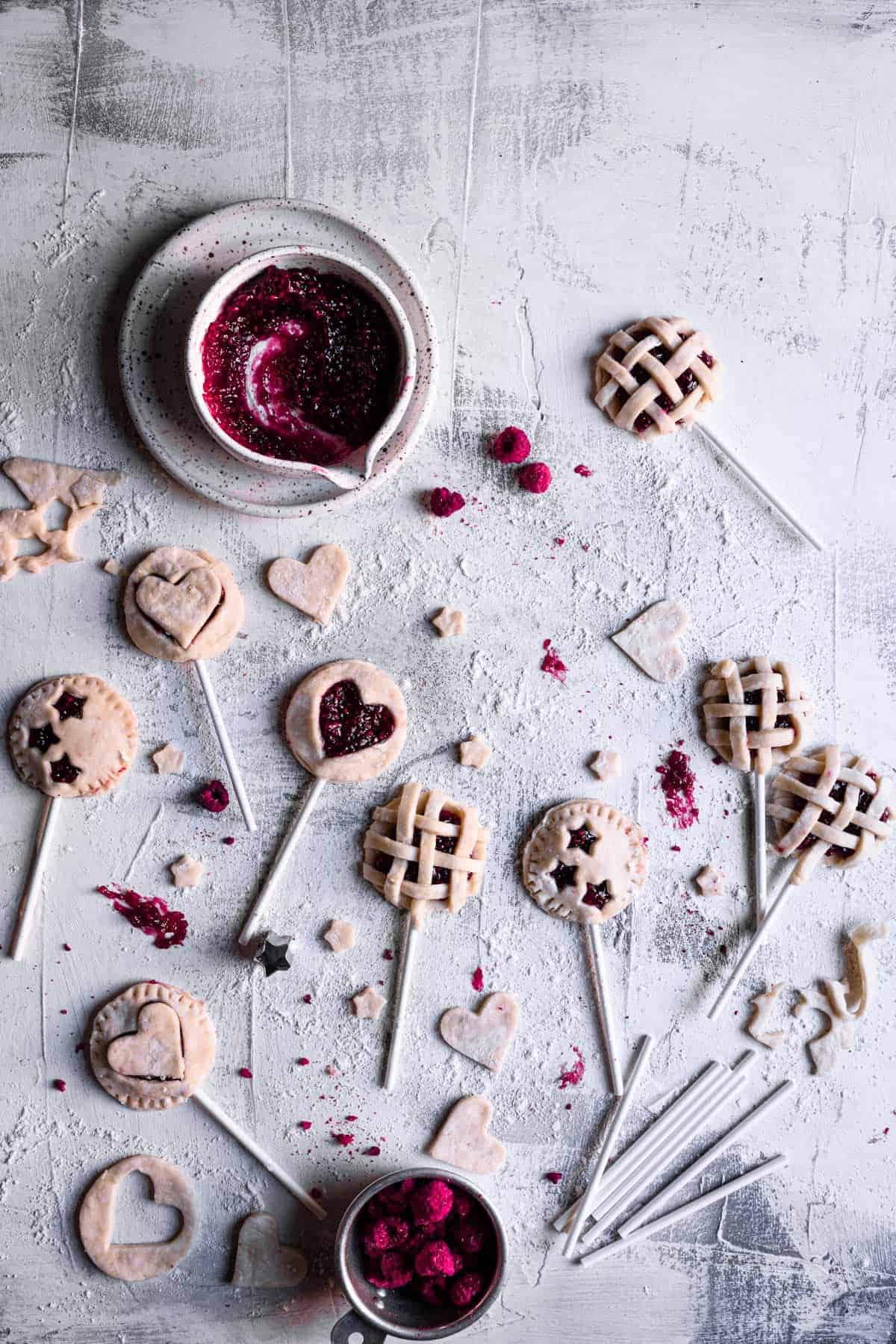 Well, the best way to answer this question is to explain how to make it. Firstly, you need:
pie dough, I have a recipe at the bottom of this post. However, you can use your favorite recipe. For a full tutorial on how to master pie crust, check out THIS post.
raspberry filling: below is a recipe for a raspberry filling. However, you can replace the raspberries with frozen cherries, frozen strawberries, or any other berries. Another option is to use Nutella, peanut butter, or even cookie butter (reduce oven to 400F if you chose to use one of these)
2.5″ round cookie cutter – do not be tempted to use a larger cookie cutter. The sticks are thin and light and might not carry a large top.
The goal is to cut, fill and assemble mini hand pies that are sitting at the top of a lollipop sticks. They are small, light and perfect for a sunny outdoor picnic.
To do that, we will cut the pie crust and gently press the lollipop sticks at the center of the cut dough. Make sure to very gently press it as the dough might break easily.
Next, fill with some filling and add another piece of cut dough covering the lollipop sticking use a fork to seal the edges.
Brush with egg wash and bake. Allow the pie-pops to chill before removing or holing the sticks. if too hot, the filling might not hold on the sticks and the pie-pops might break.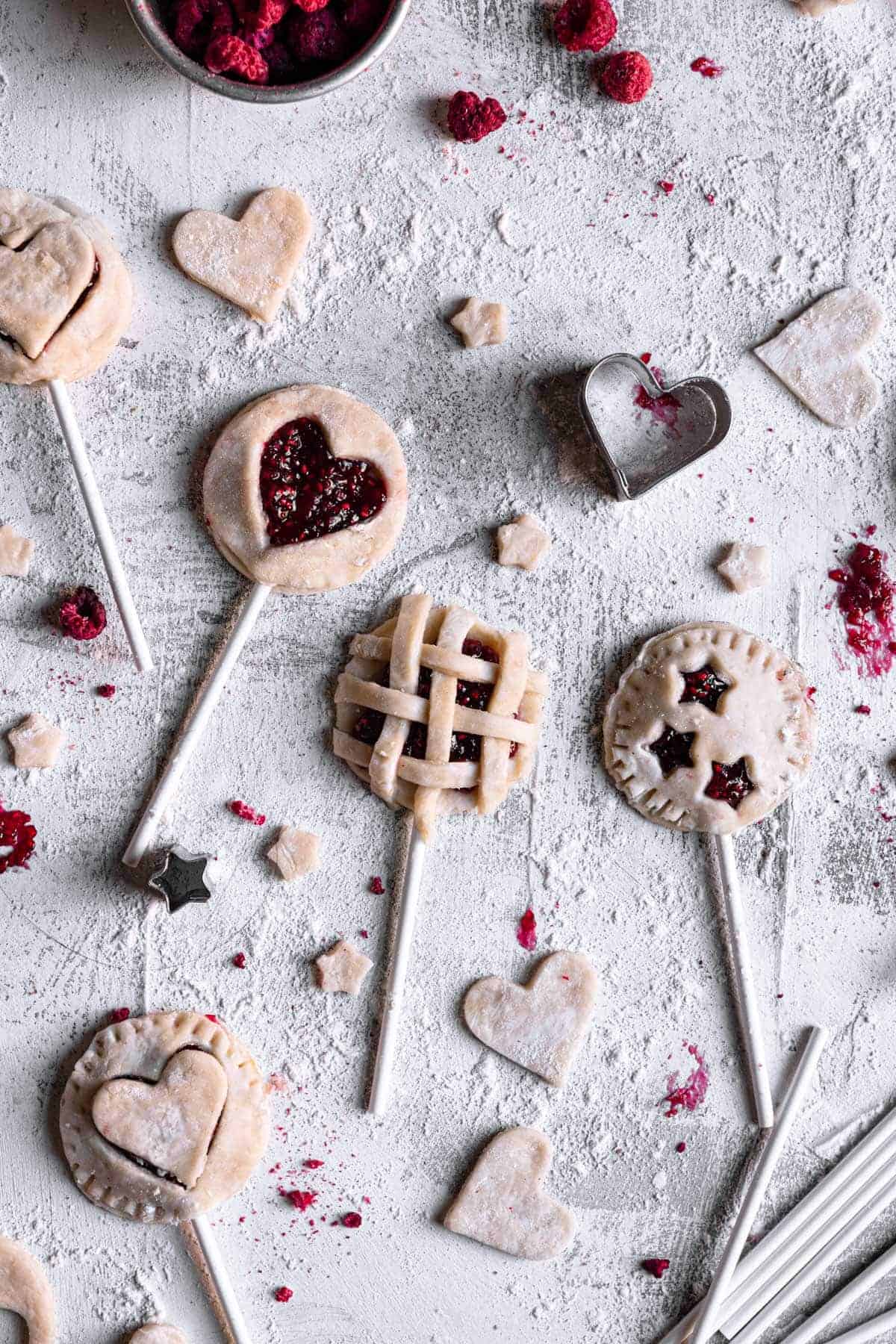 Decorating the Pie-pops:
Decorating or shaping the pie-pops is completely optional. Note that the small size makes it time costuming. It is perfectly ok to just place a cut dough onto and cut a small cut using a knife. The filling does not contain much eater so there is not a lot of steam coming out.
Using pie dough leftovers:
Sometimes when we bake pie we have some leftover pieces of dough that would be perfect for this job. But since we do not knead pie crust, we need to be gentle and work in a unique way. Here is a post that showcases exactly that.
Using different shapes:
It is definitely an option to use different shapes of cookie cutters to make these pie-pops. Hearts, easter-bunny, animals, or even cars. Just make sure not to use sizes that are larger than 3″.
Here are some more fun recipes you might enjoy:
One more thing…
Don't forget to tag @OneSarcasticBaker on Instagram if you bake this recipe. Would love to see your creations!
PIN FOR LATER
HAPPY BAKING!!!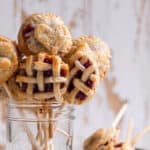 Pie pops
Pie crust filled with rasberry filling baked on a lollipop stick.
Servings
15
2.5″ pie pops
Ingredients
Pie Crust
2 3/4

Cups

Bleached all-purpose flour

(330 g / 12 oz)

1

Cup

Unsalted butter, cold and cut into 1/2" pieces

(225 g / 8 oz)

1/8

tsp

Baking powder

1/4

tsp

salt

1 1/2

TBS

Apple cider vinegar

1/3-1/2

Cup

Ice water

(80-120 ml)
Raspberry Filling
4

Cups

Frozen raspberries thawed and drained

(450 g / 16 oz)

2/3

Cup

Granulated sugar

(140 g / 5 oz)

1

tbsp

Lemon juice

2

tsp

Gelatin

1

tbsp

Water
Instructions
Pie Crust
In a large bowl, sift together the flour, baking powder, and salt then place in a food processor and pulse 3 times.

Add the butter pieces and pulse about 5 times (3 seconds each time), until the butter is the size of large peas.

Add the apple cider vinegar, and 5 TBP of ice water and pulse again 5 times. Check the dough by pressing a small amount between the palm of your hand and your fingers. If the dough comes together easily, it is ready. If not, add 1 TBSP pulse again and check again. Remember that the dough should not come together unless it is pressed together.

Drop the dough on a clean work surface and bring it together by pressing it with your hands. Do not knead the dough or work it too long.

Divide the dough into 2 equal parts and wrap each piece in plastic wrap then refrigerate for a minimum of two hours or overnight.
Raspberry Filling
In a medium pan, place the raspberries, sugar, and lemon and cook over medium heat until the sugar has dissolved completely and the mixture is boiling.

Reduce heat to low and cook for additional 30-40 minutes, stirring occasionally until the liquid has reduced by half.

While the raspberries are cooking mix the gelatin and water and let sit for 2 minutes until the gelating is bloomed and firmed up.

Warm the gelatin in the microwave for 3 seconds then add it to the raspberries mixture. Stir and cook until thickened.

Remove from heat and into a glass container. Allow to completely cool before filling the pie pops.
Assembling and baking
Line two large cookie pans with parchment paper and place a small bowl with water and a small brush close and ready to be used.

Roll one part of the chilled dough into 1/8" thick (see notes about rolling the dough)and use a 2.5" round cookie cutter to cut the dough.

Place half of the rounds on the lined baking pan. Dip the pop sticks with water and place them at the center of each cut dough. Press gently.

Use the brush to brush the edges of each round with water then scoop 1 tsp of the raspberry filling at the center.

Place another piece of cut dough on top and use a fork to gently seal the edges.

Brush the pie pops with egg wash and place the pan in the refrigerator while you heat the oven to 425F.

While the oven is warming up and the first batch is chilling repeat the process with the second part of the dough.

Bake for 12-15 minutes at the lowest oven shelf or until the pie pops are golden brown.

Remove from the oven and allow to cool for 10 minutes before serving.