Last updated on September 13th, 2019.
Pie Crust Cookies are made of pie dough leftovers. The result is a delicious, tender and flaky little cookie filled with chocolaty smooth Nutella.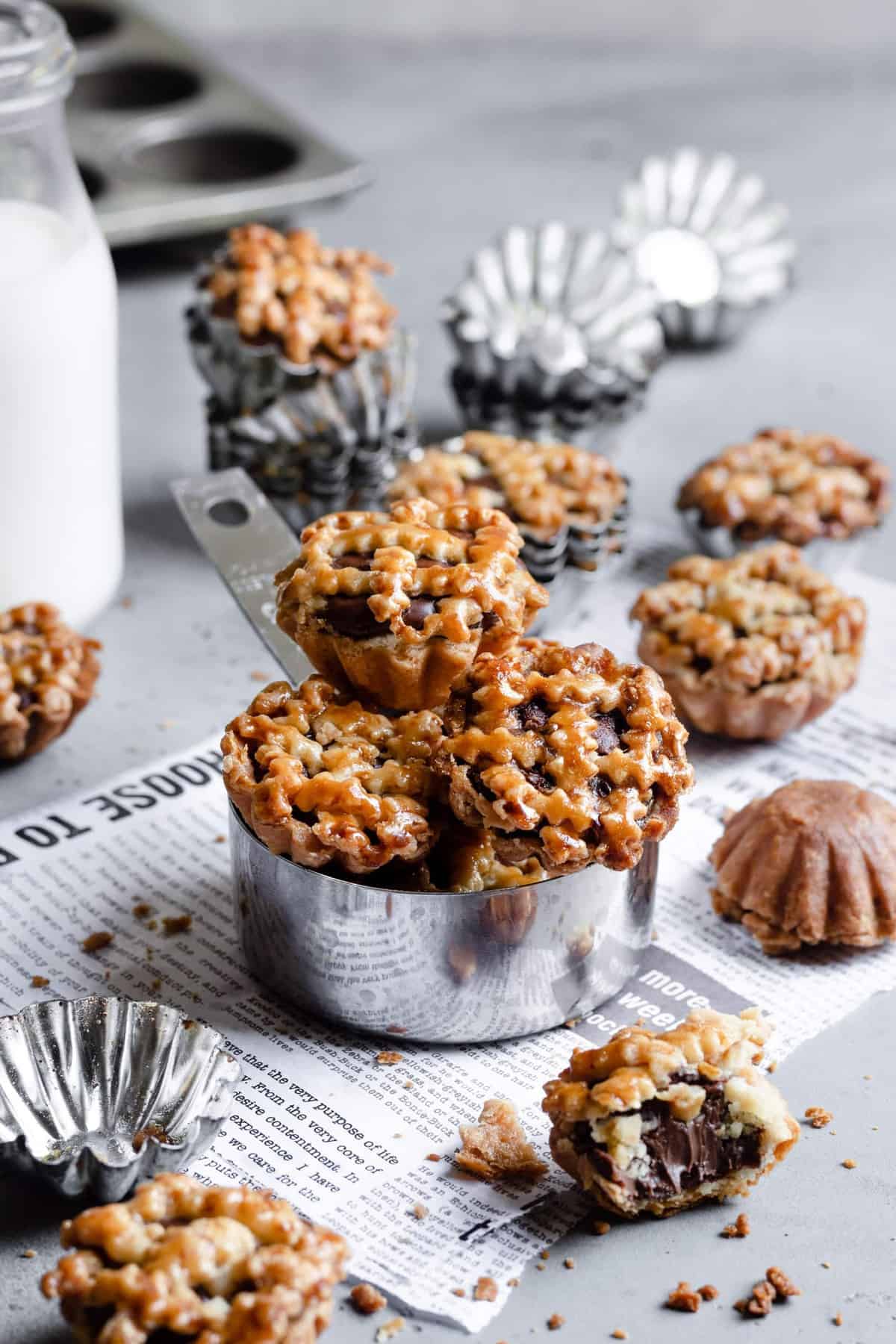 We can all agree that the best part about pie is the crust. Even if the filling is runny, if the crust is flaky and tender, the pie gets an A (well, maybe A-). Therefore I tend to think of the pie crust as "doughy gold". And treat it like it actually is.
So you know there ain't no pie crust waste in my kitchen. No ma'am. I'm gonna make me some fine pie crust cookies!
Now, one thing to remember is that you can not re-roll pie dough like good old cookie dough. Because it's pie. And above all pie dough has strict roles, for instance no kneading. (Read more about pie crust baking HERE).
So if we can not play by the old roles, we'll make some new ones. This is a pretty simple technique and it works every single time. Just make sure your leftover dough is not dry or stale or else the scraps will not bond together.
Step 1:
Lay the pie crust craps on a piece of plastic wrap , overlapping them a little. Try to arrange them by size and length.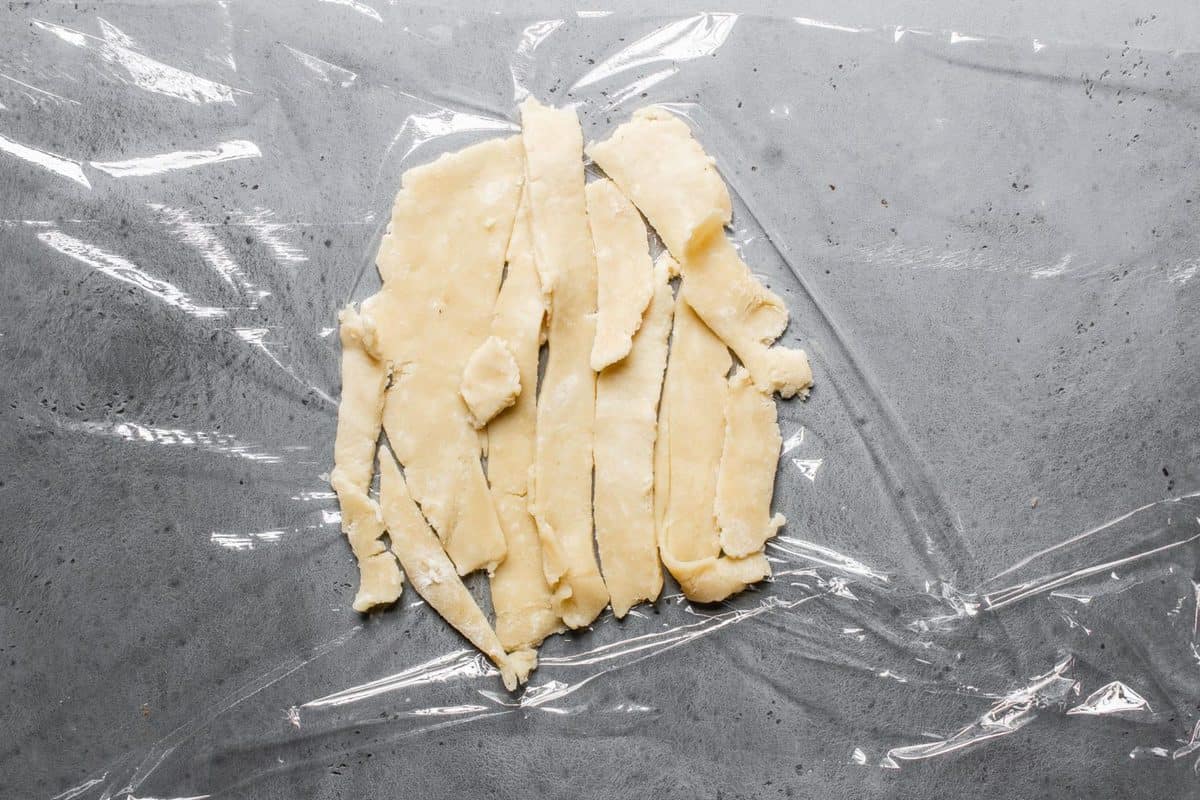 Step 2:
Place another layer of plastic wrap on top of the scraps. You can use one large plastic warp pr two pieces. It is important not to skip that otherwise the dough will stick to the rolling pin.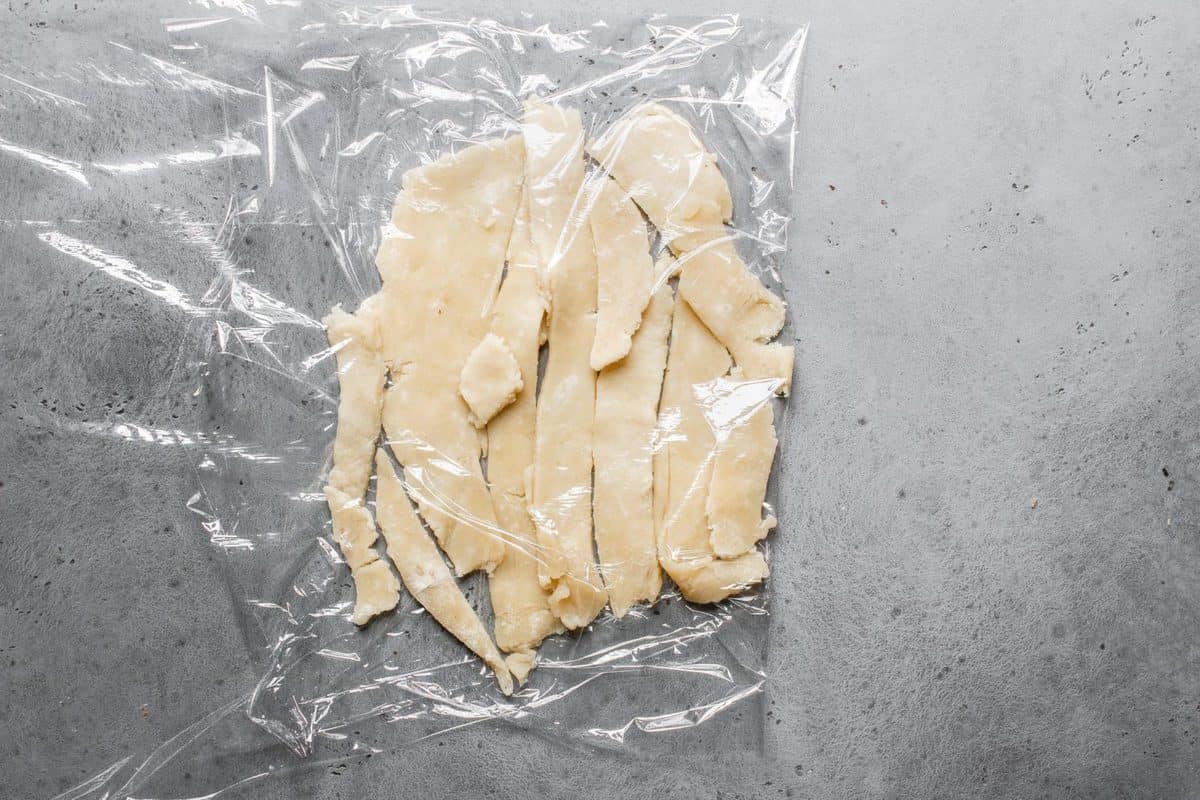 Step 3:
Smooth the scraps together using a rolling pin. Even and gentle pressure would be enough.
Step 4:
Place dough in the refrigerator for a min. of 30 minutes. (or freeze)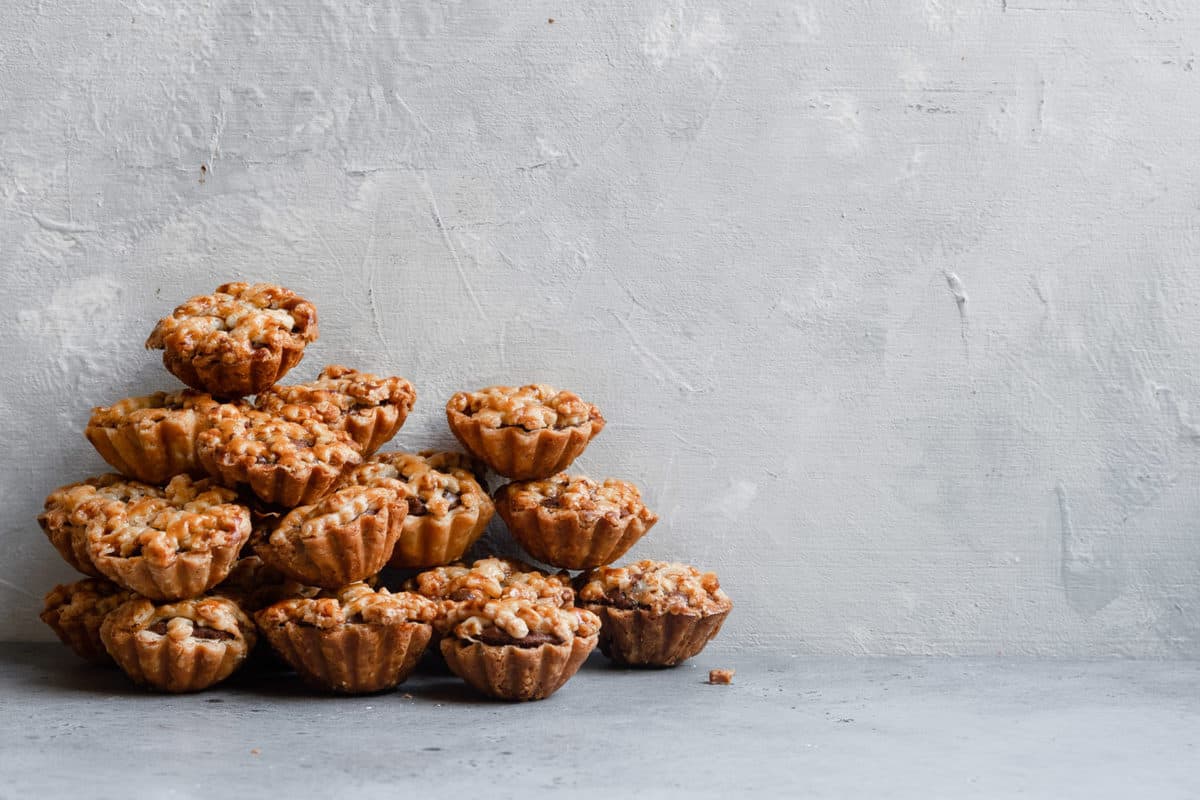 Now Let's Talk About This Pie Crust Cookies:
I made the ones in the images using leftover pie crusts. You can defiantly make it from scratch. Below is a recipe for 9″ pie crust.
You can fill this cookies using your choice of filling.
I can not say how many each recipe will yield since it depends on firstly, how much pie crust leftover you have and secondly, the size of the mold you are using.
I chose to make the cookies shaped like miniature pies. However, you can go about it as you wish.
If you don't have mini brioche molds, you can use mini cupcake tins.
HAPPY BAKING!!!
Here are some more recipes you might like and enjoy:
One more thing…
Don't forget to tag @OneSarcasticBaker on Instagram if you bake this recipe. Would love to see your creations!
Pie Crust Cookies
Ingredients
1

Stick

Unsalted Butter, cold

(113 g / 4 oz)

1 1/3

Cup

Pastry flour of bleached flour

(184 g / 6.5 oz)

1/4

tsp

Salt

1/8

tsp

Baking Powder

3 – 3 1/2

TBS

Ice water

1 1/2

tsp

Apple Cider Vinegar

1

Cup

Nutella

1

Egg beaten for coating
Instructions
Cut the butter into 3/4" cubes and wrap it with plastic wrap. Place butter in the freezer for a minimum of 30 min.

Sift the flour, baking powder and salt and place in a food processor.

Pulse the flour mix about 3 times.

Add the butter and pulse until the butter is the size of large peas.

Add the water and vinager and pulse until the butter has downsized to the size of small peas. The dough is ready when it comes together when piched.

Place the dough (it will look and have the textue of coarse corn meal) on a clean surface and bring it together with you hands. Do not knead it.

Flatten the dough into 6" disk, warp in a plastic wrap and place in the refrigarator for a minimum of 1 hour. (preferly over might).

Remove dough from the refigarator and roll it into 1/8" thick.

Using a cookie cutter cut the dough into circles and place each circle in a mold (or a mini cupcake tin).

Fill each mold with Nutell and decorate the top with your choice of crust design.

Place the mold back in the refrigarator for about 30 minutes.

While the cookies are in the refrigarator, preheat oven to 375F and place an oven rack at the lowest level.

Brush the cookies with egg wash and bake for about 20 minutes or just until the cookies look golden brown.

Allow cookies to completely cool before removing form the molds.