Last updated on January 3rd, 2023.
Though there is "butter" in the title of this cake, there is no need for Hazelnut butter to make it. This Hazelnut butter cake is a tender, flavorful and unique cake exploding with Hazelnut flavor. You can bake it as a layer cake for a special occasion or in a loaf pan for an everyday afternoon snack.
Unfortunately, this Hazelnut butter cake does not come from a childhood memory or has a grand background story. To simply put it, there was a pack of hazelnuts in my pantry and I did not want it to go bad. Have you ever tried bad nuts…oh the horror. (BTW, you can also bake these addictive Hazelnut Shortbread Cookies or this Hazelnut Chocolate chip Bread)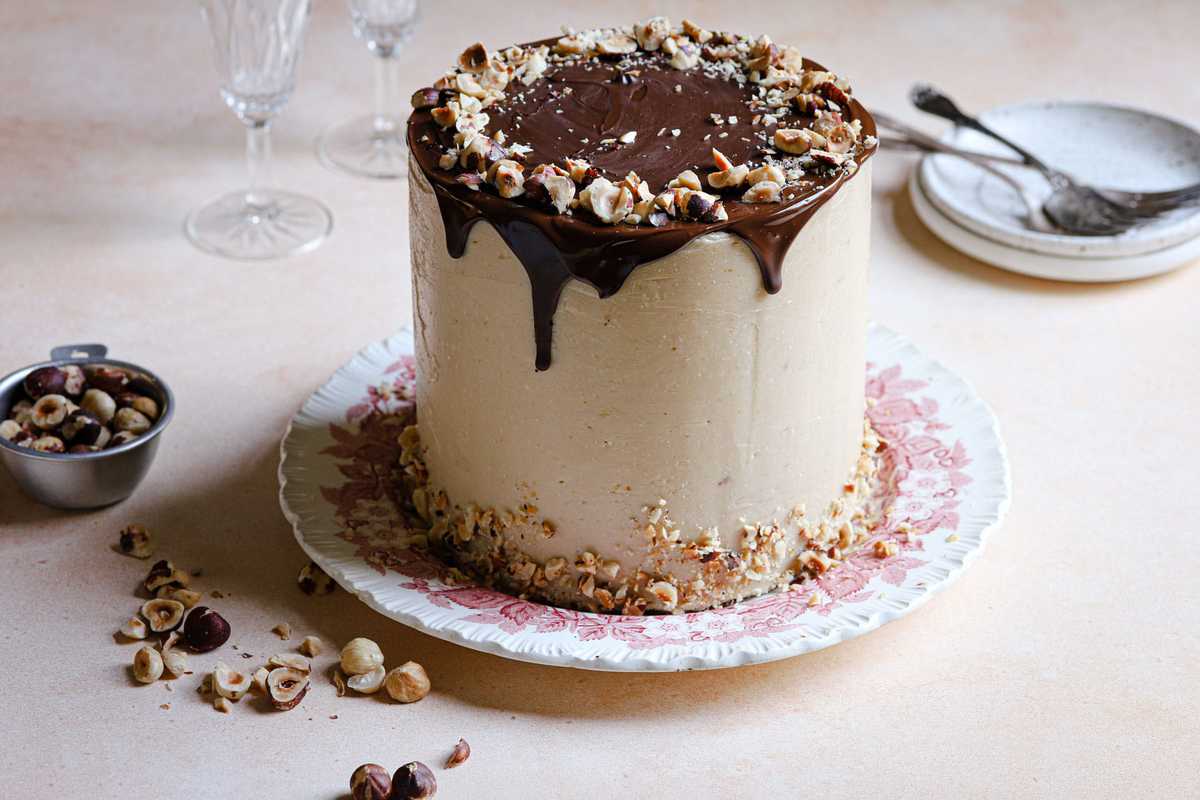 OK, before we dig deep into the making, baking, and filling of this cake, l would like to take a second and talk about the "butter" part of the title. In this recipe, the butter refers to the type of cake we will be baking: a butter cake.
What is Butter-cake?
Butter cake is pretty much a pound cake on a slim diet. While Pound cake calls for the same amount of butter, flour, eggs, and sugar, in Butter cake the butter and eggs have been cut by almost half.
The lower percentage of eggs and butter will result in a lighter, less dense cake that is perfect for filling and layering.
However, less butter also means less moist crumbs which can be resolved by using a source of liquid that will provide moisture. Also, fewer eggs mean a crumblier less stabilized cake, and there are many ways to combat this problem. Firstly, we can use AP flour. Unlike cake flour, All-purpose contains a higher percentage of gluten, and during the mixing process, the gluten molecules bond with each other and form a stabilized net that holds the cake together. Second, we can also use egg whites vs, whole eggs.
In this case, I chose to use AP flour for stability, increase the number of eggs (4 instead of 2) as well as add milk and sour cream for moisture, so the cake is tender, moist, and stabilized.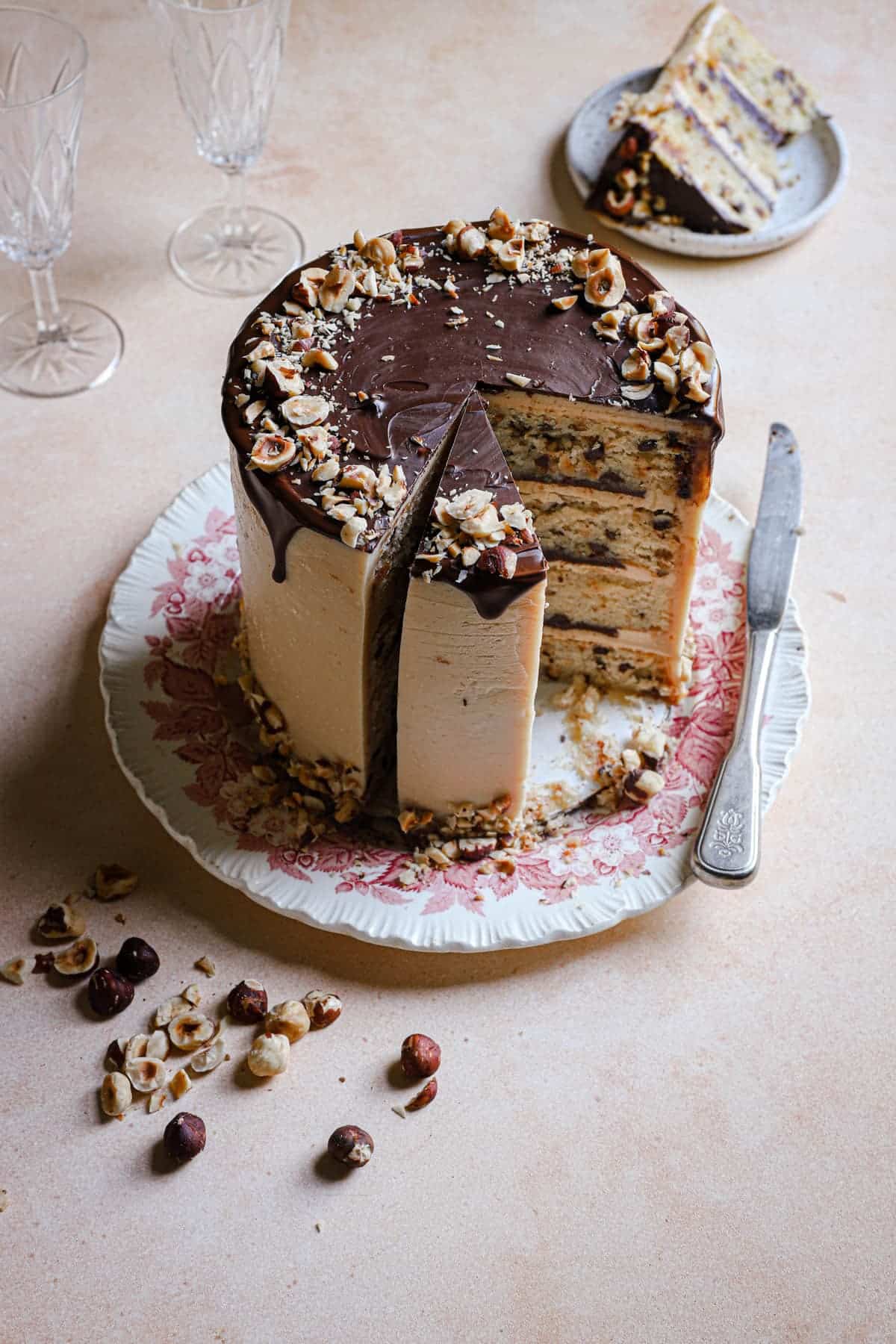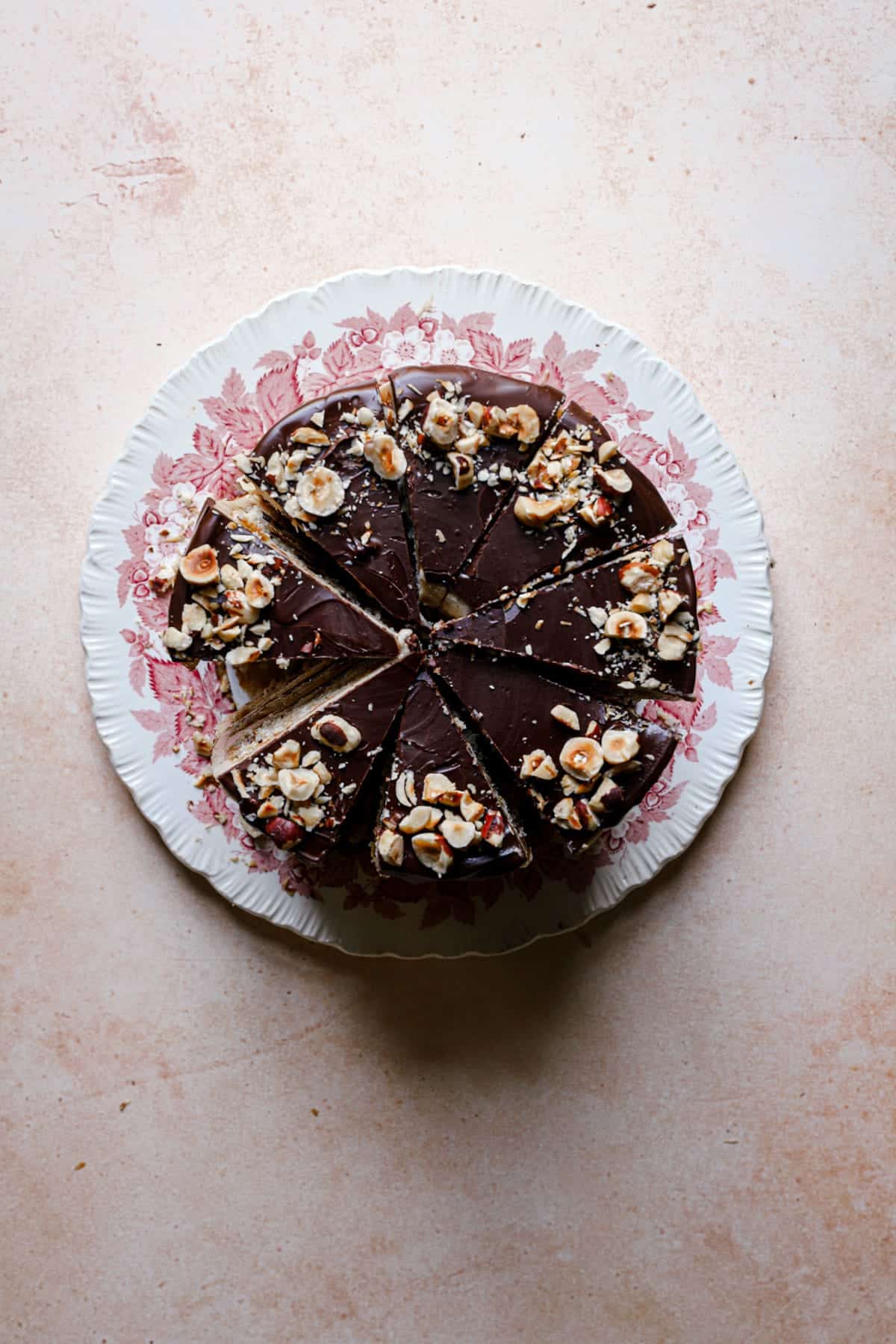 Can this Hazelnut Butter Cake be baked as a pound cake?
Yes. Follow the recipe as is and increase the amount of butter to 1 cup (2 sticks, 225 g), but please keep in mind that the cake will be richer and denser.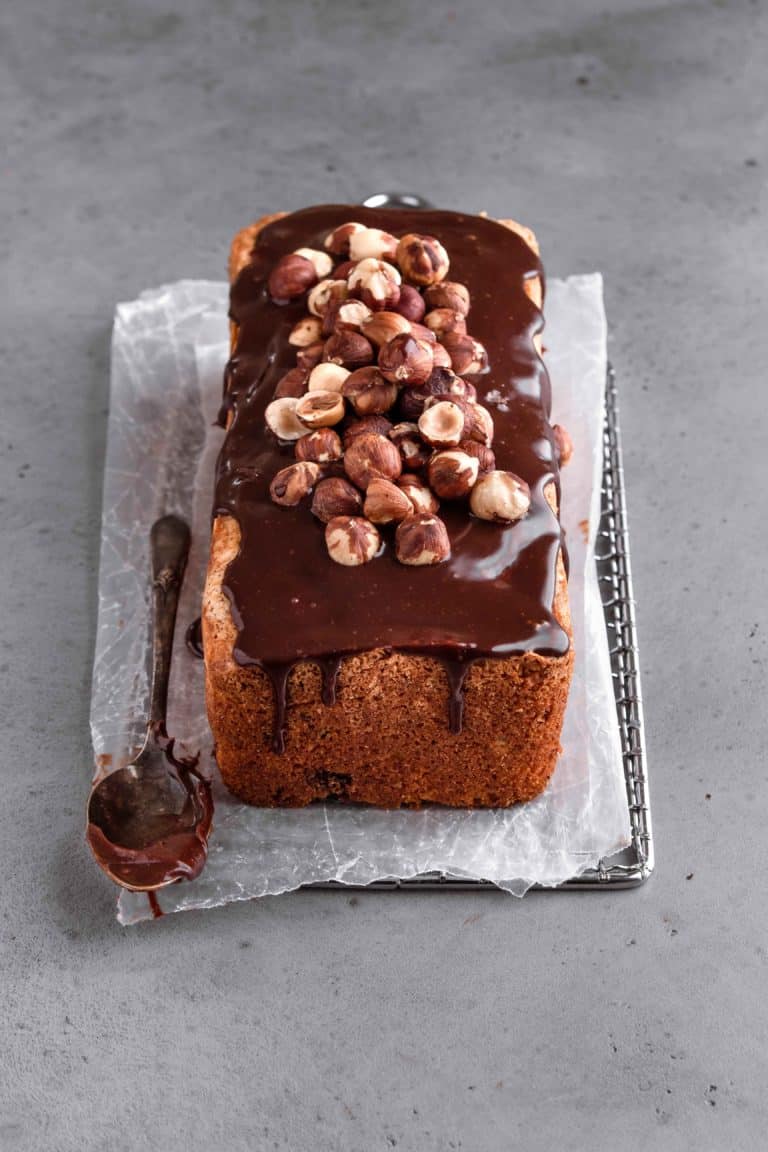 Now, let's go back to this Hazelnut Butter Cake Recipe
What ingredients are used in this cake:
All-purpose flour, as mentioned above, all-purpose flour has just enough gluten to create a stabilized net to hold the cake and prevent it from collapsing.
Hazelnuts, in two ways: finely ground and chopped, both to add texture and flavor to the cake. Make sure to use roasted nuts, I have the perfect guide to How to Roast Hazelnuts.
Baking powder, baking soda, and salt.
Milk and Sour cream, I highly recommend using full fat for both. If you wish you can use only sour cream but please do not skip the sour cream. As the cake bakes, the sour cream will activate the baking soda and produce gas to leaven the cake and add moisture.
Vanilla extract
Frangelico, a hazelnut liquor. If you do not have any, use whichever brandy or whisky you may have (unflavored) or replace it with milk.
Eggs, large eggs. In the US the average size of a large egg is 55-60 grams.
Unsalted butter, please make sure that the butter is at room temperature and that it is soft enough to be creamed with the sugar
Granulated sugar
Mini chocolate chips, optional.
Hazelnut butter cake, the mixing process
Firstly, and this is super important, measure your ingredients and allow them to reach room temperature, or else they will not incorporate well, and the cake will bake too tough and flat.
In two separate bowls, sift together the dry ingredients (flour, ground hazelnut, baking powder, salt, and baking soda) in one bowl and the liquids (sour cream, milk, Frangelico, and vanilla extract) and the second. Set aside,
Much like pound cake, this cake is mixed using the creaming method, meaning we cream the butter and sugar together to incorporate tiny air bubbles that during baking will expand and leaven the cake.
Next, add the eggs one at a time, waiting for each egg to fully incorporate before adding the next. (To learn why, check out THIS post).
Now add 1/3 of the flour mixture along with half of the liquids, then repeat with the remaining. This step should not take too long and there is no need to wait for the flour to fully incorporate before adding the next part. Once you added the last part of the flour, add the chopped hazelnut and mini chocolate chips and use a rubber spatula to fully incorporate. This is when I highly recommend licking the spatula!
Divide the batter between the pans you are using and bake until a toothpick comes out clean from the center of the cakes. (Time may vary depending on the sizes of the pans).
What pans to use?
If you wish to bake a layer cake you can use 4-6" pans, 2 or 3-8" pans. However, if you chose to bake it in a loaf pan, use 2-8" loaf pans and fill up each pan 2/3 full.
Baking times:
Know that each oven is different which means your oven might takes more or less time to bake, but these are the time guideline for this recipe:
Four 6": 28-30 minutes , Two 8": 25-20 minutes, Three 8": 20-25 minutes, 8" Loaf pans: 35-45 minutes.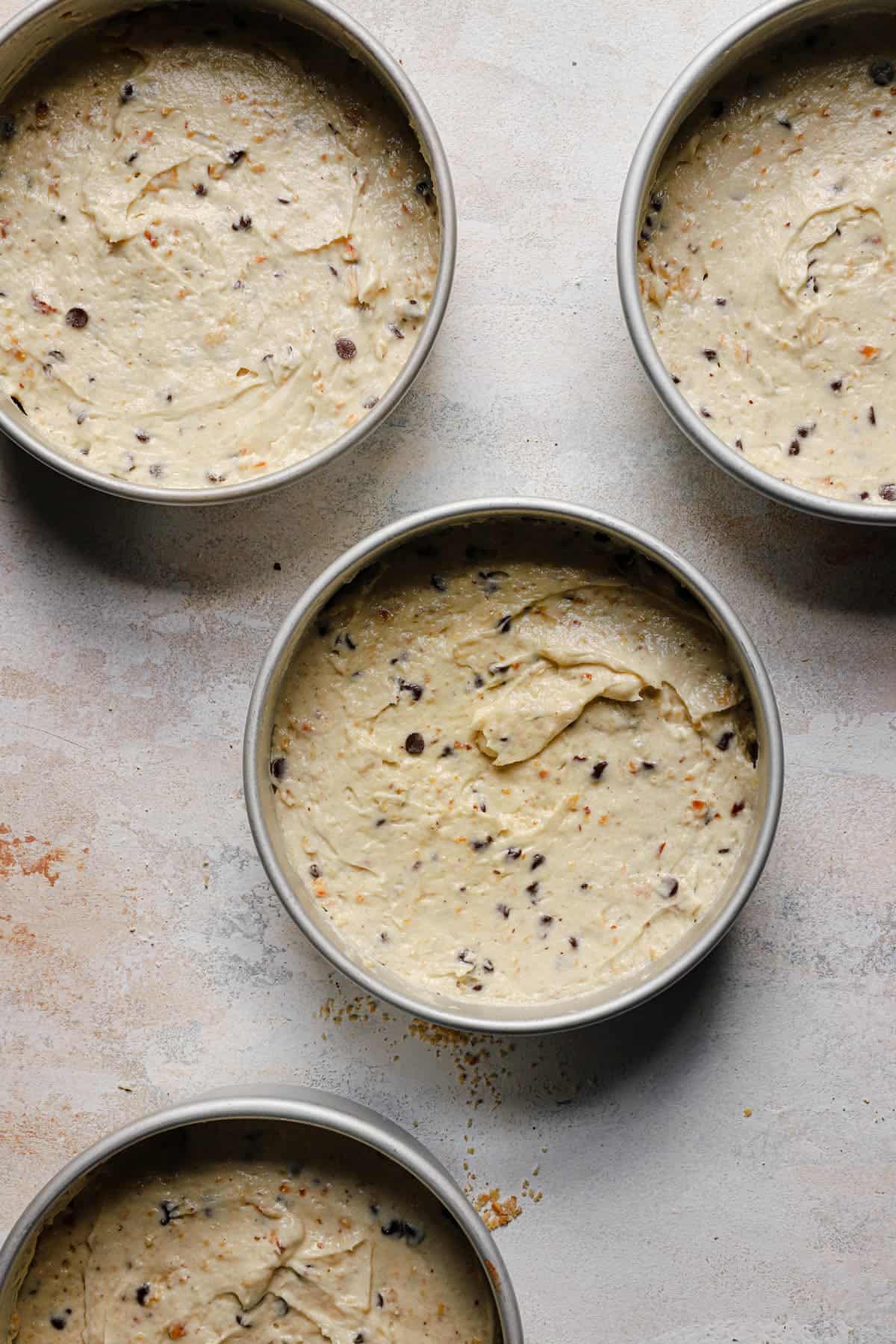 Make ahead and freezing
As we explained at the beginning of this post, butter cake contains a relatively small amount of butter, meaning it will lose its freshness fast. I recommend baking the cake a day before eating, or up to three weeks ahead then freeze it.
To freeze the cake, firstly allow it to cool down to room temperature then wrap each layer with plastic wrap, stack the layers, cover with a plastic bag, then freeze. When ready to use, remove from the freezer, unwrap each layer and allow to reach room temperature.
Making the Hazelnut buttercream
This butter cream is made by firstly making a hazelnut-coffee curd then tchicking it with unsalted room temperature butter.
The hazelnut flavor comes by boiling hazelnuts with milk and heavy cream. As the temperature rises, the hazelnut will release its fat and flavors into the liquid. Leaving us with flavorful hazelnut milk.
Next, in a medium sized bowl, we will bring the milk to a simmer while mixing together in a separate bowl egg yolk, sugar and corn starch. To mix the milk with the egg yolks mixture, slowly pour 1/3 cup of hot milk into the yolk mixture while constantly stirring. Then pour the egg yolk mixture onto the remaining of the milk and cook on medium heat while constantly stirring. Once the mixture has thickened, reduce heat to low and vigorously mix for additional 30 seconds.
remove from heat and run through a sieve on top of a bowl. Allow the mixture to reach room temperature.
When ready, mix the butter in a standing mixer then add the curd and mix until smooth.
Assembling the cake
Before assembling the cake, make sure that:
The cake is at room temperature and not frozen or too cold. If that happens, know that as the cake's temperature increases it will release steam that might crack the buttercream. I found that cooling the cakes in the refrigerator for up to 30 minutes ahead, is a great way to firm the layers for easy assembling without cooling them too much
The simple syrup is hot, for the best soaking result. Making the syrup right before assembling the cake is a great idea.
Now, place a layer of cake on top of a cake board or a serving plate. Soak with ¼ cup of hot simple syrup spread ¼ cup of the buttercream. If you wish, drizzle with chocolate then repeat with the remaining layers. Once you place the last layer, frost the cake with the remaining buttercream.
If you chose to add the chocolate drizzle, then place the cake frosted in the refrigerator to firm for about 30-45 minutes. Then use a spoon to drizzle the cake starting with the edges going towards the center.
Now is the time to decorate with some chopped hazelnuts (optional)
For some amazing cake decorating tutorials, ideas, and inspiration I highly recommend you visit the Style Sweet blog by Tessa huff, Follow Shei Wilson @Sheriwilson, and Sprinkle bakes blog by Heather Baird.
Storing the Hazelnut Buttercream:
The buttercream can be stored at room temperature for up to 3 days. In the refrigerator for up to 5 days, make sure to bring it to room temperature before using.
How to serve and store the cake:
At room temperature. If layered, slice a piece and serve. If baked in a loaf pan, drizzle some melted chocolate or your favorite glaze.
In both cases the cake should be stored at room temperature covered for up to 3 days.
FAQ's
Can I skip the chocolate chips and/ or the instant coffee?
I added 1 tsp of instant coffee to the buttercream. As well as chocolate chips to the cake and filling. However, you can skip on both the chocolate and instant coffee and stick to just hazelnut.
Can I use a different type of nuts?
Yes. Use a nut that you like and has a strong flavor such as Pecan nuts or Peanuts. But, please avoid almonds as they have a very mild flavor.
What other buttercream recipe I can use?
Whichever you like, I chose this one because I could incorporate the hazelnut flavor very easily. However, you can use Swiss meringue buttercream like THIS one, Old Fashion buttercream like THIS one, and even American buttercream like this one. Make sure you remove the extra flavoring in each recipe.
Can I use GF flour?
I have yet to bake this recipe using GF flour. However, in the past, I had some great experiences substituting regular flour with King Arthur GF Flour, or Bob's Red mill's 1:1 gluten-free flour when I developed THIS Vanilla bean cake recipe.
Help! My buttercream is too soft! What do I do?
If that happens it means that the Hazelnut curd was too hot when added to the butter. Keep beating at high speed, the curd will get colder, and the butter will thicken eventually.
Help! My buttercream is curdled! What do I do?
There are many reasons that might happened, but most likely the buttercream broke due to a change in temperature. No worries, place it back in the mixing bowl and beat on high heat to re-emulsify.

Hazelnut Butter Cake
Ingredients
2

Cups

AP Flour

(240g / 8oz)

1

tsp

Baking Powder

1/4

tsp

Baking Soda

1/2

Cup

Finely ground hazelnut

(58g / 2oz)

2/3

Cup

Full fat sour cream

(180 ml)

1/3

Cup

Milk

(60 ml)

1

TBS

Vanilla

2

TBS

Frangelico (optional)

4

Large

Eggs

(220 g)

1 1/2

Stick

Unsalted Butter, soften

(180g / 6oz)

1 3/4

Cups

Sugar

(350 g / 12.5 oz)

2/3

Cups

Hazelnut roughly chopped

(100g / 3.5 oz)

2/3

Cup

Mini Chocolate chips

(120g / 4 oz)
Hazelnut buttercream
2

Cups

Roasted hazelnut

(260 g/ 9 oz)

1

Cup

Heavy cream

(240 ml)

1 1/4

Cups

Milk, full fat

(360 ml)

6

Large

Egg yolks

(108 g / 4 oz)

2

tbsp

Cornstarch

1

Cup

Granulated sugar

(200 g / 7 oz)

3

Sticks

Unsalted butter, at room temperature

(350 g / 12 oz)
Chocolate Filling and Coating
1 1/2

Cup

Chopped Dark Chocolate

(250 g / 8 oz)

1

TBS

Vegetable shortening
Simple syrup
3/4

Cup

Milk (water is ok)

(180 g / 6 oz)

1/4

Cup

Frangelico (if not using replace it with milk)

(60 g / 2 oz)

2

tbsp

Granulated sugar

(30 g / 1 oz)
Instructions
To make the cake
Preheat oven to 350F, grease, and line the bottom of 4-6" pans with parchment paper. Set aside.

In a medium bowl, sift the flour, baking powder, baking soda, then hazelnut powder, and mix with a fork to combine. Set aside.

In a large measuring cup, mix the milk, sour cream, vanilla, and Frangelico and mix to combine.

Place the butter and sugar in a bowl of a standing mixer and beat using the paddle attachment on medium speed until light and fluffy. 4-5 minutes.

Scrape the bottom and sides of the bowl then increase speed to medium-high and add the eggs one at a time, waiting for each egg to be completely incorporated before adding the next.

Add the flour mixture in 3 additions alternating with the liquid. Starting and ending with the flour.

Once you added the last part of the flour, turn the mixer off add the chopped hazelnuts and chocolate chips, and use a rubber spatula to combine it all.

Dived the batter between the greased pans and bake for 28-30 minutes or until a toothpick comes out clean from the center of the cake.

Remove cakes from the oven and allow to cool before removing from the pan.
Hazelnut buttercream
Use a large knife to roughly chopped the hazelnuts, each nut should be sliced once or twice.

Place the nuts in a medium-sized pan, pour over the heavy cream and milk then bring to a boil. Once boiling, turn the stove off, cover the pan and let cool to room temperature.

Run the hazelnut milk through a sieve and measure 1 cup and place it back in the pan and bring to a simmer. Discard the nuts or enjoy them as a treat.

In a medium bowl, mix together the egg yolk, sugar, and cornstarch. Place the bowl next to the stove and have a large sieve ready to be used.

Once the hazelnut milk is simmering, turn the stove off then slowly drizzle about 1/2 cup of the milk into the egg yolk mixture while constantly stirring.

Pour the egg yolk mixture into the remaining milk and cook on medium while constantly stirring until the mixture has thickened and large bubbles are coming to the surface, about 3 minutes.

Run the curd through the sieve into a medium bowl, cover with plastic wrap, and allow it to cook down to room temperature.

In a bowl of a standing mixer, beat the butter on high for 30 seconds.

Scrape the bottom and sides of the bowl then add the now room temperature hazelnut curd. Keep mixing until the curd is fully incorporated and thick.
Chocolate filling and drizzle
In a medium bowl, place the chocolate and vegetable shortening. Warm in the microwave using 30 seconds increments until completely melted.
Simple syrup
In a medium saucepan, pour the milk, Frangelico and granulate sugar then cook on medium until the sugar has fully dissolved and the liquid came to a boil. Avoid overcooking it or the Frangelico will completely evaporate leaving you with less syrup.
Assembling
Place one layer of cake on top of a cake board or your serving plate. Use a pastry brush to soak 1/4 cup of the simple syrup.

Using an offset spatula, evenly spread 1/4-1/3 cup of the buttercream. If you decide to fill the cake with some chocolate as well, after spreading the buttercream fill a pastry bag fitted with a round tip (I used Wilton #8) then pipe a border along the edges of the cake and fill it with the chocolate filling (make sure it is at room temperature).

Repeat step 1 with the remaining of the cakes then use the remaining of the buttercream to coat and frost the cake, then drizzle with the melted chocolate. (make sure it is at room temperature)