Last updated on May 7th, 2021.
Soft, crumbly and cinnamony Carrot muffins with Streusel are so easy and fast to make. It only takes one bowl and 15 minutes.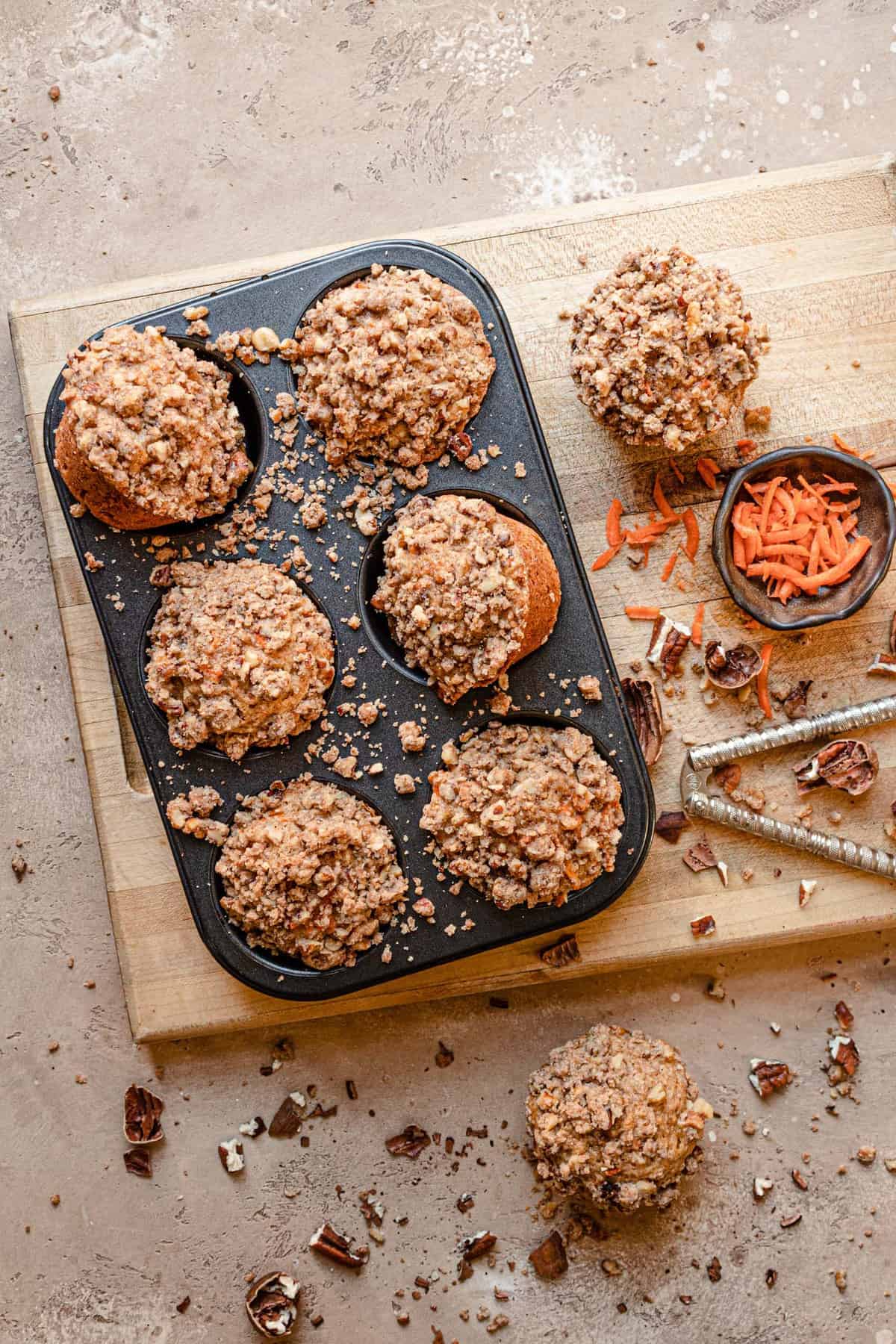 Why should one bake these carrot muffins? Simply because it goes with the morning coffee so much better than a carrot cake.
And it is super delicious. Also easy to make. And fast.
Oh, one last thing. You most likely have more carrots than blueberries in your fridge.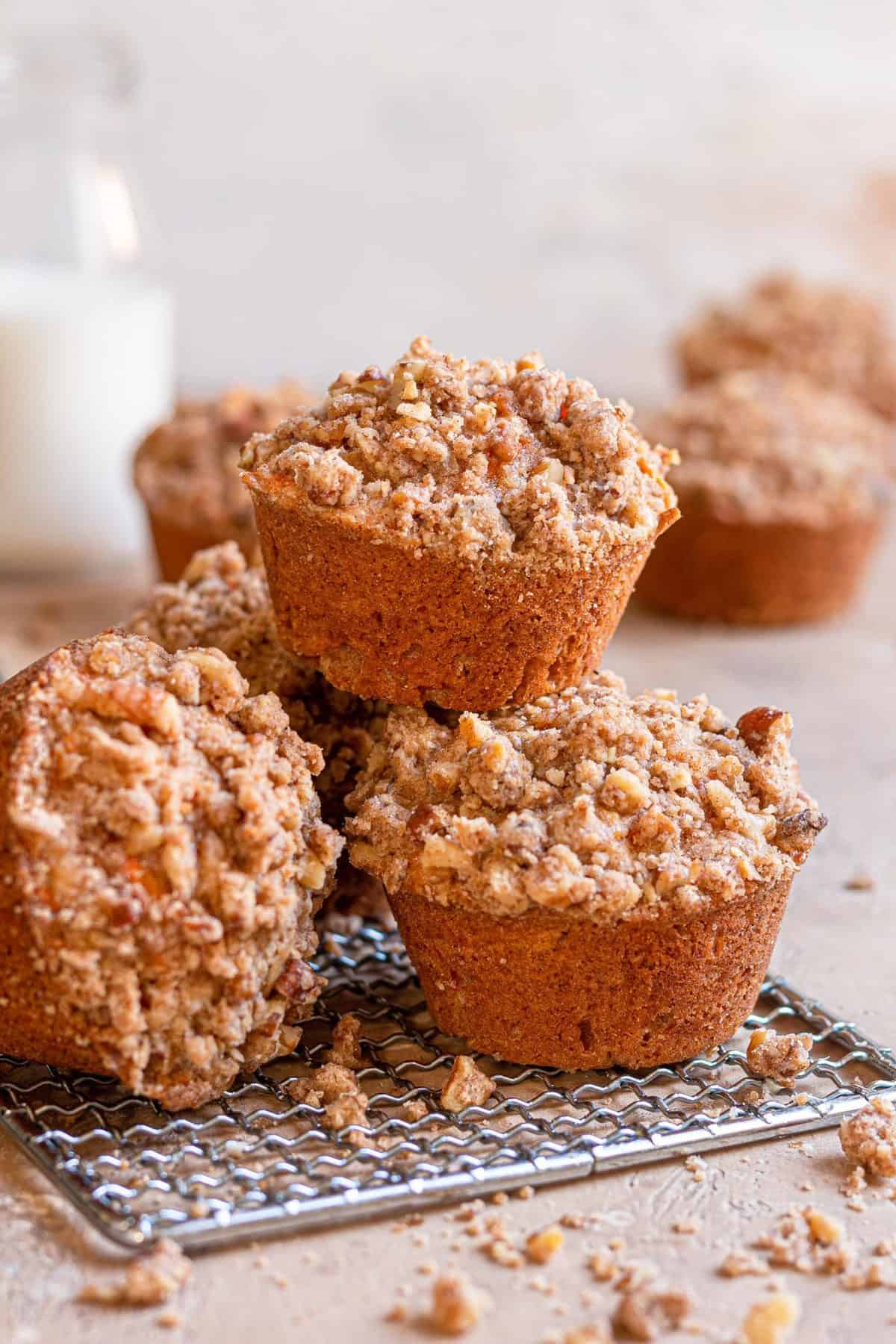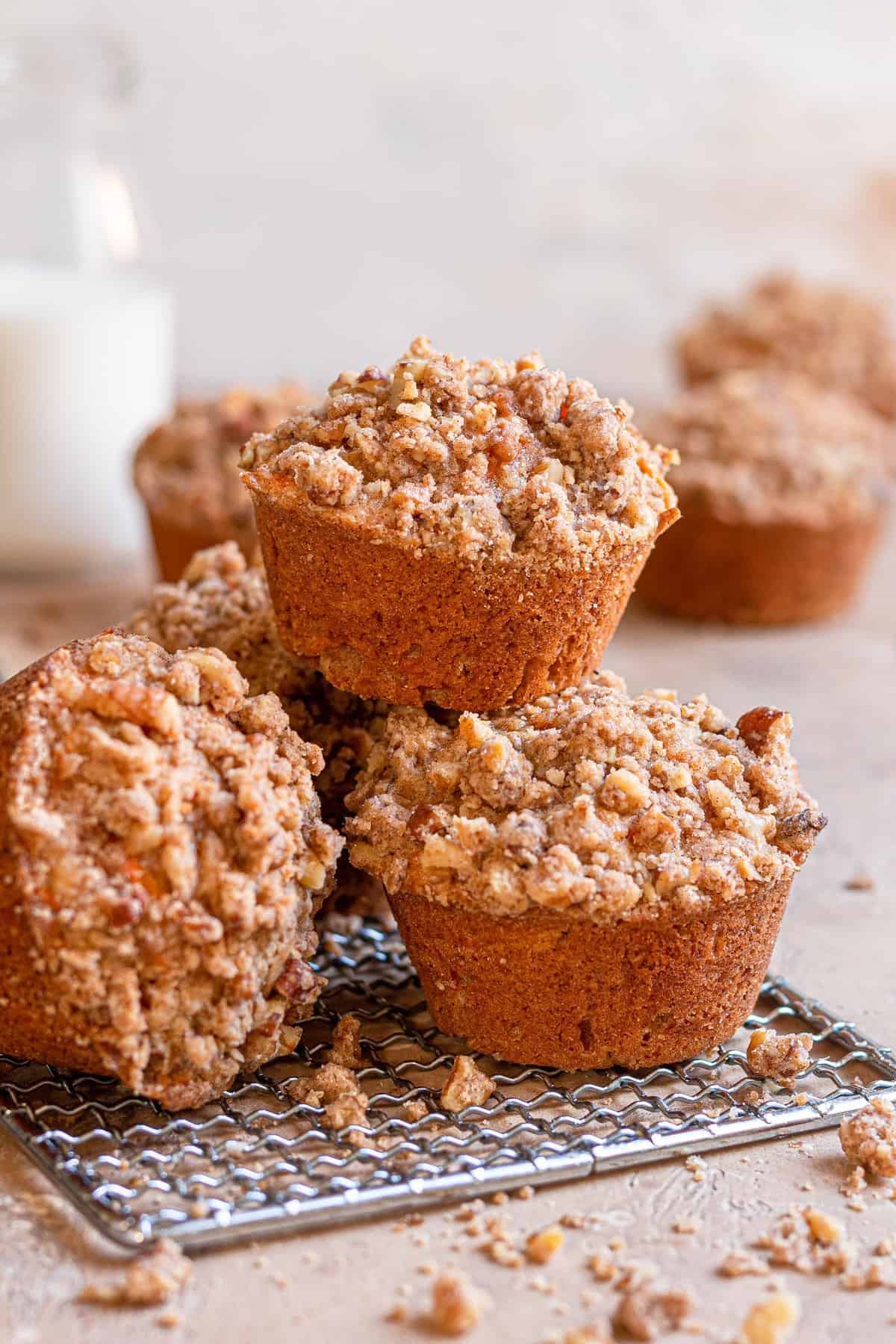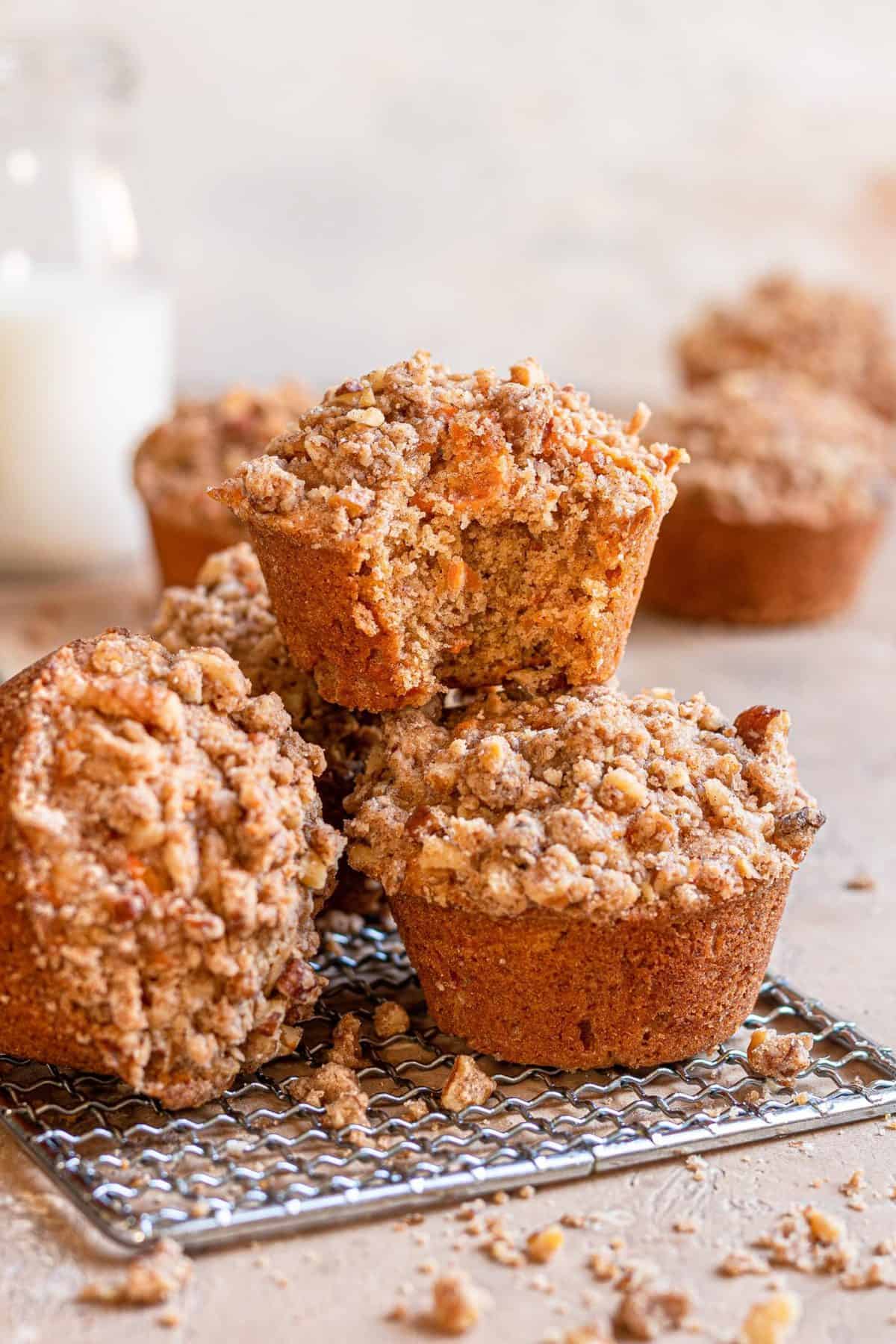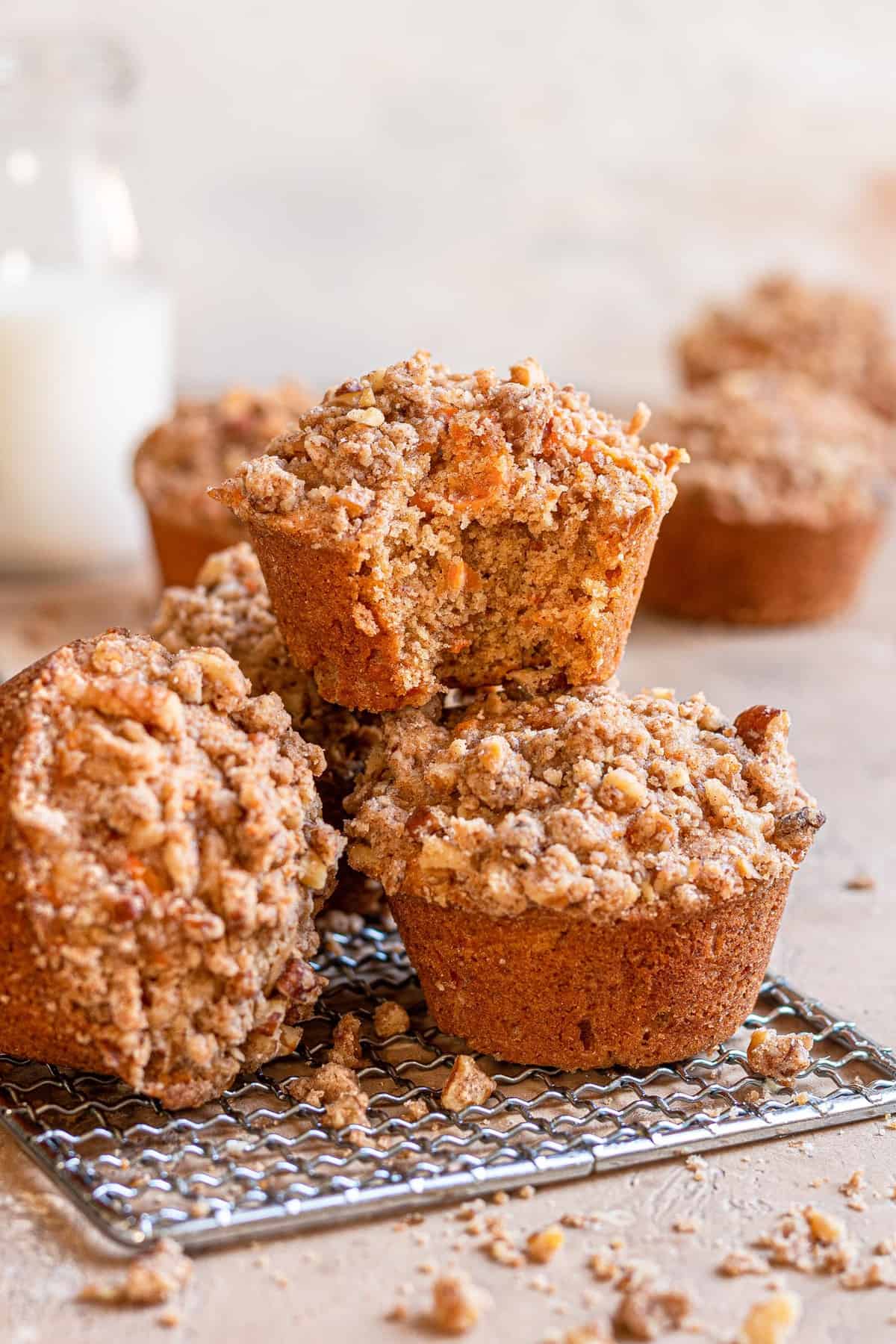 What Ingredients do you need to bake these Carrot Muffins:
All-Purpose flour, just two cups for that perfect crumbly and soft bite.
Baking powder, no need for baking soda as we are not using and acidic ingredient.
Cinnamon the recipe calls for 2 tsp but feel free to add or take some off.
Sugar and Molasses, basically its light brown sugar. So feel free to use light brown sugar instead of regular sugar and molasses.
Shredded Carrots, the carrots are used as the liquid source in the muffins which is why it is important to use the right amount (see notes below).
Vegetable Oil, I used canola.
How to store the muffins?
These muffins are best eating the same day they are baked. But they are still delicious 2 days later when kept in a sealed container at room temperature.
Another option is to bag them in a freezable bag and freeze for 2-3 weeks. Remove them from the freezer and the bag to reach room temperature, before serving warm them up in the oven 250F for about 12 minutes.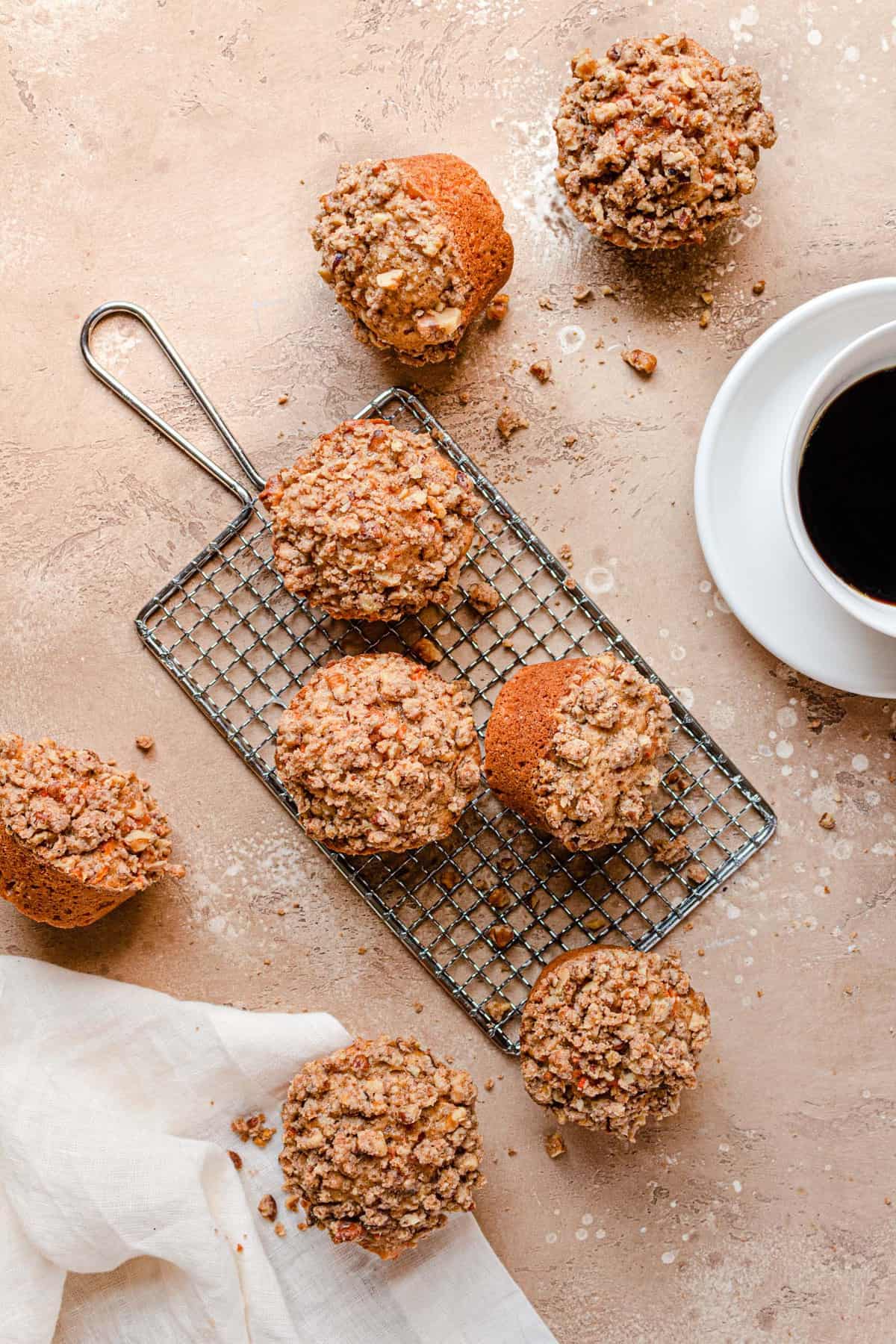 Few More Tips For Baking These Carrot Muffins:
The recipe yields 10 muffins. However, if you wish to have 12 muffins, simply fill each muffin cavity 3/4 full.
You can bake the muffins in muffin liners. But if you chose to bake the same way I did, straight in the tin. It is very important to grease the cavities with soften butter and sprinkle with some flour. I found this is the best way to make sure the muffins will not stick to the tin.
The recipe calls for 2 tsp of cinnamon. When testing I found that 1 or 1.5 tsp are not enough. But this is a personal preference, so feel free to adjust according to your liking.
Another option is to skip the streusel and sprinkle 1 TBS of turbinado sugar.
I did not specify which nuts to use but I recommend pecans or walnuts.
For a nut-free option replace the chopped nuts with old fashion oats.
If you use store-bought shredded carrots pay attention to its freshness. Not so fresh shredded carrots will have a dull color and might seem a bit dry. If that is the case, add 1 more TBS of water to the batter.
If you do not have a scale, please make sure to measure the carrot in a way that it is not tight. Just place it in the measuring cup and do not press it down.
HAPPY BAKING!!!
Here are some more fun recipes you might enjoy:
One more thing…
Also, don't forget to tag @OneSarcasticBaker on Instagram if you bake this recipe. Would love to see your creations!
Did you like this recipe and inspiring? Save THIS PIN to your Muffins, or baking boards.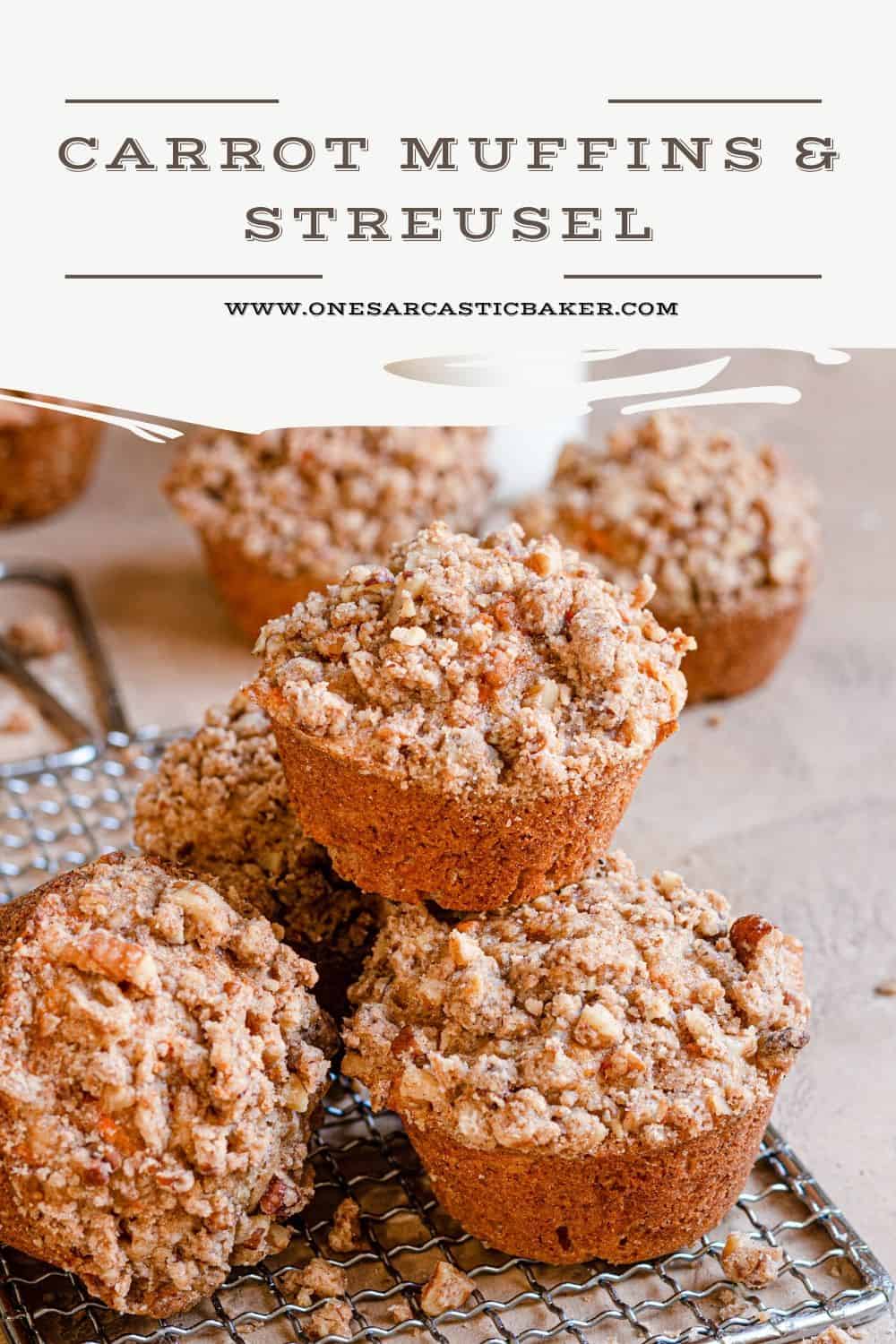 Carrot Muffins
Ingredients
2

Cup

AP Flour

(240 g / 8.5 oz)

1

tsp

Baking powder

2

tsp

Cinnamon

1

Cup

Sugar

1

tsp

Molasses

2

Large

Eggs

2

Cups

Shredded Carrots

(200 g / 7 oz)

1

TBS

Water

1/2

Cup

Vegetable oil

(120 ml / 4 oz)
Streusel
5

TBS

Unsalted butter, melted

(70 g / 2.5 oz)

3/4

Cup

AP flour

(90 g / 3 oz)

3/4

Cup

Toasted chopped nut

(120 g / 4 oz)

1

tsp

Cinnamon

1/3

Cup

Light brown sugar

(70 g / 2.5 oz)
Instructions
Streusel
In a medium bowl place the flour, cinnamon, chopped nuts, and sugar and use a fork to incorporate.

Drizzle in the melted butter and use the fork (or your fingers to blend ingredients together). Set aside while making the muffins.
Carrot Muffins
Preheat oven to 350F. Grease 10 muffin cavities with soft butter and sprinkle with flour.

In a medium bowl, sift together the flour, cinnamon and baking powder. Mix to incorporate.

In a large bowl, whisk together the sugar, molasses, and eggs until light and frothy. About 30 seconds.

Drizzle in the oil and water and whisk to combine.

Fold in the shredded carrots.

Fill the greased muffin tin all the way to the top and sprinkle with streusel.

Bake for 20-24 minutes turning the pan halfway the baking time.