Last updated on May 7th, 2021.
These Chocolate Peppermint Christmas Cookies are melt in your mouth tender chocolate cookies filled with a refreshing peppermint chocolate filling.
Obviously cookies are the best part of the holiday season. Well, maybe not the best but definitely somewhere in the top 5. There are some things you can definitely count on when it comes to holiday cookies. Like how certain shapes and flavors can really upgrade any cookie from the "any day" category into the "holiday spirit" category.
Making that upgrade is super easy. Simply choose your favorite cookie recipe, your favorite holiday cookie cutter, and whatever special flavor you're in the mood for.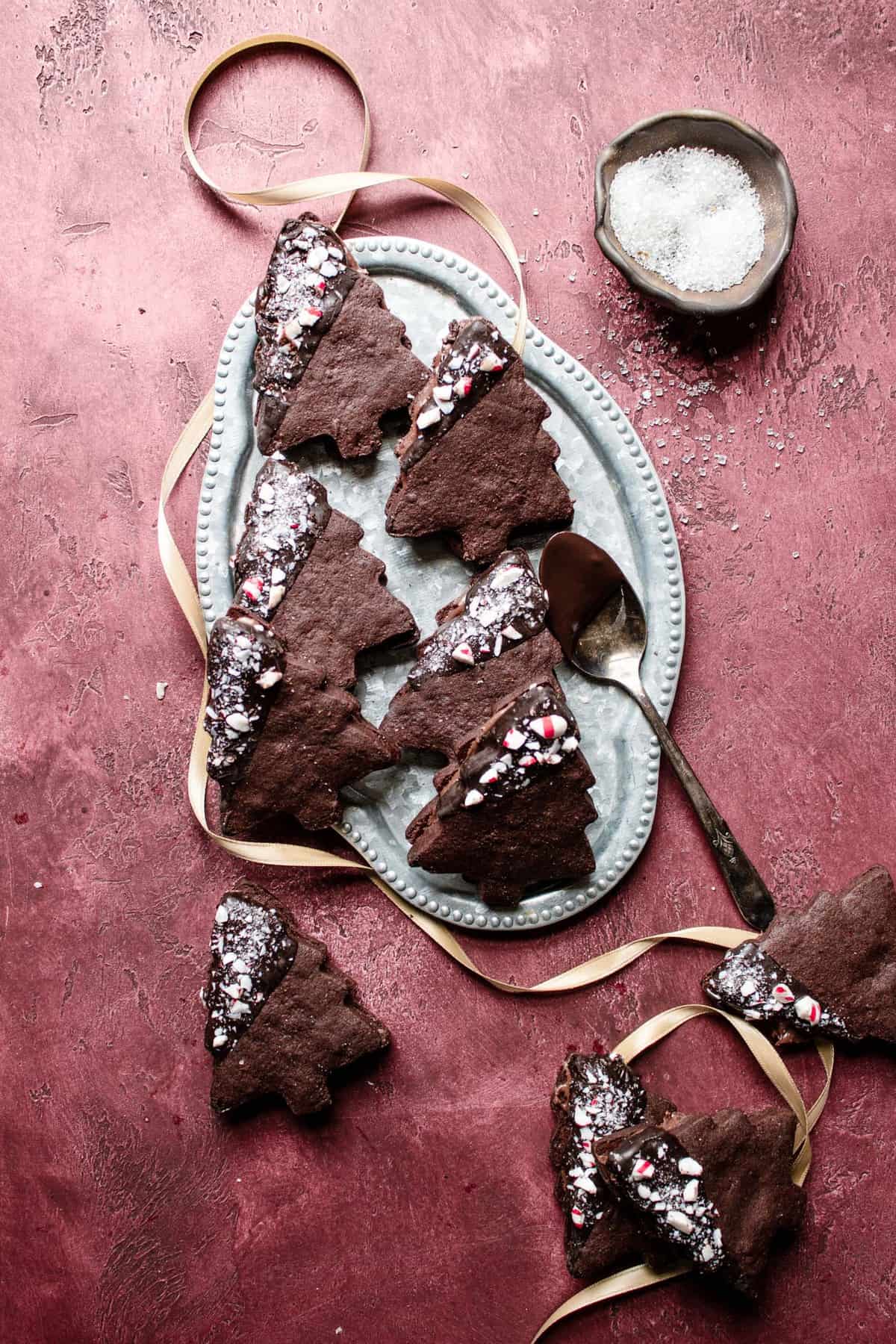 That is excactly what I did here. I used a Christmas tree-shaped cookie cutter and added some crushed peppermint candy to my favorite chocolate spread. Now I can tag these cookies as Christmas cookies.
And in a few months, I will replace the tree with a heart and the peppermint with some dried freeze raspberries. Then I will tag the cookies as Valentine's cookies.
It is as simple as that.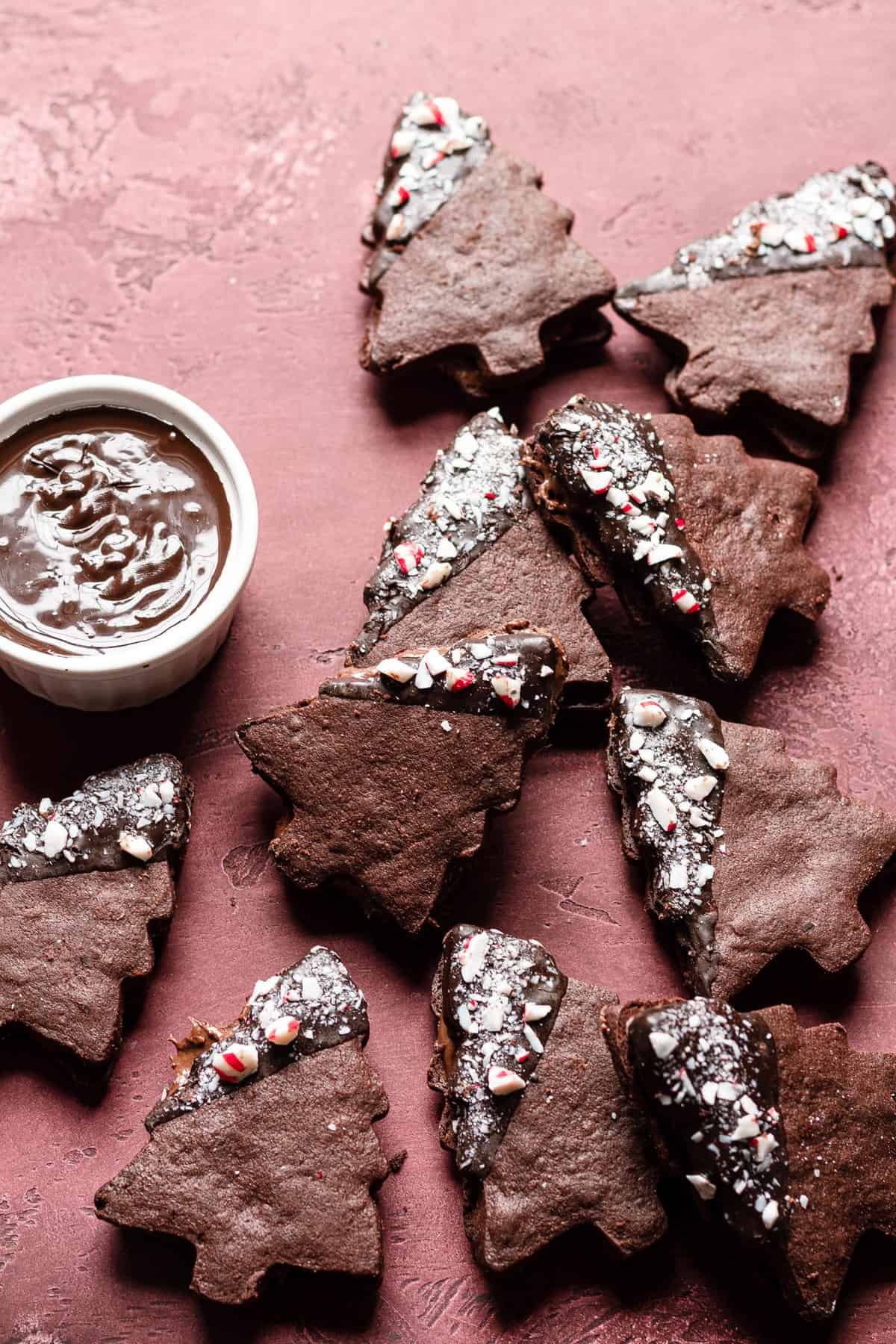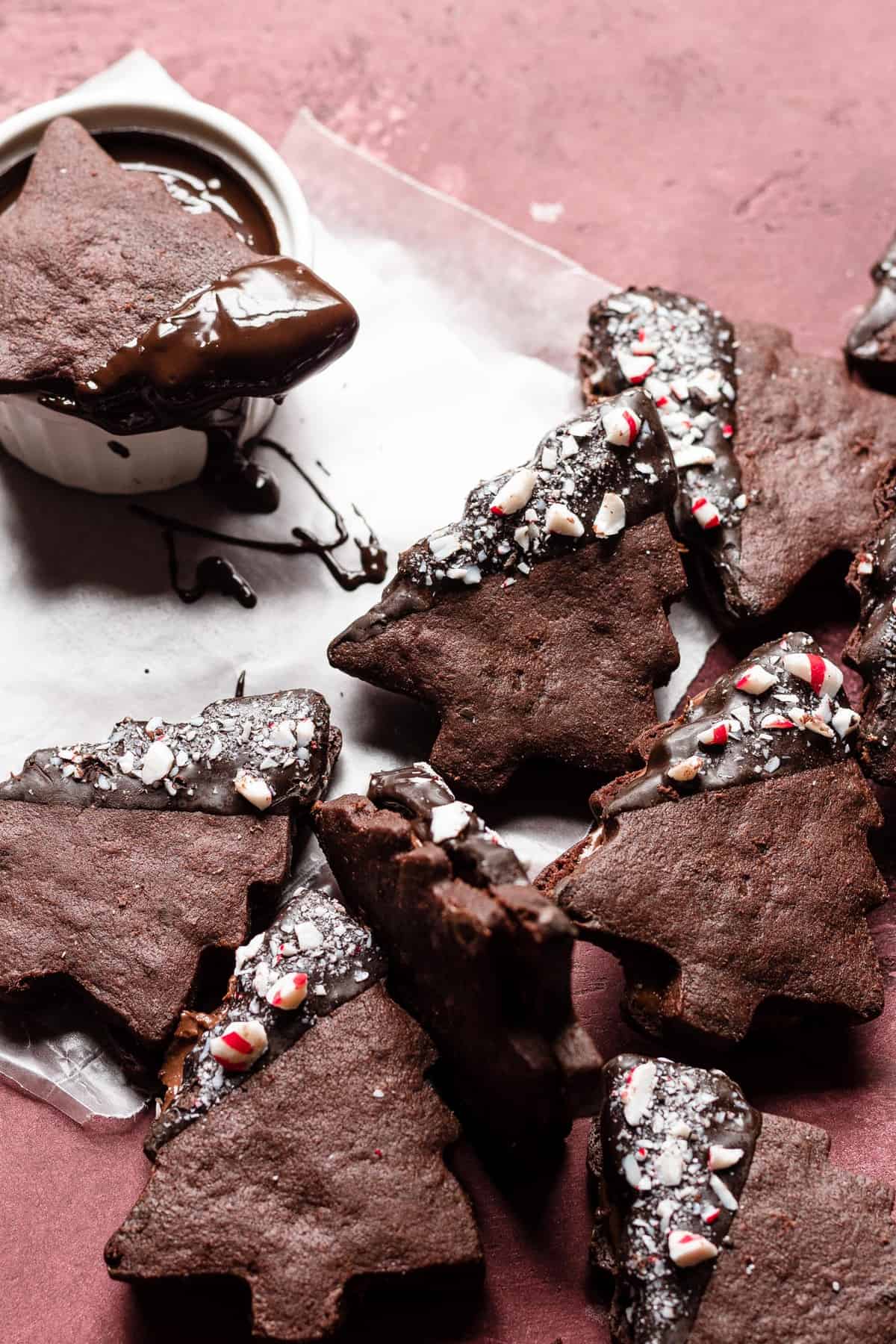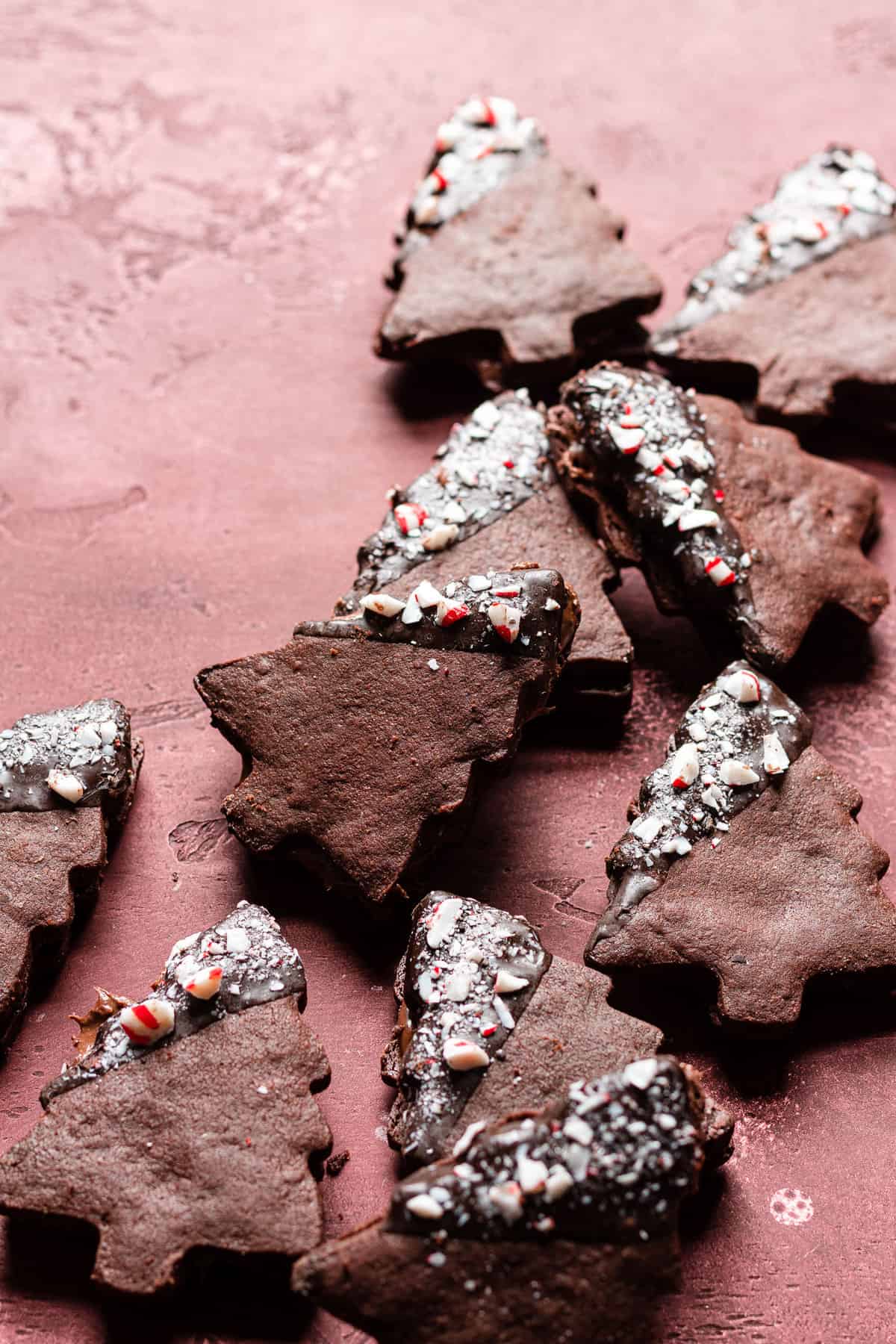 Now Let's Talk About This Chocolate Peppermint Christmas Cookies:
As you can see the cookies are not very smooth but a bit bumpy. If you do not like this rustic look, use a fork or a toothpick to pierce the cookies before baking.
Use your favorite chocolate paste such as Nutella, Pan Di Stelle or any brand you prefer.
If you are not a peppermint fan, drop the peppermint candy from the recipe.
Christmas trees are just an option for a cookie shape. Feel free to use any shape you wish.
If you are a big peppermint lover, feel free to add 1 tsp of peppermint extract while making the dough along with the melted chocolate.
Please note that the cookies are very tender which means they might break easily. Something to consider when packaging these as a giveaway.
This recipe can be used as spritz cookies and can be pressed through a cookie presser.
HAPPY BAKING!!!
Here are some more fun cookies recipes you might enjoy:
One more thing…
Don't forget to tag @OneSarcasticBaker on Instagram if you bake this recipe. Would love to see your creations!
Please note that this post contains affiliate links which means I will be paid some commission but at no cost to you.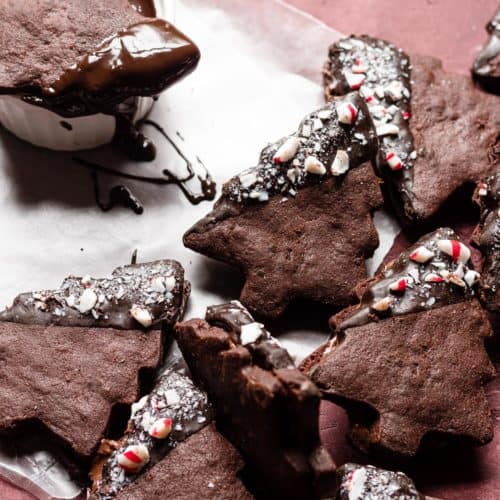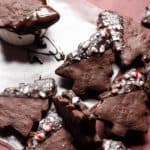 Chocolate Peppermint Christmas Cookies
Servings
12
Double Cookies
Ingredients
Chocolate Cookies
1 1/2

Sticks

Unsalted butter, soften

(170 g / 6 oz)

1/3

Cup

Confectioners Sugar

(40 oz / 1 1/2 oz)

1 1/2

Cup

AP Flour

(180 g / 6.5 oz)

1

TBS

Cocoa powder

(10 g / 0.5 oz)

1/4

Cup

Semi-sweet melted chocolate

(40 g / 1.5 oz)

1/3

Cup

Cornstarch

(40 g / 1.5 oz)
Chocolate peppermint filling
1/2

Cup

Your choice of chocolate filling

5

Peppermint candy
Chocolate dip
1

Cup

Semi-sweet chocolate chip

(170 g / 6 oz)

1

tsp

Vegetable shortening

3

Peppermint candy, roughly chopped
Instructions
In a bowl of a standing mixer, place butter and sugar and beat medium speed until light and fluffy, about 3-4 minutes.

In a medium bowl, sift together flour, cocoa powder, and cornstarch.

Add flour mix to the butter mix followed by the melted chocolate and mix to incorporate.

Form the dough into a ball and place it between two pieces of parchment paper.

Roll the dough to 1/4" thick and place in the refrigerator for about 1 hour.

When ready to bake, preheat oven to 350F and line two cookie sheets with parchment paper.

Remove dough from the refrigerator and use 2.5" Christmas tree cookie cutter to cut the dough.

Place shaped cookies on the prepared cookie sheets and bake for 8-10 minutes.

Remove from oven and allow to cool before filling and decorating.
Filling
Place the peppermint candies in a ziplock bag and crush it using a rolling pin.

Place the peppermint crushes in a food processor (or a coffee grinder) and process to a fine powder.

Mix the peppermint powder with the chocolate spread.
Assembling
Divide the cookies into pairs. Dip one cookie with the melted chocolate and sprinkle it with crushed peppermint candy.

Spread the second cookie with some peppermint chocolate, and top it with the dipped chocolate cookies.

Repeat with remaining pairs.