Welcome to a delectable journey into the world of Chocolate Thumbprint Cookies, where the allure of rich cocoa and the joy of creating delightful thumbprint masterpieces converge. This great recipe is an iconic one among Christmas cookies, the creamy chocolate filling adds another layer of deliciousness to the rich chocolate flavor.
If you are looking for more Christmas Cookies and recipes, check out these Chocolate Peppermint Christmas Cookies, Coffee Spritz Cookies, and Eggnog Muffins.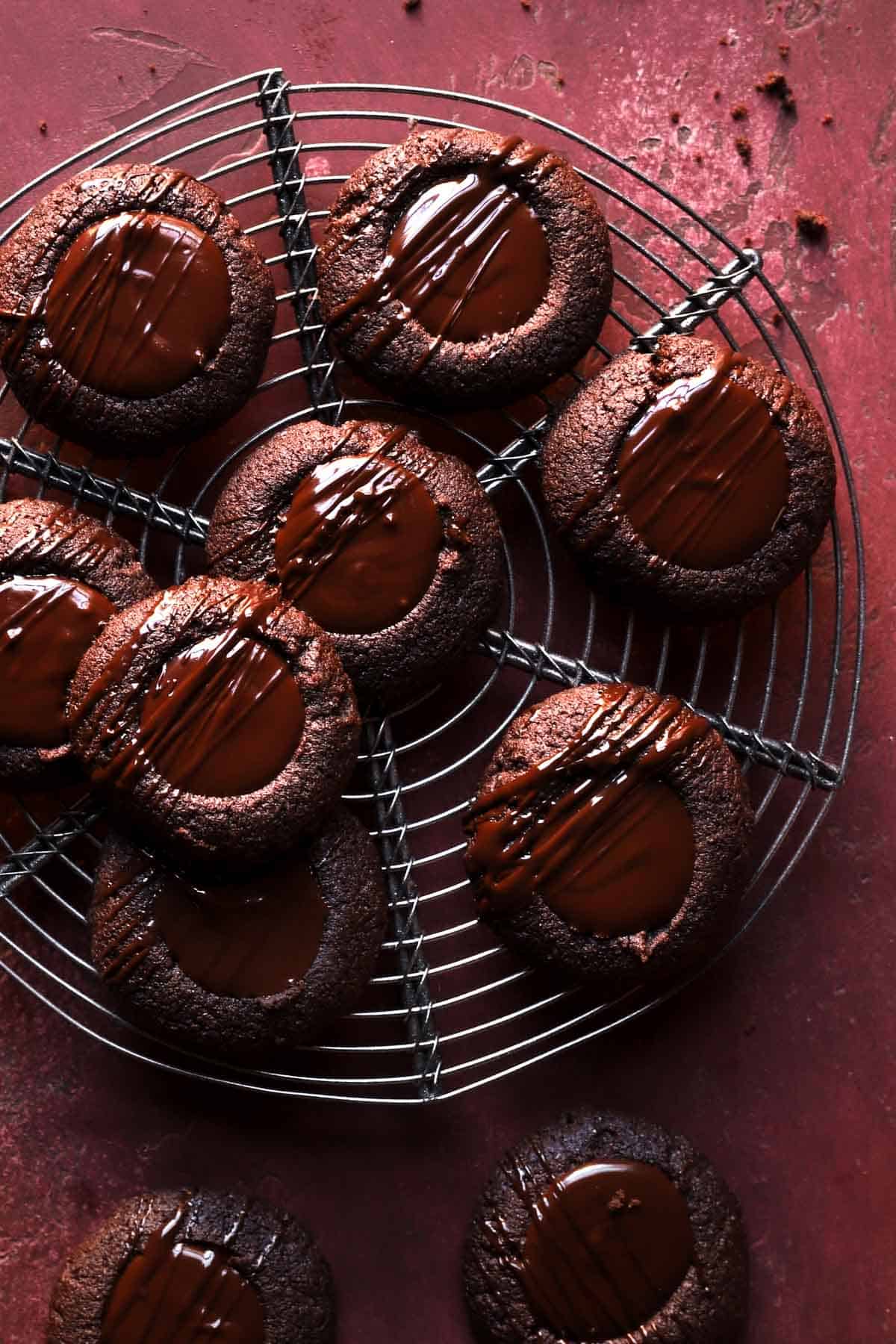 Why You Love This Recipe
There's something undeniably delightful about the combination of rich, gooey chocolate and the buttery goodness of a perfectly baked cookie. Enter Chocolate Thumbprints – a treat that not only satisfies your sweet tooth but also adds a touch of elegance to any gathering.
Irresistible Flavor Fusion: The cookie base resembles buttery shortbread cookies, and the rich chocolate ganache filling, gives them a festive look and a decadent texture, making them the perfect cookies.
Versatility at Its Best: Whether you're hosting a holiday gathering, a cozy family dinner, or a casual afternoon tea, these thumbprint cookies are a versatile choice. Customize them with your favorite fillings and, or coating to suit any occasion – from classic chocolate ganache to tangy fruit preserves.
Simple Elegance: The charming thumbprint in the center of each cookie not only adds a touch of visual appeal but also creates a perfect nest for creamy chocolate ganache or, your chosen filling. It's a small detail that makes a big difference, turning a simple cookie into an elegant dessert.
Ingredients
The complete recipe including measurements of what you'll need can be found below in the recipe card
Unsalted Butter, soften
Sugar
Egg yolk, at room temperature
Vanilla Extract
Milk, or heavy cream
All-purpose flour
Cocoa powder. You can use natural unsweetened or Dutch process cocoa powder, the latter will give the cookies a dark/dramatic look.
Salt.
Chopped semi-sweet or dark chocolate
Corn Syrup, or honey
How to Make Chocolate Thumbprint Cookies
​You can make this wonderful cookie recipe using a stand mixer fitting with the paddle attachment, a hand mixer, or an electric mixer.
In a large bowl, or a bowl of a stand mixer, cream butter and sugar until light and creamy. Add the egg yolk, milk, and vanilla extract mix to blend.
Mix in the dry ingredients: flour, cocoa powder and salt.
Use a tablespoon to measure and roll dough into 30 cookie dough balls and place them over a prepared baking sheets lined with parchment paper. Use the back of a measuring spoon to dent the center of each ball, then chill for a minimum of one hour.
Bake the cookies, then remove them and immediately use the back of the spoon again to press down the puffed center.
In a medium bowl, melt the chopped chocolate, and mix in the corn syrup followed by the heavy cream.
Use a spoon to fill the chilled chocolate cookies with the ganache, and decorate with sprinkles.
Tips
Room Temperature Ingredients: Ensure your butter and eggs are at room temperature for optimal cookie texture.
Precision Matters: You can use a kitchen scale to measure the ingredients, otherwise use measuring cups and spoons for accurate ingredient quantities, too much flour or cocoa powder will yield dry, cracked cookies.
Do not overcream the sugar and butter, cream just until you have a cohesive mixture.
To learn more, check out my post on How To Make Chocolate Ganache.
Coat the cookies for extra flavor and texture. Roll the dough ball in turbinado sugar, coarse sugar, or finely chopped pecans
Variety in Fillings: Experiment with various fillings like raspberry jam, peanut butter, salted caramel, hazelnut spread, or a drop of two of peppermint extract for chocolate peppermint thumbprint cookie.
Storing
To keep your Chocolate Thumbprint Cookies fresh, store them in an airtight container at room temperature for up to a week. You can freeze the cookies in a freeze bag for up to four weeks.
FAQ
Can I make the dough ahead of time?
Absolutely! You can refrigerate the cookie dough for up to 48 hours before baking. Just be sure to let it come to room temperature for easier handling.
Can I freeze the filled cookies?
While the cookies themselves freeze well, it's best to freeze them unfilled. Add the filling after thawing for the best texture and flavor.
How do I prevent the cookies from spreading too much?
Chilling the dough for about 30 minutes before shaping can help control spreading and maintain the cookies' shape during baking.
​Why did my cookies crack?
Too much flour or too much cocoa powder will cause the cookies to crack.
More Cookies You Might Enjoy
Chocolate Halva Cookies, Pignoli Cookies, Coffee Cookies
Don't forget to tag @OneSarcasticBaker on Instagram whenever you bake this recipe. Would love to see your creations!
Chocolate Thumbprint Cookies Recipe
Servings
30
small Cookies
Ingredients
1/2

Cup

Unsalted Butter, soft

(113g)

1/2

Cup

Sugar

(100g)

1

Large

Egg yolk

1

tsp

Van. Extract

2

teaspoons

Milk, at room temperature

1

Cup

All-purpose Flour

(120g)

1/3

Cup

Cocoa Powder

(30g)

1

Cup

Semi Sweet chocolate chips, melted

(170g)

1

tablespoon

Corn syrup

1/4

Cup

Heavy cream, lukewarm

(60ml)
Instructions
Beat the butter and sugar until comes together.

Mix in the egg yolk, vanilla extract and milk.

Gradually add the flour, cocoa powder and salt, 1/2 cup at a time.

Measure a tablespoon of dough, roll it then line it over a baking pan lined with parchment paper.

Use the back of a measuring spoon to dent the center of the cookies, and refrigerate for one hour.

Bake at 350F (180C) for 10-14 minutes.

Remove from the oven, then use the back of a spoon again to press down the puffed center. Allow to cook completely.

Melt the chocolate, mix in the corn syrup, then gradually mix in the room-temperature heavy cream.

Fill the center of each cookie with the chocolate ganache, and sprinkle with cookies.
Recipe Notes
Store the cookies at room temperature in an airtight container for up to one week.
Freeze the cookies in a freeze bag for up to four weeks.
Roll the dough balls in sugar, or chopped nuts for extra flavor and texture.
Fill the cookies with your favorite filling: Biscoff butter, jam, white chocolate ganache, peanut butter, and more.
Do not overcream the butter and sugar, beat just until the two come together.