Last updated on December 2nd, 2022.
I am a lucky girl who married one of the good guys. He often surprises me with flowers. He will let me watch "Girls" on the big TV while he watches NFL on his phone, He will go to the market at 10 pm to get me butter or sugar and he will NEVER say that I have too many pairs of boots.
One thing that outshines it all, is the fact that he sometimes acts like a child. Allow me to clarify.
It's Play Time
No wonder Emily chose Daddy before me, he is the perfect play mate. He will go into character and play the part for hours!
Whether he is the Australian Safari explorer with the accent that teaches a gorilla the sign language. An astronaut fixing the spaceship (Amazon box), and saving the galaxy. Perhaps the queen of England (again does the accent and wearing a crown he very politely borrowed from doll Elsa), knighting Emily for saving the Lego blocks from being destroyed by that wicked woman she occasionally refers as "Mom".
It takes a real man to act like a child. Lucky me!
One Afternoon
Emily and Mannie were having their fun while singing "who stole the cookies from the cookie jar…?". I use to love playing along, but then I lost all my baby teeth. So when I recognized the tones I knew I would better play my moves very smart or else be sucked into it.
By minute 8 into the song after Emily, Mannie, Juliet, Obe-one kanoby, Picacho, Anna, Elsa, Rapunzel (and few more) all cleared their names. I received a phone notification from Amazon letting me know my new cookie presser is waiting for me at the front door. I was so excited I forgot to strategize my steps and walk through the side entrance. As I lift the box I hear: "Mommy stole the cookies from the cookie jar…."
"Yep! I sure did! "
As the one who baked them, it's only fair and I am not saying another word without my lawyer!
If you had a jar full of these Coffee Drops Cookies, you would be giving the same answer!
I remember how the recipe got my attention back in 2009 when I got a BHC cookie magazine, the recipe did not fail. Yes, I still have the magazine. Some things I just treasure.
Here are some more cookies recipes: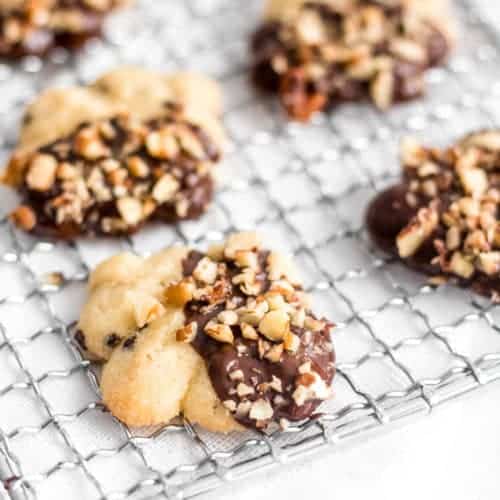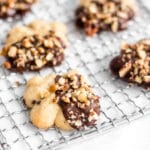 Coffee Drops cookies
This coffee cookie is not only sweet and crispy it is easy to make and it is all about the coffee. For the coffee lovers or just cookies lovers, this is it!
Ingredients
2

Sticks

Butter, Soft

(230 g/ 8 oz)

3/4

Cup

Sugar

(150 g / 5.5 oz)

4

tsp

instant espresso powder

1/2

tsp

salt

1/4

tsp

Baking powder

1

egg

Large

1

tsp

Vanilla extract

2 1/3

Cup

All Purpose Flour

(280 g/ 10 oz)
For the topping
1

cup

Semisweet Chocolate melted

(170 g/ 8 oz)

1 1/2

cup

Finely chopped pecans (or your choice of nuts)

( 180 g / 6.5 oz)
Instructions
Preheat oven to 375F. Line 2 -3 cookie sheet pan with baking paper.

In a bowl of a stand mixer on medium-high speed, mix the butter for 30 seconds.

Add sugar, espresso powder, salt and baking powder. Beat until combine stop mixer to scrape sides of the bowl,

Add the egg and vanilla and allow to combine.

Add the flour and mix just to combine.

Using a cookie presser with your choice designed, press cookies on the baking pan. Space each cookie 1 inch apart.

Bake for 10-12 minutes until edges of the cookies are firm and brown.

Dip ends of the cookies into the melted chocolate and then dip or sprinkle nuts.
Recipe Notes
If you do not have a cookie presser, use a cookie spoon (small) and press the top to flatten the cookie.
To avoid having dough stuck on your finger, dip your finger in a small amount of water.
Feel free to chose what ever cookie shape you desire, the quantity may vary because of that.
For More Information Click on the Pictures!
**Please note that I am part of the Amazon Affiliate Network. If you chose to purchase through the above link, I will receive a small commission (at no additional cost to you).