Last updated on May 7th, 2021.
Tahini Maple Cookies
Here's a question for you: if two grown men walk into a fancy steak restaurant, one is 93 the other is 37. Who out of the two will get the raw bloody Stake and who will get the baked Fish?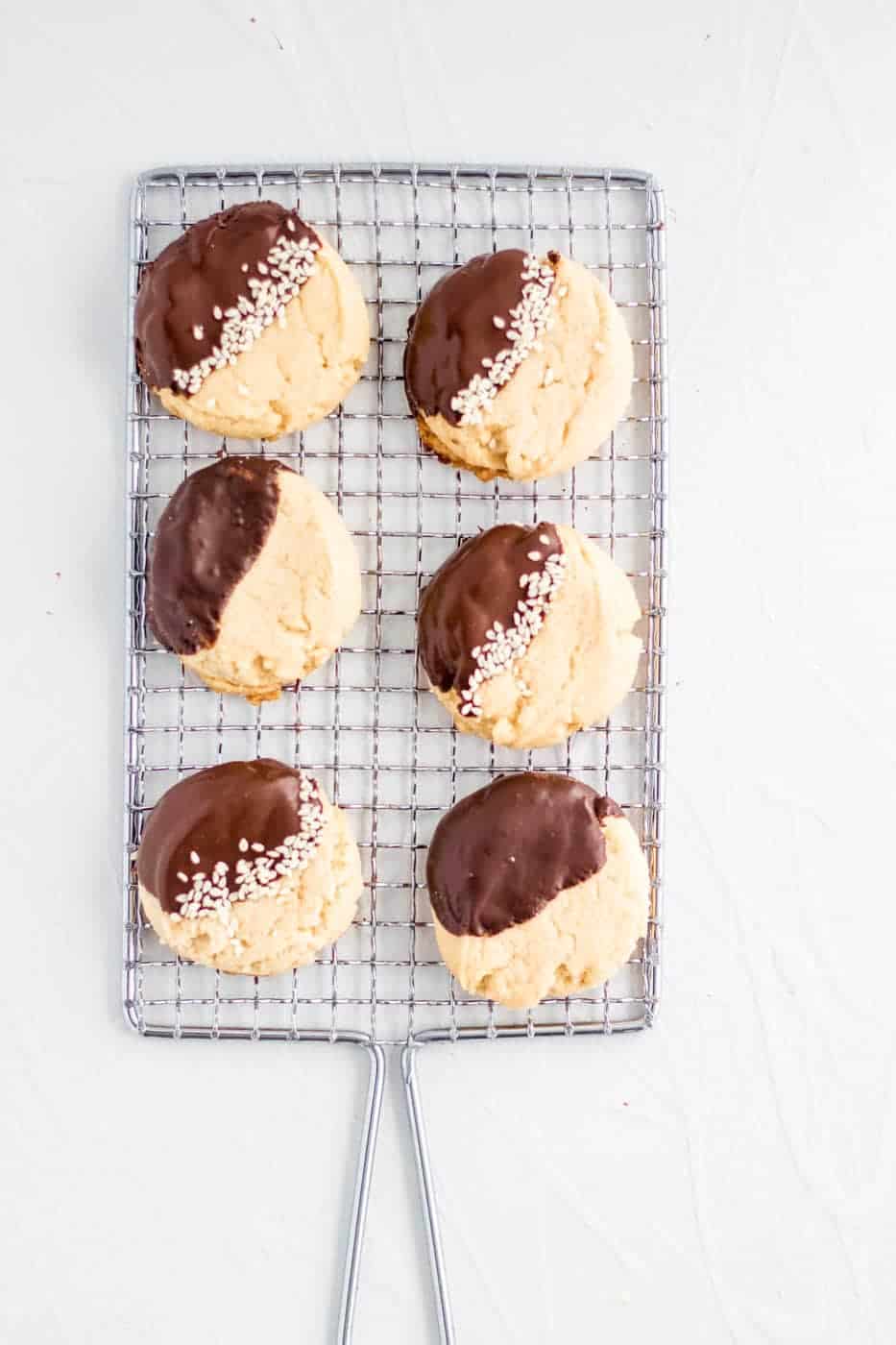 If you speak sarcasm you guessed it right! Not the 37.
Our dear dear friend, Abe turned 93 last winter. He is the reason why one might think that age is just a number.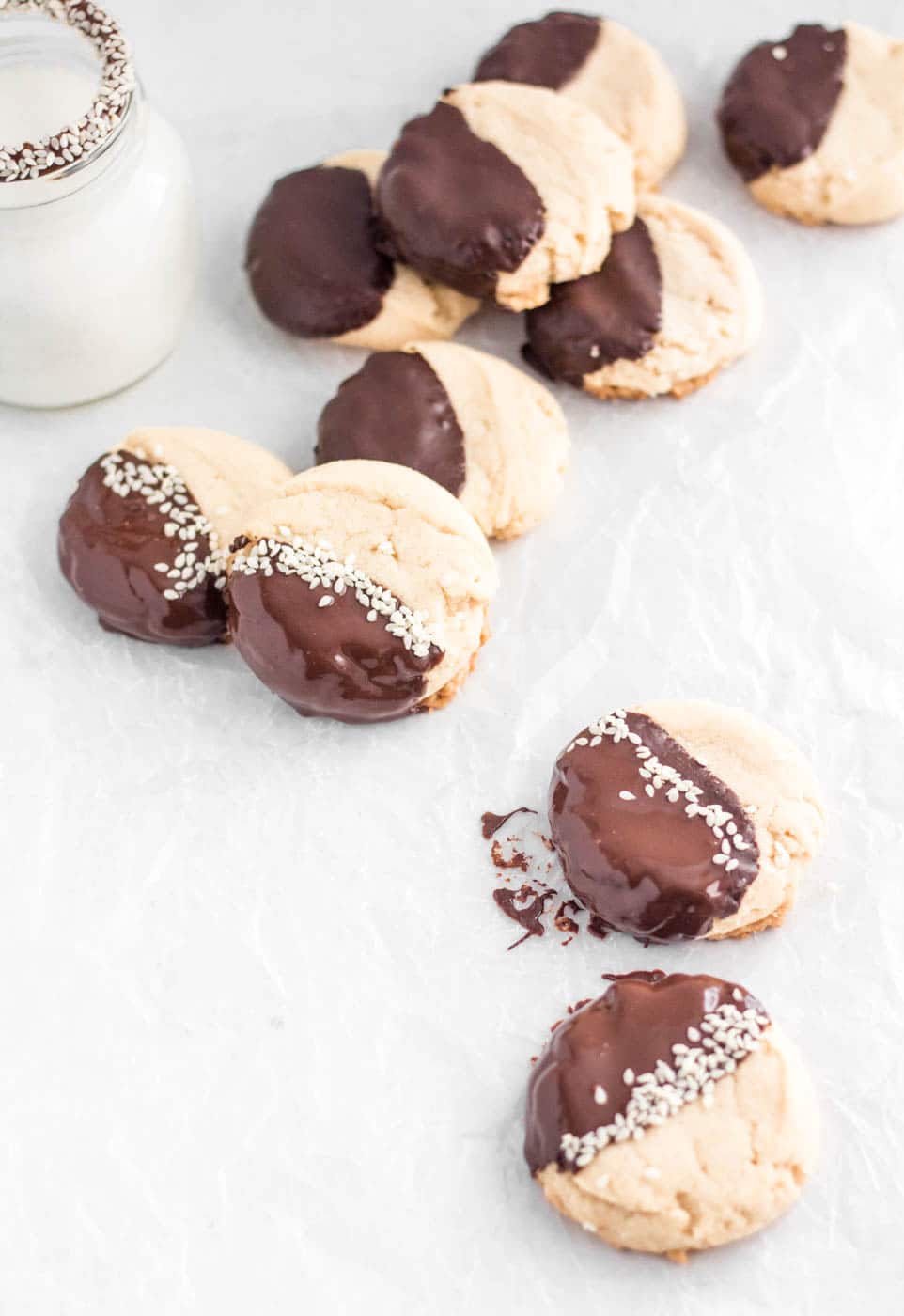 Abe was born in Poland in a "Fiddler on the Roof" type of a village. Was taken to concentration camps where he spent 5 years. After the war, he moved to Germany. A while after he moved to Salt Lake City (fell in love with the mountains) where he raised 2 children while working at the mine.
(FYI to all of you bakers out there. At first, he worked at a local bakery but the job was too hard so working at the mine was more to his liking. ? )
He always says: "when I had the teeth I did not have the money to buy the Steaks. Now, that I have the money I do not have the teeth…"
You would think this would stop him, right?
Not really
On our last visit to Salt Lake City, he took us to his favorite Steak restaurant. While he ordered the prime rib, raw, with a side of oily Spaghetti and a draft beer. Me and Mannie got the baked Halibut with steamed vegetables and water (no ice). Is something wrong in this picture??
I can tell you right now, when I grow up I want to be Abe!
You have to love a man that finishes his dinner with 3 no ice, clean, Whiskey! (I had green tea).
As I mentioned before, Abe is a dear dear friend so every once and awhile I mail him a big package filled with his favorites.
By now you guessed it. These Tahini cookies are one of his favorites. Not only these cookies melt in your mouth, they are so easy to make. Take a bowl mix everything and bake. You can even skip the chocolate dipping. The cookie can shine on its own. Another great recipe I always add the box is these AMAZING BLONDIES!
If you are not a Maple fan or really love the taste of Sweet Tahini, skip the Maple and add an addition 1/4 cup of sugar.
Here are some more amazing gift it recipes:
Tahini Maple Cookies
These cookies are a mouthful of deliciousness. Just 3 easy steps and you have the best companion to a hot drink or milk.
Ingredients
2 1/2

Cups

All Purpose Flour

( 350 g/ 12.5 oz)

3/4

Cups

Sugar

( 150 g/ 5.5 oz)

1/4

cup

Maple syrup

1

Cup

Plain Tahini Paste

1

Cup

Butter soften

(225 g / 8 oz)
Chocolate coat
1

Cup

Semi sweet chocolate chips

(170 g/ 6 oz)

2

tsp

Vegetable Shortening

1/2

Cup

sesame seeds or chopped nuts
Instructions
Preheat your oven to 350F.

Place all the ingredients in a large bowl and mix by hand until all combined and you get a playable dough. It might take a while for the dough to form but keep mixing, it will.

Using a large cookie spoon place dough on a pan and press each cookie to flatten. ( not too flat you still want it to be thick, try to just flatten the top part).

Bake for 12-15 minutes (depends on your oven), until the sides of the cookie get a little dark.

Place baked cookies on a cooling rack and let cool completely.

Melt the chocolate chip with the shortening and dip half of each cookie. Sprinkle nuts or maple sugar on top. Allow chocolate to harden.
Recipe Notes
Variation:
You can skip the maple syrup and just use a full cup of sugar.
If you wish, you can omit the Tahini with Peanut Butter and the Maple with Honey.
Click the Picture for more information!
**Please note that I am part of the Amazon Affiliate Network. If you chose to purchase through the above link, I will receive a small commission (at no additional cost to you).