Mmmm… Butterscotch Blondies…
Do you have a "bumper sticker" friend? One that quotes lines claiming the Dalai Lama said it, but really he or she just read it off someone's T?. Did you ever notice that they always share their wisdom at the WORST TIME?
I mean, when I'm in labor, don't tell me to "take deep breaths and embrace nature".  Right now nature sucks!!!
I defiantly married one, and he knows when it is best to just walk away (oh true love). My close friends are also aware of the importance timing has when sharing a quoted advice. Which is why they all enjoyed the tale I shared about my latest trip to the market.
It was a stormy and rainy night.  Mannie was away on a business trip, Juliet woke up every hour and fell asleep for short naps, only so her sister can call me because she was having nightmares.  We woke up late and missed the school bus, which meant that I had to drive Emily to school, and Without even drinking my coffee.  From school, I had to drive to the market and buy some items for the play date that afternoon.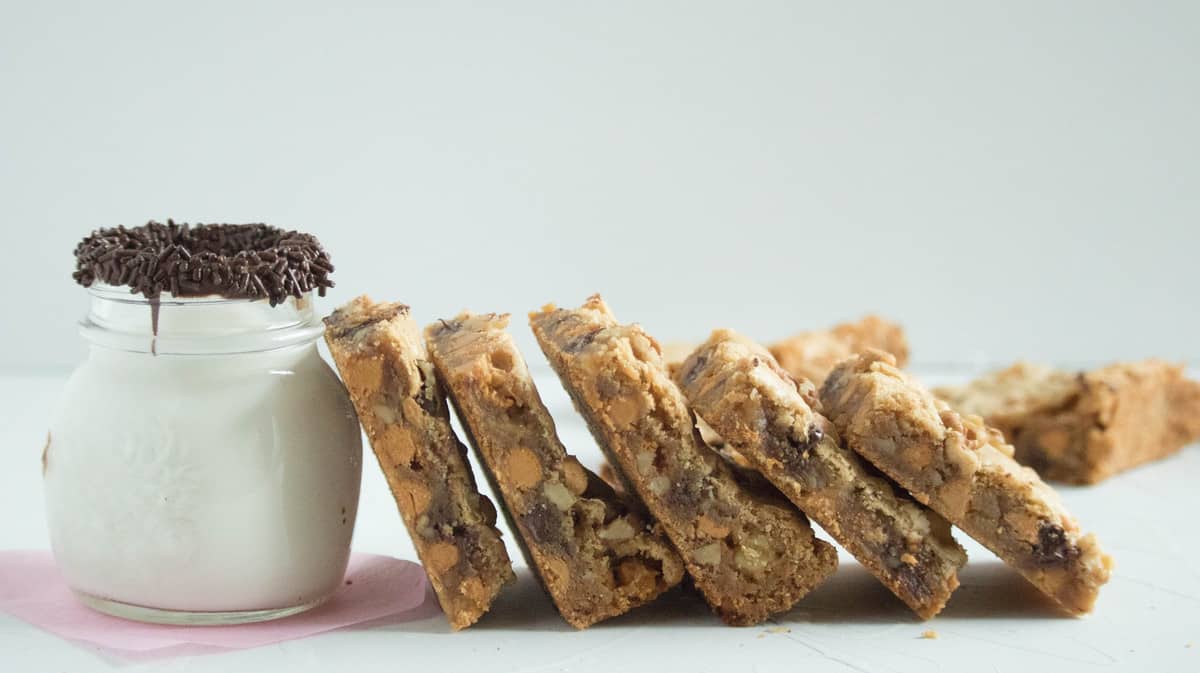 It was a quick trip accompanied by a very tired and fussy baby, that had no problem to let everybody know about it.  As I was loading my trunk, while holding a screaming baby and rubbing my eyes, a young "gentleman" approached me. He was wearing a grainy smile and said (and I quote): " Your baby is getting your bad vibes….you need to channel your beings towards a positive energy…." Ohh. no. he. didn't!
It took me about 15 seconds to understand what was going on.  What I really wanted to say was  "how about I'll channel my fist toward your face…?". But instead, I just smiled and said: "pardon, pero Yo no hablo inglés…".  Then drove home, channeled Juliet toward a nap and myself toward the kitchen where I baked these amazing Butterscotch Blondie. Which tasted so good with a very large cup of coffee.
The sun came Out and again, all was well in the world! (Juliet and Emily went to bed super early that night)
Enjoy the moment Blondie
With 2 kinds of Chocolate, nuts and Butterscotch Sauce, this Blondie may as well be called A Brunette. It's Chewy, it's crunchy it's hearty and it will make you just "stop and smell the roses..."

Ingredients
1/2

cup

Unsalted Butter

113 g/4 oz

1 1/2

cup

Light Brown Sugar

320 g/11 1/4 oz

1 3/4

cup

White Whole Wheat Flour

200 g/ 7 oz Regular All Purpose Flour Is ok

2

tsp

Baking Powder

1/2

tsp

Salt

2

Large

Eggs

2

tsp

Vanilla Extract

1

tbsp

Whiskey

Optional

1

cup

Butterscotch chips

170 g/ 6 oz

1

cup

Chocolate chips

340 g /12 oz . Your Choice of Flavored Chips. (Vanilla, Cinnamon, Butterscotch)

1

cup

Walnuts or your choice of nuts

120 g/4 oz.
Instructions
Preheat oven to 350F. Line a 9" x 13" pan with parchment paper.

Sift the flour, baking powder and salt and a bowl and set a side.

Melt the butter in a medium sized saucepan.Add the brown sugar and mix until combined and smooth. Remove from heat and let cool until lukewarm.

Pour the Butter and Sugar mixture in a mixing bowl ,add the flour mix, eggs Vanilla extract and whiskey.Mix just until combined,over mixing will give the brownie a cakey texture.We want chewy and somewhat dense texture.

Fold in the Chips and Nuts and spread the mixture evenly in the prepared pan.

Bake until light brown on the sides and top, about 20 minutes.

Remove the Blondie from the over and let cool completely before slicing.
For more information, click the pictures
**Please note that I am part of the Amazon Affiliate Network. If you choose to purchase through the above link, I will receive a small commission (at no additional cost to you).
Please follow and like us: