Last updated on December 2nd, 2022.
These Poppy Seeds Bars are made of soft, crumbly and buttery short crust dough topped with a crunchy layer of wonderfully dark poppy seeds.
As mentioned above, the base for this recipe is short dough, did you ever wonder why short dough is called short dough?
The reason is pretty simple. The "short" description refers to the length of the gluten threads in the dough. Because of the high fat portion and lack of leavening, the gluten threads do not develop and remain "short". Which is the reason why we get a tender, crumbly and melt in your mouth crust.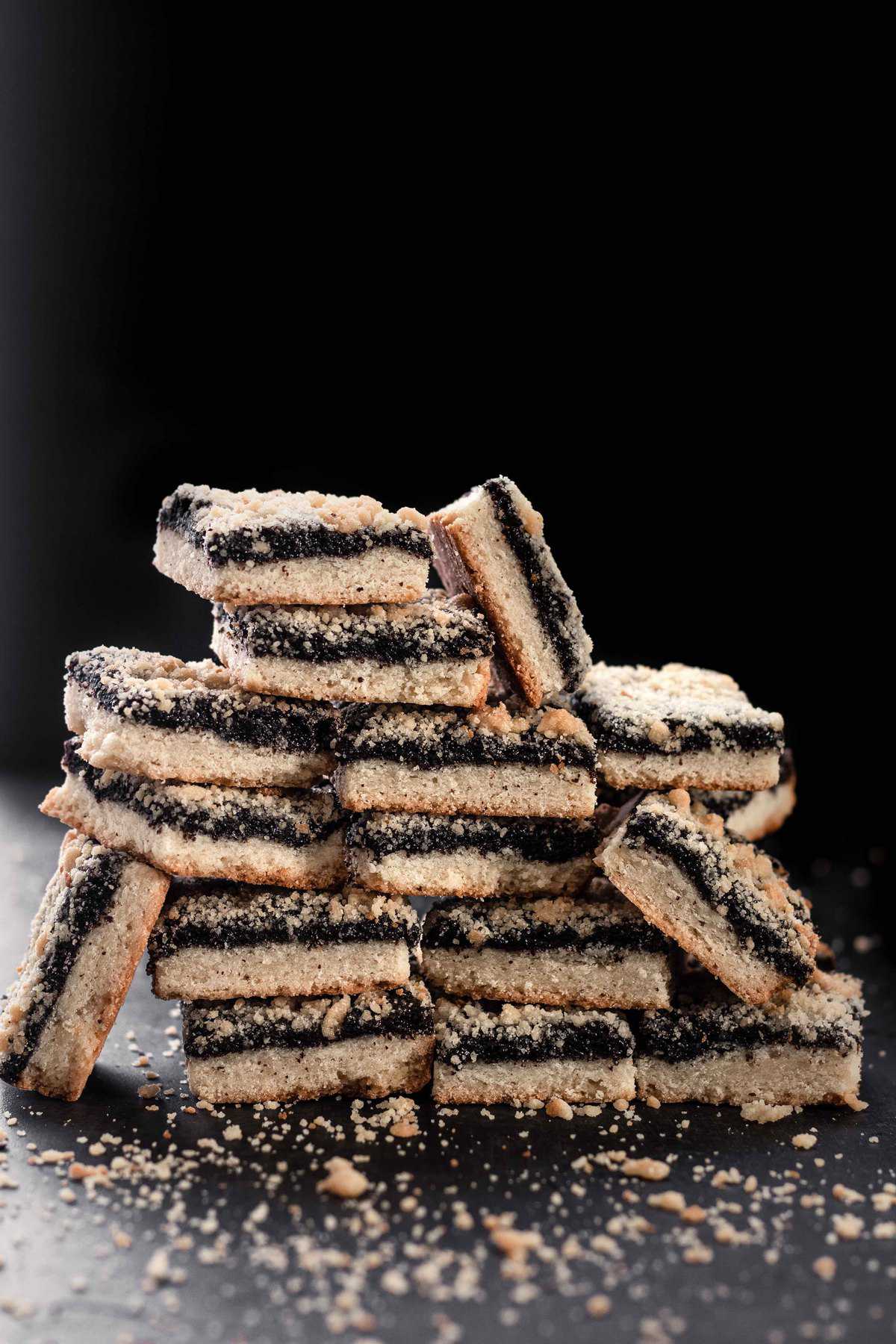 This Poppy Seeds Bars recipe it is actually a German treat also knows as "Mohn Bars". The best thing about this dough is that you can adopt it for many different bars, cookies and desserts.
You can use this dough to bake any kind of fruit bars or roll it to bake Rugelach, like these Fig Regulach.
Now lets talk about this Poppy seeds Bars recipe:
It is important to allow the dough to rest for a minimum of 1 hour. This will ensure the rich and crumbly texture of the bars.
Add 1-2 tsp of lemon zest for a bit more flavor when you mix the butter and sugar.
For non-dairy options use vegetable shortening instead of butter.
If you notice that the filling and/or the streusel are starting to get dark too soon, cover the pan with foil paper. Remove the foil immediately when done baking to avoid condensation.
You can find Poppy Seeds filling such as this, at the bakery aisle in your local market.
HAPPY BAKING!!!
Here are some more recipes from the Jewish Bakery you might enjoy:
One more thing…
Don't forget to tag @OneSarcasticBaker on Instagram if you bake this recipe. Would love to see your creations!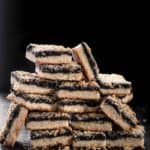 Poppyseeds Mohn bars
Ingredients
Short Dough
2

Sticks

Unsalted butter, soften

(226 g / 8 oz)

1/2

Cup +1 TBS

Sugar

(115 g / 4 oz)

1/2

tsp

salt

1

Large

Egg

2 3/4

Cups

AP Flour

(340 g / 12 oz)

1/2

tsp

Baking powder

1

tsp

Potato starch

1/2

tsp

Vanilla Extract

2

Cups

Poppyseeds Filling
Streusel Topping
2

TBS

Sugar

(28 g / 1 oz)

2

TBS

Butter ir shortening soften

(28 g / 1 oz)

1 1/2

tsp

Honey

(14 g / 1/2 oz)

1/3

Cup

AP flour

(56 g / 2 oz)
Instructions
In a food processor, process the sugar and butter until incorporated.

Mix the flour, salt, potato starch and baking powder in a bowl then add it to the food processor followed by the egg.

Pulse the mixture until a dough is formed.

Wrap the dough with plastic wrap and refrigerate for a minimum of 1 hour. Remove from the refrigerator 10-15 minutes before baking.

Preheat oven to 350F Line a 13×9  baking pan with parchment paper and grease the sides.

Roll the dough and flatten it evenly inside the baking pan. Using a fork prick it thoroughly and bake it for 10-12 minutes.

While the dough is baking make the streusel by creaming the sugar butter and honey together, add the flour and gently mix with a fork until pea sized lumps forms.

Remove from the over let cool for bout 10 minutes.

Evenly spread the filling and sprinkle the strudel on-top.

Bake for20-30 minutes until the streusel is golden brown. Allow the bars to completely cool before slicing.