Last updated on December 2nd, 2021.
Butter smothered stacks of fillo filled with chopped nuts and drowned with sweet honey orange blossom syrup. This is the best way to describe this Honey Orange Blossom Baklava
If you follow me on Instagram, you might know that I refer to this recipe as a "Family Heirloom". And it is, my Jewish Moroccan cuisine heritage is WAY over the top, sweet and with a pint of cinnamon.
But then again, it is not.
You see, for the longest time I hated Baklava. Giving the generous over use of rose water (like I said: over the top), it reminded me of a young teenage boy miss use of colon.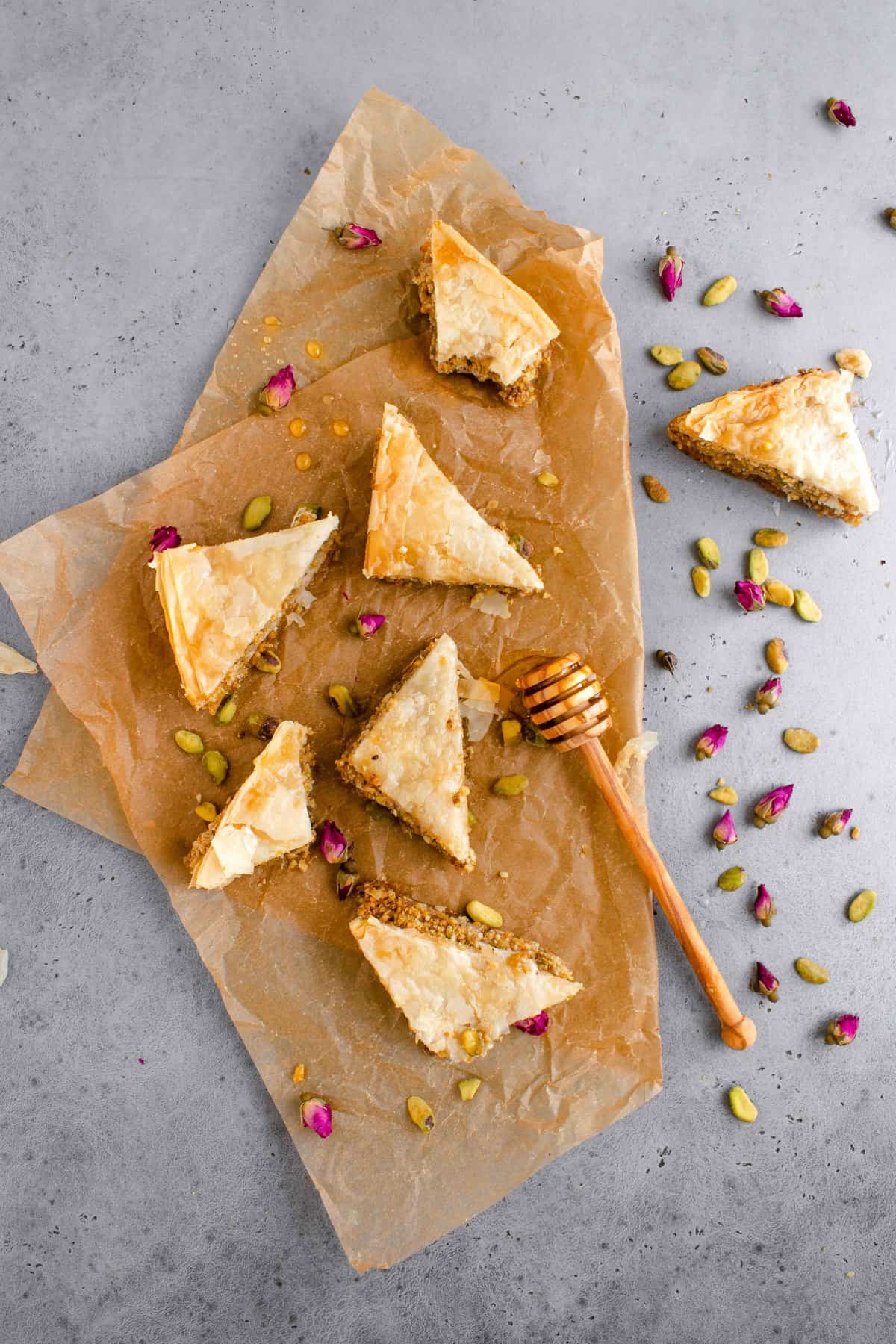 And then a smile changed it all…
Well, more the lack of a smile. During one of my weekly excursion in Tel-Aviv's streets markets (SHUK) I came across a Baklava bakery. The smells and colors were mesmerizing, obviously tasting a piece was a must. It took just one bite for the festival of flavors textures and spices to blow me away. As I was recognizing some flavors and trying to identify the others, my eyes were moving up and soon and side to side.
Apparently my reaction was understandably unexpected (and wired), and so the owner asked : " What's wrong, why aren't you smiling?"
I looked at him and said: "I will, if you share the recipe with me".
He didn't. So I smiled. He still would not.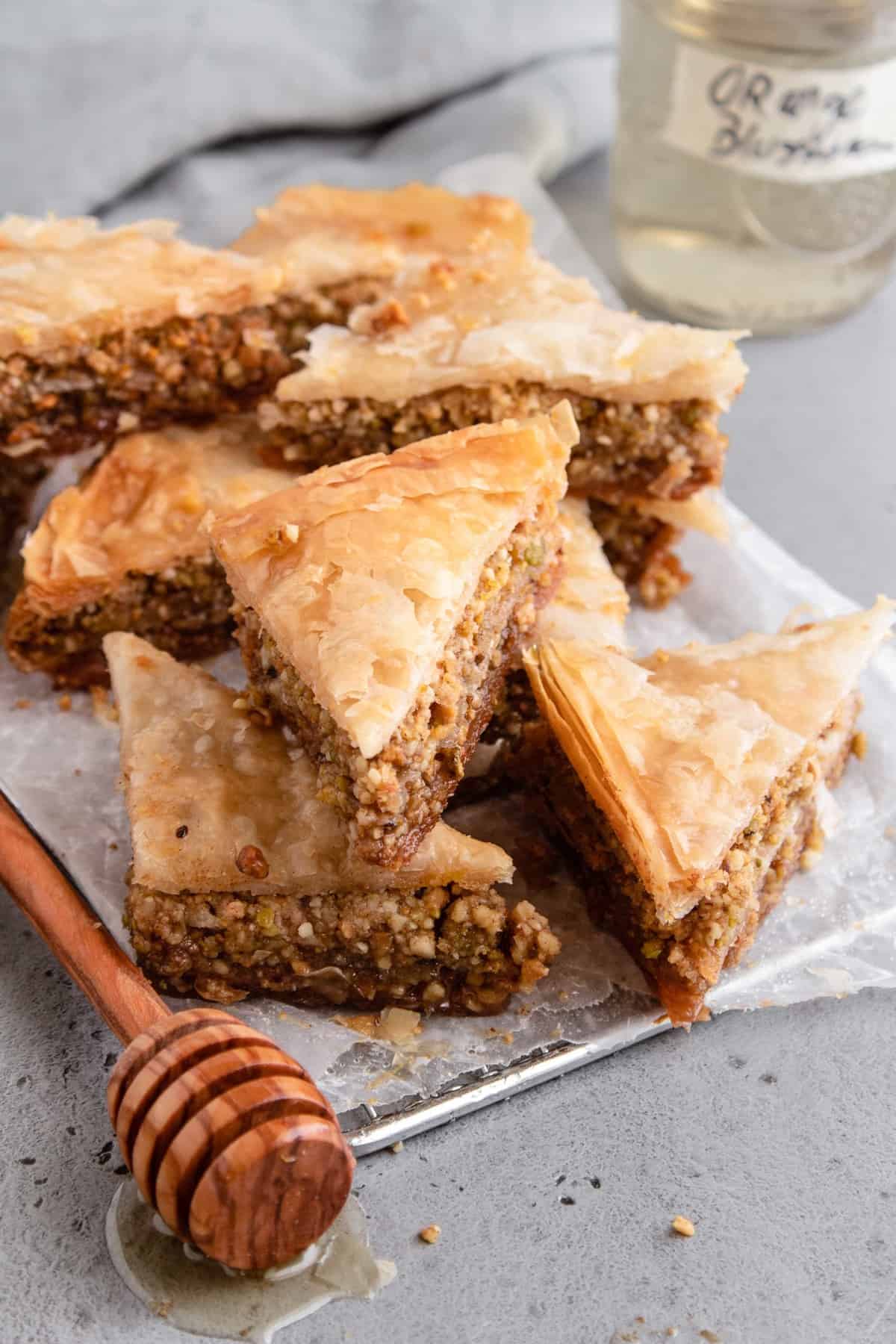 But he did laughed at my description to my family's recipe. In fact he laughed so hard his brother came to see what was all the fuss about. The brother saw my frustration and handed me a bottle of an Orange Blossom Water.
"Here" he said.
"Add this to the syrup instead of Rose Water, use good honey and your favorite nuts."
Soon later, I started researching different recipes with his words of wisdom on my mind. This recipe is a mish-mash of many recipes I baked during my attempt to copy cat the Baklava I tried back then.
Now, lets talk about this Honey Orange Blossom Baklava:
If you love Rose Water, please go a head and use it, but please keep in mind it is very strong, so use 1/2 the Orange Blossom amount mentioned in the recipe.
I recommend THIS brand for the orange blossom water.
Use which ever nuts you would like.
Same with the spices. If you love clove or cardamom, go for it.
To avoid the fillo from braking, it is important to use it unfrozen.
For immediate use, store the fillo in the refrigerator,
To separate the layers of fillo, use your thumb and index finger at the corner of the pile. Then gently and slowly lift it.
When applying a layer of fillo, please remember that it is super thin and tends to tare easily. If it does tare, not problem at all, just place the pieces together (like a puzzle) and move forward with the recipe.
When you cut the Baklava before baking, cut it half way into the bottom. This is to avoid taring and misshaping the bottom layers of fillo.
Please use fresh squeezed orange juice, store bought might be too sweet. (or use lemon juice)
Like mentioned above, using good honey is key. I recommend using Sue Bee honey for great results (this is not a sponsored post).
When pouring the syrup. Make sure the Baklava and syrup are in opposite temperature. One should be cool and the other hot. Other wise the layers will separate and the syrup will not be soaked properly.
To achieve a thick layer of nuts use 8″x8″ or 9″x9″ square pans.
HAPPY BAKING!!!
Here are some more recipes you might like:
One more thing…
Don't forget to tag @OneSarcasticBaker on Instagram if you bake this recipe. Would love to see your creations!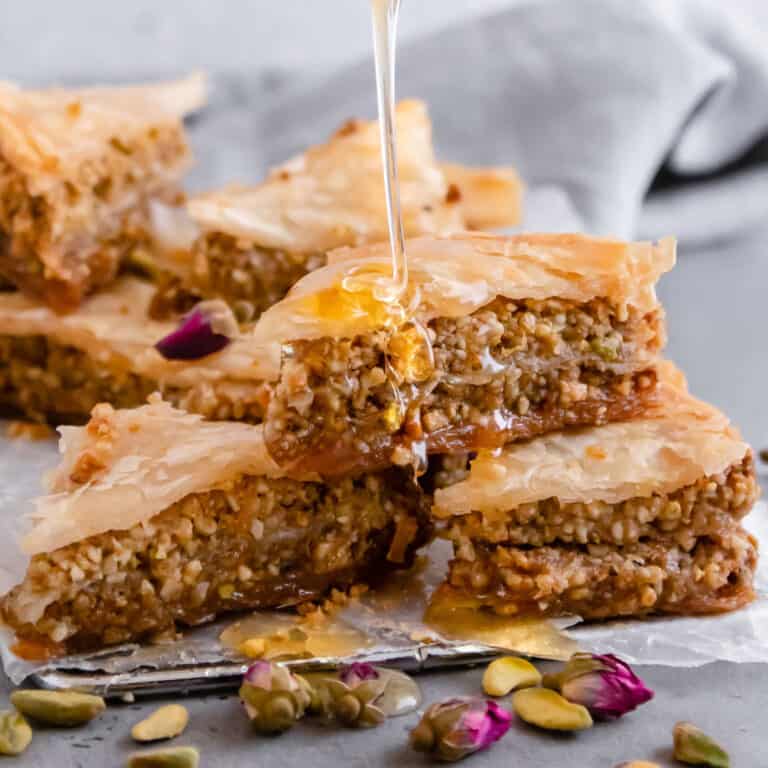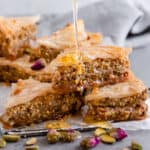 Honey Orange Blossom Baklava
Layers of fillo filled with ground nuts ans soaked in honey syrup
Total Time
1
hour
40
minutes
Ingredients
Filling
1

PKG

Fillo dough sheets

(375 g / 13.5 oz)

2

Sticks

Unsalted Butter, melted

(226 g / 8 oz)

2

Cups

Pistachios , not salted

(300 g / 11 oz)

2

Cups

Walnuts, not salted

(260 g / 7 oz)

1 1/3

Cups

Hazelnuts, not salted

(200 g / 7 oz)

1/4

Cup

Sugar

3

tsp

Ground cinnamon
Syrup
2 1/2

Cups

Sugar

(250 g/ 9 oz)

1

tsp

Lemon Zest

1

tsp

Orange Zest

1/3

Cup

Honey

(120 g / 4 oz)

1/4

Cup

Fresh squeezed orange Juice

2-3

TBS

Orange Blossom Water

1 1/2

Cups

Water
Instructions
To make the Syrup
In a pan, pour the water, sugar orange juice and zests and heat on medium until the sugar has dissolves. Reduce heat to simmer and cook for 5 minutes.

Add the honey and orange blossom and cook for extra 2 minutes.

Remove from heat and allow to completely cool.
To make the Baklava
In a food prosector, place the nuts and process until finely grounded. Place in a large bowl, add the sugar and cinnamon and mix to combine.

Using a pastry brush, brush the bottom of 13″ x 9″ pan with the melted butter. Gently line a single sheet of fillo in the pan and brush with the melted butter.

Repeat for extra 12 sheets of fillo. Evenly sprinkle half the nuts mixture.

Brush a sheet of fillo and line to on the nuts butter side down. Brush it again with butter and repeat for 4 more fillo sheets.

Sprinkle the remaining of the nuts mixture and repeat the above step for extra 12 more fillo sheets.

Brush the last sheet of fillo with butter, and using a sharp knife, cute the Baklava into 12 squares and cut each square into 2 triangles.

Bake the Baklava for 30 minutes. Reduce the heat to 300F and bake for 30 more minutes.

Right when taking the Baklava out of the oven, pour the cooled syrup on top. Allow to completely cooled before serving.