Last updated on March 25th, 2022.
Candied Apple Jam is the perfect use for when you go crazy at the market and buy few apples too many.
Lat week, when I baked This Crusty Apple Slab Pie, I made the mistake of peeling and slicing way too many apples. Using this recipe was the best use for the extra apples.
I called this recipe Candied Apple Jam because, with this one you first cook the sugar and water for 20 minutes and then add the apples unlike other Jam recipes where you cook the sugar and fruit together.
About the Recipe:
You can use which ever apples type you might have in hand.
Cook the water and sugar on low, simmer heat.The idea is to thicken the sugar not to caramelized so making sue there is no color change is very important.
Do not over cook the apples. Over cooking will result in a sticky and chewy mess.
HAPPY BAKING!!!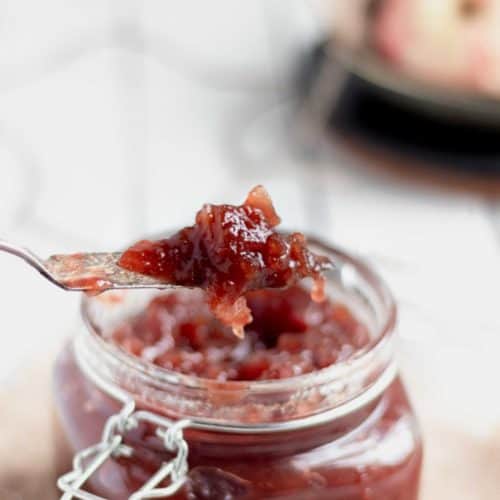 Candied Apple Jam
Ingredients
3

Large

Apples, peeled cored and sliced

(500 g / 18 oz)

3

TBS

Cinnamon

2

Cups

Sugar

(400 g / 14 oz)

1/2

Cup

Water

1

TBS

Fresh squeezed Lemon
Instructions
Place the sliced apples in a medium bowl, sprinkle the cinnamon on top and toss to distribute.

Pour the water in a medium pan and add the sugar. Stir to combine and place on e the stove ,medium-high allow to boil.

Reduce heat to low and let the sugar simmer on low for about 20 minutes.

Add the apples to the sugar stir and cook on low (pan is covered) for additional 20 minutes with the occasional stirring.

Add the lemon juice and cinnamon stick and cook for 15-20 minutes longer. (less if you wish for the apple texture to be firmer.

Remove from heat, and store in a glass jar.