Last updated on September 18th, 2023.
I feel perfectly comfortable naming this cake The Best Jewish Apple Cake Recipe because it is that good. No, it is even better. This moist cake has the most beautiful and unique interior and is soft, tender, and flavorful.
Unfortunately, this is not my original recipe. This cake is what my mother-in-law is famously known for.
I clearly remember taking my first bite of this cake and thinking: "Holly s@#%t! this is the most delicious cake! I need this recipe; I will marry this man". Nine months later, I married my now husband expecting solely to inherit this recipe and conquer the world, only to learn that my mother-in-law gives the recipe to whoever may ask.
Also, this cake has been around for centuries and is a source of nostalgia and beautiful memories for many. I do not know this apple cake's origins or history, though I heard rumors it is a Philadelphia Jewish cake. I can only say for sure it is not an Israeli cake. No, this is not true; I can also say for sure that this is the perfect fall dessert, weeknight dessert, and the most delicious fresh apple cake.
There are countless traditional Jewish cakes, and I probably tried most of them. But this cake is truly outstanding; it's an explosion of warm, sweet, and comforting flavors in the mouth. It is the biggest crowd pleaser with rave reviews that can also travel well.
Why is it called a Jewish apple cake?
Since this cake has been around since the early 1900s, I guess its source is the Jewish immigrants who migrated to NYC and Philadelphia during that period. It is also a parve apple cake (Like this Parve Honey cake and this Honey Almond Cake), meaning it does not contain any dairy products and, according to the Jewish dietary laws, can be served as dessert after a rich meat meal.
The best apples for the Best Apple Cake
I use Gala or red delicious to bake this cake; however, you can use Fuji or honey crisp. I am not a fan of tart apples such as Granny Smith apples. If you're lucky to have an apple tree in your backyard, use its apples. Check out my post about The Best Apples For Baking for the ultimate pairing.
Check out this apple muffin recipe and this Apple Bars for more apple recipes.
What pans can I bake the cake in?
A nine-inch tube pan (angel food pan)is the best option for this cake for a few reasons: firstly, the cake rises very high, and a tube pan is perfectly high. Secondly, since this is a dense cake, extra pan edges of the bundt pan and a tube pan will speed the baking time and prevent the cake from over bake and drying. Another reason is that during baking, the apples caramelize and might get stuck to the sides of the pan. A tube pan is the easiest way to release the cake whole. And lastly, we want to "show off" the top of the cake, not place it face down.
Here are more pan options I used to bake this apple Jewish cake recipe:
Loaf pan. This recipe yields two 9″x3″ loaves, and I recommend assembling two layers vs. three. Make sure you layer the bottom and sides of the pan with parchment paper.
Sheet pan, 9×13-inch, assembling two layers.
Bundt pan. Has been successful as well. Remember to grease the pan with butter, then sprinkle with flour. Or use baker's joy spray.
Ingredients
The complete list is at the bottom of the post in the recipe card.
Apples, medium size Gala, or red delicious are my best pick for this cake.
Cinnamon sugar. No need for a store-bought. We will make it using ground cinnamon and sugar.
Unbleached all-purpose flour. Bleached is also an option if that's all you have.
Baking powder
Granulated white sugar
Vegetable Oil. Flavorless, the oil in this apple cake provides moistness and no flavor. (I use canola oil)
Large Eggs (not in the image)
Orange juice. This is the famous apple cake with orange juice, and the oranges are crucial for the texture, flavor, and moisture of the cake, so please do not replace it. You can use fresh squeezed or from a cartoon.
Vanilla extract
How To Make The Best Apple Cake
Preparing the apples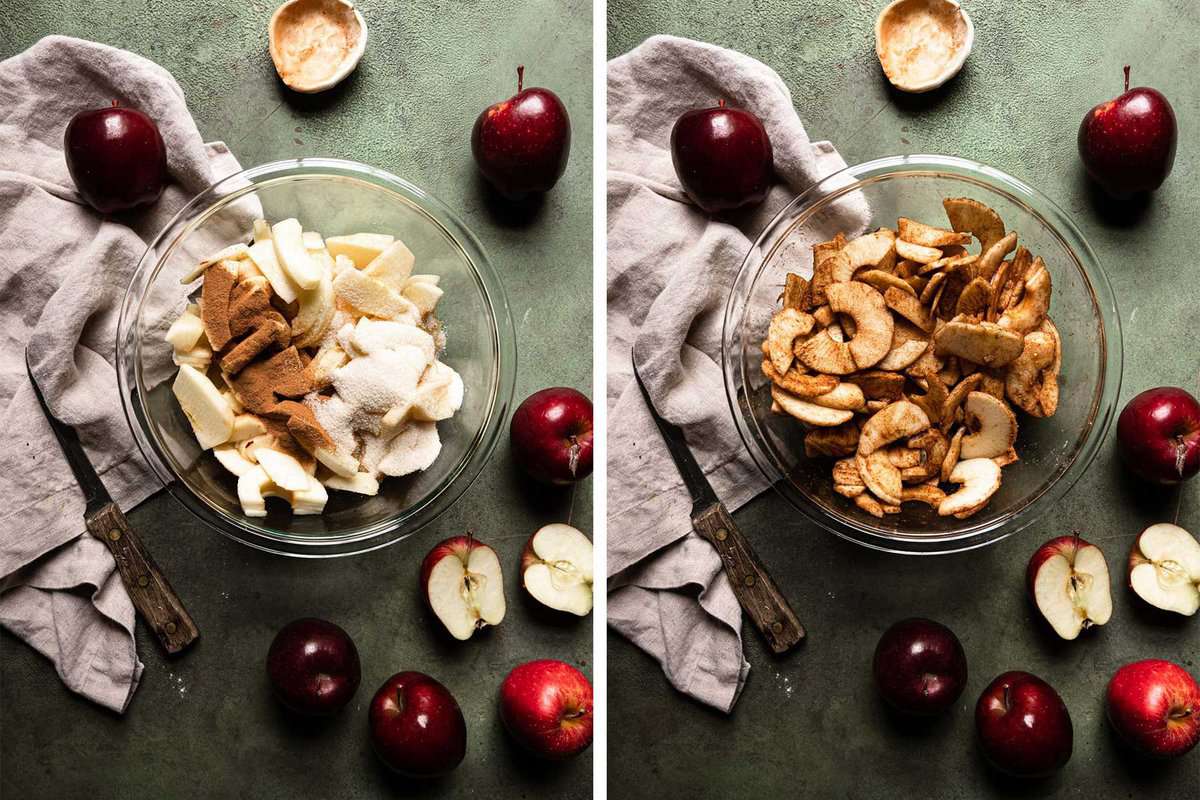 In a small bowl, mix the cinnamon and sugar.
Peel, core, and slice the apples 1/4″ thick. You can cube the apples into 3/4-1 inch, as well. Place the sliced apple in a large mixing bowl. Sprinkle the cinnamon sugar mixture, and toss to coat the apple evenly. Set aside while you make the batter.
Making the cake batter
This is a pound cake, but since we do not use any butter, we will start by beating the sugar with an egg for 2-3 minutes. Next, drizzle in the oil, and lastly, add the dry ingredients (flour mixture) in 3, alternating with the wet ingredients.
Assembling
Pour one-third of the cake batter (about 400 g / 14 oz) into the prepared pan and spread it into an even layer.
Next, evenly layer 1/3 of the apple slices on top of the cake batter and repeat twice more with the remaining batter and apple slices. (apple slices being the last and top layer).
Expert Tips
Avoid beating the sugar, eggs, and oil for too long. Mix just until the oil has been incorporated.
Pour the apple water left from the sliced apples over the cake before placing it in the oven.
Even though there is no need to wait for apple season to bake, this is a great Rosh Hashanah apple cake.
Allow the cake to cool in the pan for at least one hour; then, you can transfer it to your serving dish or a wire rack.
Storing the cake
The cake is best when stored at room temperature for up to 4 days. To freeze, wrap the cake with foil paper and place it in a plastic bag; freeze for up to two months. When ready to serve, remove from the freezer and unwrap it a day in advance.
FAQ
What is the best apple for apple cake?
For this cake, I like to use Red Delicious apples.
Should Jewish Apple cake be refrigerated?
No. It will get dry in the refrigerator.
Can I bake it into cupcakes?
Yes, as long as you do not fill the liner more than 1/2 full. I would eat it as an individual cake, not a frosted cupcake.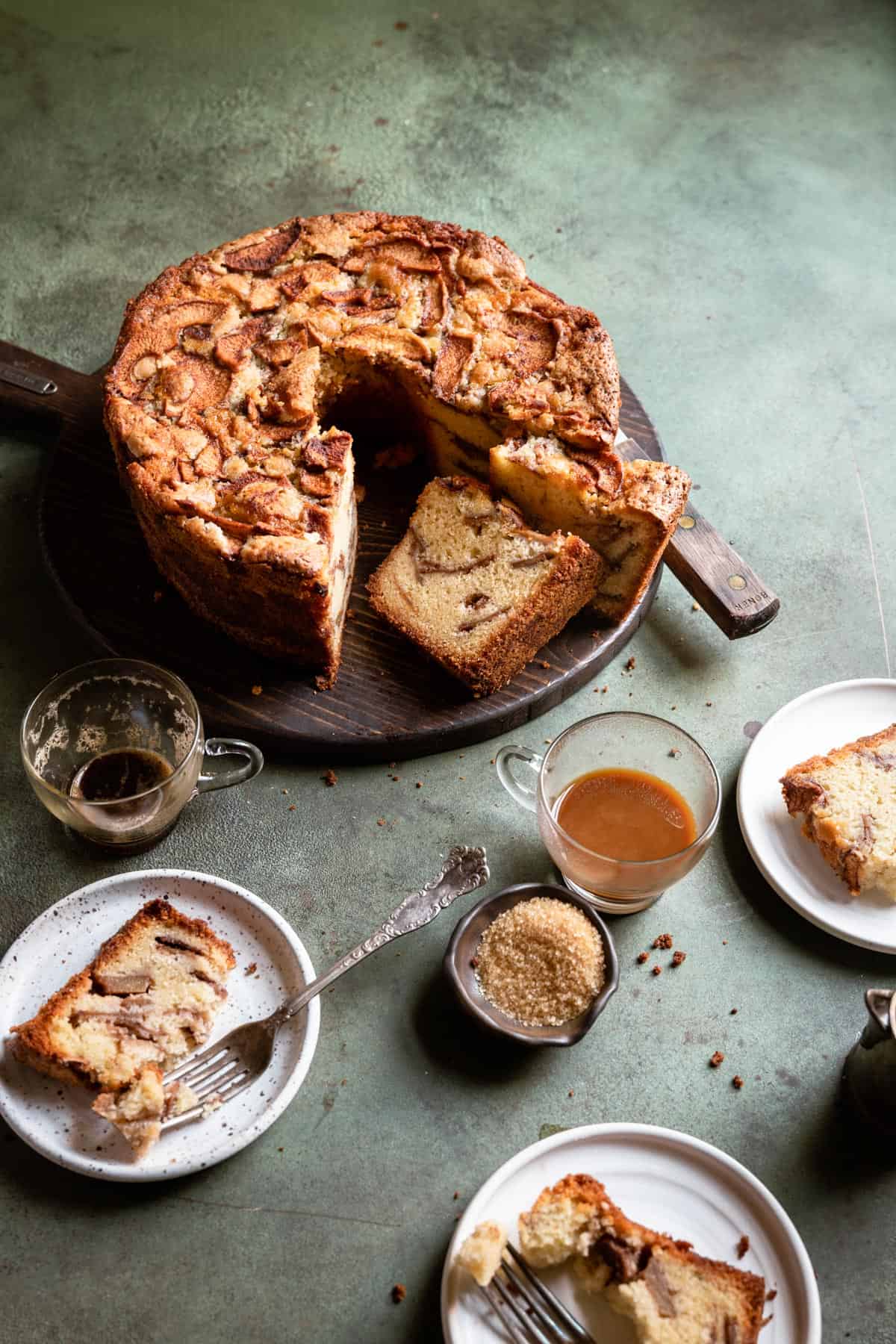 Check Out My Other Apple Recipes
Apple Mini Galette, Apple Honey Layer Cake, Candied Apple Jam.
If you baked this recipe or any other recipe from my blog, please leave a comment and tag me on Instagram.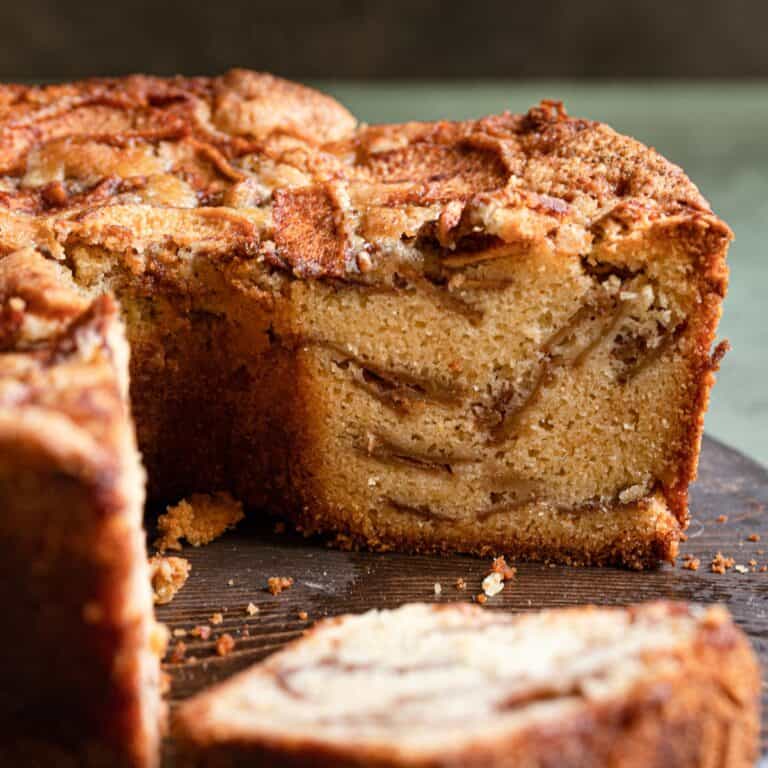 The Best Apple Cake
A delicous and impressive cake with a beautiful interior.
Cook Time
1
hour
30
minutes
Servings
1
9-inch tube pan
Ingredients
4-6

Medium

Apples (red delicious or gala)

3

tsp

Ground cinnamon

3

TBS

Sugar

(35 g / 1.5 oz)

3

Cups

AP Flour

(360 g / 12.5 oz)

3

tsp

Baking powder

1/3

Cup

Orange juice

(80 ml / 3 oz)

3

tsp

Vanilla extract

2 1/2

Cups

Sugar

(500 g / 18 oz)

4

Large

Eggs

1

Cup

Vegetable oil

(240 ml / 8 oz)
Instructions
Prepare the apples
Peel, core and slice the apples into 1/4"-1/3" thick wedges and place in a large bowl.

Sprinkle the first amount of sugar (3 TBS) and cinnamon, and use a rubber spatula to distribute evenly . Set aside while you make the cake.
Making the cake
Preheat the oven to 350F and grease and flour a tube pan. Set aside

In a medium bowl, sift the flour and baking powder, and set aside.

Mix the orange juice and vanilla extract and set aside.

In a bowl of a standing mixer, place the sugar and eggs and beat on medium until light and fluffy, about 2-3 minutes.

Reduce speed to low and drizzle in the oil, return speed to medium, and beat until fully incorporated.

Add the flour mixture in three additions alternating with the orange juice, starting and finishing with the flour mixture.

Right after adding the last portion of the flour mixture, stop the mixer and finish mixing with a rubber spatula (do not over-mix).
Assembling the cake
Pour 1/3 of the cake batter (about 400 g /14 oz) into the greased pan and evenly spread using a rubber spatula.

Spread an even layer of the sliced apple on top of the batter.

Repeat the above two steps with the remaining batter and apple slices. Pour any liquids on the last top layer.

Bake for 75-90 minutes or until the toothpick comes out clean from the center of the cake.

Remove from the oven and let cool before removing the cake.

To remove the cake, use a sharp knife to run along the sides and bottom of the cake. Release the centerpiece of the pan from the sides of the pan and gently remove the cake.
Recipe Notes
Do not over-mix the eggs, sugar, and oil. Mix only until incorporated.
Do not discard the juice coming from the cinnamon apples. I like to drizzle it over the top of the cake.
If baking in a tube pan, let the cake cool on the pan completely before inverting it.
The recipe will make one nine-inch tube pan with three layers of apples. Also, one 9×13 pan with two layers of apples or two 8-inch loaf pans with two layers of apples.
Store the cake at room temperature for up to 5 days. You can freeze it for up to two months. Do not refrigerate.
This post may contain affiliated links.