Last updated on August 23rd, 2021.
This Traditional Jewish honey cake is moist, tender, and exploding with honey and warm spices flavors. The best part is that it takes let than 15 minutes to make and with no special preparations!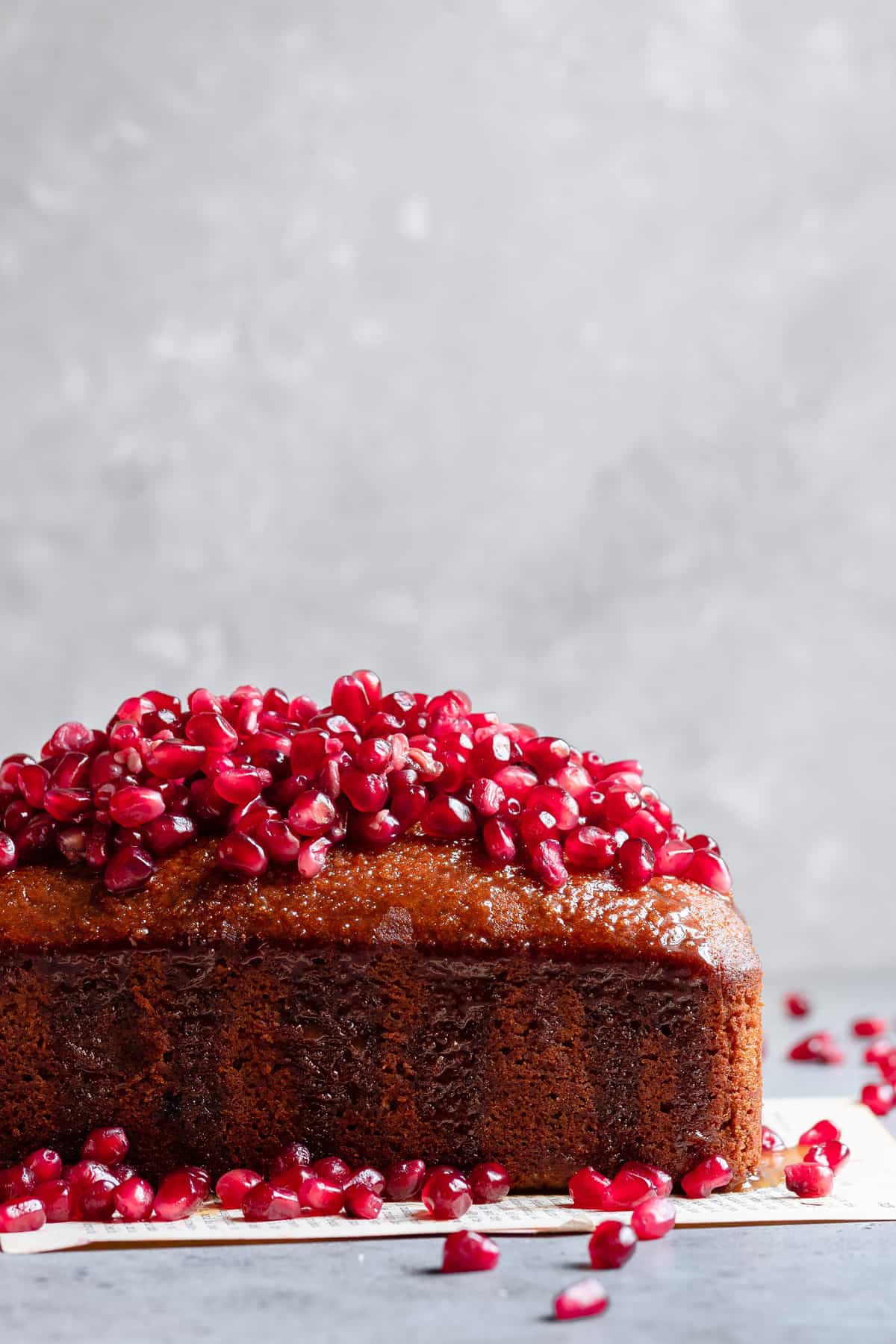 What is a Traditional Jewish Honey Cake?
A Traditional Jewish Honey cake is a staple cake during the Jewish high holidays, mainly Rosh-Hashanah. A holiday celebrating the new Jewish year.
Unlike cakes that are sweetened with honey, this traditional cake is flavored with it and tastes like warm delicious, spiced honey. Due to the Kosher laws, there is no use of butter or any other dairy product, and the fat used is a vegetable oil which makes the cake even more so moist and tender.
Without a doubt this is my time of the year, dipping everything is honey and eating sweet for a month? well, dah!
The tradition is to basically dip everything in honey and especially apples, as a symbol for the sweet upcoming year.
Even back in the days they understood the healing properties of apples and honey.
---
The more I think about it, the more I believe that the true core of this tradition was to market the forbidden fruit. Because when you think about my people's history with apples (hello Adam and Eve), you can totally understand why one might think twice before biting into it. And so, the Rabbis (AKA influencers) assembled and very wisely dipped the apples in the honey and called it a year. #EatMoreApples #Sponsored
---
To learn more about the history and traditions of Rosh Hashana click HERE.
Here are some apple recipes you can celebrate any holiday with:
When do we eat honey cake?
As mentioned above, it is the tradition to eat this cake during the new year Jewish holidays: Rosh Hashana, Yum-Kippur (during the fast break), and Sukkot.
But I believe that this cake is timeless and can be baked and eaten as dessert or a snack all year round.
THIS Sweet Challah and THIS Cinnamon Coffee Rings are also two fabulous recipes one can bake during the holidays.
Now, let's talk about the making and baking of this Traditional Jewish Honey Cake:
Ingredients used in this Traditional Jewish Honey Cake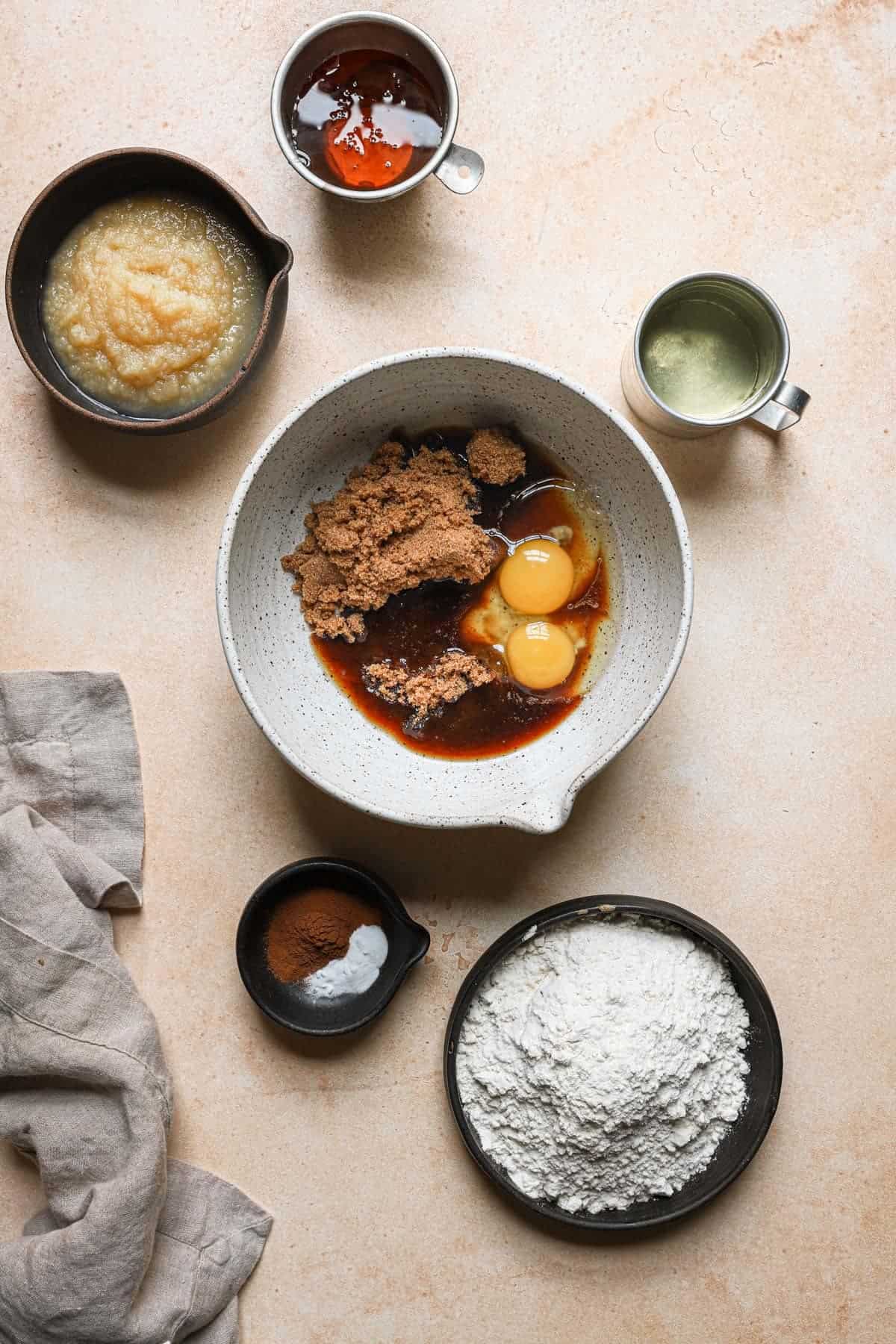 Dark brown sugar, since this sugar is coated with molasses, it provides extra moisture and a flavor that goes wonderfully with spices and honey.
Eggs, at room temperature. In this recipe the eggs have few jobs: they aerate the cake and provide volume and height; they stabilize the cake as the cake is baking and then later prevent it from collapsing and also contribute some flavors.
All-purpose flour, this cake is essentially a pound cake with a rich and dense texture, not only that but it is rich with moist coming from the vegetable oil, and moisture coming from apple sauce, honey, and dark brown sugar. AP flour has just the right amount of starches as well and protein to absorb the moisture while creating a stabilized gluten net that can hold the structure of this cake.
Ground cinnamon is the best way to enhance the sweet honey and provide a warm and comforting flavor.
Vegetable oil, like motioned above it is important that the cake is dairy-free and vegetable oil is the best choice for this cake as it is 100% fat and is flavorless.
Salt, for flavor balance.
Baking soda is one of the two sources of aeration, in this case, the other being the eggs. (As we beat the eggs with the sugar, we incorporate air).
Unsweetened apple sauce is used in this cake for two main reasons, firstly, it is a non-dairy source of liquid. Secondly, apple sauce is very acidic which will activate the baking soda and balance the sweetness coming from the sugar and honey. Check out THESE apple muffins for another recipe that calls for apple sauce.
Honey is the heart of the recipe. Use a good brand, the darker the better.
Ingredient's substitutions:
Below is a list of some of the ingredients that can be replaced in the recipe. Please DO NOT replace more than ONE ingredient, or else it will alter the cake completely. If an ingredient is not mentioned below, use what the recipe calls for.
Dark brown sugar; omit the same amount of light brown sugar.
Ground cinnamon I do not recommend skipping it all together; however, you can most certainly add some of your favorite spices such as cardamom, nutmeg, and clove. Be sure to reduce the amount of cinnamon and not to use more than ¼ tsp of each spice since a very small amount goes a very long way
Vegetable oil can be replaced with 1 cup (225 g) of melted butter (cooled) or 1 cup (225 g) of unsalted room temperature butter. If using melted butter, follow the recipe as is. If using room temperature butter, beat the butter with the sugar until light and airy (about 4 minutes), add the eggs one at a time then incorporate the dry and liquid ingredients as the recipe calls for.
Unsweetened apple sauce can be replaced with any other source of acidic liquid such as coffee, black tea, orange juice, and or sour cream. However, I highly recommend not to omit the apple sauce. The high level of pectin and it contributes to the beautiful texture of the cake. And most importantly, DO NOT use sweetened apple sauce.
The mixing process of this Traditional Jewish Honey Cake
You can find the full recipe including measurements at the bottom of this post.
Firstly, and most important is to make sure all the ingredients are at room temperature, or else the cake will turn out too tough. The sift together the dry ingredients (flour, baking soda, salt and cinnamon) and the apple sauce and honey in a separate bowl.
1: beat the eggs and sugar together until light in color and doubled in volume, about 2-3 minutes on high speed.
2: with the mixer on medium-high, drizzle in the vegetable oil.
3: mix in 1/3 of the dry mixture along with ½ of the apple sauce than repeat with the rest.
4: Pour the batter into the greased pan and bake.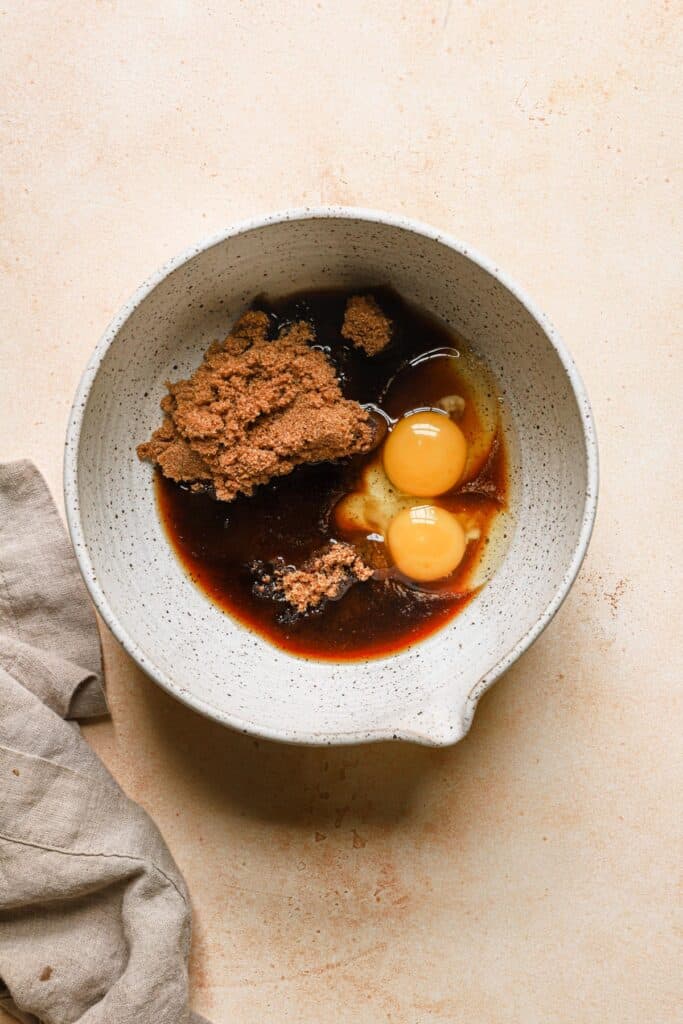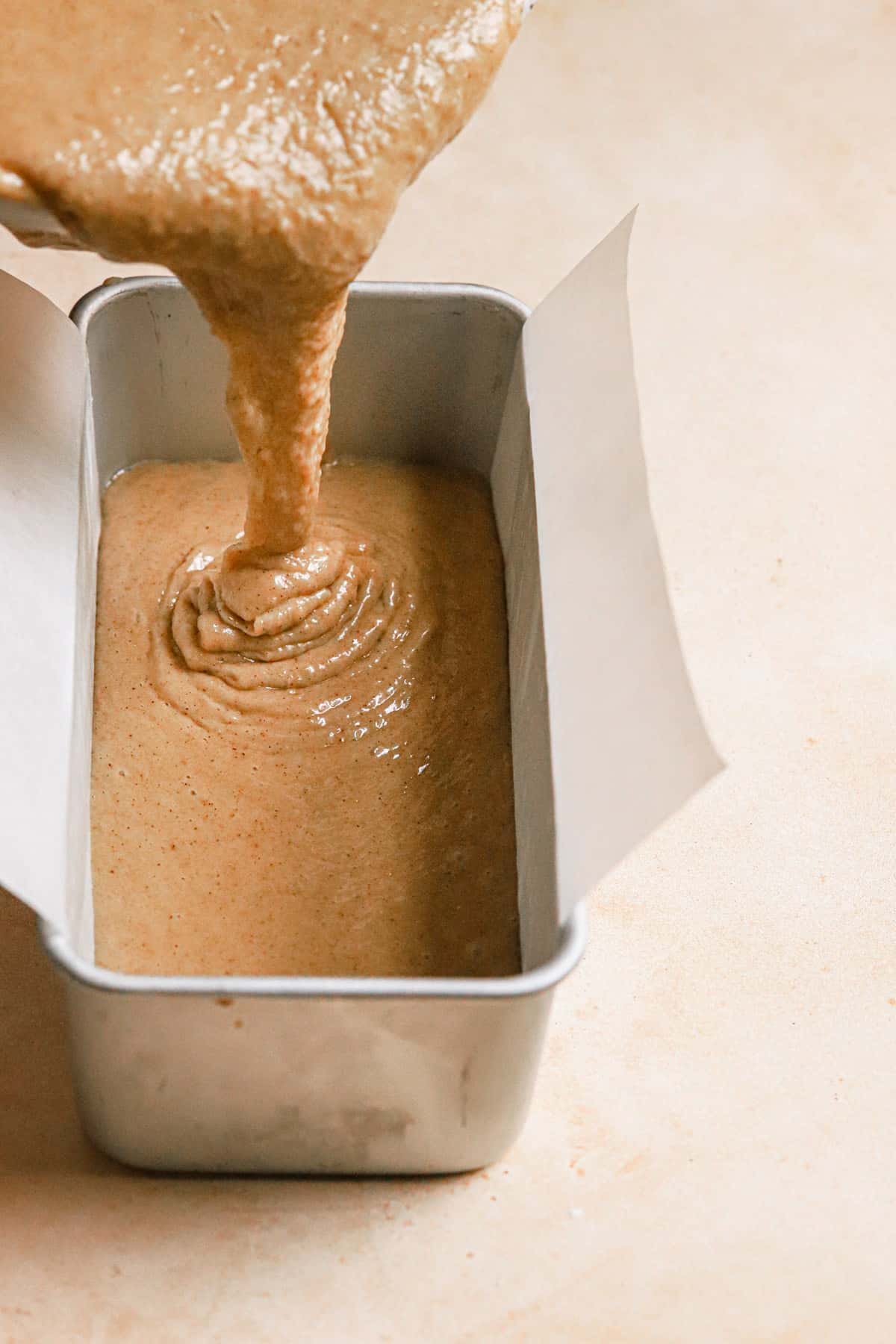 ---
Expert tip:
My oven is different than yours. Baking time might be different than what the recipe calls for. Set your timer for half the recommended time and check the progress. The cake is ready when a thin toothpick comes out clean from the center of the cake.
---
Storing the cake:
The cake is best at room temperature, cover. You can bake it up to two weeks ahead of time, wrap it in plastic wrap, or aluminum foil, place it in a freezable bag, and freeze.
When removing from the freezer, unwrap the cake and allow it to reach room temperature, uncovered.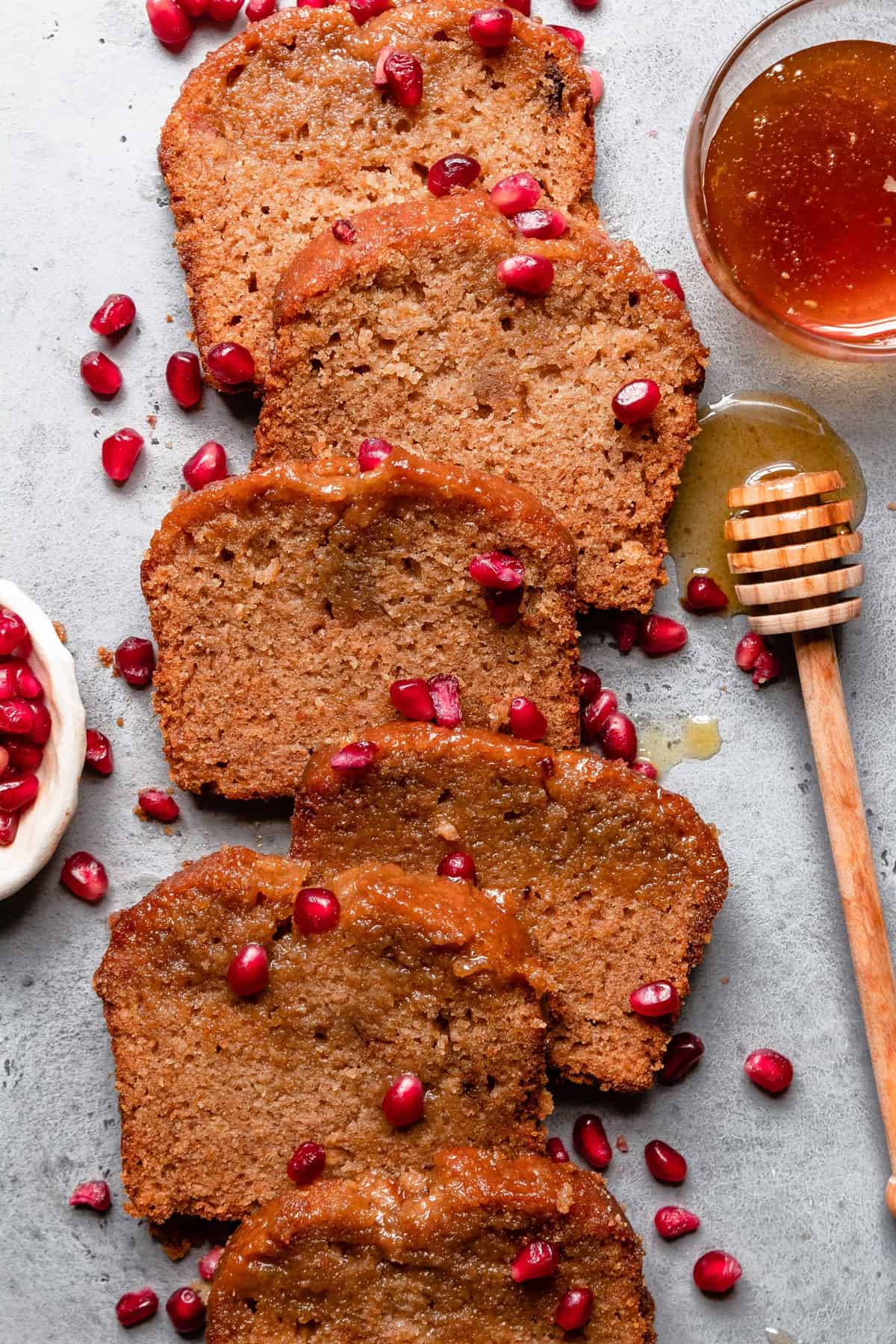 Frequently asked questions:
Can I incorporate addons into the batter?
Yes. You can fold in ½ cup of chopped walnuts, almonds, or raisins.
Can I bake this cake in a different pan?
Yes. You can use a Bundt pan, or a round cake like I did HERE. Make sure to adjust the baking time accordantly.
Can I reduce the amount of sugar?
Yes, but please note it may affect the texture of the cake since the sugar contributes to the moist texture of the cake. Do not cut more than ¼ cup of sugar (50 g).
Can this cake be used as a layer cake?
Yes, and there are few key points to keep in mind; firstly, this recipe will yield one 8" or 9" layer, so you'll need to double or triple the recipe. Secondly, this cake is rich and a bit on the dense side, so you might want to remember that when deciding on the filling and frosting.
Can I frost or top this cake?
Yes. I like to top it with fresh fruits like pomegranates or fresh figs. However, this cake will go great with THIS cream cheese frosting, assuming there are no dairy restrictions.
Can this cake be baked as cupcakes?
Yes. However, the large amount of vegetable oil, might prevent the cake from sticking to the cupcake's liners, so either test 1-2 first, or skip the liners all together.
Can I use homemade apple sauce?
Yes. However, since homemade apple sauce is very fresh, it contains more pectin, which may interfere with the setting of the cake. (The cake might look wet or unset). If that happens, reduce the amount of apple sauce to 125 g. (about ½ cup).
More Jewish style recipes:
Apple angel bars, Fig cake with oats crust , Walnut chocolate tart
HAPPY BAKING!!!
One more thing before you bake, please rate and comment on this recipe if you like it, and don't forget to tag me on Instagram, I would love to see your creations!
And last thank you for visiting and supporting One Sarcastic Baker!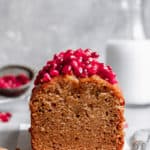 Traditional Honey Cake
Ingredients
3/4

Cup

Dark or Light Brown Sugar

(150 g / 5.5 oz)

2

Large

Eggs

1

Cup

Vegetable Oil

(200 g/ 7 oz)

1 2/3

Cup

AP Flour

(200 g / 7 oz)

Pinch

Salt

2 1/2

tsp

Ground Cinnamon

1/2

tsp

Baking Soda

3/4

Cup

Unsweetened Apple Sauce

(200 g / 7 oz)

1/3 + 2 TBS

Cup

Honey

(150 g /5 oz)
Instructions
Preheat oven to 340F. Line the bottom of 9" loaf pan with parchment paper and grease the sided.

In a medium bowl, sift the flour, cinnamon,salt and baking soda together and set a side.

In a large measuring cup, mix the applesauce and honey together. Set a side.

In a bowl of a standing mixer, place the sugar and eggs and mix on medium speed for few minutes until the mix is lighter in color. 4-5 minutes

Change mixer speed to low and slowly drizzle the oil into the bowl. Return speed to medium.

Add the flour in 3 additions alternating with the Applesauce honey mix.

Pour batter into greased loaf pan or divide between the mini pans.

Bakes until the center is golden and a tooth pick comes out clean from the center of the cake.

45-50 minutes.

Remove the cake from the oven and let cool before slicing.

If you chose, drizzle the cake with 1/4 of warm honey or dust it with some powdered sugar.