Last updated on August 24th, 2023.
This recipe is the best Rosh Hashanah honey cake recipe; it is moist, tender, and exploding with warm honey flavors. The best part is that it takes let than 15 minutes to make and with no special preparations!
If you ever wondered what is a Jewish cake called, then wonder no more!
What Is A honey cake, and what does Rosh Hashanah mean?
Rosh (head) and Hashanah (the year) mean the head of the year or the beginning of the new year. In Judaism, symbolism is crucial, and the words and traditions are carefully chosen, so when we say "head," the intention is to be at the head and step forward without looking back.
Unlike cakes sweetened with honey, like Russian honey cake and these Chocolate cupcakes, this traditional cake is flavored and tastes like warm, delicious, spiced honey. Due to Kosher laws, the cake is parve, there is no use of butter or any other dairy product, and the fat used is vegetable oil, making the cake even moister and tender.
For more traditional Jewish Baking recipes, check out my Almond Honey Cake, Jewish Apple Cake, and Apple Meringue Bars.
Why Do We Eat Honey Cakes On Rosh Hashanah?
This Jewish Traditional Honey cake is a staple for the Jewish holiday, Rosh-Hashana, a holiday celebrating the new Jewish year and Yom Kippur. We bake and eat honey cakes as a symbolic food and gesture of hope and wish for the sweet new year ahead of us.
Ingredients to make a honey cake for Rosh Hashanah
The recipe card below includes the complete ingredients list with the measurements for this Jewish honey cake recipe. Check out my baking measurements and conversion chart for more information.
Unbleached all-purpose flour is my go-to flour. However, you can also use bleached or even rye flour.
Baking soda is our only leavening agent, along with aerating the eggs and sugar.
Cinnamon, will bring out the honey flavor and add some warm flavors. I did not want to add any other spices to take away from the flavors of the honey.
Unsweetened apple sauce is our source of moisture (water) and acid, so when in touch with the baking soda, gas is created that expands the air bubbles. Do not use flavored or sweetened.
Brown sugar, for this cake, I love to use dark brown sugar, but light or a combination of the two are both great options.
Eggs. Large and at room temperature.
Vegetable oil. Use unflavored oil such as canola oil and not olive oil.
Honey. Of course, the show star, use the kind you like; I found that local honey always states the best.
substitutions
Use buttermilk, sour cream, or strong coffee instead of apple sauce.
Add more spices such as ground ginger (1/2 teaspoons), clove, and nutmeg (about 1/8-1/4 teaspoon) for a honey spice cake.
If using melted butter, follow the recipe as is. Instead of vegetable oil, use 1 cup (225 g) of melted butter (cooled) or 1 cup (225 g) of unsalted room temperature butter. If using room temperature butter, beat the butter with the sugar until light and airy (about 4 minutes), add the eggs one at a time, then incorporate the dry and liquid ingredients as the recipe calls.
How to make Honey Cake?
The first and most important thing is to make sure all of the ingredients are at room temperature.
Preheat the oven to 340F (160C), grease one 9-inch loaf pan, and line with parchment paper.
Mix the flour, baking soda, and salt in a medium bowl. Mix the honey and apple source in a separate deep bowl (or a large measuring cup).
In a large mixing bowl (or a mixer bowl), beat the eggs and sugar until light and airy. Do not overbeat; otherwise, the cake will sink at the center. If using a hand mixer, then about 45-60 seconds; if using a stand mixer, then 3-4 minutes using the paddle attachment.
Slowly drizzle in the oil and beat until the mixture is smooth and the oil is fully incorporated. On low speed, add the dry ingredients in three additions, altering the honey mixture and ending with the flour mixture.
Pour the cake batter into the prepared pan and bake until a toothpick comes out with a few moist crumbs from the center of the cake. Remove from the oven and allow the cake to cool before placing it over a wire rack.
Variations and Topping Ideas
You can bake this cake in a bundt pan, mini bundt cakes, cupcakes, mini loaf pan, or one layer eight or 9-inch like I did HERE. The critical thing to remember is not to fill the pan over 3/4 complete and to adjust the baking time. You will need less time for a wider cake.
To bake a layer cake, double or triple the recipe and divide the cake between eight or 9-inch cake pans.
Add 1 cup of crushed nuts or raisins.
Cut one apple into small pieces, toss it with some sugar and cinnamon, and then fold it into the batter for an apple honey cake.
Brush the cake with warm honey glaze and sprinkle the top of the cake with pomegranate seeds or nuts.
Frost the cake with cream cheese frosting or stabilized heavy cream.
Serve it warm, topped with ice cream.
To bake a gluten free honey cake, replace the flour with 1:1 gluten-free flour.
Expert Tips
If using a hand mixer, make sure not to overbeat the eggs, sugar, and oil. And use a whisk or a spatula to add the dry and wet ingredients.
My oven differs from yours, so pay attention to the cake, not the time. The cake is ready when a toothpick comes out with a few moist crumbs from the center of the cake, which might take less or more time than the recipe needs.
When using a homemade apple sauce, since it is very fresh, it contains more pectin, which may interfere with the setting of the cake. (The cake might look wet or unset). If that happens, next time, reduce the amount of apple sauce to 125 g. (about ½ cup).
Allow the cake to cool for about 20 minutes before inverting it to a wire rack. When first coming out of the oven, it is still baking; while it is done, it is unset.
Store
The moist honey cake is rich with honey and brown sugar; both are a form of syrup that attacks moisture from its surroundings. This quality is good, meaning the cake will stay fresh for up to 3 days at room temperature.
To freeze, wrap the cool cake with plastic wrap or aluminum foil, place it in a plastic bag and freeze for up to two months.
FAQ
Is honey cake kosher for Passover?
No. Recipes are kosher for Passover only if they do not contain flour in them.
Should honey cake be refrigerated?
Only if it is frosted with perishable frosting such as whipped cream; otherwise, it will dry.
Is the cake too sweet?
No. This sweet honey cake gets its balance from the acidity of the apple sauce.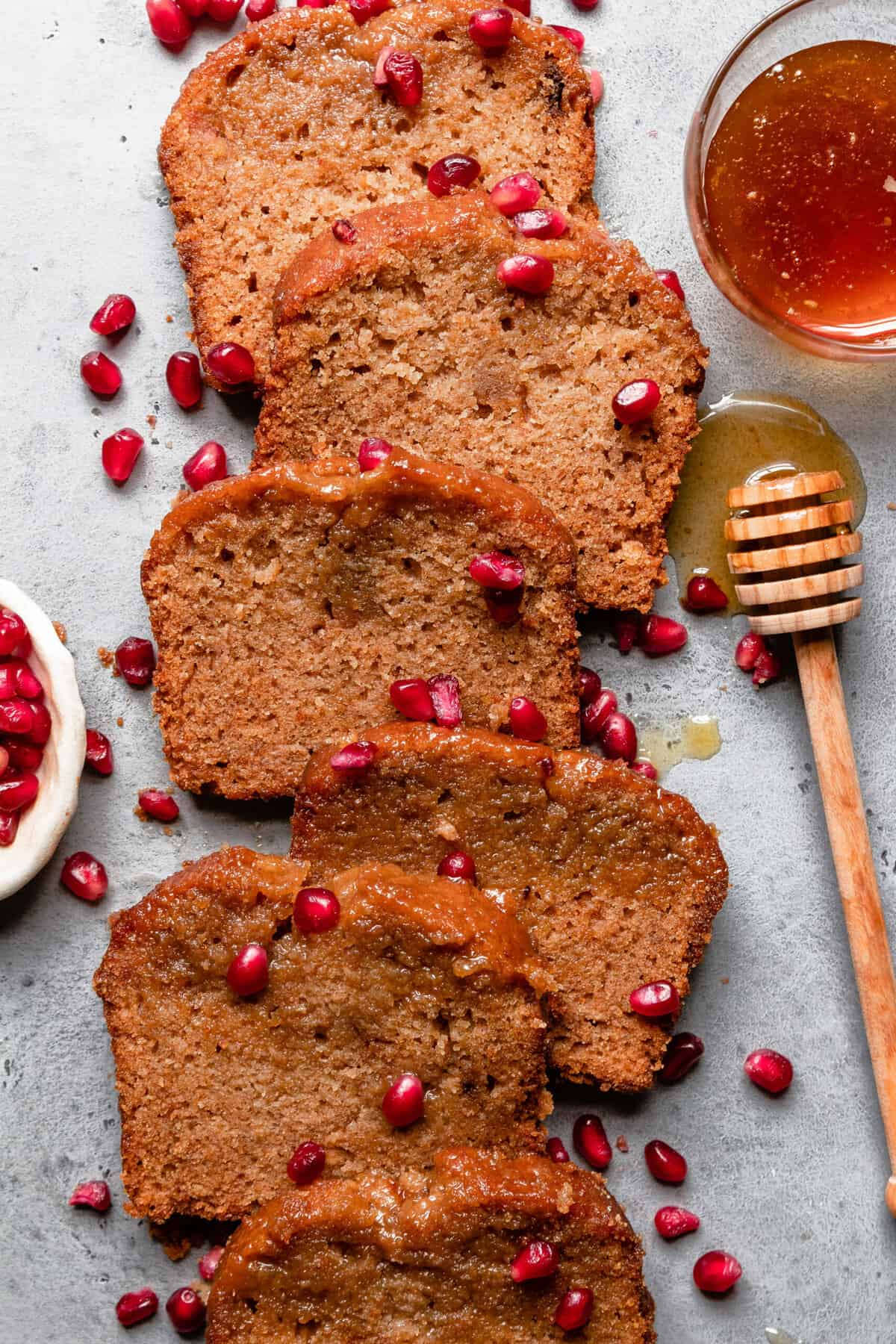 DID YOU TRY THIS RECIPE?
If you tried this recipe or any other recipe by One sarcastic Baker baking blog, please take a movement to rate and comment at the end of each recipe. Your questions, ideas, and thoughts are priceless, and here at OSB we value them more than butter!
Also, don't forget to tag @OneSarcasticBaker on Instagram if you bake this recipe. I would love to see your creations!
Here Are More Rosh Hashanah Desserts Recips
Chai Cupcakes, Mandel Bread Cookies, Orange Chocolate Cake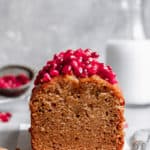 Rosh Hashanah Honey Cake
Moist, tender and flavorful classic honey cake to celebrate the new Jewish year.
Ingredients
1 2/3

Cup

Unbleached all-purpose Flour

(200 g / 7 oz)

2 1/2

tsp

Ground Cinnamon

1/2

tsp

Baking Soda

Pinch

Salt

1/3 + 2 TBS

Cup

Honey

(150 g /5 oz)

3/4

Cup

Unsweetened Apple Sauce

(200 g / 7 oz)

3/4

Cup

Dark or Light Brown Sugar

(150 g / 5.5 oz)

2

Large

Eggs

1

Cup

Vegetable Oil

(200 g/ 7 oz)
Instructions
Preheat the oven to 340F. Line the bottom of a nine-inch loaf pan with parchment paper and grease the sides.

In a medium bowl, sift the flour, cinnamon, salt, and baking soda together and set aside.

In a large measuring cup, mix the applesauce and honey. Set aside.

In a bowl of a standing mixer, place the sugar and eggs and mix on medium speed for a few minutes until the mix is lighter in color.  About 4-5 minutes if using a stand mixer, 45-60 seconds if using a hand mixer.

Slowly drizzle the oil into the bowl. Mix just until incorporated.

Add the flour in 3 additions alternating with the Applesauce honey mix, starting and ending with the flour mixture.

Pour the batter into the greased loaf pan or divide between the mini pans.

Bakes until the center is golden and a toothpick comes out with a few moist crumbs from the center of the cake. About 45-50 minutes.

Remove the cake from the oven and let cool before slicing.

If you chose, drizzle the cake with 1/4 of warm honey or dust it with some powdered sugar.
Recipe Notes
Do not over-mix the eggs, sugar, and oil otherwise; the cake will collapse at the center.
You can replace the applesauce with other acidic ingredients such as sour cream, buttermilk, or coffee.
Add up to 1 cup of chopped nuts and raisins to the batter.
The cake can be baked in a bundt pan, mini loaf pans, cupcake liners, or as a layer cake. Be sure not to fill the pan more than 3/4 full.
This recipe will yield one eight or one 9-inch round cake. For a layer cake, double or triple the recipe, then divide the batter between the pans.
Add up to 1/2 teaspoon of ground ginger and 1/8-1/4 teaspoon of clove, nutmeg, or cardamom for a spiced honey cake.
Best to store the cake at room temperature, covered for up to 3 days. Do not refrigerate. 
To freeze, wrap the cake with plastic wrap and in a plastic bag and freeze for up to two months.