Traditional Jewish Honey cake is a staple recipe during the Jewish holiday Rosh-Hashanah. A holiday celebrating the new Jewish year.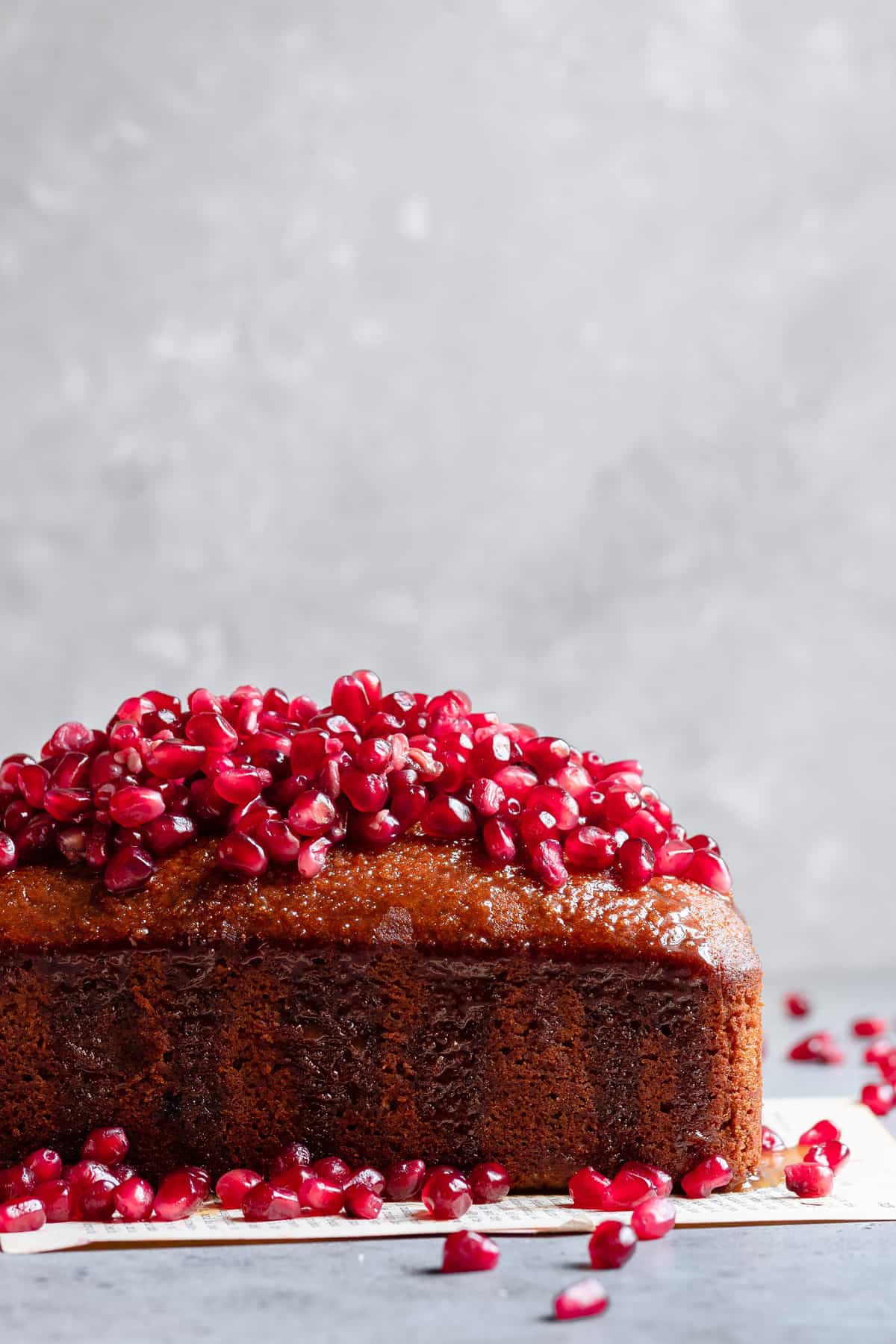 With out a doubt this is my favorite holiday, dipping everything is honey and eating sweet for a month? well, dah!
The tradition is to dip apples in honey as a symbol for the sweet upcoming year. Even back in the days they realized the healing properties of apples and honey.
The more I think about it the more I believe that the true core of this to tradition was to to market the forbidden fruit. Because when you think about my people's history with apples you can totally understand why one might think twice before biting into it.
And so the Rabbis (AKA influencers) assembled, and very wisely dipped the apples in the honey and called it a year. #EatMoreApples #Sponsored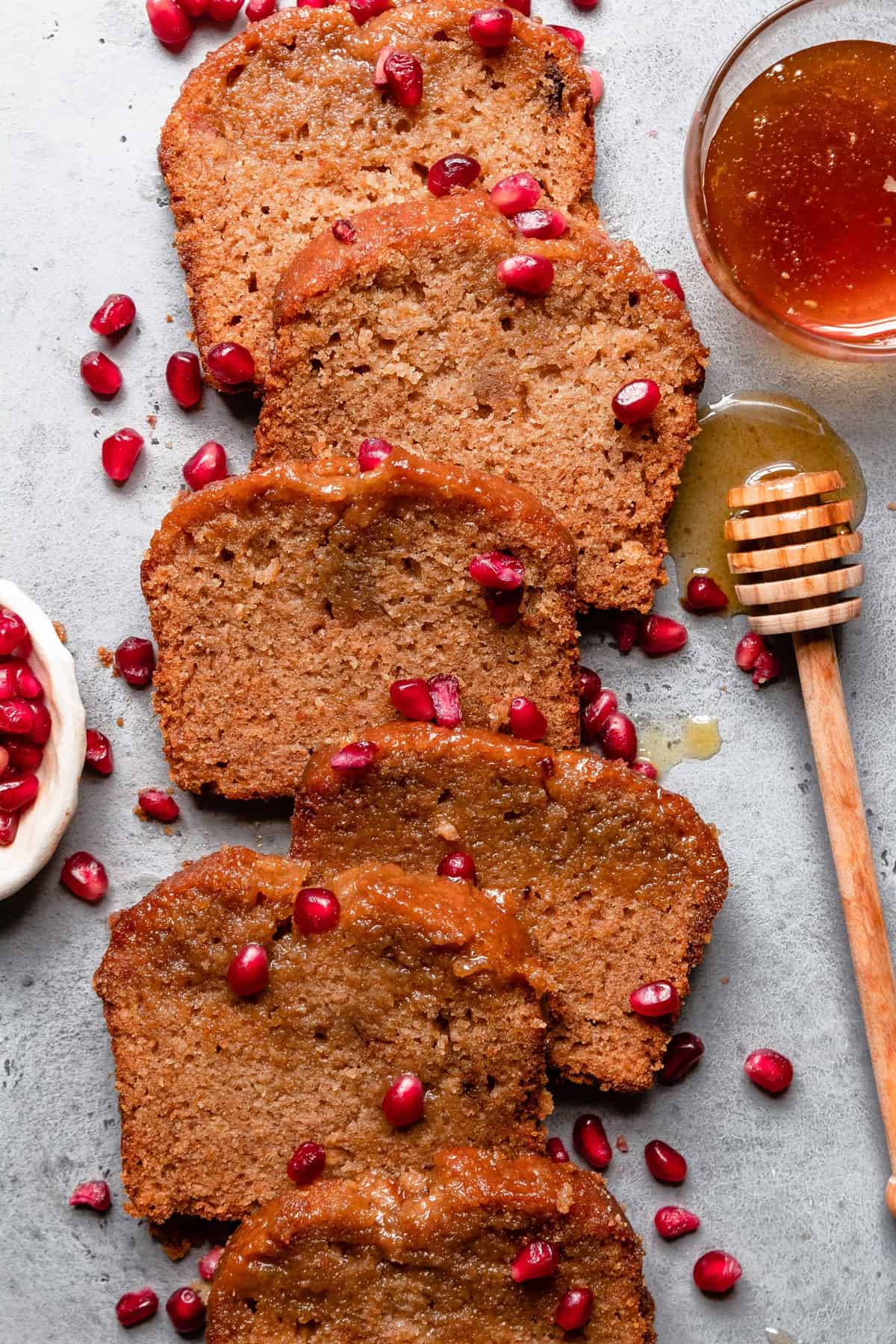 Now Let's Talk About This Traditional Jewish Honey Cake:
You can use either light or dark brown sugar. The dark brown sugar will result in a darker and moister cake.
The traditional honey cake is baked in a loaf pan. As you can see you are not limited to do so. Loaf pan, mini bundt pan, 9′ round pan or even as cupcakes.
Please make sure to adjust the baking time if not using loaf pan.
My oven is different than yours. Baking time might be different than the what the recipe calls for. Set your timer for half the recommended time and check the progress. The cake/cupcakes are really when a thin toothpick comes out clean from the center of the cake.
If you do bake in a loaf pan, please remember that it takes longer to bake the cake will get a darker color, so make sure to use 9″ pan or longer.
HAPPY BAKING!!!
Here are some more fun recipes from the Jewish Bakery you might enjoy:
One more thing…
Don't forget to tag @OneSarcasticBaker on Instagram if you bake this recipe. Would love to see your creations!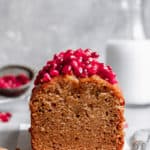 Traditional Honey Cake
Ingredients
3/4

Cup

Dark or Light Brown Sugar

(150 g / 5.5 oz)

2

Large

Eggs

1

Cup

Vegetable Oil

(200 g/ 7 oz)

1 2/3

Cup

AP Flour

(200 g / 7 oz)

Pinch

Salt

2 1/2

tsp

Ground Cinnamon

1/2

tsp

Baking Soda

3/4

Cup

Unsweetened Apple Sauce

(200 g / 7 oz)

1/3 + 2 TBS

Cup

Honey

(150 g /5 oz)
Instructions
Preheat oven to 340F. Line the bottom of 9" loaf pan with parchment paper and grease the sided.

In a medium bowl, sift the flour, cinnamon,salt and baking soda together and set a side.

In a large measuring cup, mix the applesauce and honey together. Set a side.

In a bowl of a standing mixer, place the sugar and eggs and mix on medium speed for few minutes until the mix is lighter in color. 4-5 minutes

Change mixer speed to low and slowly drizzle the oil into the bowl. Return speed to medium.

Add the flour in 3 additions alternating with the Applesauce honey mix.

Pour batter into greased loaf pan or divide between the mini pans.

Bakes until the center is golden and a tooth pick comes out clean from the center of the cake.

45-50 minutes.

Remove the cake from the oven and let cool before slicing.

If you chose, drizzle the cake with 1/4 of warm honey or dust it with some powdered sugar.