This post is sponsored by Aunt Sue's Raw & Unfiltered Honey. All opinions and thoughts are my own. Thank you for supporting the brands that help make One Sarcastic Baker possible.
These Chocolate Honey and Raspberry Cupcakes are soft and tender cupcakes loaded with sweet and tart Raspberry buttercream.
A Few years back I lived in Salt Lake City, UT. One of my favorite things to do there was to visit the Farmer's Market.
My most memorable visit was when I encountered a BeeKeeper. He was so passionate and enthusiastic about his craft, I truly believe he came up with the term Queen B!
That day I spent my entire budget on a hand made apron. (Still nicely folded in my closet just so it won't get dirty!). But ever since then I've had this notion that good honey is a result of a respectful relationship between the beekeeper and the bees.
Now that Salt Lake City and its amazing Farmer's Market are in my past, using honey that I know where and whom it came from, for me is the only way.Aunt Sue's Raw and Unfiltered Honey is one without a doubt. Mainly because I am certain that the honey sitting in my kitchen is both delicious and comes straight from the hives of American beekeepers .
Sioux Honey Association Co-op is a group of devoted beekeepers. They have passed down their art from generation to generation for almost 100 years. And both Aunt Sue's and Sue Bee brands are products of the USA.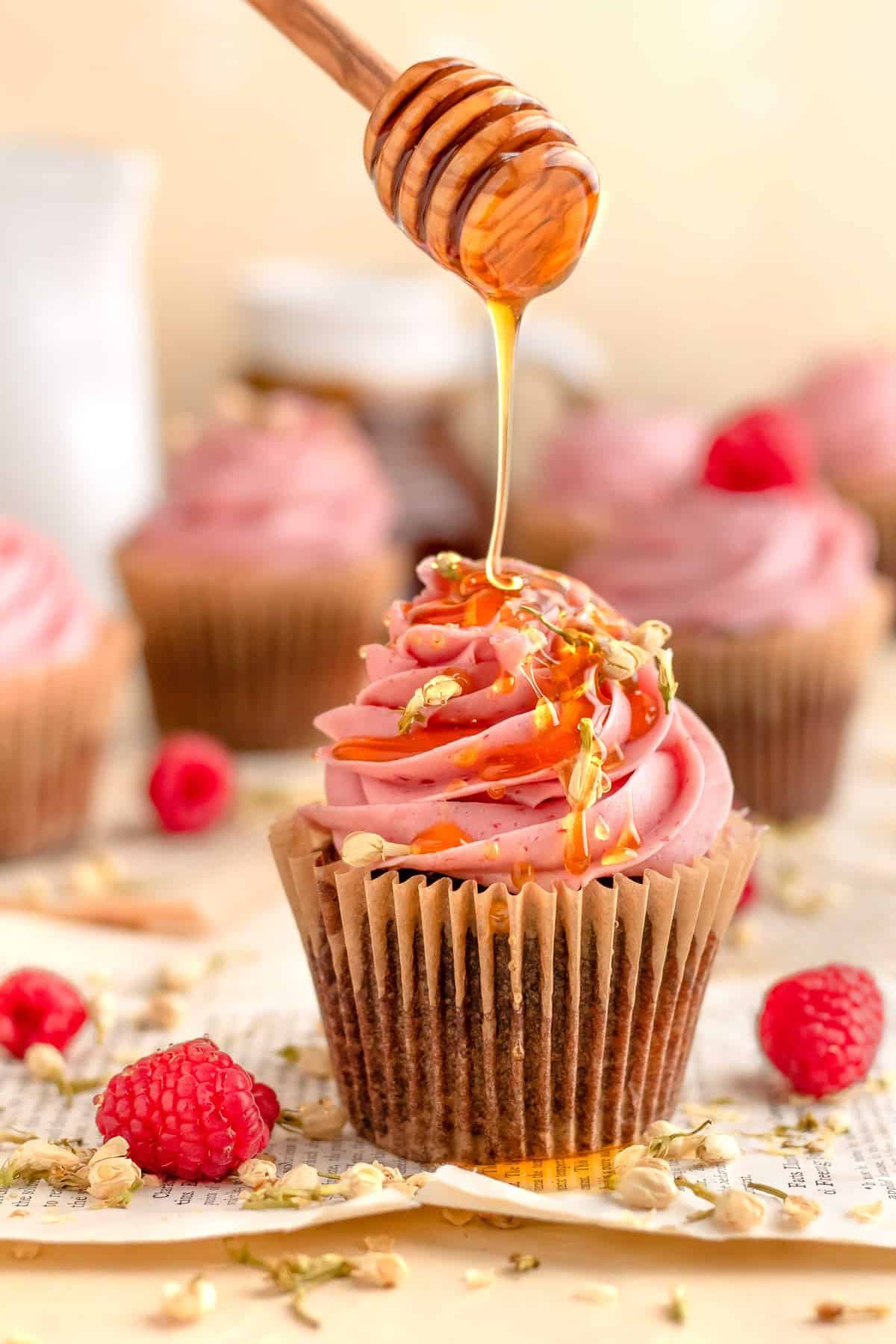 Honestly, I mostly use honey on my toast, in my teas, or as a sweet snack on a spoon. But baking with honey has some valuable benefits. I really like the fact that you can reduce the sugar in the recipe. Also, the baked goods get an amazing color from the browning of the honey and it adds some moisture into it. And since it has a very subtle flavor, it will not over power the recipe. When I think about it, there is no reason not to use honey more often when baking.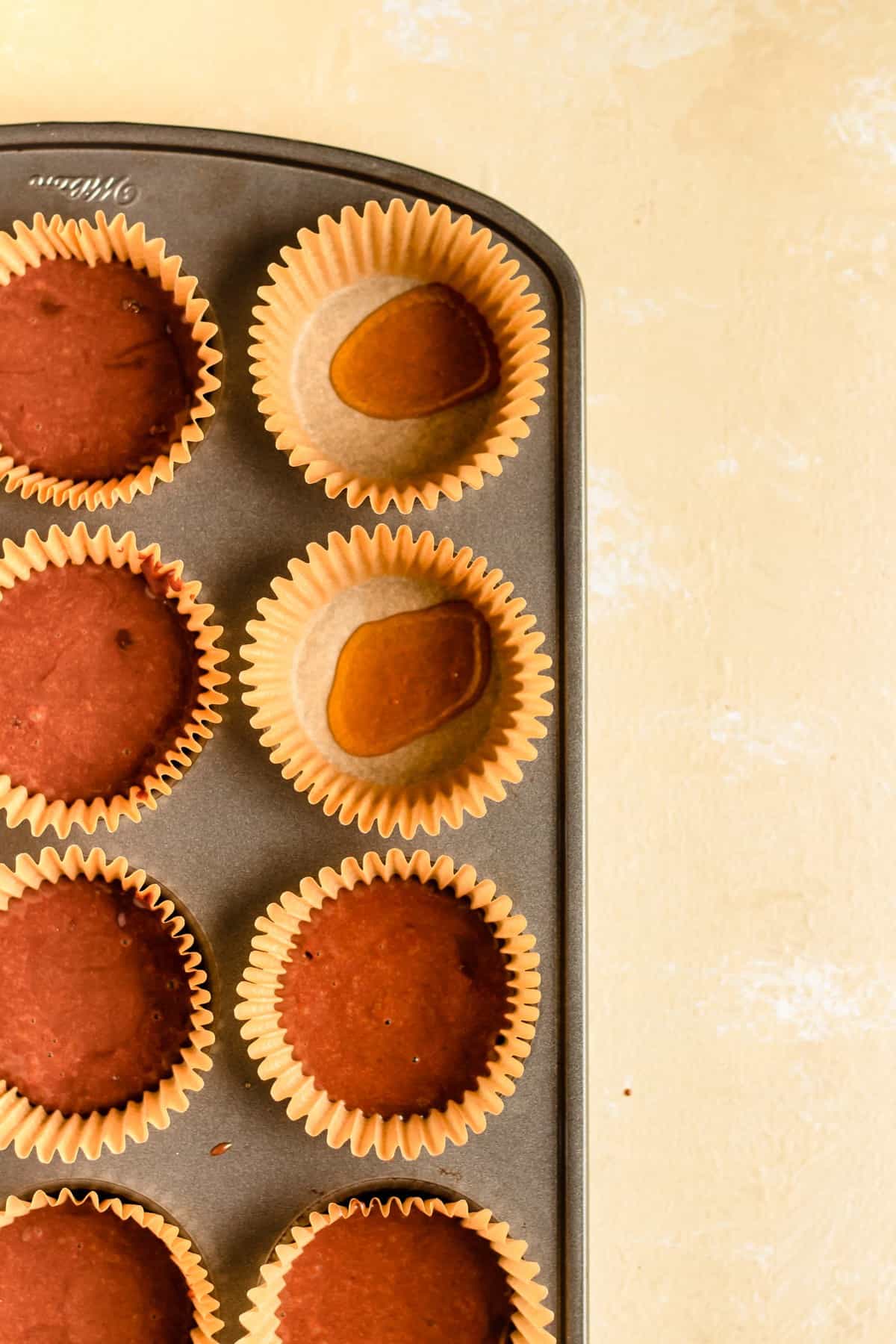 Now Lets Talk About this Chocolate Honey and Raspberry Cupcakes:
For this recipe I used Aunt Sue's RAW & Unfiltered honey which gives all the benefits of natural pollen. You can find Aunt Sue's honey in most of the major grocery stores or online at www.siouxhoney.com
The recipe calls for using a standing mixer, but you can defiantly skip it and just follow the recipe using a hand whisk.
When baking cupcakes, I like to "test" 3 cupcakes at first. One that is half full, one that is 3/4 full and one that is almost to the top of the liner.
For some extra "gooey gooey" goodness, drizzle about 1/2 tsp into the cupcake liner before pouring the batter in. (see picture above)
It is very important not to over mix the batter in order to have a soft cupcake.
Here are some more Honey recipe you might enjoy:
HAPPY BAKING!!!
One more thing…
Don't forget to tag @OneSarcasticBaker on Instagram if you bake this recipe. Would love to see your creations!
Chocolate Honey and Raspberry Cupcakes
Ingredients
Chocolate Honey Cupcakes
1 1/2

Cups

AP Flour

(180 g / 6.5 oz)

1/2

Cup

Cocoa powder

(50 g / 1.75 oz)

1

tsp

Baking Powder

1/4

tsp

Baking Soda

1

Cup

Sugar

(200 g / 7 oz)

1/2

Cup

Aunt Sue's Raw & Unfiltered Honey

(100 g / 3.5 oz)

1/2

Cup

Vegetable Oil

(100 g / 3.5 oz)

2

Large

Eggs

3/4

Cup

Milk, room temperature

(180 ml)

1/4

Cup

Boiling Water

(60 ml)
Raspberry Buttercream
1

PGK

Frozen Raspberry, thawed and drained.

12 oz or 16 oz pack

6

Large

Egg Whites

1 1/4

Cup

Sugar

(250 g / 11 oz)

1/4

tsp

Cream Of Tartar

2

Cup

Unsalted Butter, room temp.

(450 g / 16 oz)
Instructions
Preheat oven to 350F and line 2 12 ct cupcake pans with 15 cupcake liners. (Or 1 pan 12 ct + 1 pan 6 ct)

Sift the flour, cocoa powder, baking powder and baking soda in a medium sized bowl. Set aside.

In the bowl of a standing mixer fitted with the paddle attachment, place the sugar, honey, egg, oil, and milk and sprinkle the dry ingredients on top.

With the mixer on low-medium speed, combine all the ingredients then add the boiling water. Mix just until the water has been evenly incorporated.

Pour about 1/2-1 tsp of Sioux Raw honey in the cupcake liners then pour the batter 3/4 full.

Bake for 14-18 minutes or until a toothpick comes out clean from the center of the cupcake.

Remove from oven and allow to cool.
To Make the Raspberry Buttercream
Mash the raspberries in a sieve on-top of a medium bowl until only the seeds remain. Discard the seeds.

Place the egg whites, sugar and cream of tartar in a bowl of a standing mixer and place the bowl on top of simmering water. (water should not touch the bowl)

Using a hand whisk, whisk the egg whites and sugar until it reaches 130F, or until it is hot to the tough of your finger.

Remove from the stove and beat with the whisk attachment until the meringue has tripled in volume and is cool to the touch.

Add the butter small piece at a time and continue mixing until you have a soft and fluffy buttercream. Add the raspberry puree and mix until incorporated.

Spoon the buttercream in a piping bag fitted with a Wilton 1M tip and pipe your desired amount of buttercream on each cupcake.