Last updated on February 9th, 2023.
These chocolate Raspberry cupcakes are the perfect sweet fix when looking for a quick, impressive, and classic dessert. A tender, soft, and fluffy chocolate cupcakes you can make using everyday ingredients you probably already have in your pantry and topped with simple no-fuss Raspberry frosting.
Cupcakes are fun, and they make everybody happy. It's a magic word, you say cupcake, and you get smiles; it's a bit of a cliche, I will be the first to admit, but it is still valid. Cupcake recipes come in unlimited flavors, fillings, and toppings that can vary from Oreo Cupcakes to Chocolate Blackberry, to Dulche De Leche. No one is better than that other, and you can never go wrong, especially when it comes to Raspberry chocolate cupcakes. After all, chocolate and raspberry are the ultimate combinations of sweet and tart, deep and earthy, and above all, pink and chocolate colors. Check out this White chocolate and raspberry loaf cake recipe for another epic combination.
Why This Recipe?
I am answering this question because sometimes cupcakes have a reputation of being too much work, and you must be an experienced baker to make them successfully. I am here to tell you that this is not the case with this recipe; all you need is essential ingredients, basic tools, and about 90 minutes of your day.
Ingredients
A list with the complete ingredients, including measurements, is in the recipe card at the bottom of this post.
Cupcakes
For the dry ingredients: all-purpose flour (you can use bleach or unbleached), cocoa powder (you can use dutch cocoa powder or natural cocoa powder), baking powder, baking soda, sugar, and salt.
For the wet ingredients: honey, unflavored vegetable oil, eggs, vanilla extract, milk, and hot coffee.
Frosting
Unsalted butter.
Powdered sugar
Heavy cream
Raspberry preserves or jam.
Fresh raspberries for garnish
Substitutions
Replace the honey with 1/2 cup of granulated sugar.
Use hot water instead of hot coffee and sour cream or buttermilk instead of milk.
Use melted butter instead of oil (not recommended)
How To Make This Chocolate Raspberry Cupcakes
You can use a stand or an electric mixer to make the chocolate cupcakes and raspberry frosting recipe. Make sure to read the expert tips below for the best results.
Chocolate Cupcake Recipe
In a large bowl, mix the dry ingredients. In a large mixing bowl or a bowl of a stand mixer, mix the honey, oil, eggs, vanilla extract, milk, and sugar until thoroughly combined.
Sprinkle the flour mixture over the wet mixture and mix until smooth.
Mix in the hot coffee. Divide the batter between the cupcake liners and bake.
Raspberry Frosting Recipe
I decided to make things simple and make this raspberry buttercream with jam. However, you can make your very own homemade raspberry filling.
Beat the butter and gradually add the powdered sugar (start with medium speed and increase it).
Mix in the heavy cream, and then mix in the raspberry jam. Frost the cupcakes and top with a fresh raspberry.
Variations
Mix in 1/4 cup (40g/1.5oz) of melted chocolate into the buttercream to make chocolate raspberry buttercream.
Mix in 2-4 Tablespoons of ground freeze-dried raspberries instead of the jam to make raspberry frosting with freeze-dried raspberries.
Flavor the buttercream with your choices of preserves and jams, such as cherry, strawberry, and even guava.
I love to top my cupcakes with some crushed Chocolate Covered Pecans. It adds texture and even more chocolate flavors.
Expert Tips
In this recipe, the natural cocoa (if used), honey, and coffee are the acidic substances that will activate the baking soda. Be sure not to remove all three if you choose to make changes.
To make dark chocolate cupcakes, use dutch cocoa powder. Or, replace up to 1 tablespoon of the cocoa powder with black cocoa powder. For more information read this article about Cocoa Powder In Baking.
Ensure all ingredients are at room temperature, except for the coffee. Hot coffee will help bloom the cocoa powder and enhance the chocolate flavor.
If planning to store the buttercream at room temperature, take the time to warm the heavy cream before adding it to the buttercream (plan and give it the time to cool down to room temperature).
Allow the cupcakes to cool in the cupcake pan for about 10 minutes then transfer to a wire rack.
You can fill the liners all the way to the top, 3/4 complete and/or 1/2 full. See the image below.
Tips For Assembling The Cupcakes
If you are in a particular dessert mood, you can make raspberry filled chocolate cupcakes with one easy extra step.
To make chocolate cupcakes with raspberry filling, use a sharp knife to remove a piece of cupcake from the center of each cupcake, then fill the center with raspberry jam. After that, frost with raspberry buttercream. You can see how I did it in this Black Forest Cupcakes Recipe and tips for how to transport cupcakes.
You can pipe the cupcakes using a piping bag or scoop the buttercream using two spoons or a cookie spoon.
Adding a drizzle of melted chocolate or some chocolate shavings is a great way to decorate the cupcakes.
Storing
You can freeze the unfrosted cupcakes in a freezable bag or an airtight container for up to 1 month or store them at room temperature, covered for up to 48 hours.
Frosted cupcakes will stay fresh for up to 3 days, covered at room temperature.
FAQ
How can I make chocolate raspberry frosting?
Mix 1/4 cup of melted chocolate into the buttercream
What can I use as the raspberry filling for the chocolate cupcakes?
You can use the buttercream or the raspberry jam/preserve.
Can I mix in fresh berries?
Yes. Mix up to 1/2 cup of fresh raspberries with flour or cocoa powder before mixing them into the batter.
Check out these articles and recipes to satisfy your chocolate cravings
What Is Unsweetened Chocolate?
DID YOU TRY THIS RECIPE?
If you tried this recipe or any other recipe by One Sarcastic Baker baking blog, please take a movement to rate and comment at the end of each recipe. Your questions, ideas, and thoughts are priceless, and here at OSB we value them more than butter!
And don't forget to tag me on Instagram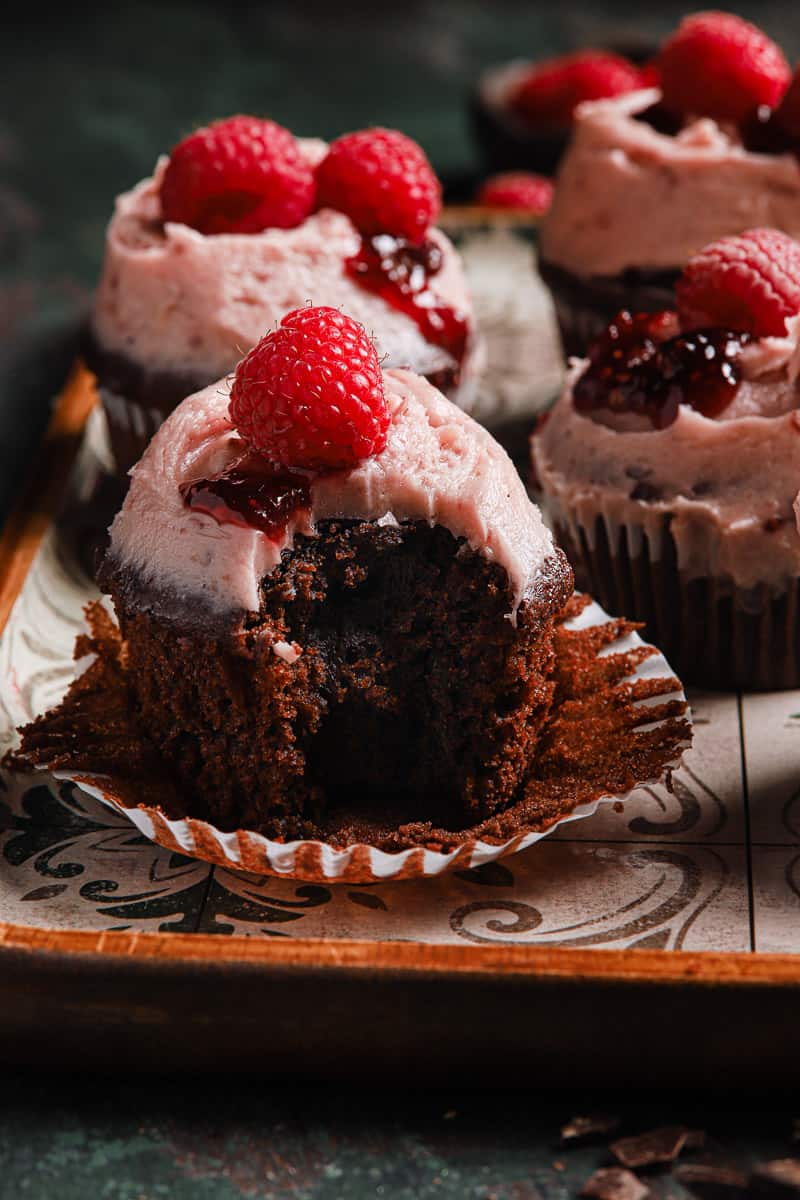 Chocolate Raspberry Cupcakes
Fluffy and tender chocolate cupcakes frosted with raspberry buttercream
Ingredients
Chocolate Honey Cupcakes
1 1/2

Cups

AP Flour

(180 g / 6.5 oz)

1/2

Cup

Natural or dutch process Cocoa powder

(45 g / 1.75 oz)

1

tsp

Baking Powder

1/4

tsp

Baking Soda

1

Cup

Sugar

(200 g / 7 oz)

1/2

Cup

Honey

(100 g / 3.5 oz)

1/2

Cup

Vegetable Oil

(100 g / 3.5 oz)

2

Large

Eggs

3/4

Cup

Whole milk, room temperature

(180 ml/6gl oz)

1/4

Cup

Hot coffee

(60 ml/2fl oz)
Raspberry Buttercream
1

Cup

Unsalted Butter, softened

(224 g / 8 oz)

1 1/2

Cup

Powdered Sugar

(180g / 6 oz)

1/4

tsp

salt

1/4

Cup

Heavy cream

1/2

Cup

Raspberry perserve

12 oz or 16 oz pack
Instructions
Preheat the oven to 350F and line two 12 cupcake cavities with cupcake liners.

Sift the flour, cocoa powder, baking powder, and baking soda in a large bowl. Set aside.

In the bowl of a standing mixer fitted with the paddle attachment, place the sugar, honey, egg, oil, and milk. Mix until fully incorporated.

Sprinkle the flour mixture over the wet mixture and beat on medium speed gradually increasing speed to medium-high until smooth. This should take about 15-20 seconds.

Pour the hot coffee over the batter and beat on high speed until blended, about 10 seconds.

Fill the cavities 1/2, 3/4, or completely full and bake over the middle oven rack for 15-18 minutes. Or until a toothpick comes out from the center of each cupcake dry.

Remove from the oven and allow to cool for 10 minutes before transfering the cupcakes to a wire rack.
To Make the Raspberry Buttercream
Beat the butter in a large bowl for about 30 seconds. Add the sugar in three parts followed by the salt and heavy cream and beat until smooth.

Add the raspberry preserve and mix to blend.

Once the cupcakes are completely cooled, top each with the buttercream and serve.
Recipe Notes
The more you fill the liners the more time it needs in the oven. Every oven is different so pay attention to the signs.
The honey, coffee, and natural cocoa powder (if used) are acidic substances that will help the cupcakes set faster and lose less moisture. Be sure not to remove all three if making changes.
Make sure to boil the cream and bring it back to room temperature before adding it to the buttercream. This step will help with the buttercream's shelf life. If skipping this step, be sure to refrigerate the buttercream within 4 hours.

If time permits, allow the batter to rest in the bowl for 10-15 minutes after mixing in the coffee. The rest will give the starches some time to absorb the liquids for a beautiful dome top and develop flavors.