Last updated on May 7th, 2021.
This recipe makes soft, moist and melt in your mouth coconut cupcakes filled with velvety smooth Dulche De Leche.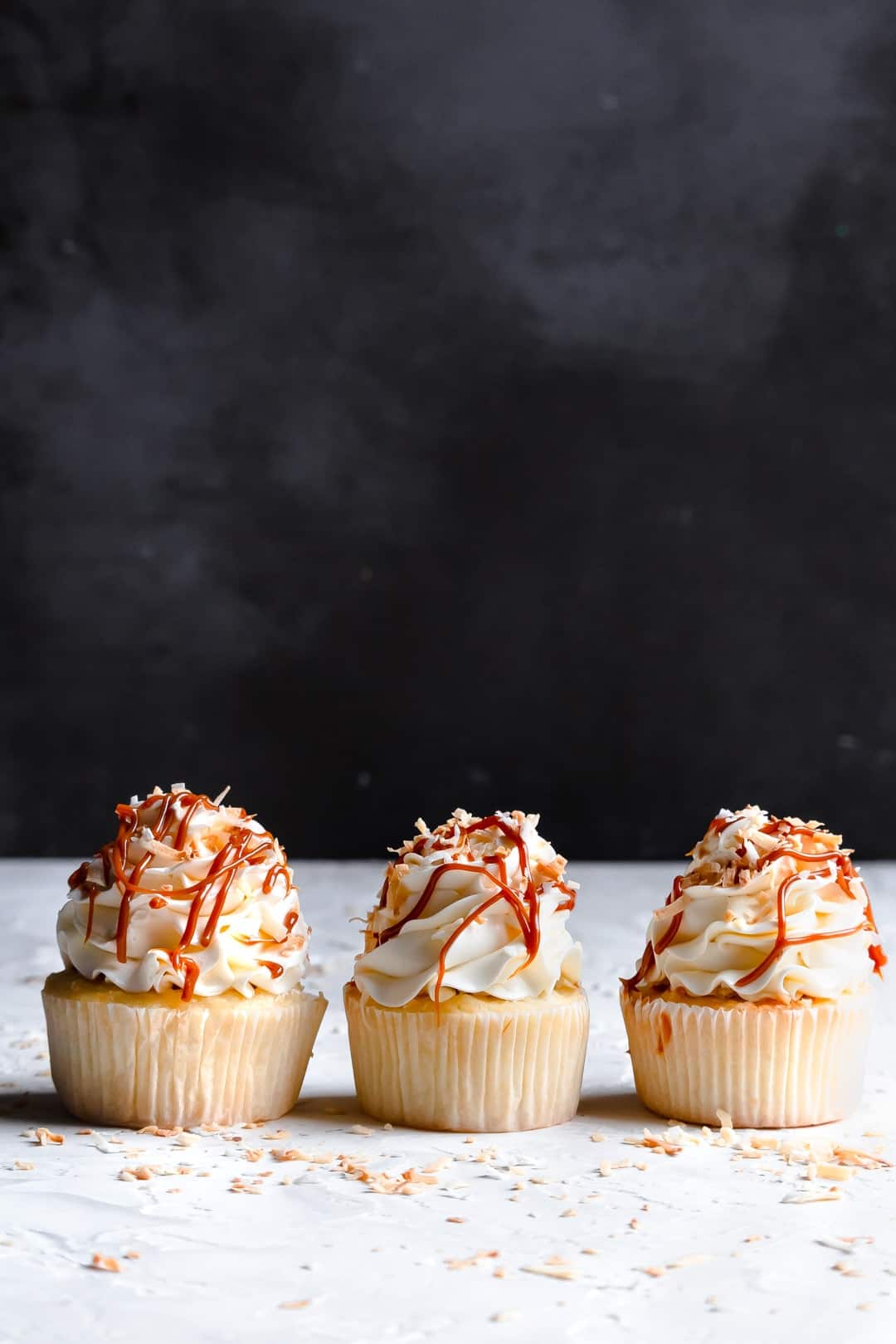 These cupcakes are Alfajor cookie inspired. Alfajor is a sandwich cookie filled with Dulche De Leche.and sprinkled with shredded coconut. The cookie melts in your mouth and makes you wish you had more. Always wishing for more.
It's amazing to see how such mild flavors come together so wonderfully and create such an amazing dessert.
And another thing, Coconut is the new Black.
It goes with EVERYTHING!! For example Lemon, chocolate, peach, pineapple, dates, ginger, cream cheese, bananas, and Dulche De Leche! And in addition, when baked, the smell is simply amazing!!!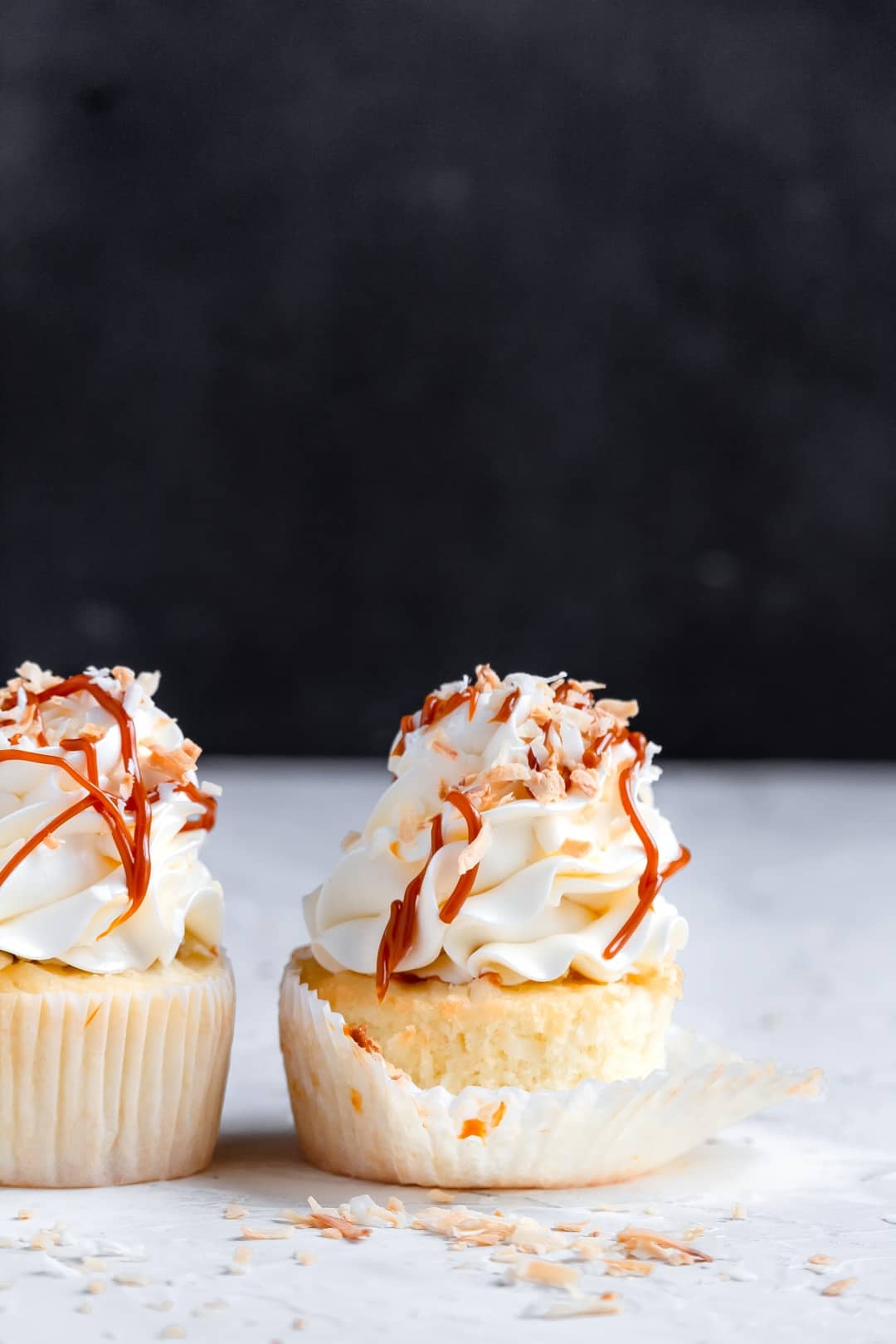 Now Let's Talk About This Coconut Dulche De Leche Cupcakes Recipe:
The cupcakes are frosted with plain vanilla buttercream. However, you can use any frosting you wish. Italian, Swiss, old fashion or even whipped cream.
When baking the recipe, at the last step of the cupcakes batter, if you notice that the batter seems fluffy, allow it to rest for 15 minutes. At the end of the 15 minutes gently stir it with a spatula.
You can use either sweet or unsweetened coconut flakes.
To toast the coconut flakes, firstly evenly place it on a baking sheet lined with parchment paper and secondly toast for 4-5 minutes in a 350F oven. Make sure to stir halfway. But please Note! This will make your whole house smell coconut AWESOME!!!!!
The recipe yields 24 regular size cupcakes. But, if 24 are too many, you can cut it in half.
HAPPY BAKING!
Here are some more recipes you might enjoy:
One more thing…
Don't forget to tag @OneSarcasticBaker on Instagram if you bake this recipe. Would love to see your creations!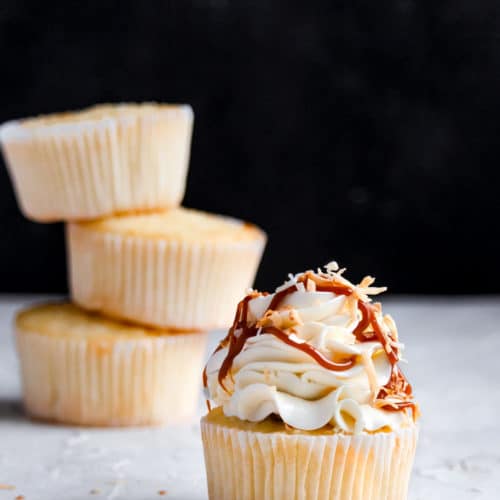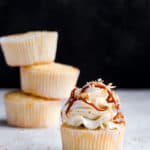 Coconut and Dulche De Leche Cupcakes
Ingredients
1 1/2

Cup

Cake Flour

( 180 g/ 6.5 oz)

1

Cup

AP Flour

(120 g/ 4 oz)

2 1/8

tsp

Baking Powder

1/2

tsp

Salt

1 1/2

tsp

Coconut Extract

1

tsp

Vanilla Extract

1 1/3

Cup

Coconut Milk

(320 ml)

1 3/4

Sticks

Unsalted Butter, soften

(200 g / 7 oz)

2

Cups

Sugar

(400g / 14 oz)

4

Large

Eggs, room temperature

1 1/2

Cup

Sweetened Coconut Flakes

(130 g / 4.5 oz)
For Filling and Decorating
1

Can

Dulche De Leche

1

Cup

Toasted Coconut Flakes

(130 g / 4.5 oz)
Vanilla Buttercream
6

Sticks

Unsalted Butter, soften

(680 g / 24 oz)

6

Cups

Confectioners Sugar, sifted

(680 g /24 oz)

2

tsp

Vanilla Extract

1/4

tsp

Salt
Instructions
Preheat the oven to 350F. Line 2 12-cup muffin pan with cupcakes liners and set aside

In a bowl, sift the dry ingredients (flour, baking powder, coconut and salt). Set aside.

In a medium measuring cup, pour the coconut milk, coconut and vanilla extract. Stir to combine and set aside.

In a bowl of a standing mixer, place the butter and sugar and mix on low for about 1 minutes until you have a smooth and creamy mix.

Add eggs one at a time waiting for the egg to be completely incorporated before adding the next.

Scrap the sides and bottom of the bowl.

Add dry ingredients alternating with the wet ingredients in 3 parts starting and ending with the dry ingredients.

After adding the last part of the dry ingredients, turn mixer off and using a rubber spatula, scrape the sides and bottom of the bowl to make sure all the ingredients have completely incorporated.

Fill the muffin tins 3/4 full and bake until the tops have firmed and a cake tester comes out with just a few crumbs from the middle of the cupcakes, About 18-20 minutes.

Allow the cupcakes to cool completely before removing from the pan and frosting.
To make the buttercream
In a bowl of a standing mixer, fitted with the paddle attachment, cream the butter until light in color and smooth.

Add the sugar, one cup at a time making sure the sugar and butter have completely blended before adding the next cup. Scrap the sides and bottom of the bowl.

Add the salt and vanilla extract and mix on low. Gradually increase the speed to high and mix for about 5 minutes. Until the buttercream is light and fluffy.

Place the buttercream in a pastry bag fitted with your choice of tip.
Fill and decorate the cupcake
Using a sharp knife, cut  3/4" circle in the center of each cupcake. The knife should move in a circle and remove a cone like cupcake piece. 

If you choose you can use an apple core remover.

Fill each cupcake with 1 tsp of the Dulche De Leche paste.

Frost the cupcakes with buttercream and sprinkle with coconut flakes.

Mix 2 TBS of Dulche De Leche paste with 1 tsp of milk and stir (or warm in the microwave for 15 seconds but wait for it to cool before drizzling).

Drizzle the cupcakes with a spoon.