Last updated on February 21st, 2023.
These Rosemary Chocolate Cupcakes are moist, tender and extremely easy to make. Plus it is topped with delicious and beautiful Blackberry Buttercream for the perfect flavors combination.
As a mom I (sometimes) cringe when ever my girls are fully loaded with buttercream tinted with artificial coloring.
And as a baker?
Well, I don't really care. I figure that if one consumes so much food coloring that it might hurt one's health, then maybe one has more urgent things to worry about. AKA portion control (?!).
OK then. I reserve my right to worry about global warming, women's equal pay and when Netflix will drop the next season of Stranger Things.
Now that I am care free and at ease, I can enjoy the ride and follow my golden rules:
Nature Rocks!
If it grows together, it goes together.
When in doubt, Chocolate!
This recipe follows all three rules and the result is not only a moist, tender and fluffy explosion of flavors. It is also a tribute for Mother Nature.
I mean, just look at this beautiful color given by the Blackberries!
Best part? It's adjustable.
Not a fan of Blackberries? Go with Raspberries.
Don't care for Rosemary? Skip it!
Now Lets Talk About This Rosemary Chocolate Cupcakes With Blackberries Buttercream Recipe:
Rosemary Chocolate Cupcakes:
Although require a standing mixer, you can just use a bowl and a hand mixer or whisker.
As alway, please make sure all the ingredients (excluding the milk and heavy cream) are at room temperature.
The milk and heavy cream should be warm when added to the mix. That is because the cocoa powder blooms in hot liquid. Please make sure the liquids are warm but not boiling, or else it will melt the chocolate chips.
The flavor of chopped fresh rosemary gets stronger during baking and over time. Feel free to to reduce the amount to 1 tsp or remove it completely.
BlackBerries Buttercream:
Below is a recipe for an Italian meringue buttercream. However, you can adopted this blackberry technique with any buttercream you may have in hand.
If using frozen blackberries, first make sure it's defrosted completely. Second before mashing discard any liquid coming from the bag.
If you notice that the blackberry puree is too watery, place it in a small pan over the stove and reduce the liquid by 1/3-1/2. (about 10 minutes over low-medium heat)
When adding the puree to the buttercream, add 1 TBS at a time. Let the puree incorporate before adding more. This way you can control the color and texture of the buttercream.
HAPPY BAKING!!!
Video by : Marie Sugar Salt Magic
Here are some more recipes you might enjoy:
One more thing…
Don't forget to tag @OneSarcasticBaker on Instagram if you bake this recipe. Would love to see your creations!
Video by Marie @Sugarsaltmagic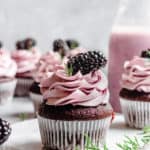 Chocolate Rosemary Cupcakes with Blackberries Buttercream
Ingredients
Chocolate Rosemary Cupcakes
1 1/2

Cups

AP Flour

(180g / 6.5 oz)

1/2

Cup

Cocoa Powder

(50 g / 2 oz)

1

tsp

Baking Powder

2

tsp

Fresh Chopped Rosemary

1/4

tsp

Baking Soda

1 1/2

Cup

Sugar

(250g / 7 oz)

1/2

Cup

Vegetable Oil

(100 g / 3.5 oz)

2

Large

Eggs

1/2

Cup

Milk, warm

(120 ml / 4 fl oz)

1/2

Cup

Heavy Cream, warm

(120 ml / 4 fl oz)

3/4

Cup

Mini Chcocolate Chips

(130 g / 4.5 oz)
For the Buttercream
1

PKG

Fresh or frozen blackberries

5

Large

Egg Whites

1 1/4

Cup

Sugar

(250 g / 9 oz)

1/4

Cup

Water

(80 ml / 2 fl oz)

4

Sticks

Unsalted butter, soft

(450 g / 16 oz)
Instructions
To Make The Chocolate Rosemary Cupcakes
Preheat oven to 350 F and line 1 – 12 ct cupcakes tin with cupcakes liners.

In a medium sized bowl, sift the flour, cocoa powder, baking powder and baking soda then add the chopped rosemary. Stir to distribute.

In a bowl of a standing mixer fitted with the paddle attachment, place the sugar, eggs and oil. Sprinkle the flour on top.

With the mixer on low-medium speed as the ingridients starts to come together, add the warm milk and warm heavy cream and mix just until all has evenly incoporated.

Turn mixer off and gently fold in the chocolate chips.

Fill the cupckes liners with cupcakes batter just 3/4 full. Bake for 15 minutes or until a toothpick comes out clean from the center of the cupckes.

Remove from stove and let cool.
To Make The Butter Cream
Mash the Blackberries in a sieve on-top of a medium bowl until only the seeds remain. Discard the seeds.

Place the egg whites in a bowl of a standing mixer fitted with the cage attachment.

Place 1 cup of sugar and the water in a pan and let cook on top of medium heat until it reahces 210F.

Once the sugar mix reaches 210F, beat the egg whites until frothy and sprinkle the remaining ¼ cup sugar.

Slowly drizzle the sugar syrup in the egg whites and beat on high until the bowl is cold to the touch.

Add the butter 1" cube at a time and beat until you have a smooth and creamy buttercream.

Add the blackberry puree 1 TBS at a time and mix to incorporate.