Last updated on November 3rd, 2021.
These Fig Rugelach are made of creamy and buttery cream cheese dough filled with home made fig paste.
Rugelach is one of the best cookie out there, certainly for a good reason. A generous amount of butter with cream cheese (or sour cream) in the dough makes it buttery, smooth and tender.
Such an amazing dough calls for an amazing filling. Raspberry and chocolate are great but at times may overpower the dough. And where other fillings fail, fig paste manage to excel. It does not run out or gets dry during baking so each bite has the perfect balance of texture and flavors.
Now lets talk about these Fig Rugelach Recipe:
Use the top photographed guidelines to see how I folded the cookies.
You can skip the fig paste part in the recipe and use a store bought fig butter. (For example Trader Joe's has a great one)
If you use a store bought fig butter, heat it over the stove for a few minutes to reduce some of the liquids.
When making the dough, it will be very sticky and impossible to roll or shape (which is why refrigerating is crucial).Before refrigerating, use a plastic warp to shape it into the rectangle.
After refrigerating, use flour to avoid the dough from sticking.
HAPPY BAKING!!!
Here are some more sweet recipes you might like:
One more thing…
Don't forget to tag @OneSarcasticBaker on Instagram if you bake this recipe. Would love to see your creations!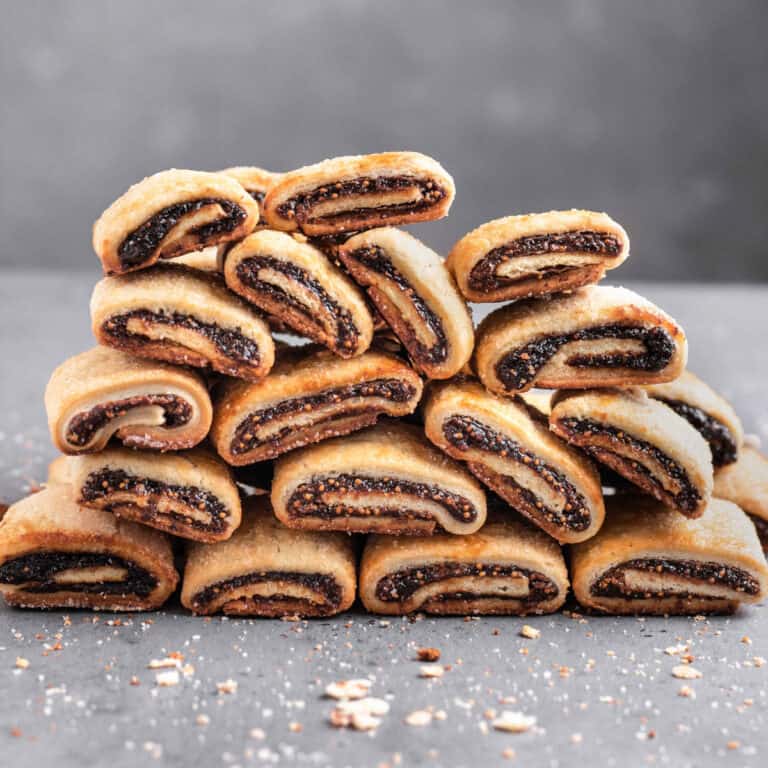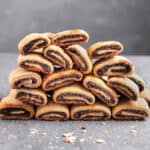 Fig Rugalech
Fig Rugelach are made of creamy and buttery cream cheese dough filled with home made fig paste.
Ingredients
Cream Cheese dough
1

Cup

Unsalted Butter, soften

(225 g / 8 oz)

1

pkg

Cream Cheese, soften

(225 g / 8 oz)

1/3

Cup + 1 TBS

Sugar

(80 g / 3 oz)

1

tsp

Vanilla Extract

2

Cups

AP flour

(240 g / 9 oz)

1

tsp

Kosher salt
FIg Filling
4

Cups

Dried Figs

(672 g / 24 oz)

3

Cups

Port or red wine

1

Cup

Honey

1

tsp

Vanilla bean paste
Instructions
In a medium bowl mix the flour and salts, set a side.

In a bowl of a standing mixer, cream the butter on medium speed for about 10 seconds, add the cream cheese and beat to incorporate with the butter for additional 10 seconds.

Add the sugar and mix for 3 more minutes, until fluffy.

Scrape the sides and bottom of the bowl and add the vanilla.

Add the flour mixture on low speed and mix until you get a sticky looking dough. Do not over mix.

Stop the mixer, scrape the dough and finish mixing with your hands.

Divide the dough in half, shape each half into a rectangle and wrap each piece in a plastic wrap. Refrigerate for minimum of 2 hours and up to 1 week.
To make the fig paste
Remove the stems from the figs and cut each in half. Combine all the ingredients in a bowl and allow the figs to rehydrate at room temperature for min of 1 hour or over night.

In a medium pan, cook the figs and the liquid over medium heat while occasionally stirring until the liquid had become syrupy. 15 to 18 minutes.

When the figs are soft when pressed with a wooden spoon, remove from heat and let sit covered with the lid for 20 minutes.

Puree the figs in a food processor with any of the liquids until a paste is form.
To Assemble
Remove one part of dough and roll it on a floured smooth surface into a 1/4″ thick rectangle

Cut the rectangle into three equal rectangles and spared and even layer of fig paste on each piece.

Fold each piece like an envelope (top end to the center and bottom end on top) and cut each log into 1.5″ cookies.

Place each cookie sim down on a cookie sheet lined with baking paper and bake for 15 minutes, in a preheated oven set on 350 F then rotate the pan and bake for additional 6-8 minutes, or until the tops are golden brown.