Last updated on January 3rd, 2022.
These Eggs Free Cupcakes are easy to make, require simple pantry ingredients and are the perfect pairing to go with sweet flavorful ice cream buttercream.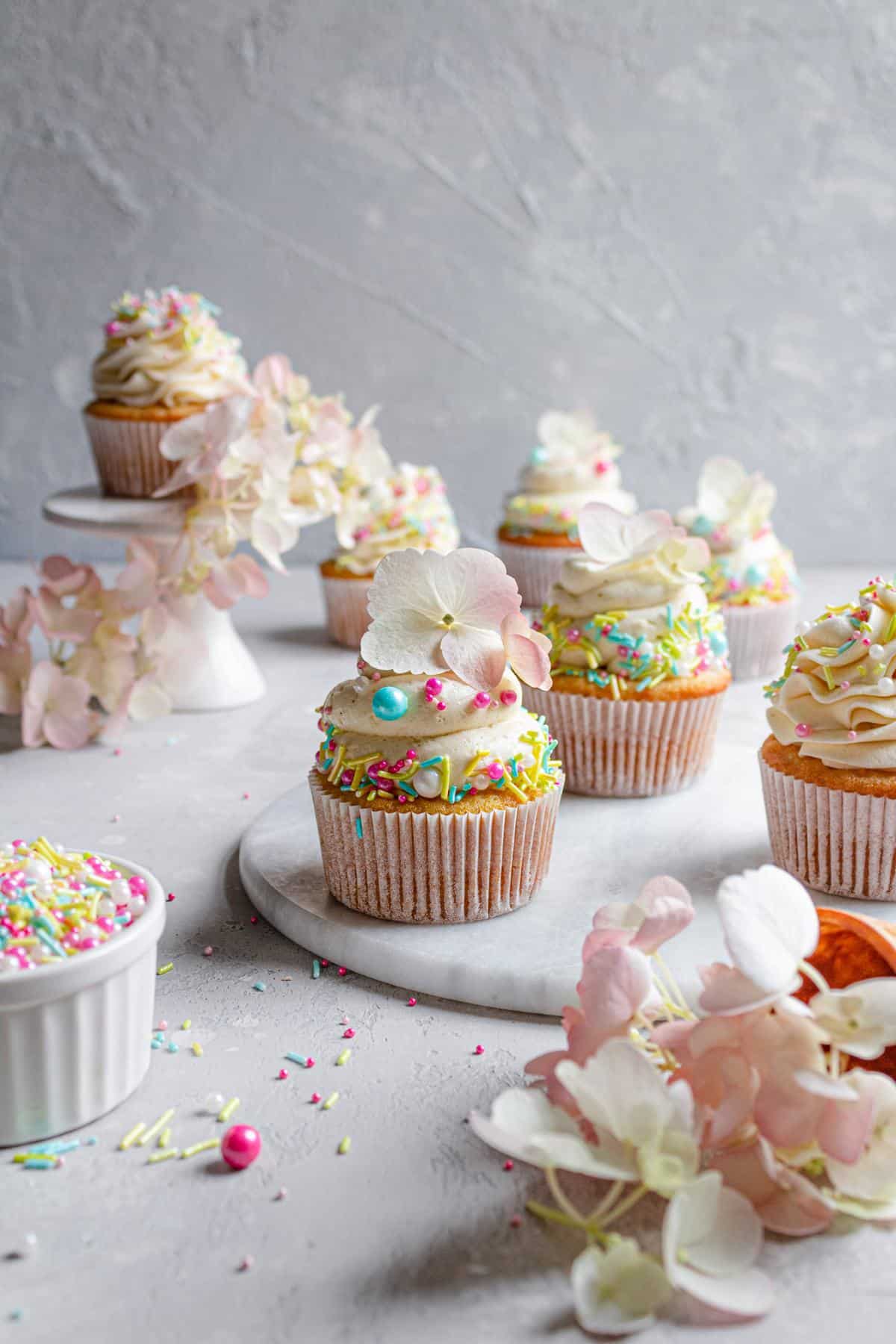 It's funny how life works. One second I am sitting at my desk drafting information about the science of baking with eggs and then all of a sudden the Corona Virus hits and there are NO EGGS at the market.
The challenge was real and I wanted to come up with a fun, easy and delicious recipe that not only does not use eggs but also uses everyday pantry ingredients.
Cupcakes were the first thing to come in mind. Not only they are so delicious but they always seem to make us smile, and we could all use to smile more these days.
I know that flax seeds, lecithin, and other ingredients will do the job fantastically. But again, the idea was to use everyday common pantry ingredients, for example, baking soda and vinegar.
So here is the formula: (Source: Healthline.com )
1 tsp Baking soda + 1 TBS vinegar = 1 Egg.
Pros and Cons for baking eggs free:
Pros – Cheap and accessible alternative ingredients, easy mixing process. The Chemical reaction leavens the cupcakes and as a result, the cupcakes are light and fluffy. Plus it is a great solution for those with diet restrictions and allergy issues.
Cons – The alternative does not act as an emulsifier, meaning it does not bind the fat with the liquid and/or creates a strong structure.
What ingredients do you need to bake these Eggs Free Cupcakes:
All-purpose flour
Sugar
Baking soda
Baking powder
Half and Half
Apple cider vinegar, using white vinegar instead is ok.
Vanilla extract or any other flavoring extract you prefer.
Vegetable Oil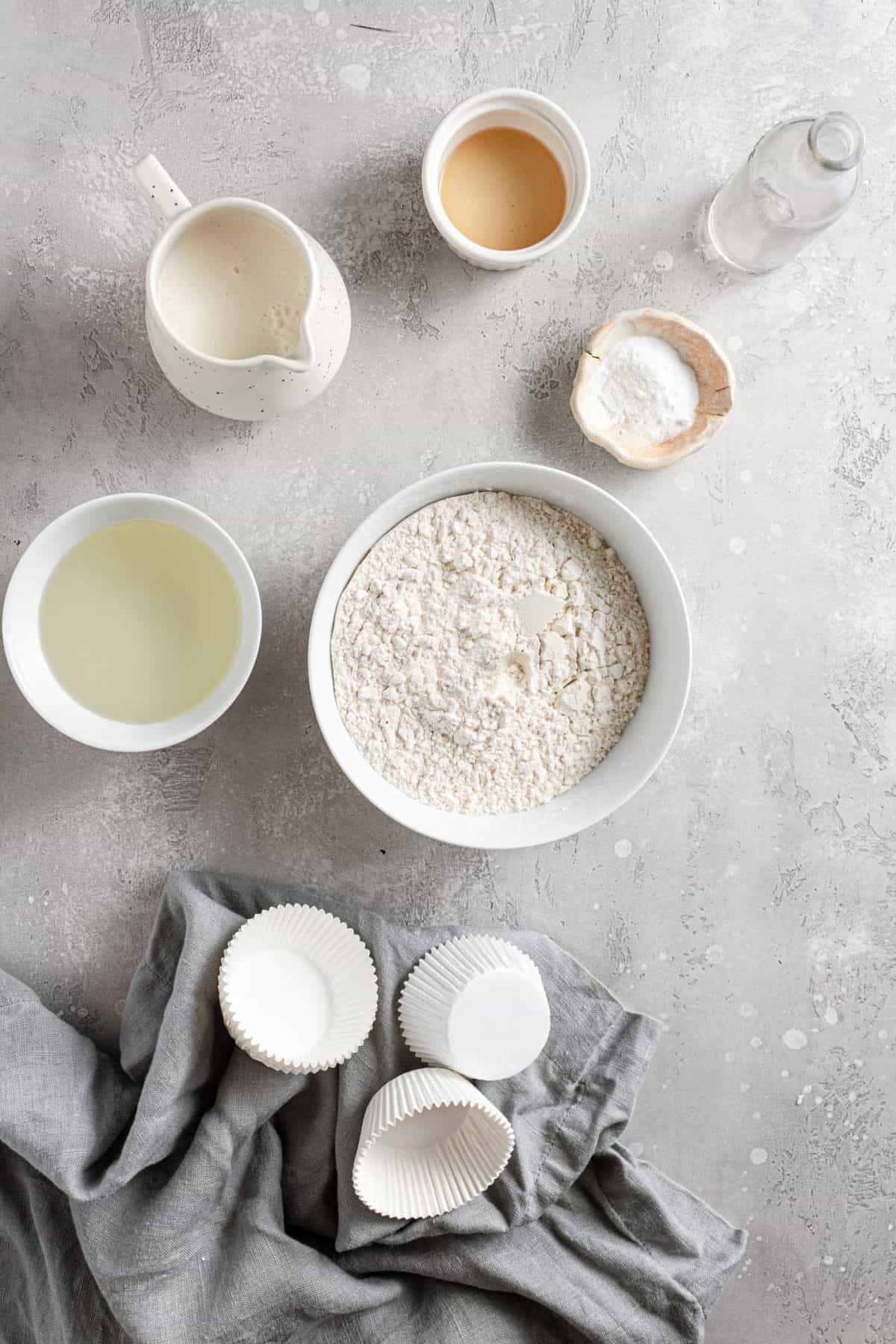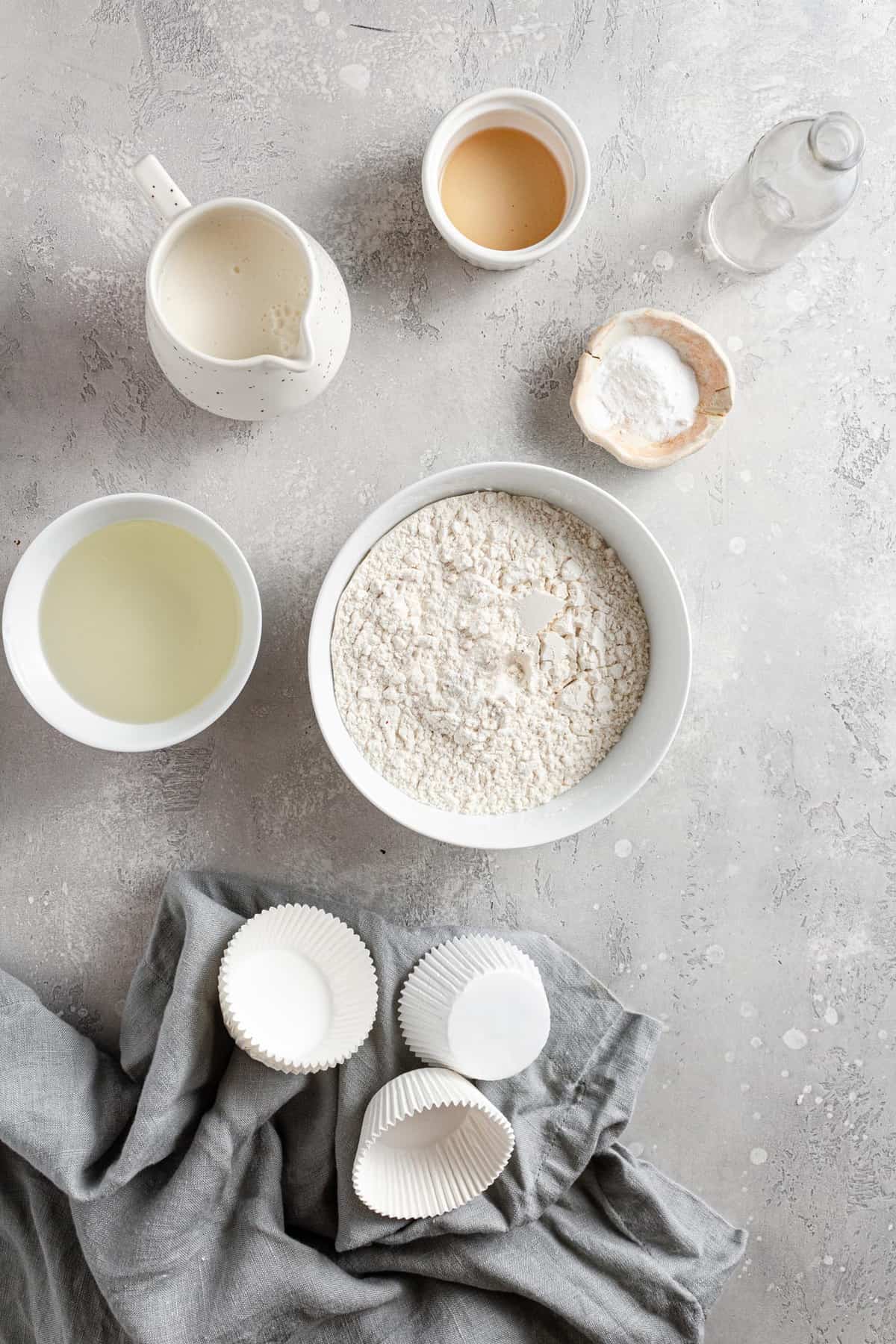 How to bake the cupcakes:
Since this recipe contains no butter and no eggs I decided it would be more than ok skipping the use of a mixer and mix it all with a hand whisker. This recipe mixing method is a lot like the method we use when baking muffins. Meaning we mix the dry ingredients in one bowl and the wet ingredients in a separate bowl. Then, we pour the wet ingredients over the dry, mix and bake.
But because the vinegar reacts immediately with the milk/half and half I decided to add it last so it will react with the baking soda without losing any of its strength.
Sift flour, baking powder and baking soda in a medium bowl then mix in the sugar.
Pour in the half and half, vanilla extract, vegetable oil, and vinegar.
Mix ingredients using a wooden spoon or a hand whisker until smooth.
Divide batter between cupcake liners and bake.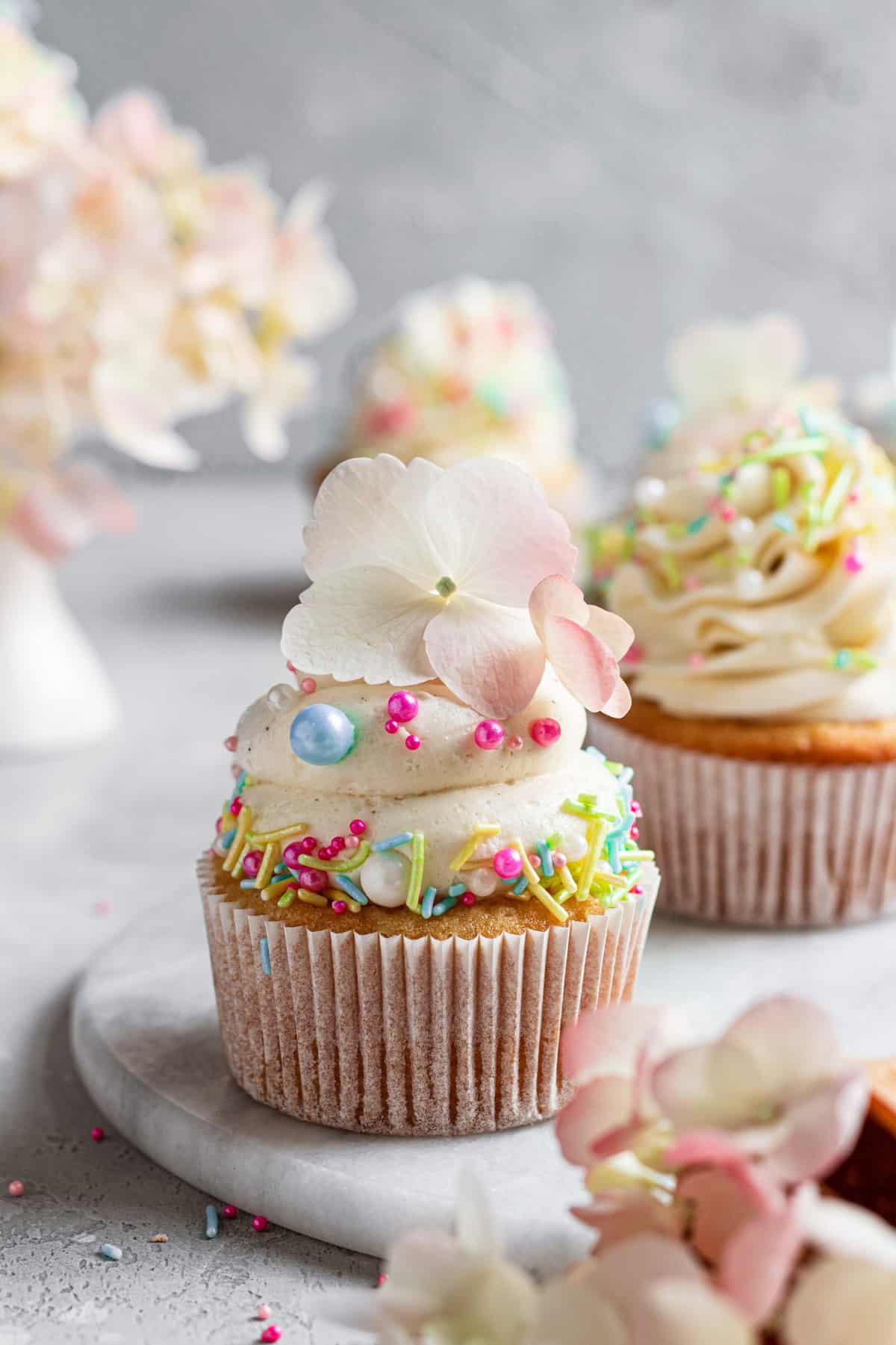 How to store the cupcakes
Unfrosted, you can store the cupcakes at room temperature for up to 48 hours or in the refrigerator for up to 5 days. When frosted, unless the frosting needs to be refrigerated you can follow the above guidelines.
Frosting the cupcakes:
I used my ice cream buttercream to frost the cupcakes. Which is another eggs free recipe that is rich with flavor and goes so well with this recipe.
Click HERE for the recipe.
However, you can go ahead and use your favorite buttercream/frosting.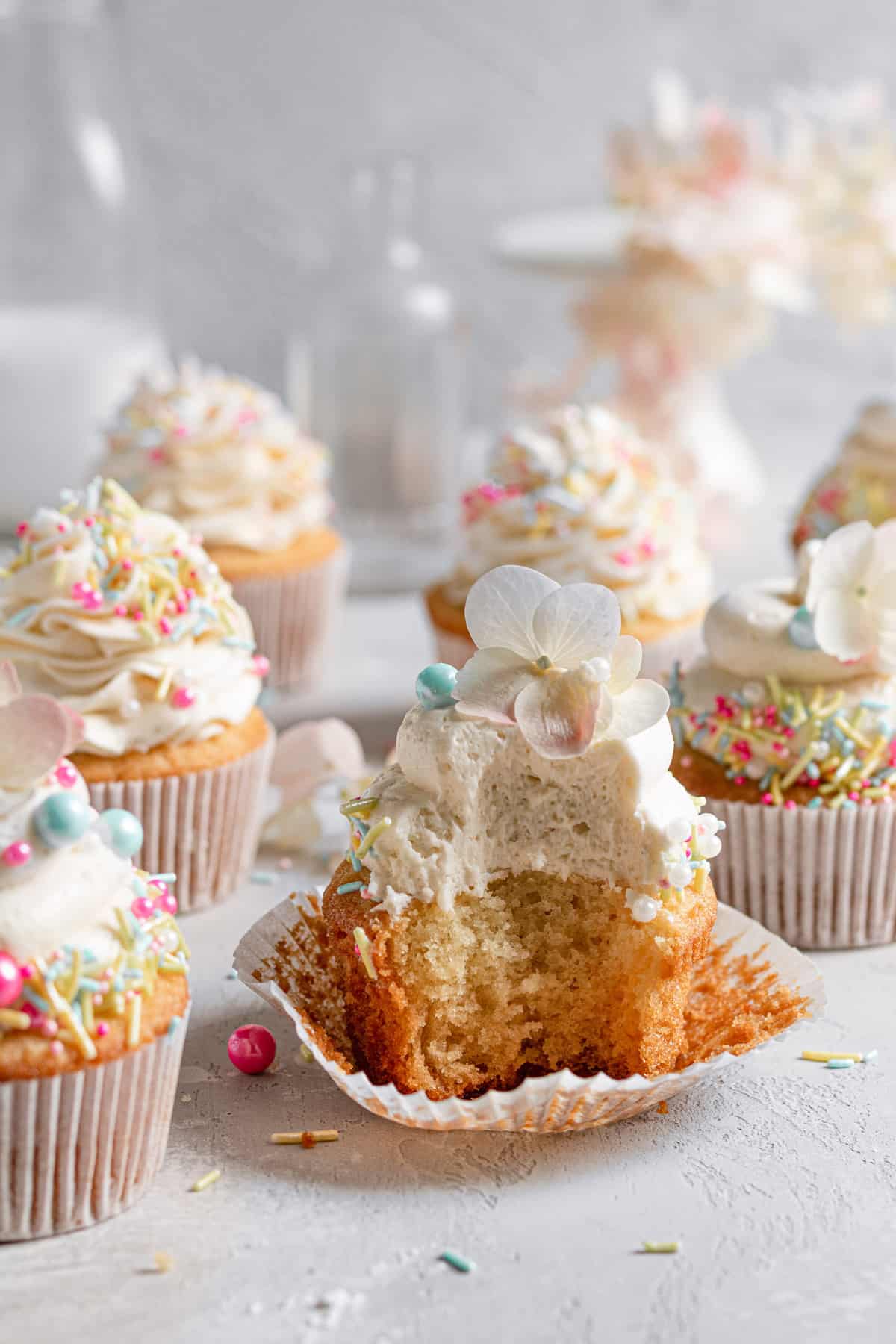 Few more notes about these Eggs Free Cupcakes:
The cupcakes will double their height during baking, please make sure not to fill the cupcake liner more than halfway full.
The vinegar will brown the cupcakes more than usual so expect golden brown cupcakes.
Do not open the oven during baking, the cold air will cause hot air coming out of the cupcakes to escape too fast which will cause the center of the cupcakes to collapse.
For a vegan option, replace half and half with apple sauce or plant-based milk (not skim milk).
HAPPY BAKING!!!
Here are some more fun recipes you might enjoy:
One more thing…
Don't forget to tag @OneSarcasticBaker on Instagram if you bake this recipe. Would love to see your creations!
Did you like this recipe and inspiring? Save THIS PIN to your cupcakes, or baking boards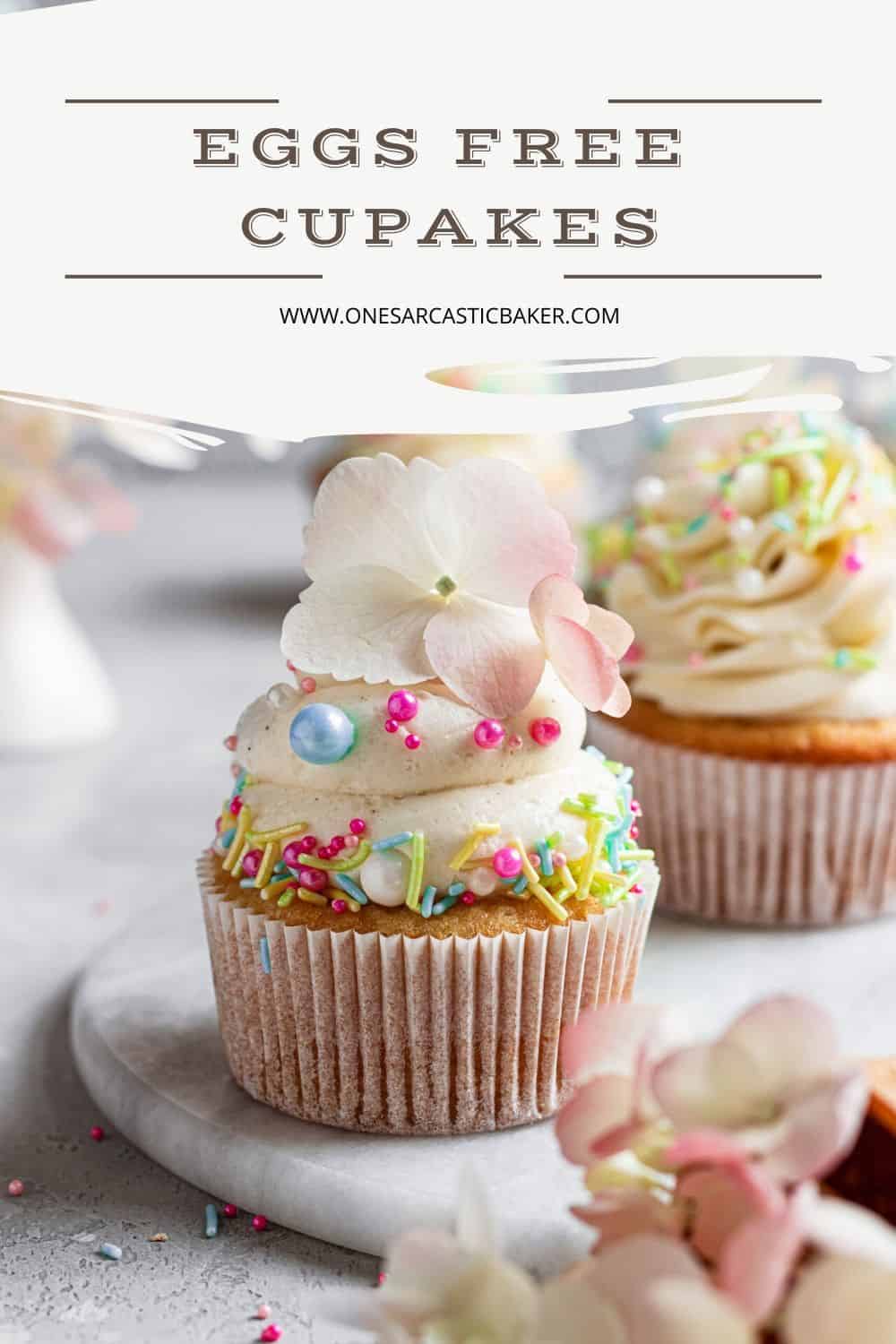 Eggs free Cupcakes
These Eggs Free Cupcakes are easy to make, require simple pantry ingredients and are the perfect pairing to go with sweet flavorful ice cream buttercream.
Ingredients
2

Cups

AP flour

(240 g / 8.5 oz)

1

tsp

Baking Soda

1/4

tsp

Baking Powder

1

Cup

Sugar

(200 g / 7 oz)

1

Cup

Half and Half

(240 ml / 8 oz)

1

TBS

Apple Cider Vinegar (white vinegar is ok)

1/2

Cup

Vegetable oil

(120 m / 4 oz)
Instructions
Preheat oven to 350F and line 2 xd12 count muffin tins with 15 regular sized cupcakes liners.

In a medium bowl sift the flour, baking soda, and baking powder add the sugar and mix to incorporate.

Pour over the flour mix the half and half, oil and vinegar and mix until smooth.

Divide the batter between the cupcakes liners. Fill halfway to the top.

Bake for about 15-18 minutes, until the cupcakes are golden brown.

Remove from oven and let cool completely before frosting.