Last updated on September 21st, 2023.
Understanding how to stabilize whipped cream is the secret to a light, airy, rich, and oh-so-delicious whipped cream. No more getting frustrated with a flat, melted cream or wondering which cream stabilizer is best for your cupcakes, like this amazing Black forest cupcakes recipe,. Today I am going to share with you 5 stabilized whipped cream recipes you can use to pipe, decorate and frost with. Each method requires a simple ingredient. (your secret ingredient).
If you are hungry for more information about heavy cream, check out the post about What is heavy cream, and How long Does Heavy Cream Last.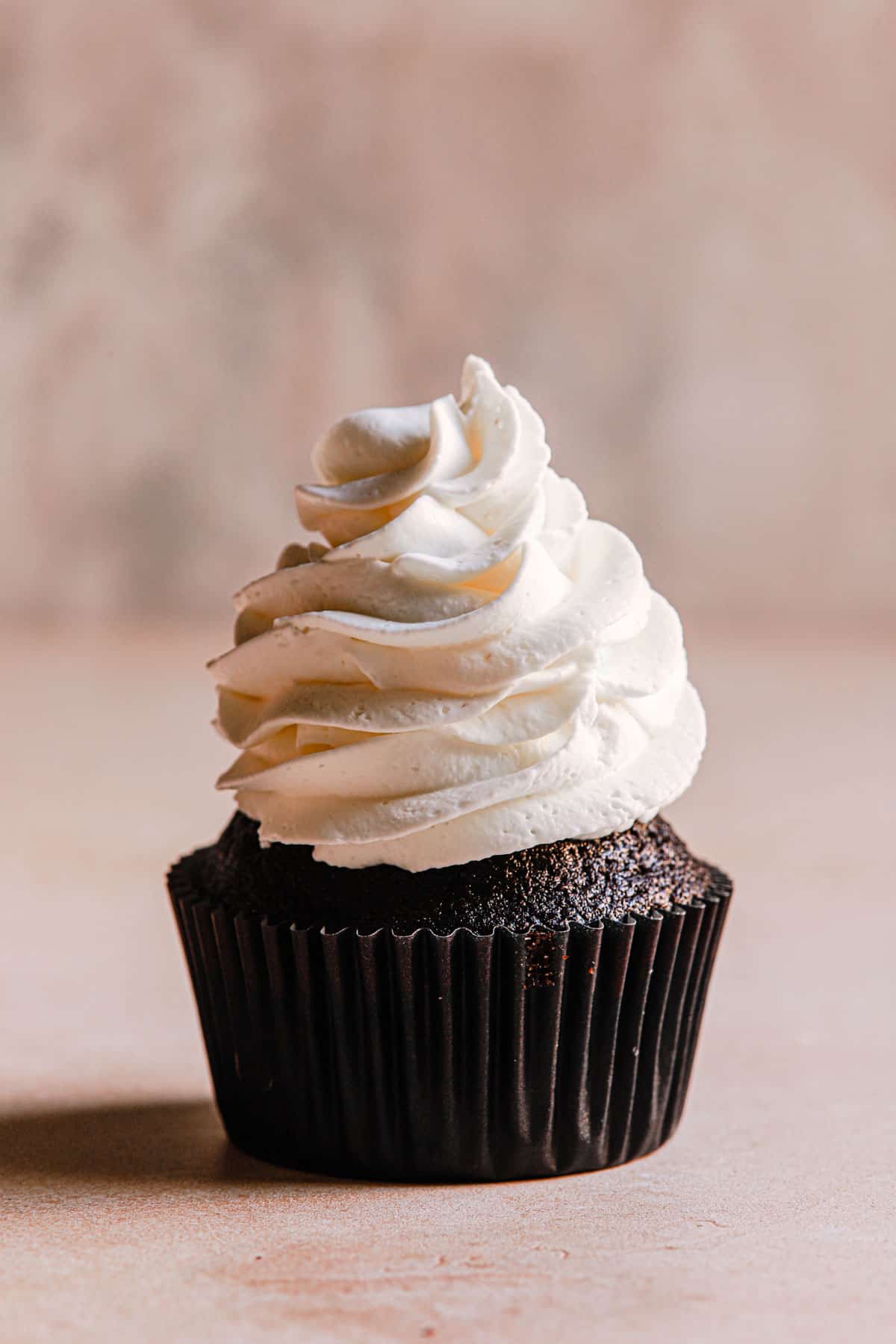 What is stabilized whipped cream?
When we whip heavy cream with some sugar and sometimes vanilla extract we incorporate lots and lots of air bubbles. The air increases the volume, as well as changes the consistency from liquid to solid.
When the cream is in its solid consistency and you can spread it and or pipe without it losing its firmness then it considers being stabilized.
Heavy cream will lose its stability with time and when unrefrigerated, and so the question is how do you make whipped cream stay stiff longer?
By adding thickening agents such as gelatin, cornstarch, dry milk powder, and more.
Stabilizing vs. thickening
I found that the two most common questions are: "how to thicken whipped cream?" and "how do you stabilize whipped cream?". But it is important to understand that thickening and stabilizing are completely different.
We stabilize when our project calls for piping heavy whipping cream, when we need whipped cream decorations, or when our project calls for the stabilized whipped cream frosting for cake decorating. However, we thicken for sauces like a pasta sauce or for filling such as creme fraiche. While we can thicken both heavy cream and heavy whipping cream, it is best if we only use heavy whipping cream for stabilizing.
You can use any one of the below recipes to answer the following questions: "how to make stiff whipped cream?". "How to keep whipped cream stable?", "How to make stiff whipped cream frosting", "How to make stiff whipped cream for cakes?". And also "How to make a stable whipped cream?"
As for "what is the best way to stabilize whipped cream?". Well, that depends on the project you are working on and I added my recommendations next to each.
Why stabilizing?
Well, it is definitely not a must but it is highly recommended for when you want to pipe cupcakes and fill or frost cakes. It is even great to fill Cream puff with or top with Pavlovas, or use to make Creme Legere. When unstabilized, it does not have the ability to incorporate as much air bubbled as a stabilized one can. The result is a soft cream with a high tendency to melt, deflate and lose definition.
Five ways to stabilize whipped cream
Here are five ways for you to choose from:
Dried milk powder. An easy way. Great for piping and frosting. For the brown butter flavor, check out my post on how to brown milk powder.
Cream of tartar. An easy way. Great for when you need to decorate to your pies or fill cookies. A great option when you want to make a stabilized whipped cream without gelatin.
Xanthan gum. Easy Great when you need to whip a large amount for cake frosting or cupcakes.
Instant pudding mix. Easy. Great when you need to add some sweetness to your your dessert.
Cornstarch. Moderate. Great when you plan ahead and time is by your side.
Gelatin and Agar Agar. Moderate and sometimes refers to as "ultra stabilized". Because of the gelatin's ability to trap water so efficiently, more air bubbles are trapped and we end up with more volume.
Ingredients
Heavy whipping cream (fat content of 35% and more), confectioners sugar, and a stiffener (stabilizer)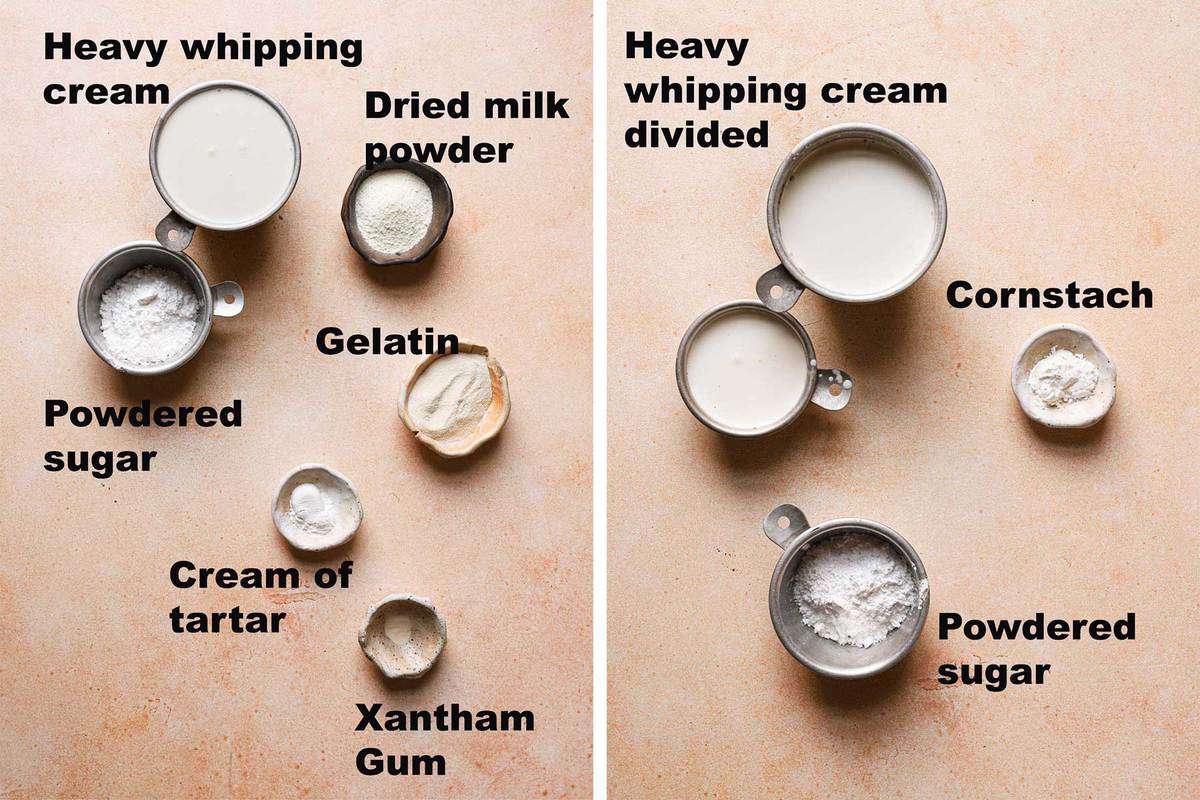 How to make Stabilized (stiff) whipped cream
Here are five ways, the full whipped cream recipe you can find below. Below are step-by-step instructions for how to make stabilized whipped cream using different agents. I recommend that you try every recipe, then decide on the perfect whipped cream.
Time needed: 3 minutes
Follow the following method when using: dried milk powder, cream of tartar, Xanthan gum, or vanilla pudding mix:
Mix.

Mix the sugar and stabilizer in a small bowl.

Pour.

Pour the heavy cream into your mixing bowl, add the sugar mixture then whisk on medium speed, gradually increasing to high speed.

Whisk.

Whisk until reached a stiff peak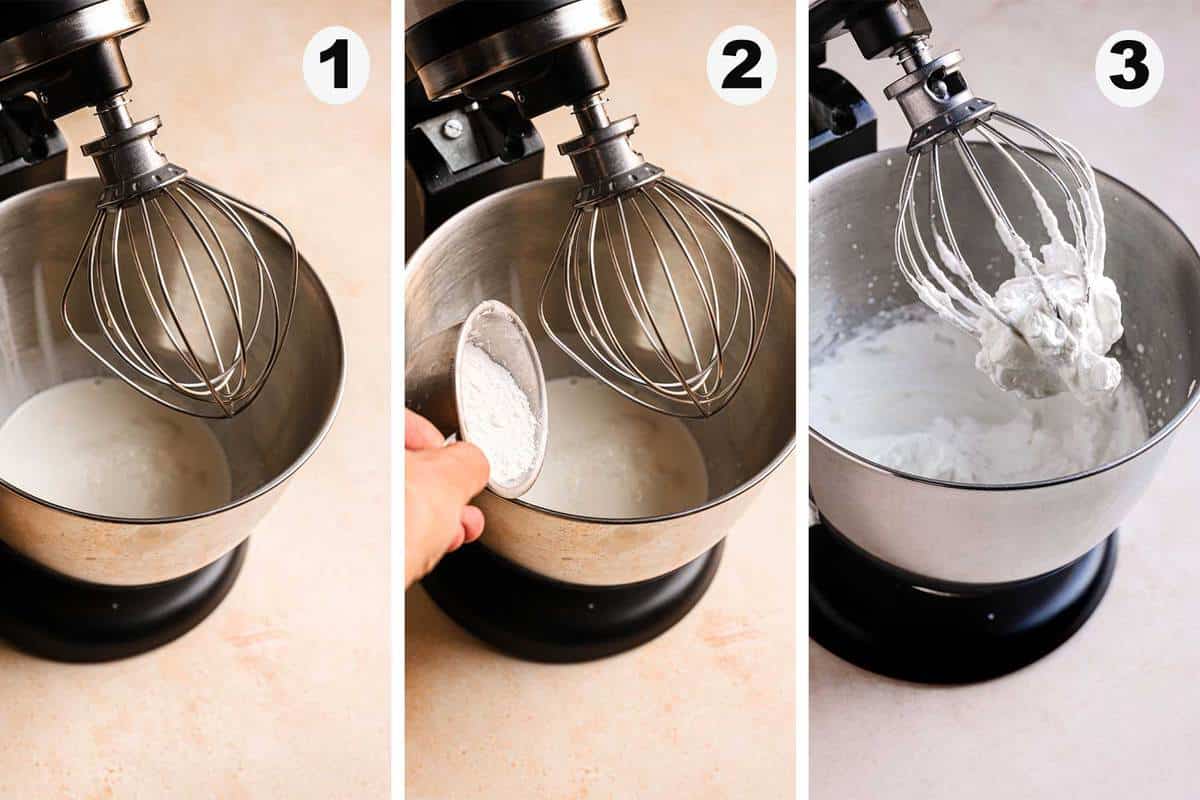 Stabilized whipped cream using cornstarch
Mix the cornstarch with the sugar.
Add 1/3 cup of heavy cream and mix to blend.
Pout into a small saucepan and bring to a boil. Remove from heat and let cool to room temperature.
Mix the cornstarch mixture with the remaining cream and place it in the refrigerator to cool.
Pour in a chilled bowl and whip until stiff.
Stabilized whipped cream using Gelatin / Agar Agar
Mix the gelating and water and allow the gelating to bloom.
Place the gelatin in the microwave for 8-10 seconds then mix in the tsp of heavy cream.
Pour the heavy cream into the mixing bowl and whisk at high speed until soft peaks form.
Drizzle in the cooled gelatin mixture and whisk until firm peak.
Variations:
Flavored whipped cream:
Coffee (dissolve 1 tsp instant coffee with 1 tsp vanilla extract add to the cream, chocolate chips (Fold when cream reaches stiff peak), strawberry powder (mix in with the sugar), almond extract (add when cream reaches soft peak).
I also have a Chocolate whipped cream option.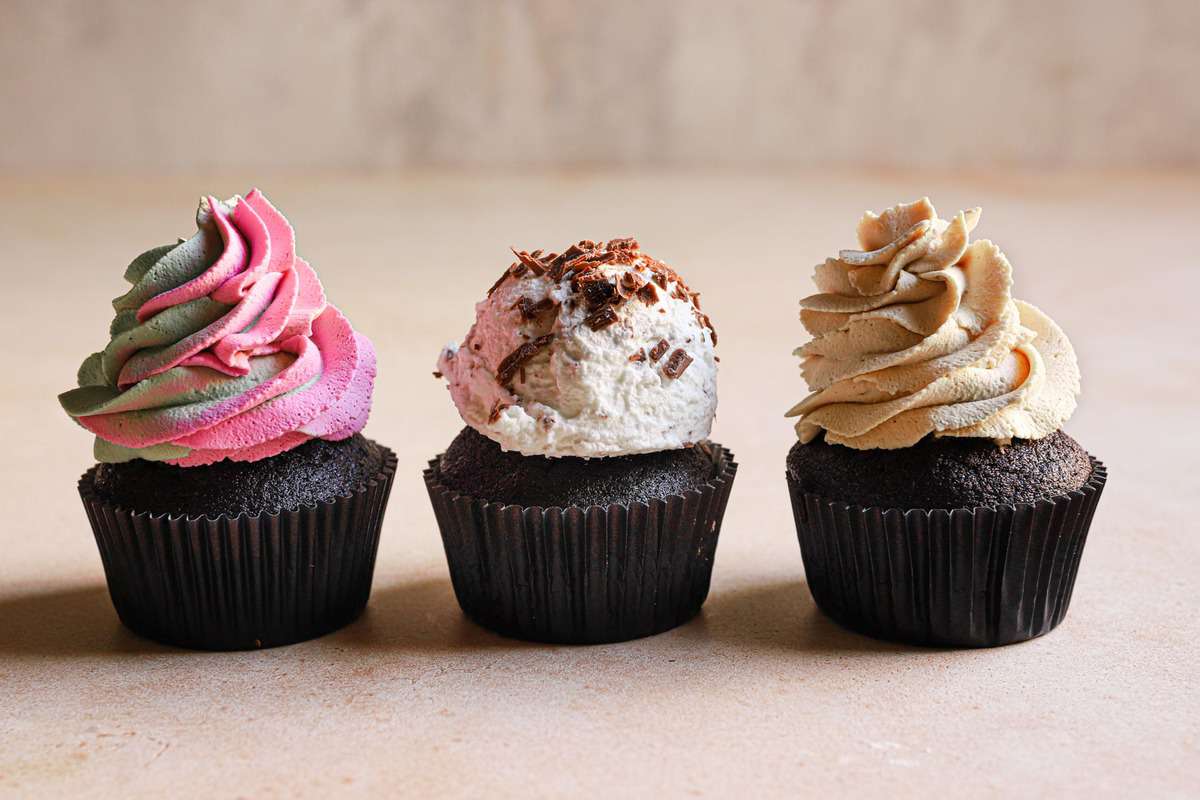 Colored whipped cream: Add your choice of color when reaches a soft peak.
How To Make Ahead, Store, Freeze (and Thaw)
Fresh. To keep fresh whipped cream stiff, it should be refrigerated as soon as possible, within 30-60 minutes after making. When fresh it is best to pipe, frost, and use, avoid keeping it at room temperature.
Make ahead and refrigerate. You can make it up to 3 days ahead and place it immediately in the fridge in an airtight container. When ready to use remove from the fridge, use and make sure to store the baked good back in the fridge within 3 hours.
Make ahead and freeze. The best is to pipe or frost your cakes/cupcakes when it is fresh then freeze the frosted baked good in a sealed container (cupcakes container or plastic cake dome). When ready to serve, remove from the freezer about 2 hours before serving and place back in the fridge within 3 hours. Leftovers can be wrapped in a plastic bag and frozen for up to 3 weeks. When ready to use remove from the freezer and into the refrigerator until thawed. (About 3 hours). Note that it will lose its stability by about 50%, so it is better not to use it for piping or decorating.
How to prevent whipped cream from deflating
You've gone through all the trouble to learn how to stabilize whipped cream and now you want to know how to prevent it from deflating.
Three key points:
Do not use more stabilizers than the recipe calls for. It will over crowd the cream and deflate it.
Do not over mix.
Chill as fast as possible and do not let it sit out in a warm space or for too long.
Troubleshooting
My whipped cream is not whipping – the equipment and or the whipped cream is too warm. You added too much-powdered milk.
My whipped cream is stringy or has small lumps in it. The gelatin was too warm and curdled as soon as it touched the cold cream.
My whipped cream curdled. You over whipped it. If it kept its overall appearance and you do not notice any liquid deposit, add up to 50% of the original amount of whipped cream. If you notice some liquid deposit then congratulations you just made homemade butter.
My whipped cream is melting. You most likely left it out for too long and the fat started to melt. Place it back in the refrigerator.
Expert Tips
Chill. The whisker and mixing bowl. Remember that in this instance we use the heavy cream for its fat. And fat melts in a warm environment so chilling the bowl and whisker make sure that does not happen.
Less is more. Do not overbeat or overdo it with the stabilizer and or flavor variations.
Decorate right away. Especially when making ultra-stabilized whipped cream.
Use an electric mixer. (stand mixer for best results). Fitted with the whisk attachment whenever possible, it takes a lot of force to properly and quickly incorporate air.
Timing. Make sure you add the sweetener after it has reached a soft pick. Adding it before might interrupt the process.
Refrigerate quickly. The cream stays firm as long as it's cool, so make sure to refrigerate as soon as possible.
FAQ
Tips on how to pipe whipped cream?
Much like you would buttercream, scoop it into a piping bag and press.

How to keep whipped cream from melting and weeping?
Refrigerate as soon as you can to avoid the fat molecules from melting.

Is a stabilized heavy cream enough to stable mousse?
Depends on the recipe. Most times cream is added to the mousse to add creaminess and texture.

How do I stable a non-dairy cream?
Most non-dairy options already contain stabilizers. Read the ingredients. If you need, add cornstarch or agar-agar.

Does the gelatin change the texture of the frosting?
No, unless it was not incorporated the right way.
How do you add flavoring other than vanilla extract (ie strawberry, chocolate)?

Powders with the powdered sugar, extract when it reaches a soft peak, and solids folded at the end.

I only have access to a max of 35% whipping cream, is that enough?

For anything 30-35% fat, add 4 tbsp melted butter to ¼ cup of heavy cream, allow to cool then add the rest.
The best recipe for frosting a cake?

Gelatin or cream of tartar.
After decorating with the frosting does it need to be refrigerated?
Yes, within 30 minutes.
Can you freeze the gelatin stabilize whip cream like you can the commercial whipped topping?
Yes
Can I increase or decrease the amount of sugar?
Yes. Up to 4 tbsp per cup. Or none.
Can I stack cakes?
Yes, up to 2 layers for butter or pound cakes, 3-4 if chiffon or sponge cakes.

Can I cover with fondant?
No, the fondant is too heavy.
Can I mix two methods together?
No, it might overcrowd and deflate.
Is there a way to save a batch with seized gelatin?
No, you need to start over.
Can I just use a plain electric hand mixer instead?
Yes.
I am a vegetarian I do not want to use gelatin, what should I do?

Use agar-agar its plant base, the same amount as the gelatin.
How much time in advance can it be made?
Up to 3 days. However, it is best to frost and pipe right away.
Can I use flavored gelatin with the same method?
Sure
Which is the best cream recipe to add to pastry cream?
Any one of the first three. Pastry cream should be soft.
Tips for how to make a nondairy whipping cream?
Use a non-dairy product. I recommend visiting a local Kosher market.

won't the cornflour change the taste of the whipped cream ??
No, it's a small amount of cornstarch,
Can I mix it with fruit? Like can peaches?
Yes, it is a great addition to any of your favorite desserts.
How do I increase the recipe?
Increase the ingredients by the same amount.

Can I freeze the cake after frosting?
Yes.
Here are some great recipes you can use with this one:
Mini cream puffs, Chocolate tart, Pretzel cream puffs, White Forest Cake
If you tried this Black forest cupcakes recipe or any other recipe by One sarcastic Baker baking blog, please take a movement to rate and comment at the end of each recipe. And don't forget to tag me on Instagram.
Stabilized whipped cream 5 ways
5 easy and fast ways to stabilize heavy whipping cream.
Ingredients
For all methods:
1

Cup

Heavy whipping cream

(240 ml / 8 oz)

2

TBSP

Powdered sugar
Method 1: Using cream of tartar, dried milk powder, xantham gum and pudding mix
1/4

tsp

Cream of tartar

1

TBSP

dried milk powder OR

1/4

tsp

Xantham gum OR

1

TBSP

pudding mix
Method 2: Using cornstarch
Method 3: Using Gelatin
1

tsp

Gelatin

1 1/2

tsp

water

1

tsp

heavy cream
Instructions
For method one
In a small bowl, mix together the powdered sugar and your choice of stabilizer.

Pour the cream into a chilled bowl and add the sugar mixture.

Whisk on high speed until a stiff peak is formed.
For method 2: cornstarch
In a medium saucepan, mix the cornstarch with the sugar then drizzle 1/3 of the cream.

Cook over medium heat while stirring until thickened. Remove from heat.

Mix in the remaining cream and place in the refrigerator to completely cool.

Pour the mixture into a chilled bowl and whisk until stiff peak forms.

Mix the gelating and water in a small microwave-safe bowl and allow the gelating to bloom.

Warm the gelatin in the microwave for 8 seconds then drizzle in 1 tsp of cream.

Whisk the one cup of cream at high speed, until it reaches a soft peak.

Drizzle in the gelating mixture and whisk on high until a stiff peak is formed.