Last updated on January 15th, 2023.
These Pretzel Cream puffs are a special version of the delicious dessert we all know and love. The secret is to replace the flour with some finely ground Pretzel snacks.
And the result? A beautifully tan and super hollow cream puffs that scream: "chocolate filling". And I am excited to add this recipe to my other cream puff recipes: Chocolate cream puffs and Choux au craquelin.
A while back, I baked Passover Cream Puffs that used Matzah meal instead of water. The result was beautifully hallowed cream puffs with a not over-the-top flavor. After all, I did use Matzah Meal…
I realized that not using flour meant less gluten development and less starchy dough inside the cream puffs. Going with Pretzel was the obvious choice, especially since it goes so well with chocolate. I was not wrong!
As I was testing the recipe, I realized the following :
Processing the pretzel in the food processor was not enough, so I ran it through a sieve and discarded the large pieces.
Using 1 cup of Pretzel flour will result in a wider/larger cream puff with fewer cracks. Using 1 1/4 cups of Pretzel flour will result in taller cream puffs with more noticeable cracks.
The pretzel flavor is mildly noticeable since there is a fairly large amount of eggs in the recipe.
Different pretzel shapes and brands result in different metric amounts . When measuring it, do not pack it tightly and make sure it does not mount the cup.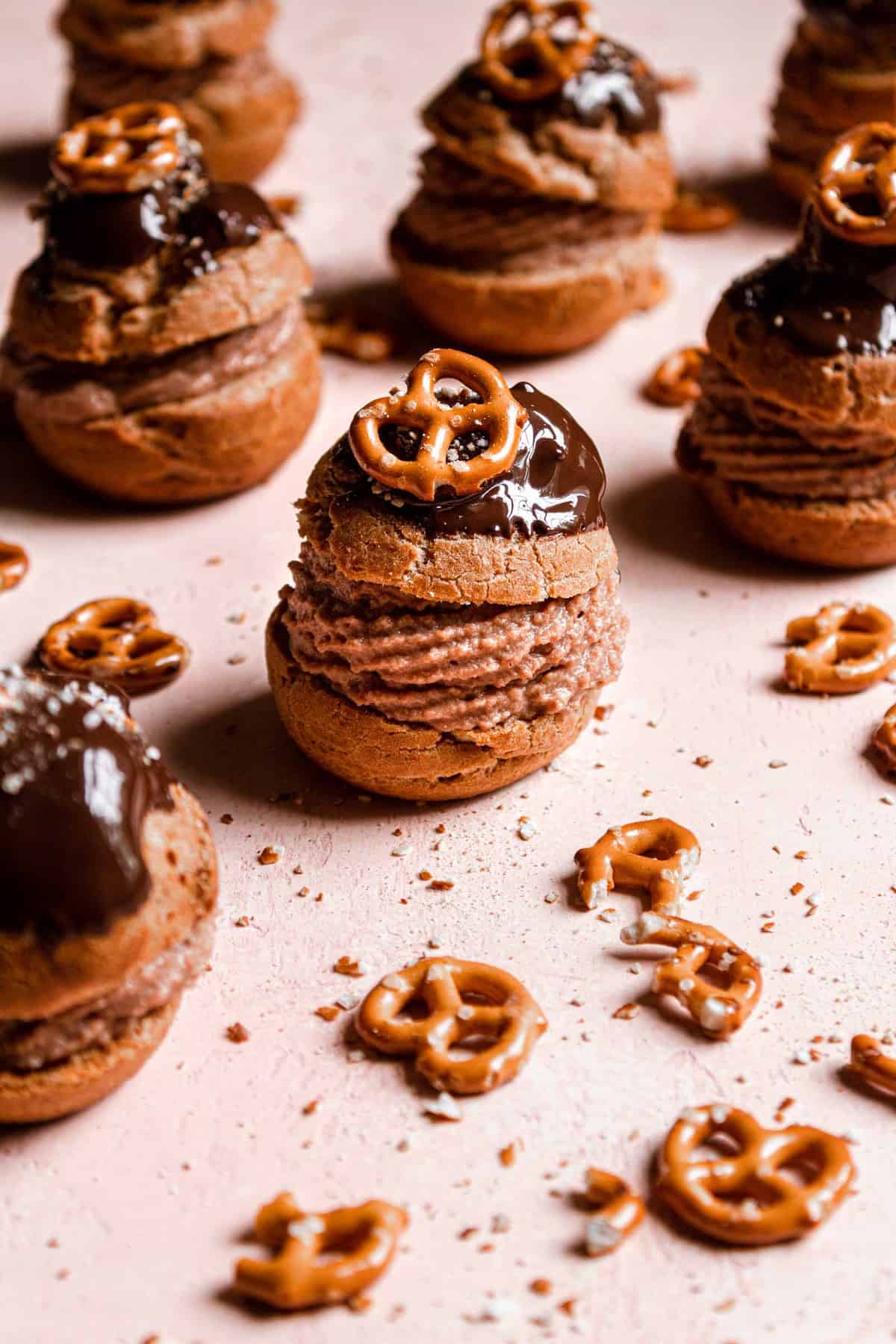 What Ingredients Are In This Recipe: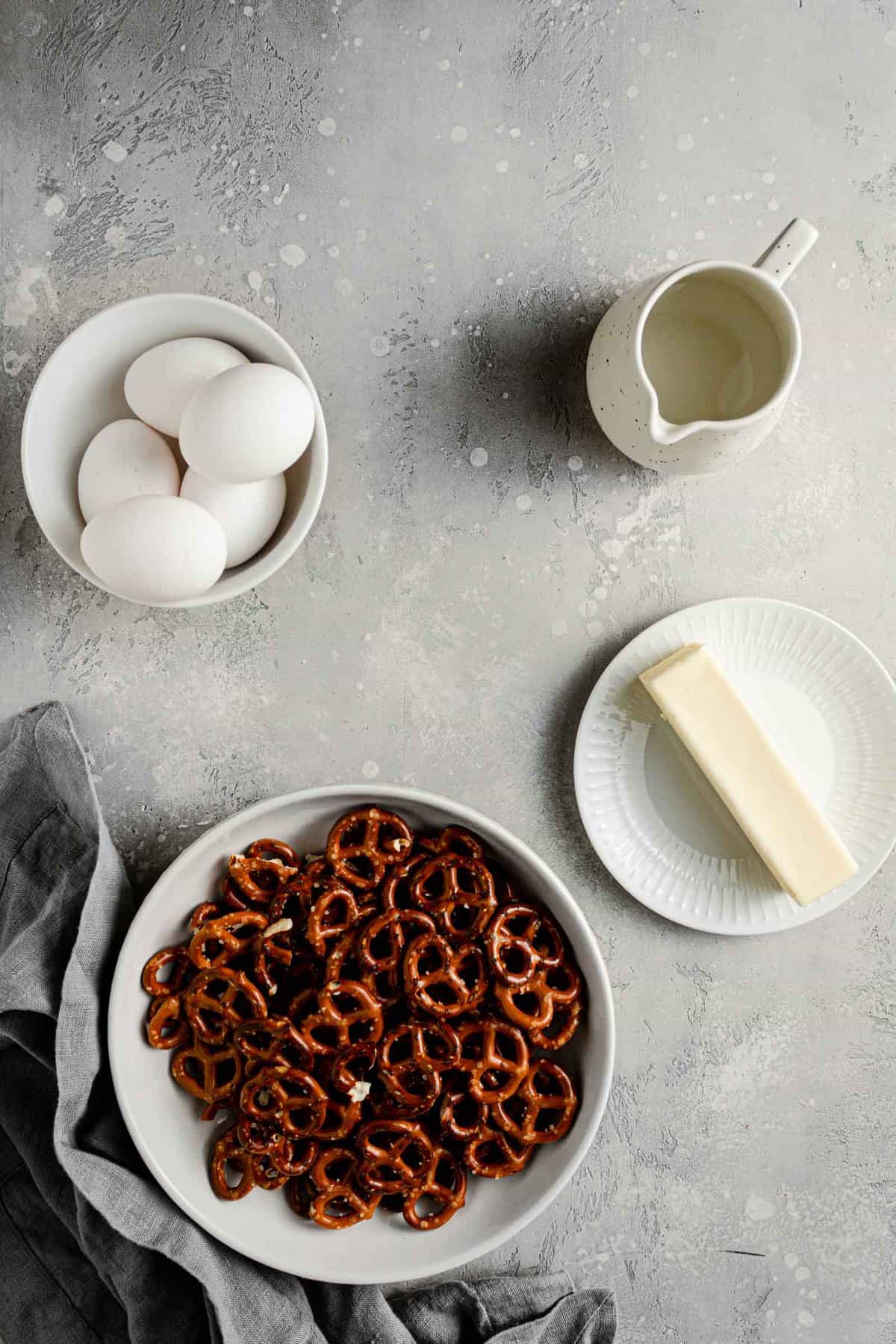 Water
Unsalted butter
Pretzel (Pretzel powder), you can use any brand or shape you would like. However, I would stay away from Sourdough pretzel as it is very hard. The pretzel is processed in a food processor into a very fine meal.
Eggs, make sure the eggs are at room temperature.
How To Bake This Pretzel Cream Puffs:
To make this recipe, you need to follow the classic choux pastry technique.
The first and most crucial step would be making the pretzel flour by firstly processing the pretzel in a food processor into a fine meal. Secondly running the pretzel meal through a sieve in order to remove any large pieces.
The next step would be cooking the water and butter until the butter has melted and the mixture is starting to boil. Once that happens we will add the pretzel flour into the mix and cook it while constantly stirring using a wooden spoon until we have a smooth dough.
At this point, the dough will be steaming hot and we want to cool it before we add the eggs. The best way to do that is by mixing the dough on medium-high speed using the paddle attachment for about 4-5 minutes. Once the dough is cool to the touch we add the eggs one at a time. Then continue mixing until the eggs have fully incorporated and we have a sticky and smooth batter.
Lastly we pour the batter into a large piping bag, pipe it and bake.
Can I use regular flour instead of Pretzel?
Yes! Simply reduce the flour amount to 1 cup and the eggs number to 4 eggs.
Making Passover cream-puffs
To Make this recipe Kosher for Passover, replace the pretzel flour with Match meal.
How to store the Cream-Puffs?
The best way to store the baked unfilled Cream-Puffs is at room temperature in a tight container for up to 2 days. Another way is to freeze them in a freezable bag for up to 6 weeks.
After filling, the Cream-Puffs should be refrigerated for up to 3 days. Please keep in mind that it is best to eat the cream puffs within 2 hours after they have been filled as they get soft from the filling.
About the filling:
Please note that the filling recipe as just a recommendation. Cream Puffs are the best canvas for your creativity and imagination. Anything goes from chocolate ganache to passion fruit custard or maybe simply whipped cream.
But, if you chose to use it please make sure not to over mix it after adding the heavy cream. Over mixing might cause the fat in the cream to separate from the liquid and the filling will be loose and curdle.
And in addition, since there is no sugar in these Pretzel Cream-Puffs you can use a savory filling.
Here are some more fun recipes you might enjoy:
One more thing…
Don't forget to tag @OneSarcasticBaker on Instagram if you bake this recipe. Would love to see your creations!
Did you like this recipe and inspiring? Save THIS PIN to your dessert, or baking boards
Pretzel Chocolate Cream Puffs
These Pretzel Cream puffs are a special version of the delicious dessert we all know and love. The secret is to replace the flour with some finely ground Pretzel snack.
Ingredients
1

Cup

Water

(240 ml / 8 oz)

1/2

Cup

Butter, unsalted

(113 g / 4 oz)

1 1/4

Cup

Pretzel flour

5

Large

Eggs, room temperature
Chocolate Mascarpone Filling
1

Cup

Mascarpone cheese

(225 g / 8 oz)

1/2

Cup

Hazelnut spread

(150 g / 5.5 oz)

1

Cup

Heavy Cream

(240 ml / 8 oz)
Instructions
Preheat oven 425F and line two cookie sheets with parchment paper, mark 2" circles leaving 2" in between.

In a medium pan place water and butter and cook over medium heat until the butter has melted.

Pour the pretzel flour into the water and butter mixture and with a wooden spoon mix until a hydrated softball has formed.

Reduce heat to simmer and keep mixing the dough with the wooden spoon for an additional 30-60 seconds.

Remove dough from the stove and place it in a bowl of a standing mixer. Use the paddle attachment to cool the dough as it mixes on medium speed.

Once the dough has cooled add the eggs one egg at a time, scraping the sides and bottom of the bowl every once in a while.

Turn mixer off and pour the mixture into a large piping bag fitted with a large round tip.

Pipe the dough on the marked circles and bake for 18-20 minutes. Turn oven off and let the cream-puffs cool for about 10-15 minutes before removing from the oven.
To make the filling
In a bowl of a standing mixer, place the mascarpone and hazelnut spread and mix on medium speed.

Drizzle in the heavy cream and mix until the cream is stiff and the filling is smooth.