Last updated on December 2nd, 2022.
Just when I thought ice cream can not get any better, came this Tahini Chocolate Ice-cream. This no charm, 4 ingredients 5 minutes recipe is the creamiest, most flavorful, and comforting ice-cream ever.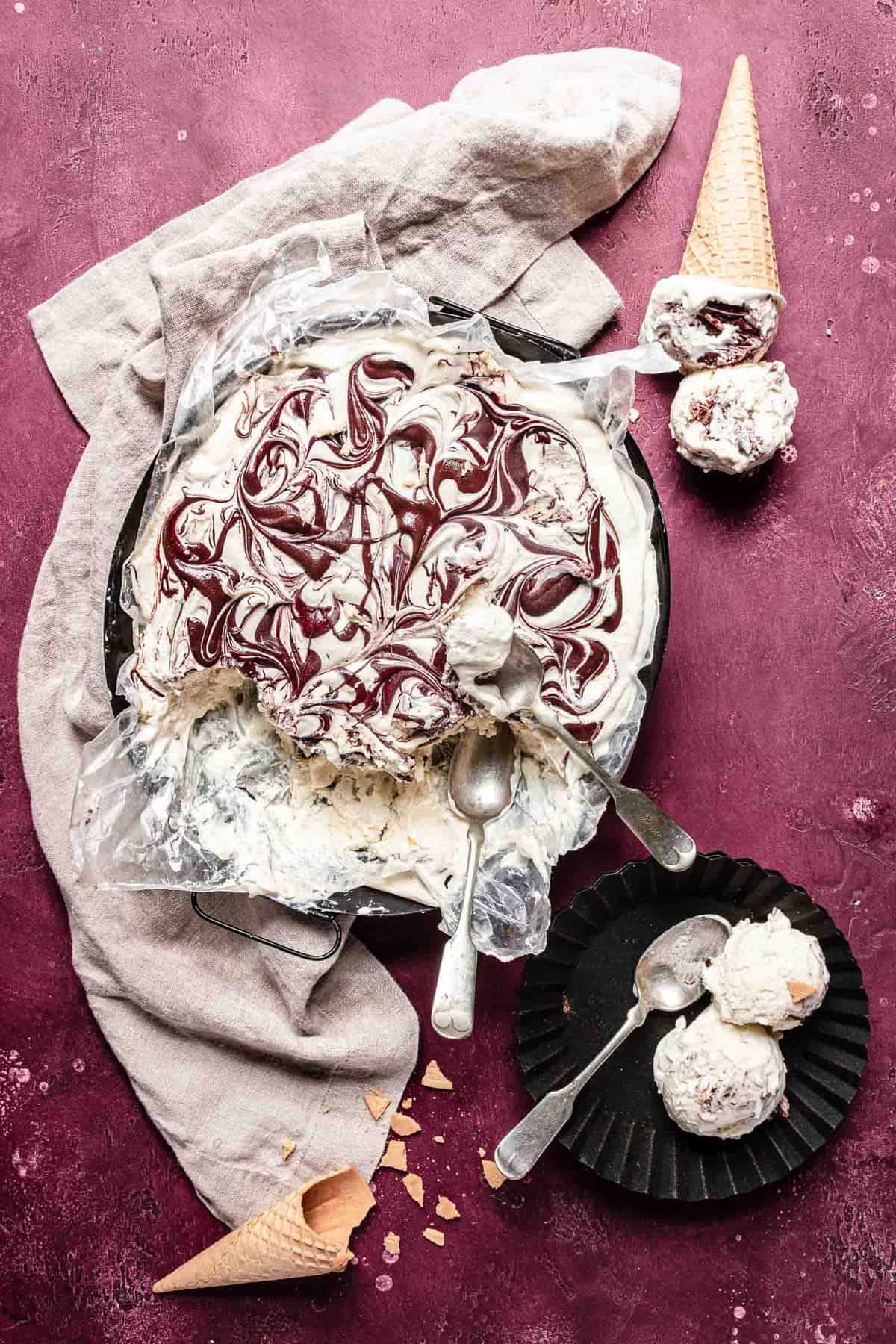 The fact that Tahini is a staple pantry ingredient these days is something I could not be happier about. Why? because for me, a chocolate spread sandwich generously sprinkled with Halva (sweetened Tahini crumbles) was my everyday school lunch.
What can I say? I was a picky eater with a very strong sweet tooth! Still am.
And now that no churn ice-cream has taken over summer, this recipe was only natural to happen.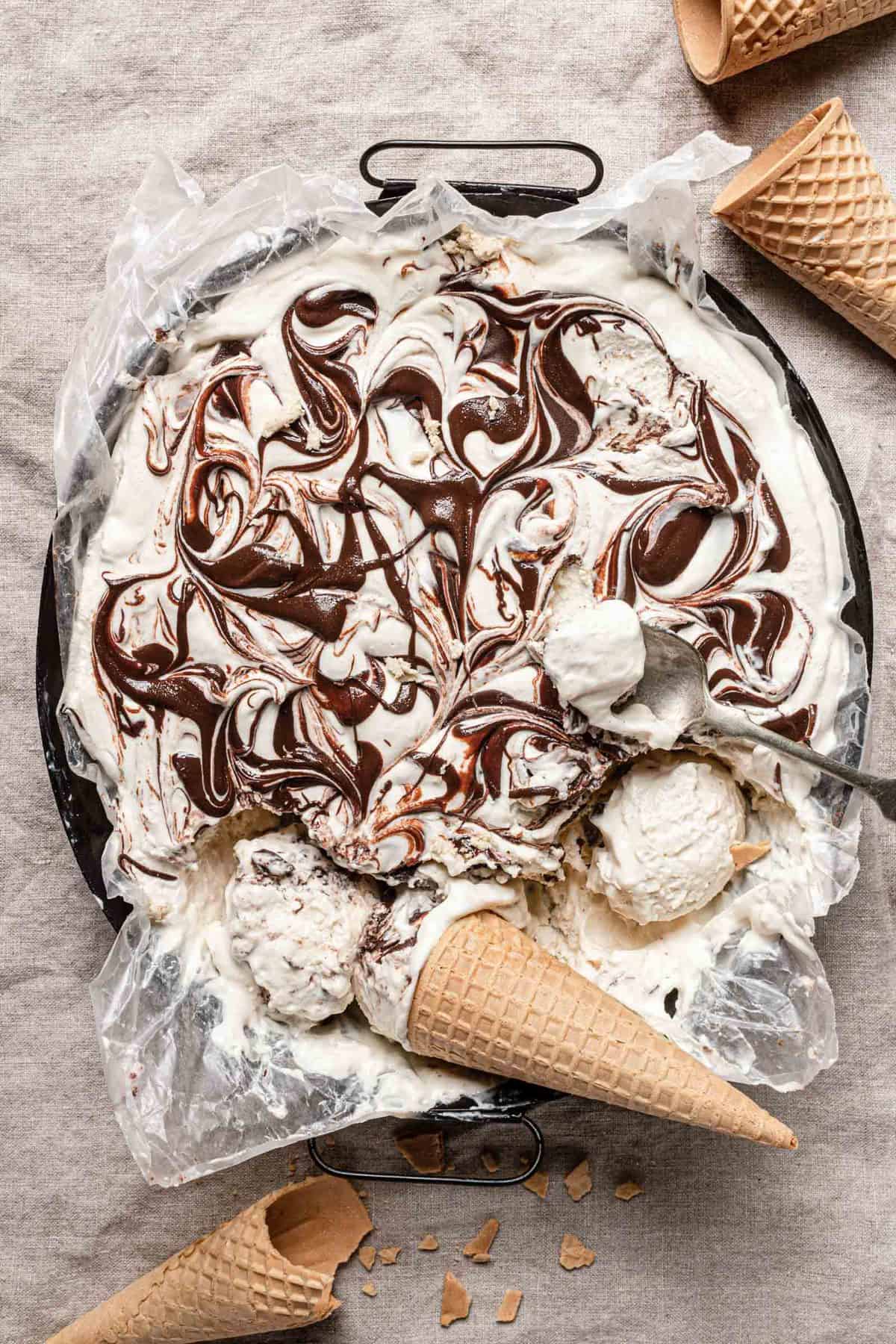 On a side note, since Tahini is a paste made of ground sesame seeds it is naturally packed with plant-based fat and is a great source of iron.
What Ingredients Are In The Ice Cream:
Sweetened Condensed Milk
Tahini, you can use your favorite brand, however, make sure it is unsweetened and/or is not flavored. I used Trader Joe's brand, it has enough to make the recipe twice.
Heavy Whipping Cream, if you are familiar with a Heavy Cream brand and know that it will whip just as good, feel free to use either one.
Dark chocolate melted, dark or semi-sweet are a great companion to the sweet condensed milk.
How To Make This Tahini Chocolate Ice Cream Ice Cream:
Making this recipe is as easy as it is delicious. Firstly, we will whip the heavy cream into a stiff cream.
Please remember to turn the mixer off the second you notice a stiff cream has formed. Otherwise the cream will deflate it and result in a big liquid mess.
Next we will mix the Tahini with the sweetened condensed milk and then we will fold in the whipped cream.
Lastly, we will pour the mix into our dish and drizzle the chocolate on top.
That is it. The hardest part is now waiting 6-8 hours for the ice cream to form up.
Storing and Serving The Ice Cream:
Well, as it is ice-cream the obvious storage place would be the freezer. Please make sure to cover the ice-cream with a plastic wrap as it contains a high fat level which means it absorbs other flavors.
Make sure to remove the ice cream from the freezer about 10-15 minutes (depending on the amount in the container) before eating. The ice-cream is best when is has softened bit.
Few More Notes and Tips about this Tahini Chocolate Ice-cream Recipe:
Feel free to use your preferred container, I choice a wide one so there is more surface to drizzle the melted chocolate.
You can go a head and sprinkle some shredded Halva on top or even mix it with the ice-cream after folding in the whipped cream.
HAPPY BAKING!!!
HERE are some more recipes you might enjoy:
Also, don't forget to tag @OneSarcasticBaker on Instagram if you bake this recipe. Would love to see your creations!
And Did you like this recipe and inspiring? Save THIS PIN to your Ice-cream, Sweets, or Summer Recipes.
Tahini Chocolate Ice Cream
The creamiest, most flavorful, and comforting ice-cream ever, easy and fast to make.
Ingredients
1

Can

Sweetened Condensed Milk

(390 g / 14 oz)

1/2

Cup

Unsweetened Tahini

2 1/2

Cups

Heavy Whipping Cream

(600 ml )

3/4

Cup

Dark chocolate melted

(125 g / 4.5 oz)
Instructions
Grease 8" or 9" pan with oil spray and set aside.

In a bowl of a standing mixer fitted with the whisker, pour the heavy cream and whisk on low-medium gradually increasing to high until you have stiff cream. Do not over mix. Set aside/

In a large bowl pour in the sweetened condensed milk and mix it with the tahini until fully incorporated.

Gently fold in the whipped cream.

Pour and evenly spread the mix into the greased pan then drizzle on top of the melted chocolate.

Using a toothpick, gently create the swirls with the chocolate (like you are writing the number 8 with the toothpick).

Place the ice cream in the freezer covered with plastic wrap.

Allow the ice cream to set 6-8 hours before eating.