Last updated on September 7th, 2022.
I believe these are not only the best gluten-free peanut butter cookies but also the best peanut butter cookies. Combining roasted peanuts, creamy peanut butter, and oat flour make these cookies extra flavorful with all the nutty texture. These are peanut butter lovers' dreams come true!
They are not traditional PB cookies; they are not the typical crisp edges or chewy cookies. These cookies are crumbly, melt in the mouth, and have an explosion of flavor that happen to be cookies without flour.
Check out my other Peanuts Cookies.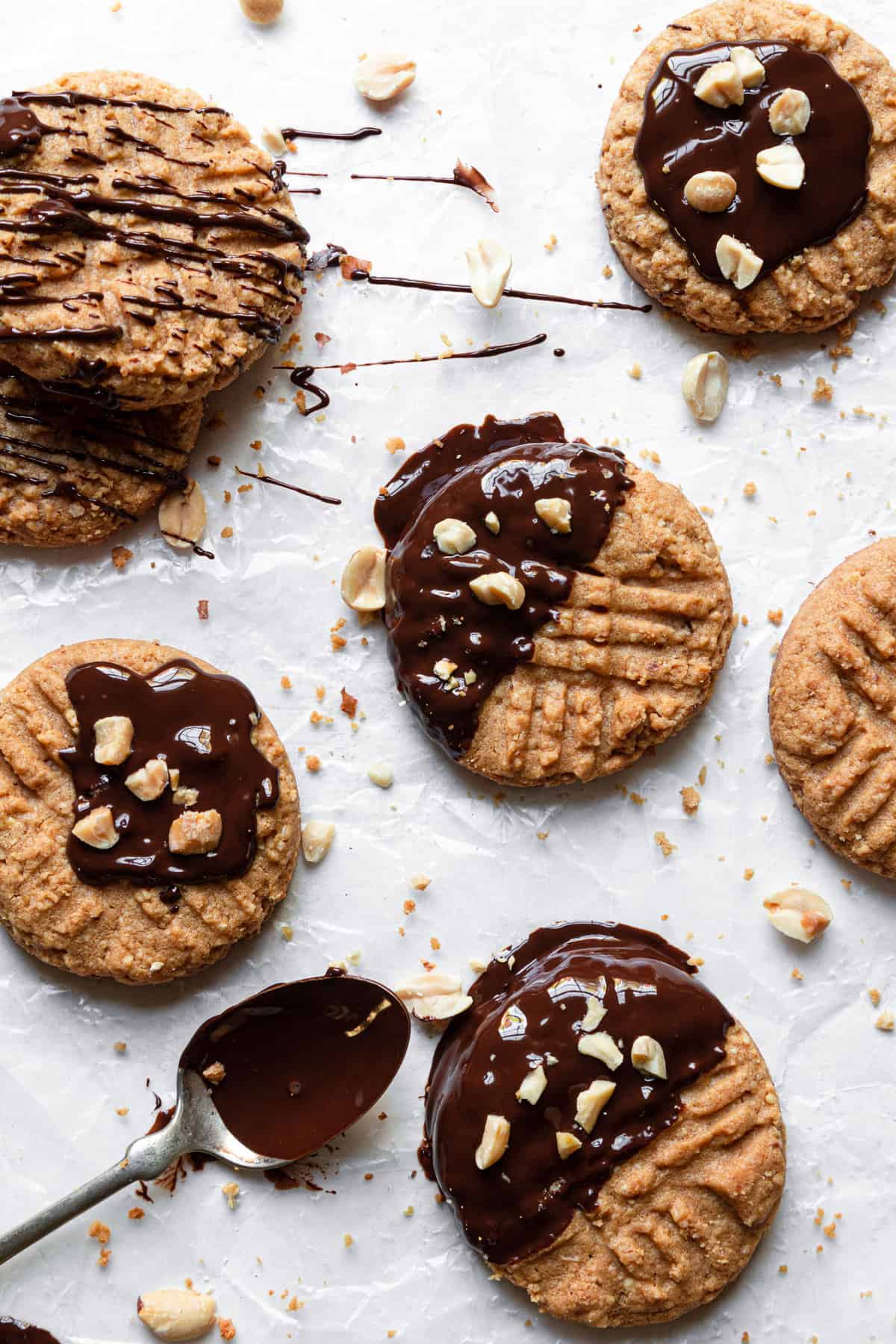 I did not intend to make gluten-free or even flourless cookies; each ingredient was chosen for the best flavor and texture. So the fact that these are gluten-free peanut butter cookies without flour is a bonus. And when you take a bite, the last thing you are going to think about is whether you are eating a gluten-free peanut butter cookie. And I've said it once, and I will point it again: these are the best cookies! (that happens to be gf peanut butter cookies).
The complete ingredients list is in the recipe card below.
Lightly salted roasted peanut. The nuts will add a nutty texture and increase the cookies' flavor.
Old fashion oatmeal, unflavored. You can bake the oat in the oven ahead of time for extra flavor, as I did in these Oatmeal Butterscotch Cookies.
Peanut butter. I always say to use the brand you like, but please know that regular PB has a considerable amount of sugar, so you might want to reduce the sugar in the recipe. (between 1/3-1//2 cup sugar).
Granulated white sugar is the best way to give these cookies a crispy not-chewy texture.
Vegetable shortening is perfect for these cookies because it is flavorless and won't take for the PB flavor, but it also helps prevent the cookies from spreading too much.
A large egg is essential in this recipe; the cookies will crumble without it.
Salt to balance the sweetness. If your peanuts are more than lightly salted, skip it.
Natural Peanut Butter VS. Regula Peanut Butter
You can use either one, but please keep in mind that the two are different:
Natural butter contains peanuts and salt; in most cases, they are also gluten-free. So if you have any concerns, bake natural peanut butter cookies.
In addition to peanuts, regular butter contains sugar, oils, and different flavoring in some cases. So when using a familiar brand, look for the Gluten-free label. Also, consider removing part of the sugar to avoid the cookies being too sweet.
These cookies are simple; you can make them using an electric or stand mixer. If you do not have any, use a whisk.
Process the peanuts and oatmeal in a food processor until the oatmeal is a fine powder and the peanuts are finely ground.
Mix the shortening, sugar, peanut butter, egg, and salt smooth in a large bowl.
Add the dry ingredients (ground peanuts and mix until combined.
Use a cookie scoop to measure the cookies and place the dough balls in a sheet pan lined with parchment paper.
Use the back of a fork to press each cookie one time from right to left and again from top to bottom in a crosshatch pattern. Bake.
These no flour cookies are ready when they are slightly spread and puffed with a golden brown color.
Why mark with a crisscross pattern
These gluten free peanut butter cookies are no different than any other PB cookies. It is, more than anything, a trademark to have a crisscross mark (fork marks). Also, since this flour peanut butter cookie recipe calls for vegetable shortening, the cookies do not tend to spread much, so the making helps extend. You can use the bottom of a cup to apply the cookies slightly.
Variation
Suppose you are not a peanut fan or have a peanut allergy. In that case, you can still enjoy these cookies by making the following adjustments: Use almonds and almond butter, sunflower seeds and sun butter, or cashews and butter instead of peanuts and the PB.
Mix in 1/2 cup chocolate chips along with the peanuts.
Replace the oats with more ground peanuts or gluten-free flour.
Sprinkle salt flakes or crushed peanut butter cups on top of the cookies.
Use two cookies to make gluten-free sandwiches by filling them with chocolate ganache or jelly.
Use crunchy peanut butter for extra texture.
Expert Tips
Please read the below tip for the best results.
Do not over-process the peanuts, otherwise, you will end up with oil. You can sprinkle some of the oats to help minimize this risk.
To make the cookies vegan gluten-free peanut butter cookies, replacing the egg with a flax egg is not enough. Consider adding a source of a stabilizer like a xanthan gum so the cookies will not crumble. To read more about stabilizers in baking, get a copy of my book Baking Science.
When taking the cookies out of the oven, allow them to cool in the pan for 20 minutes before removing them to a wire rack or a cooling rack.
Make sure all of the ingredients are at room temperature.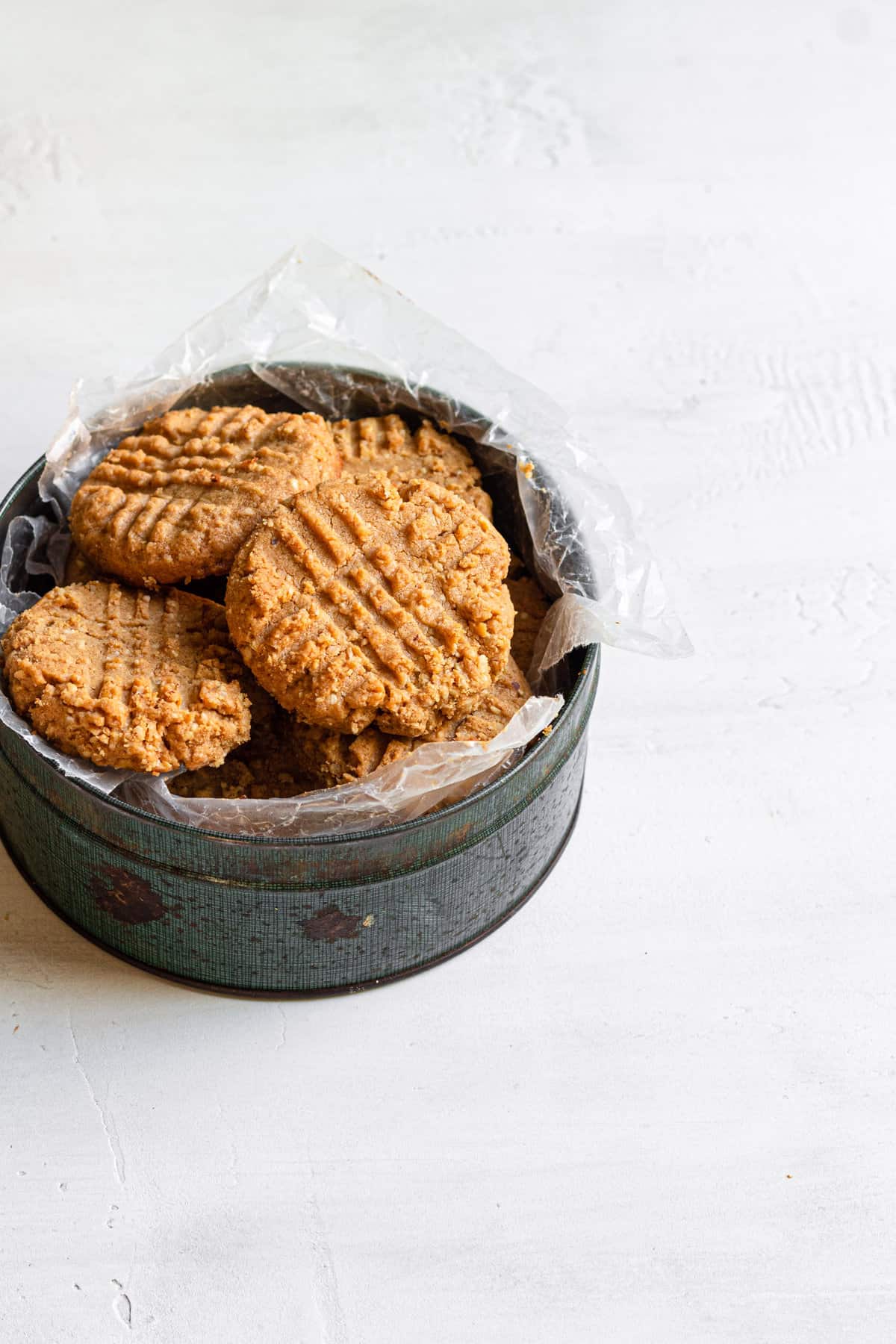 Storing
At room temperature for up to 5 days, in an air-tight container. You can also freeze the cookies for up to two months: wrap them in groups of 3-4 with plastic wrap, then place them in a freezable bag.
FAQ
Why did my gluten-free cookies fall apart?
Either not enough baking or not enough eggs.
Is gluten-free flour ok for cookies?
Yes, but in some cases, regular flour is a must.
How do you keep your gluten-free cookies from drying out?
Avoid over bake them, and store them at room temperature in an airtight container and not in the refrigerator.
What do gf cookies mean?
Gf means gluten-free.
Can I use brown sugar instead of granulated sugar?
Yes. Expect a slight brown sugar flavor.
DID YOU TRY THIS RECIPE?
Also, don't forget to tag @OneSarcasticBaker on Instagram if you bake this recipe. I would love to see your creations!
HERE ARE MORE ROSH HASHANAH DESSERTS RECIPS
Gluten Free Cake, Pistachio Muffins, Chocolate covered pecans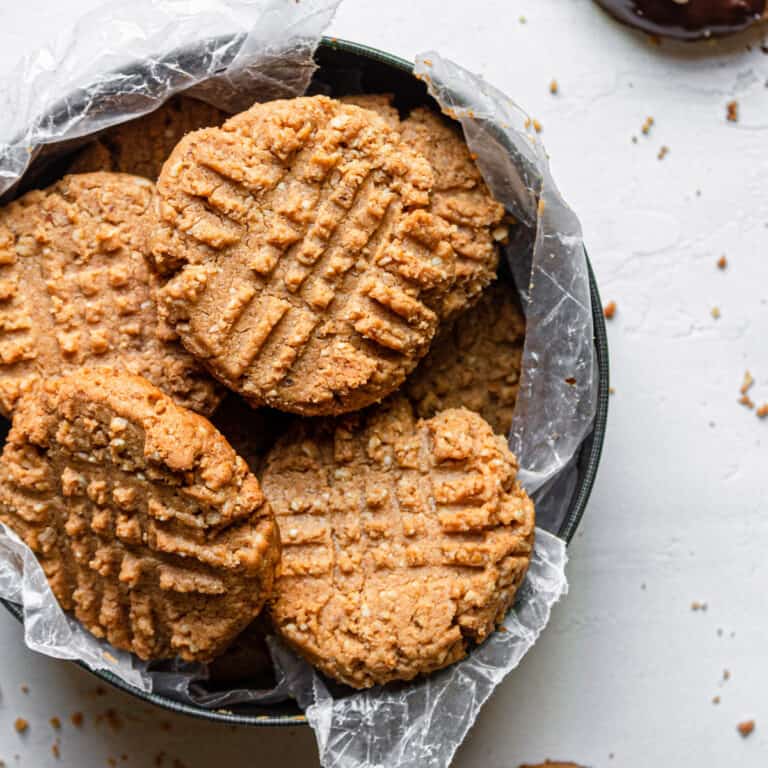 Gluten-free Peanut Butter Cookies
Gluten-free Peanut Butter Cookies are crispy, crumbly and full of flavor.
Ingredients
3/4

Cup

Unsalted Roasted Peanuts

(100 g/ 3.5 oz)

3/4

Cup

Uncooked rolled oats

( 80 g/ 3 oz)

1/3

Cup

Vegetable Shortening

(57 g/ 2 oz)

1/2

Cup + 2 TBS

Sugar

(120 g/ 4 oz)

1

Cup

Smooth Peanut Butter

(265 g/ 9.5 oz)

1

Large

Egg

1/2

tsp

Salt
Instructions
Preheat your oven to 350F and line 2 pans with parchment paper.

In the food processor, process the oats into a flour-like meal. This might take a few minutes.

Do the same with the peanuts but make sure not to over-process or the peanuts will be too oily, just until you have evenly crushed peanuts. 

In a bowl of a standing mixer, place the shortening, sugar, peanut butter, egg, and salt, and mix until you get a smooth mixture.

Add the oats and peanuts and mix to combine.

Using a cookie spoon, scoop the cookie dough on the pans, and using the back of a fork, mark each cookie from top to bottom and then from side to side.

Bake for 15-18 minutes or until the cookie is golden on the sides.
Recipe Notes
To make the cookies vegan, Consider adding a source of a stabilizer like xanthan gum in addition to a flax egg so the cookies will not crumble. 
The cookies might crumble if you immediately move them to a wire wrack, allowing them to cool for 20 minutes.
All of the ingredients must be at room temperature.
You can use nut butter and nuts to replace the peanuts and PB. Other options are sunflower seeds and sun butter.
Regular peanut butter might be too sweet, so consider reducing up to 1/4 cup of sugar.