Last updated on May 26th, 2023.
These Oatmeal Butterscotch Cookies are a whole new oatmeal cookie experience! Instead of a chewy cookie loaded with raisins, these cookies are thin, crispy, and exploding with butterscotch flavor.
Please note that this post contains an affiliate link, meaning I might earn a small commission at no cost to you.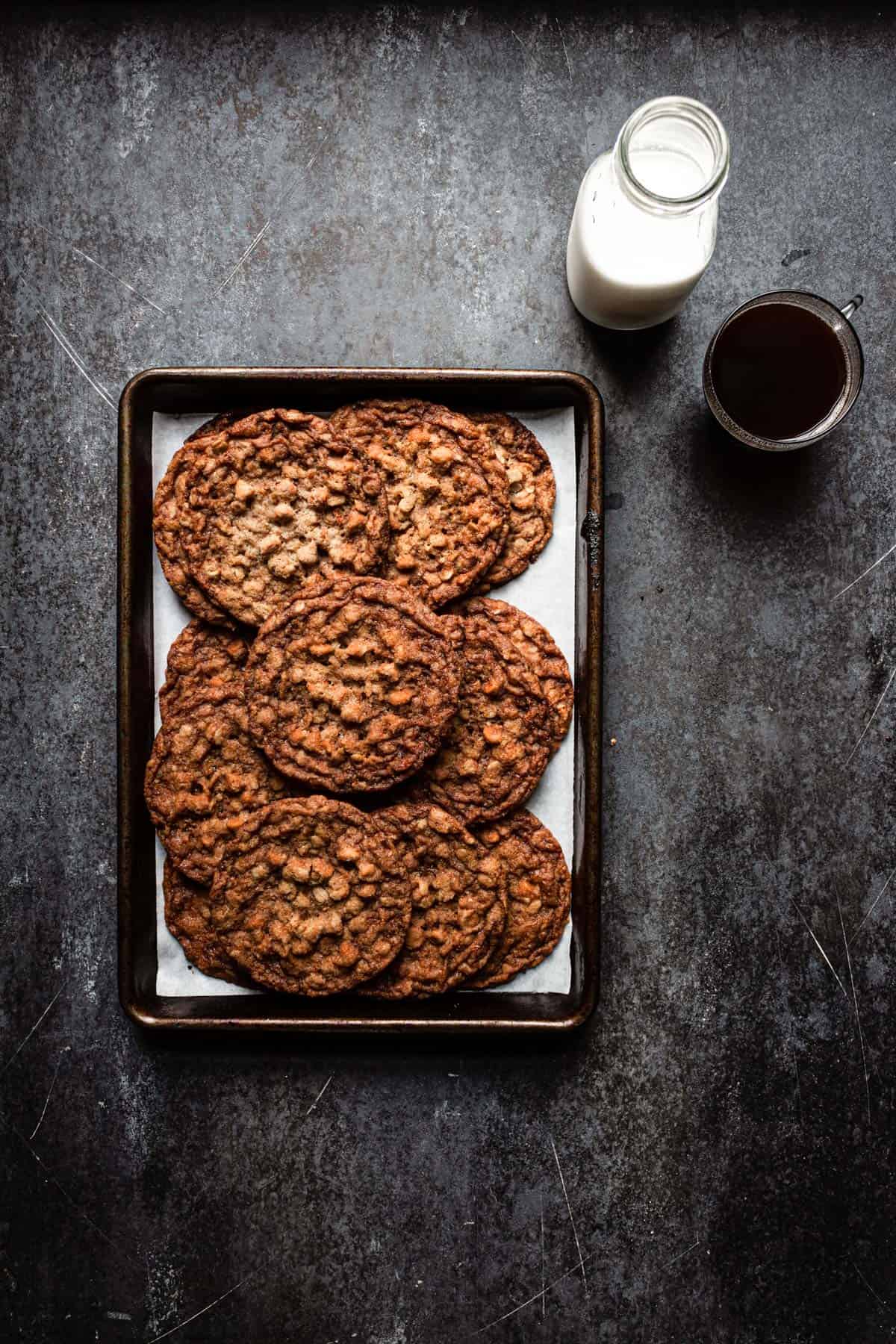 This recipe is adapted from one of my all-time favorite cookie book called " target="_blank" rel="noreferrer noopener">Cookie Love by Mindy Segal. I looked at the crisp cookies in the image, read "Butterscotch" in the recipe, and was sold.
Like these Coffee Cookies and these Chocolate Chunk Cookies, this cookie is a grown-up, sophisticated version of the good old oatmeal cookies. To begin with, it is super thin and crispy. Then it has this beautiful smoky flavor from all the molasses from the sugar and butterscotch chips. But my favorite part is that it is a sweet and salty kind of cookie, sooo addictive!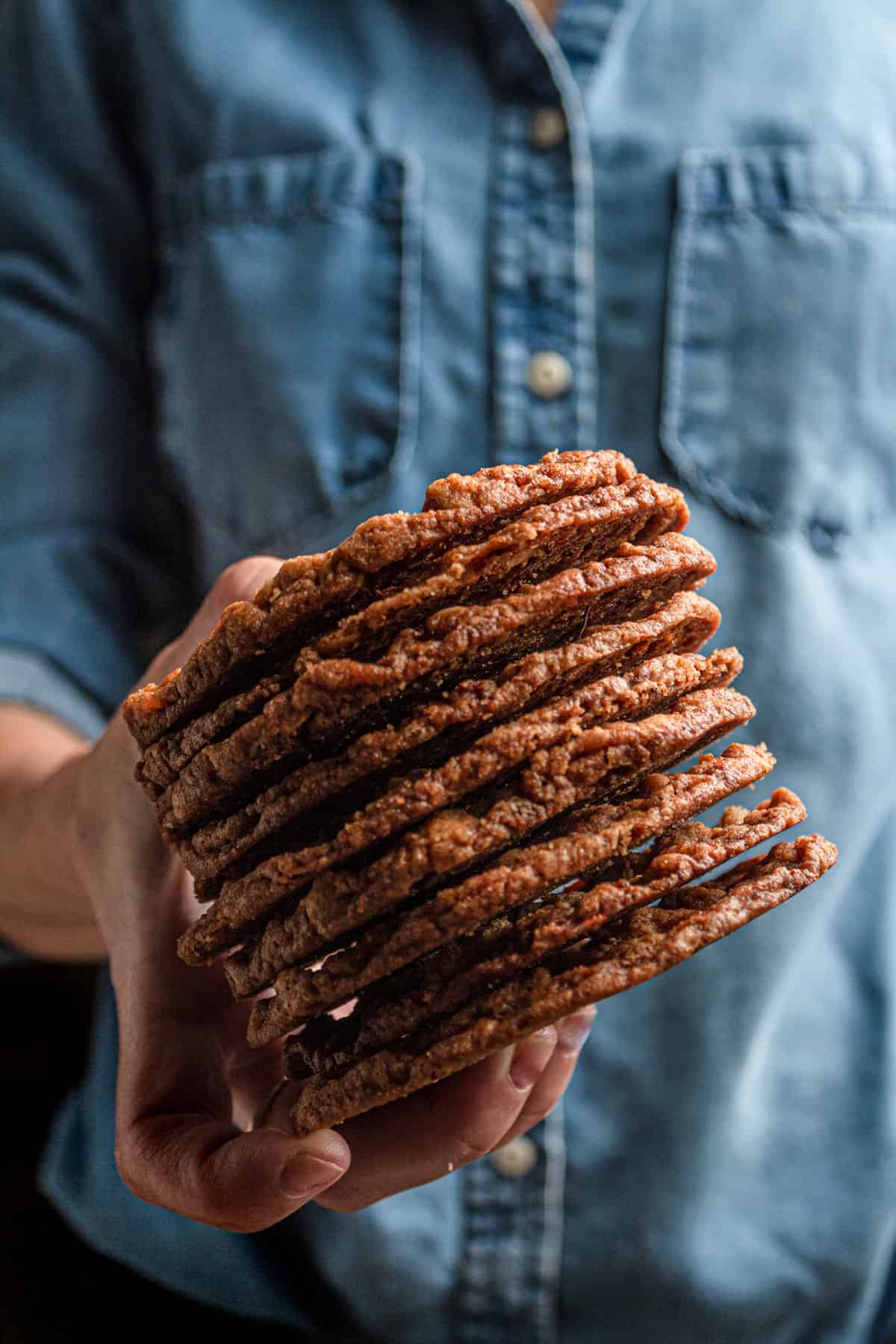 What Ingredients Are In This Oatmeal Butterscotch Cookies Recipe:
Old Fashion Oats
Cake flour
AP flour
Unsalted butter
3 types of sugar: regular white sugar, light brown sugar, and dark brown sugar.
Vanilla extract
Egg
Baking Soda
Kosher salt, (or any salt you use for cooking) to bring out the flavor.
Sea salt flakes upgrade the cookies to a "sweet and salty" category.
Butterscotch Chips.
How to bake these cookies:
The very first thing we will need to do is to toast the oatmeal in the oven for about 5 minutes. Once cooled, we will ground 2 TBS in a spice grinder or a food processor.
Why Toasting The Oatmeal?
Ok, so this is not my recipe, and" target="_blank" rel="noreferrer noopener"> Mindy Segal, the creator of it did not specify. However, I feel comfortable guessing that since she wanted to create a crispy cookie, toasting the oatmeal was a way of firstly adding some crispness to the ingredient and secondly preventing the oatmeal from soaking up any moist coming from the other ingredients and, as a result, becoming chewy.
The rest of the process is pretty much straightforward, like most cookies we bake:
In a separate bowl, mix dry ingredients. Beat sugar(s) and butter, add egg+vanilla, and lastly mix in the dry ingredients.
The next step is scooping the dough and baking. Here are some super important notes:
The dough does not require any cooling time and is best when baked right away. Cooling the dough will harden the butter, and it may not spread as much.
The cookies spread A LOT! remember that there is baking soda in the recipe and a relatively large amount of soft butter. So leave 2″-3″ space between each cookie (I only baked four at a time).
The cookies will not spread into a very esthetic shape; if you don't mind it much, great. But, if you do care, the trick is super simple(credit due to Erin @cloudyktchen): right out of the oven, use a large round cookie cutter to gently twirl the cookie between the sides of the cookie cutter.
Storing the cookies:
According to Mindy, the cookies are best stored at room temperature in an airtight container for up to 3 days. But I uncovered the cookies in a container to avoid the cookies from going soft. (it did dry the cookies a bit, but I did not mind it)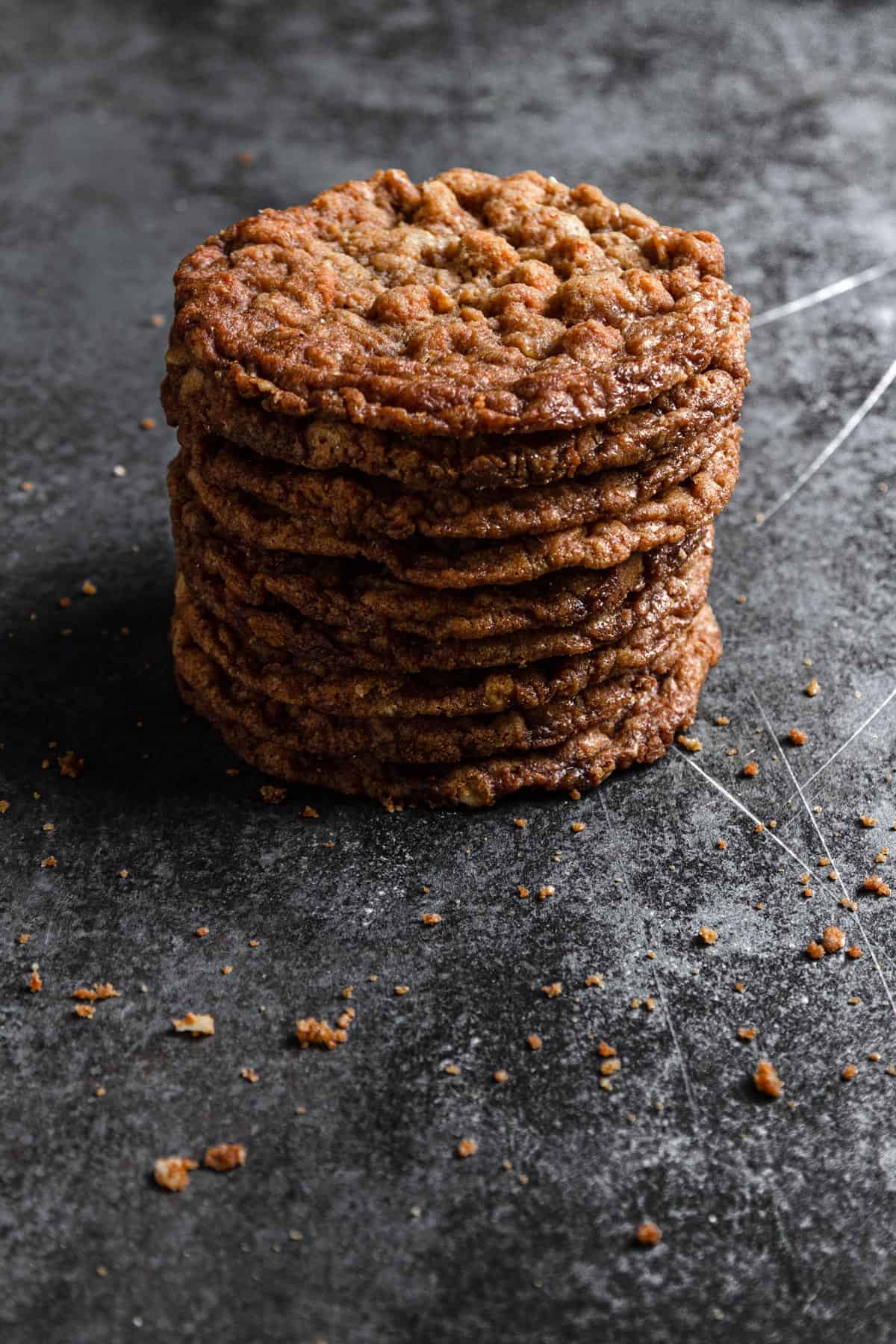 HAPPY BAKING!!!
Here are some more cookies recipes you might enjoy:
Also, one more thing…
Don't forget to tag @OneSarcasticBaker on Instagram whenever you bake this recipe. I would love to see your creations!
Lastly, did you like this recipe and find inspiring? Save THIS PIN to your Baking or Cookies boards.
Oatmeal Butterscotch Cookies
Ingredients
1

Cup +2 TBS

Old Fashion Oats

(90 g / 3 oz)

1

Cup

Unsalted butter softened

(226 g / 8 oz)

1/2

Cup

Sugar

(100 g / 3.5 oz)

1/2

Cup

Light brown sugar

(100 g / 3.5 oz)

1/2

Cup

Dark Brown Sugar

(100 g / 3.5 oz)

1

tsp

Vanilla extract

1

Large

Egg, room temperature

1/2

Cup

Cake flour

(60 g / 2 oz)

1/2

Cup

AP Flour

(60 g / 2 oz)

1 1/2

tsp

Baking soda

1

tsp

Kosher salt

1

tsp

Sea salt flakes

1

Cup

Butterscotch chips

(180 g / 6 oz)
Instructions
Heat oven to 350F and line 3 half-sheet cookie pans with parchment paper.

Spead the oat on one of the pans and bake for 5 minutes. Remove from oven and allow to cool

In a spice grinder or a food processor, grind 2 TBS of the baked oat into a fine powder.

In a bowl of a standing mixer, beat butter and sugars until fluffy and light in color about 4-5 minutes. Stop the mixer halfway and scrape the sides and bottom of the bowl.

In a small bowl, beat the egg and vanilla extract together then add it to the butter mixture.

Stop the mixer and scrape the sides and bottom of the bowl, mix for another 10 seconds.

In a large bowl, mix the flour, baking soda, salts, oats, and powdered oats use a fork to fully blend then add the butterscotch and toss to make sure all have been coated with flour.

Add the flour mix to the butter mix, beat for 5 seconds turn mixer off and finish mixing using a rubber spatula.

Using a cookies spoon (1 1/2 TBS size) scoop the cookie batter and place 4 cookies on a cookie sheet, leave 2-3" space between each cookie.

Place pan in the middle oven rack and bake for 8 minutes. Remove from the oven tap the pan against the counter, and use a large cookie cutter to gently twirl the cookie and make it round.

Place the pan back in the oven and bake for another 4-6 minutes.

Remove from the oven and twirl the cookies gain with the cookie cutter. Allow cookies to cool before removing from the oven.

Repeat with the remaining of the dough.