Last updated on March 21st, 2023.
These Crazy Easy Butterscotch Blondies are loaded with chocolate chips, butterscotch chips, and nuts. But the best part is that they are easy to make and only require a bowl.
If you are a Blondies fan, here are some more delicious recipes: Brownie blondies, White chocolate Blondies, Chocolate Match Brownies.
I have to say I have mixed feeling when it comes to these Butterscotch Blondies.
In my kitchen there is a lot of baking going on. All kinds of recipes from the easiest and fastest to the most elaborated and complicated ones. But no matter what comes out of my kitchen, these butterscotch Blondies are the biggest crowd pleaser.
Which is a bit frustrating since this recipe is SO EASY and fast.
Every time I bake this recipe it's because I need something fast and simple. But still, this is the one dessert all hands are reaching out for. Over and over again.
So this one is a keeper!
What ingredients are in this Crazy Easy Butterscotch Blondies:
Unsalted butter
Light brown sugar
Eggs, at room temperature
All-purpose flour
Baking powder
Whiskey or Brandy
Butterscotch chips
Chocolate chips
Chops walnuts
Making the Blondies: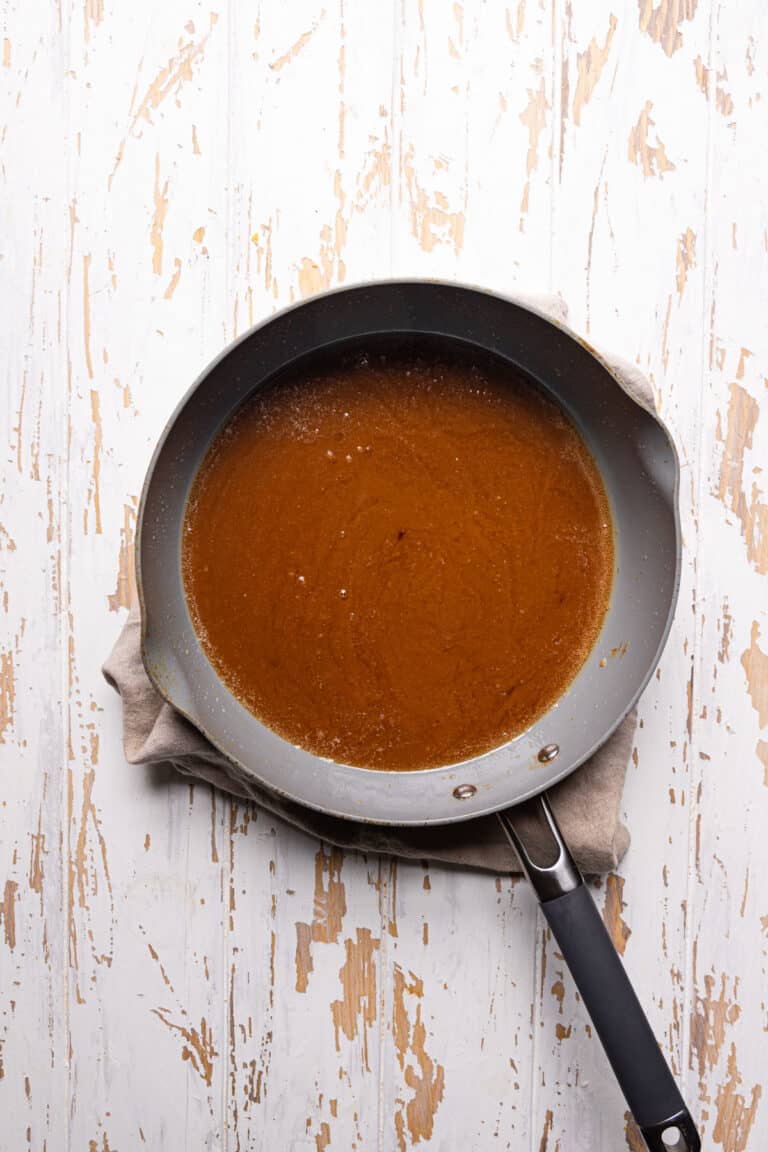 Firstly, melt the butter in a pan add the light brown sugar and mix to dissolve the sugar. Pour the mixture into a large mixing bowl (or a bowl of a standing mixer), and once it has cooled to room temperature mix in the eggs and vanilla.
Now, sift in the flour and baking powder and mix to incorporated and lastly mix in the chocolate chips, butterscotch chips and chopped wants.
Evenly spread the batter in the pan and bake.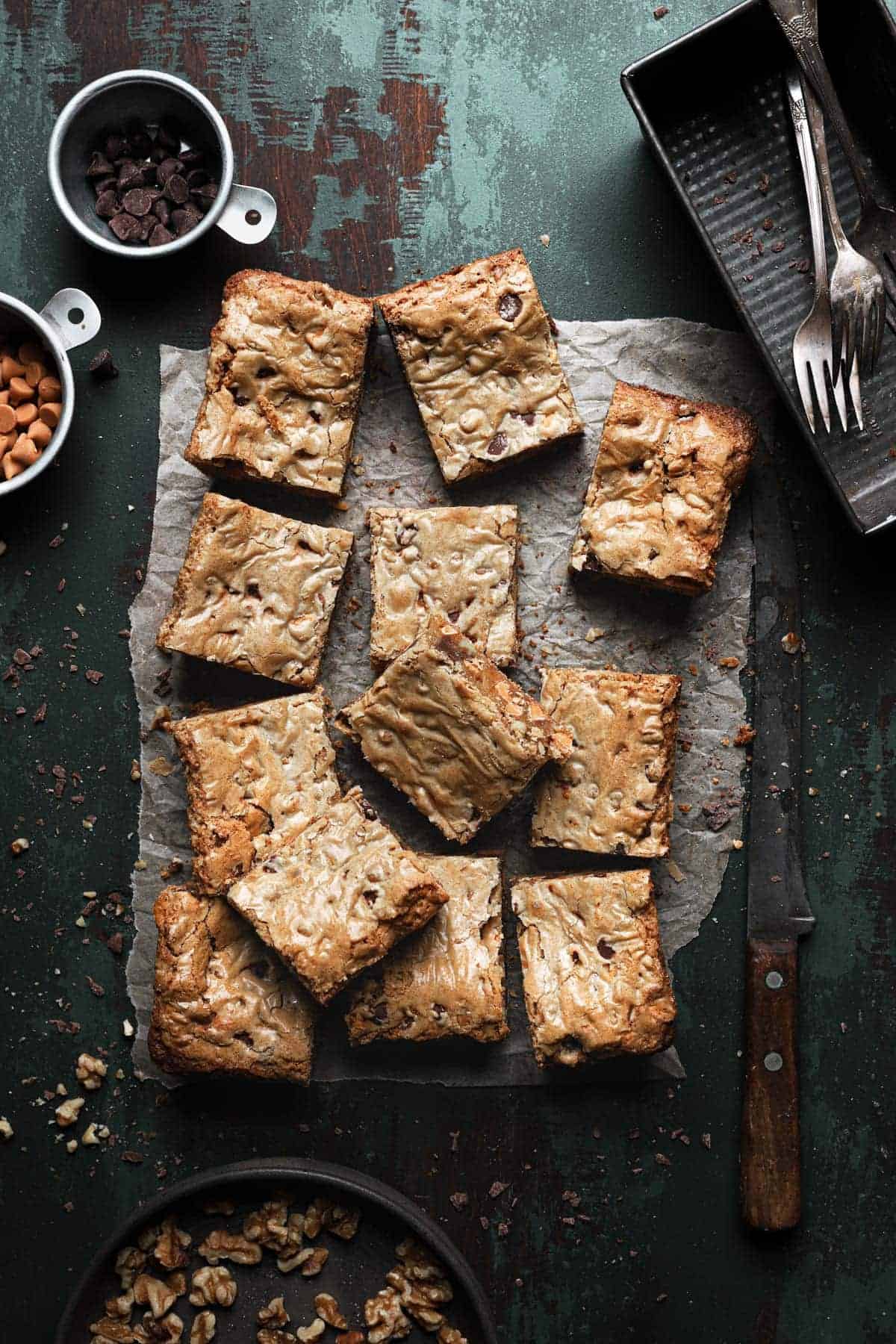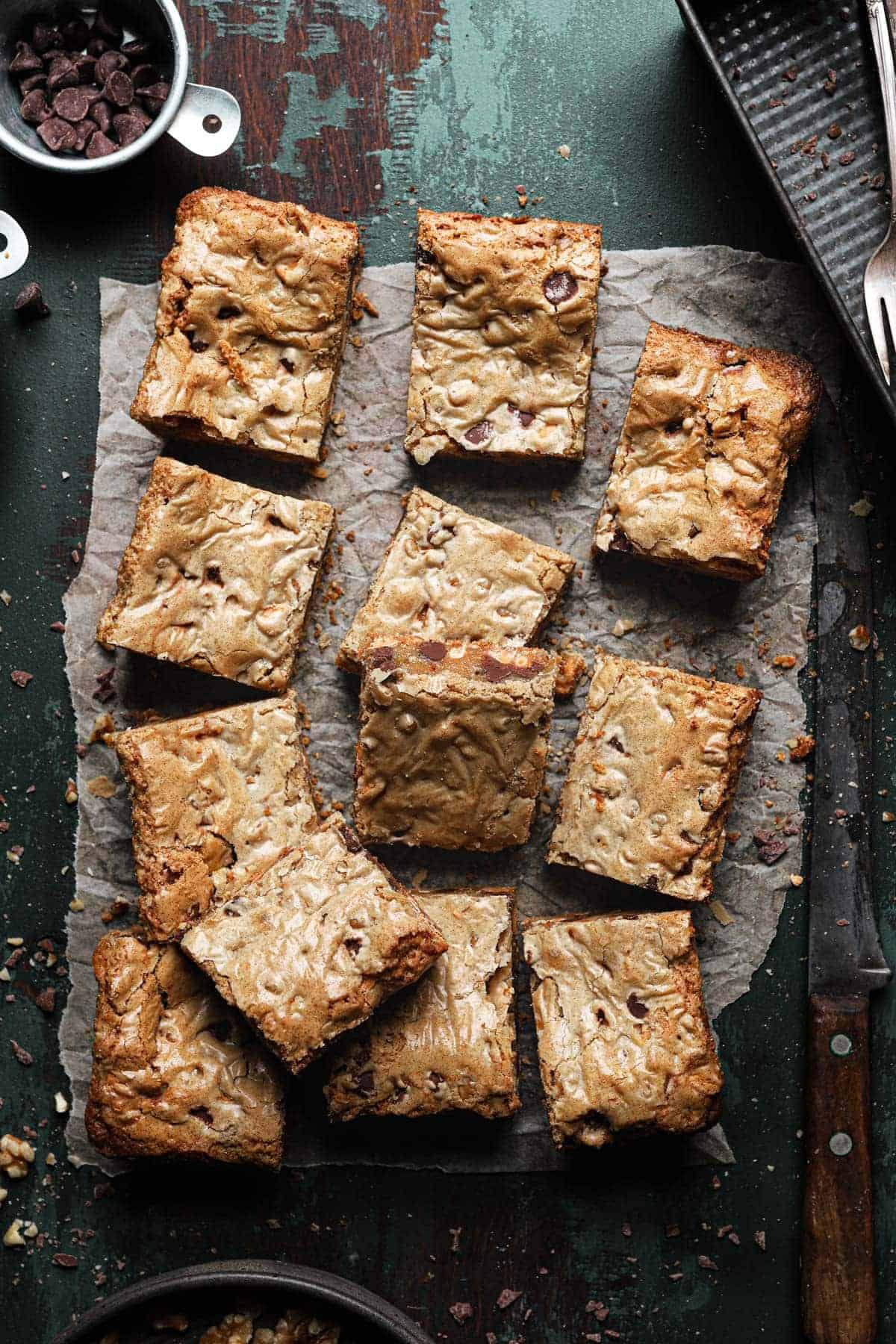 Storing the Blondies:
Best is to store the blondies at room temperature in a sealed container for up to 4 days. Also, you can freeze the blondies for up to 1 month.
Few more notes about these Crazy easy Butterscotch Blondies:
You can bake this recipe in a 9″x13″ for 18-22 minutes or even use a 7″x11 for 25 minutes.
When you melt the butter, please cut it into few small pieces. This way the butter will melt evenly.
You can skip the Whiskey/Brandi and use milk or cream instead. I found that it helps the flavors come together.
Very important not to over mix! If we over-mix the recipe will be cakey, we don't want that. (main reason why adding the flour before the eggs)
The Blondies are ready when the sides are browned and the top is golden.
This recipe freezes really well when stored in a freezable bag.
HAPPY BAKING!!!
Here are some more easy recipes you might enjoy:
One more thing…
Don't forget to tag @OneSarcasticBaker on Instagram if you bake this recipe. Would love to see your creations!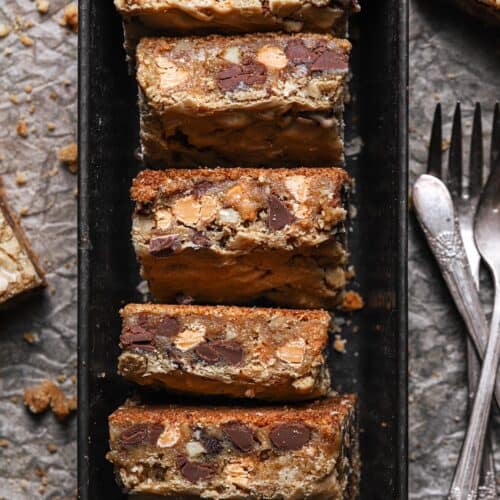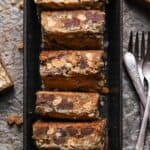 Crazy Easy Blondies
Ingredients
1/2

cup

Unsalted Butter

113 g/4 oz

1 1/2

cup

Light Brown Sugar

320 g/11 1/4 oz

1 3/4

cup

AP Flour

200 g/ 7 oz

2

tsp

Baking Powder

1/2

tsp

Salt

2

Large

Eggs

2

tsp

Vanilla Extract

1

tbsp

Whiskey

Optional

1

cup

Butterscotch chips

170 g/ 6 oz

1

cup

Chocolate chips

170/ 6 oz . Your Choice of Flavored Chips. (Vanilla, Cinnamon, Butterscotch)

1

cup

Walnuts or your choice of nuts

120 g/4 oz.
Instructions
Preheat oven to 350F. Line a 9" x 13" , or 7" x 13" pan with parchment paper.

Sift the flour, baking powder and salt and a bowl and set a side.

Melt the butter in a medium-sized saucepan. Add the brown sugar and mix until combined and smooth. Remove from heat and let cool until lukewarm.  

Pour the Butter and Sugar mixture into a mixing bowl, mix in the eggs, Vanilla extract, and whiskey. Mix just until combined.

Mix in the flour mixture and mix just to incorporate the flour.

Fold in the Chips and Nuts and spread the mixture evenly in the prepared pan.

Bake until light brown on the sides and top, about 18-20 for 9"x13" or 23-25 minutes for 7" x 11".

Remove the Blondie from the over and let cool completely before slicing.