Last updated on June 16th, 2022.
These fudgy and earthy Chocolate Matcha Brownies are the ultimate way to satisfy any Matcha lover's cravings. Despite its sophisticated flavor, this simple brownies recipe is easy, fast, and user-friendly. All you need are three bowls and 15 minutes.
If you are a fan of blondies and brownie recipes, check out these Butterscotch blondies, Pecans White chocolate blondies, Blonde Brownies, Brownie Pizza, and Biscoff Brownies.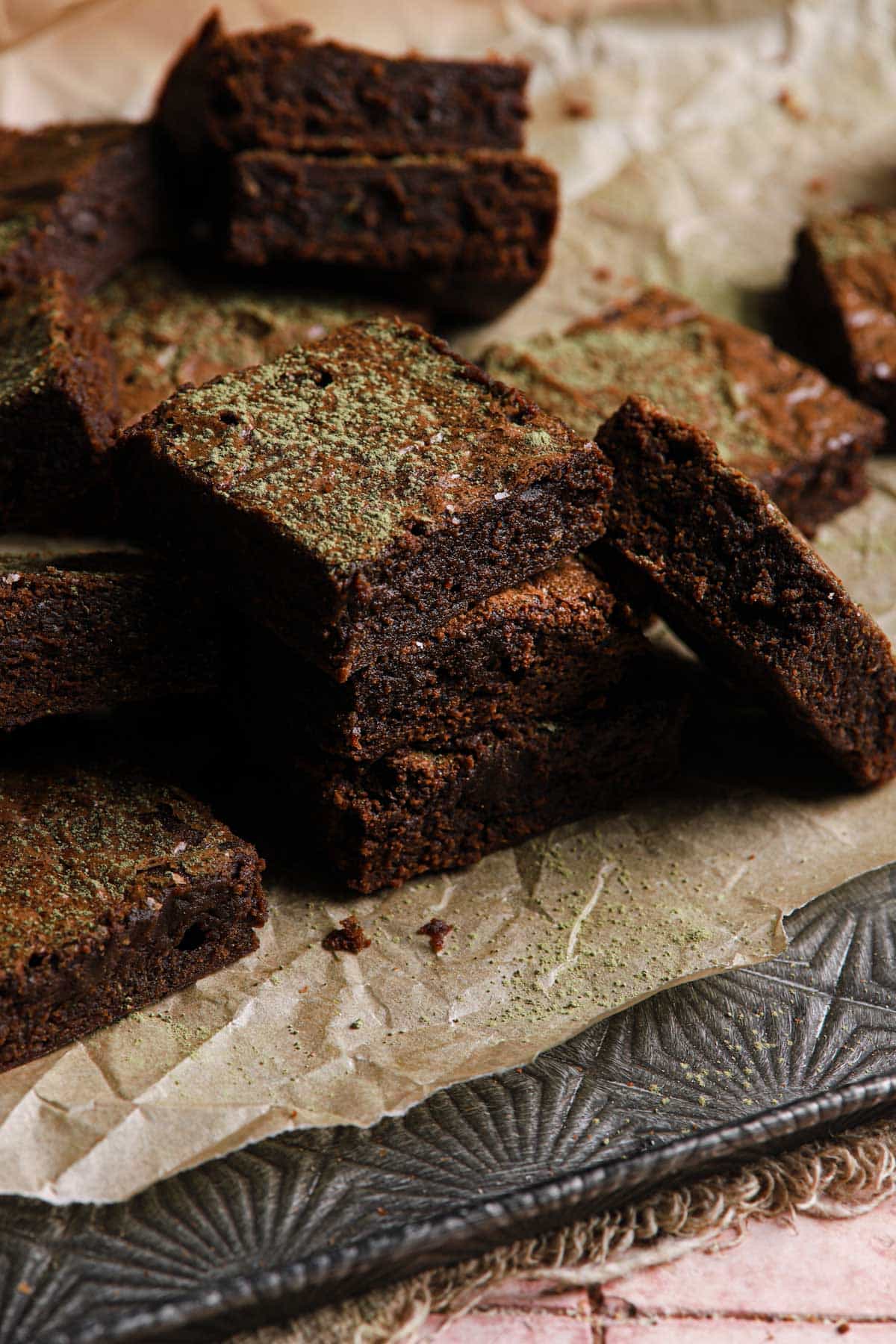 What are Chocolate Matcha Brownies?
To put it simply, these are chocolate brownies infused with a dash of matcha powder. Many of you wonder if chocolate and matcha go together and what do matcha and chocolate taste like?
So think of unsweetened cocoa powder in its raw powder state, it is bitter and earthy. The same is true with matcha powder, it is too bitter and earthy and for that reason the to pare wonderful together.
What is Matcha Powder?
Matcha powder is also known as green tea powder is grounded from the Matcha plant leaves. The powder is originated and is part of the traditional Japanese tea ceremony. Purchasing this green tea powder can be a bit overwhelming and even expensive, so here is a short description of the most common types:
Ceremonial grade. High quality, vibrant green, expensive. This high-quality powder is traditionally processed for tea ceremonies.
Premium grade. High quality, expensive, vibrant green. Processed from the young leaves from the matcha plant. Has a subtle flavor and is purposed for daily consumption.
Culinary grade. Economical, not as vibrant. Bitter and not as subtle since it is processed from the lower and older green tea leaves of the plant. Designed for cooking, baking smoothies etc.
You can easily see the difference between premium or ceremonial grade matcha and a culinary grade.
Matcha in baking
Many matcha recipes call for matcha powder to add earthy flavor and a beautiful vibrant natural color. Note that if you expose the powder to a very hot temperature it will increase its bitter matcha flavour. Also, for a vibrant green use ceremonial or premium powder.
This recipe calls for a very small amount of powder (up to 2 tbsp) and you can use whichever grade you would like.
Why should I make this recipe?
Wether If you are a chocolate lover with a strong sweet tooth or just a matcha fan, this recipe is for you:
Easy. There are no complicated steps in this recipe, If you know how to hold a spoon and stir then you got this!
Simple. No need for a standing mixer or even a hand mixer, all you need is 3 bowls, a wooden spoon, and a spatula.
Fast. Well, you do need to wait a full minute or two for the butter and chocolate to melt, but that is about it. Melt, mix and bake and that is that.
Unique. While Matcha is an inquire taste, it has a huge fan base and is without a doubt it adds a unique and surprising flavor to the brownies.
Versatile. Make it your own using dark, milk, or white chocolate.
The perfect fudgy texture. Not too cakey and not too fudgy, exactly what we are looking for in a brownie.
Ingredients
Here is a list of the ingredients, full amount in grams, and oz you can find below in the recipe card.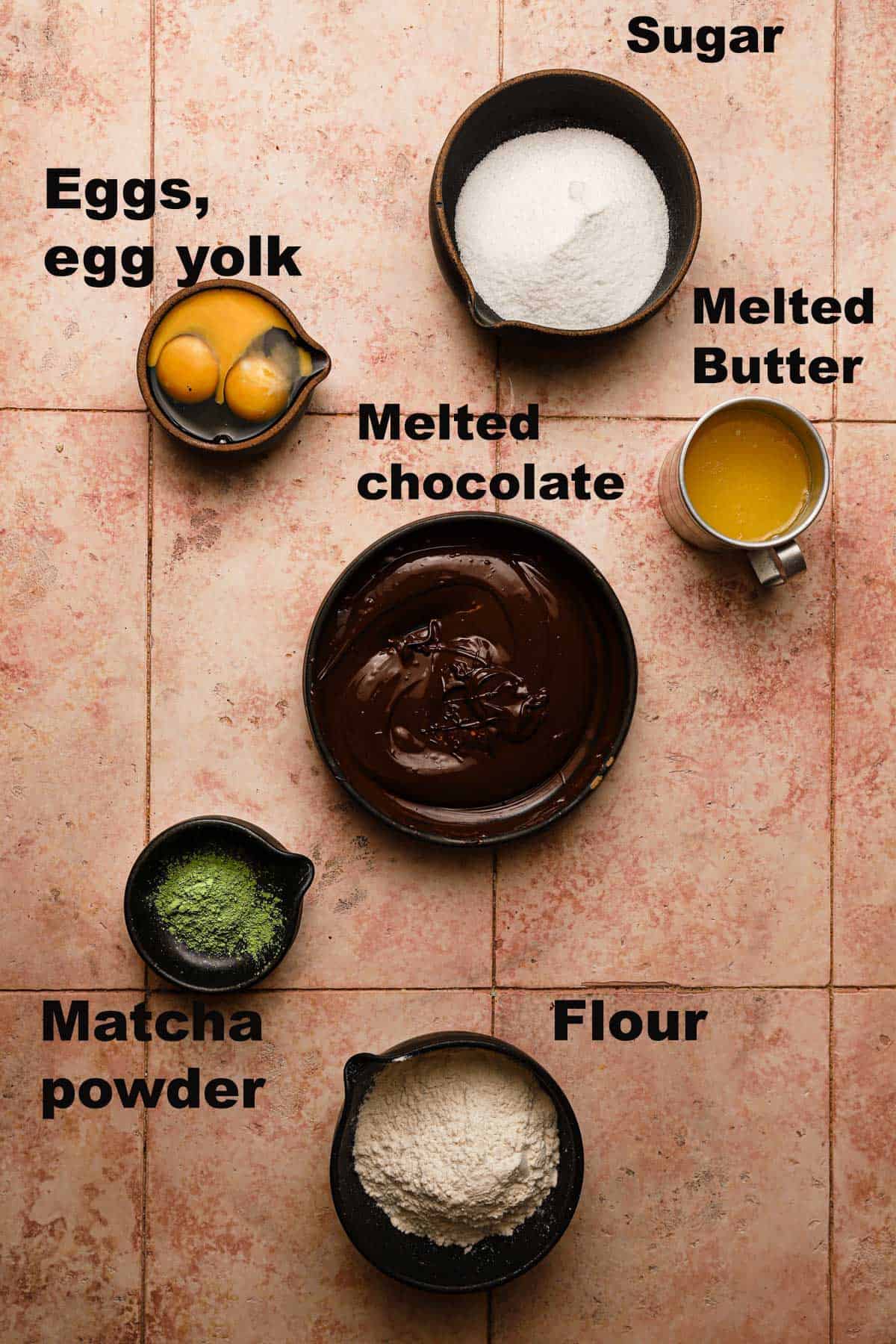 Melted unsalted butter
Granulated sugar (white sugar)
Chopped dark chocolate (56% or 72% ​​up to your personal preference)
Eggs must be at room temperature.
Egg yolk must be at room temperature
All-purpose flour
Salt
Matcha powder
Substitutions
Olive oil, melted coconut oil or browned butter can replace the butter.
Light brown sugar can replace granulated sugar. Note that it will add some molasses flavor to the brownies.
White chocolate or milk chocolate can replace dark chocolate. Make sure to use high-quality chocolate or else the chocolate will not melt.
How to make this recipe
As mentioned before, this recipe is easy and simple to follow, be sure to carefully read the instructions and tips at the end of this paragraph.
Sift together the flour, salt, and 1 tsp of matcha powder.
In a medium bowl, place the sugar and pour over the melted butter, use a spoon to mix.
Mix in the eggs and egg yolk followed by the melted chocolate.
Fold the dry ingredients with the wet ingredients (the chocolate mixture).
Pour the brownie batter into the pan and bake.
Remove from the oven and allow to cool on a wire rack. Sprinkle with some more powdered.
Variations
Here are some options to elevate these brownies:
Use melted white chocolate to make white chocolate matcha brownies. Note that it will be very sweet and you might want to reduce the amount of sugar to ½ cup (100 gram), increase the amount of butter to 14 tbsp (200 g), and the amount of matcha powder to 1 tbsp.
Use Milk chocolate to make milk chocolate brownies.
Add chocolate chips. Up to 1 cup of semi-sweet chocolate chips, milk chocolate chips, or white chocolate chips.
Add nuts. Up to 1 cup of chopped pecans, walnuts, or hazelnuts.
Dairy-free. Replace the chocolate with non-dairy chocolate and the butter with vegan butter, olive oil, vegetable oil, or melted coconut oil.
Vegan matcha brownies. Use the alternatives for non-dairy variation and replace the eggs and egg yolk with 2 ½ tbsp of flex seed mixed with 6 tbsp water. Add to the fat and sugar mixture.
Storing
Here are the storing instructions to make sure the brownies stay fresh and delicious.
The ideal storing temperature for this recipe is at room temperature for up to 3 days. Make sure that these green tea brownies are covered or placed in an airtight container.
You can freeze the brownies for up to 4 weeks in an airtight container or a freezable bag. I like to wrap 3-4 pieces in plastic wrap then place them in the bag or container.
Expert Tips
Few more notes and tips to make sure you bake the perfect brownies:
Water in the melted chocolate is the best way to seize the smooth chocolate. Make sure there, not even a drops falls into the melted chocolate. Especially if using a double boiler.
Be patient. It takes about 1 hour for the brownies to cool and set. They will tear and fall apart if taken out of the pan too soon.
Create a parchment paper sling for easy and safe lifting of these matcha cookies.
Spray a sharp knife with oil spray for smooth slices.
Baking time may vary from one oven to the next. The way to know that the brownies are ready is by inserting a toothpick at the center. They are done when the toothpick comes out with a few moist crumbs.
FAQS
Can I use drinking matcha powder to bake with?
Yes. Check the packaging for the grade. Premium grade is best for vibrant color.
My Brownies are not fudgy, why?
If you ended up with cakey brownies, either you baked it for too long or reduced the sugar too much.
My brownies are fudgy in the center but cakey on the side, what did I do wrong?
Brownies tend to bake more at the sides. Next time try to reduce your oven temperature by 10-15 degrees.
Can I use hojicha powder?
Sure. Replace it with matcha powder.
Can I replace the dark chocolate with white chocolate or milk chocolate?
Yes, see my notes in the variations paragraph.
How can I make this recipe dairy-free?
Replace the butter with vegan butter, olive oil, or coconut oil. Use non-dairy chocolate.
Which powder to use for vibrant green brownies?
Use ceremonial matcha or premium grade?
Yes.
Can I use an electric mixer?
Yes. Make sure not to over mix.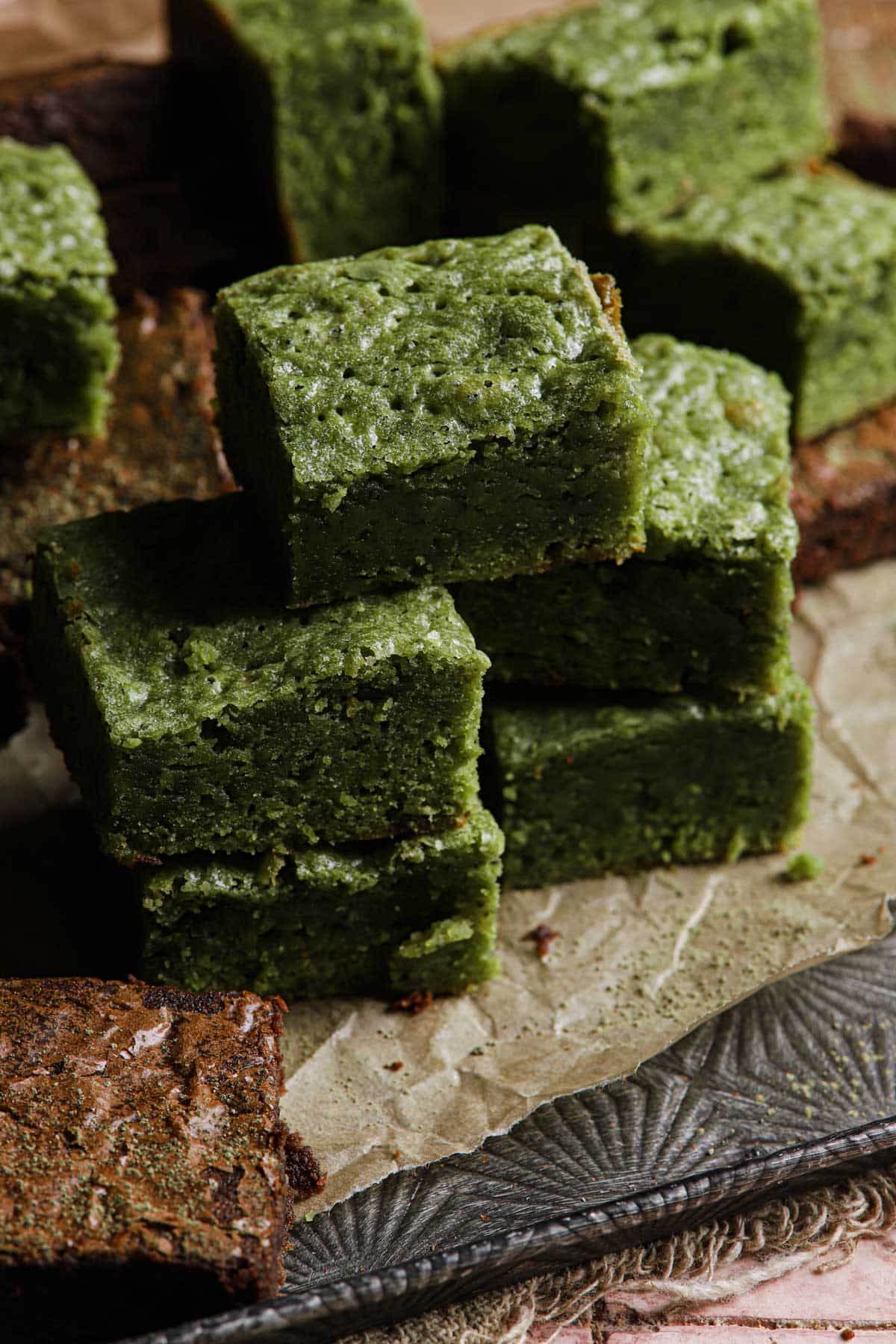 Here are some more chocolate recipes you might enjoy:
Chocolate Celebration Cake, Chocolate Gin Cake, Butterscotch blondies, S'mores bars
DID YOU TRY THIS RECIPE?
If you tried this recipe or any other recipe by One sarcastic Baker baking blog, please take a movement to rate and comment at the end of each recipe. Your questions, ideas, and thoughts are priceless, and here at OSB we value them more than butter!
And if you snapped some images, be sure to tag me on Instagram.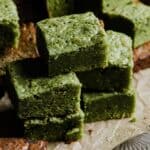 Chocolate Matcha Bars
Dark Chocolate Matcha Bars are an awesome addition to your chocolate recipes collection. These bars are both dense and airy at the same time and exploding with chocolate flavor.
Ingredients
1 1/4

Stick

Unsalted butter, melted

(150 g /5.5 oz)

3/4

Cup

Sugar

(150 g / 5.5 oz)

1

Cup

Dark Chocolate (70% or 72%)

(170 g/6 oz)

2

Large

Eggs at room temperature

1

Large

Egg yolk

2/3

Cup

All-Purpose Flour

(90 g / 3 oz)

1/8

tsp

Salt

2

TBS

Matcha powder
Instructions
Preheat oven to 350F and grease or line an 8" square pan with parchment paper.


Sift flour, 1 tbsp matcha powder and salt in a separate bowl and set aside.

In a large bowl pour the melted butter over the sugar and mix.

Add the chocolate and mix.

Stir in the eggs and egg yolk and mix.

Fold in the flour mixture and pour the batter into the prepared pan.

Bake for 18-22 minutes until a toothpick comes out with few moist crumbs.

Allow the brownies to cool completely. Gently remove from the pan dust it with the Matcha Powder and slice it to 16 pieces.