Last updated on January 18th, 2023.
Biscoff brownies (or cookie butter brownies) are most likely the only thing that is better than actual brownies. A rich, fudgy (but not too fudgy) brownie batter dotted with flavorful biscoff spread and baked into a fudgy biscoff brownies perfection.
We've been friends for a while now, so you are probably already familiar with my fondness of recipes with biscoff cookie butter, like these Biscoff butter cookies, this Biscoff cheesecake, these Biscoff donuts, Biscoff cake, and Biscoff Ice cream. So adding Cookie butter brownies to my collection is the only reasonable thing.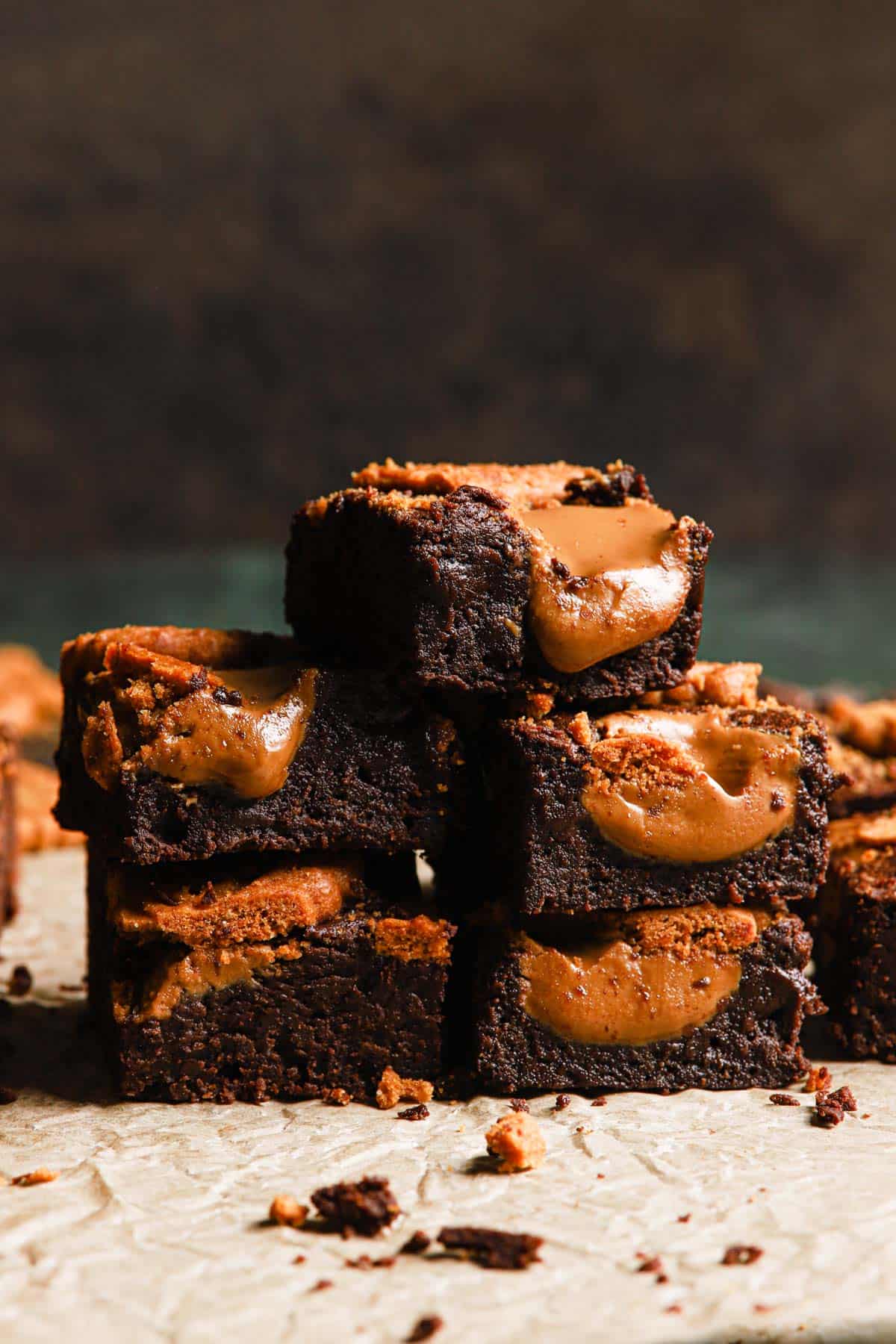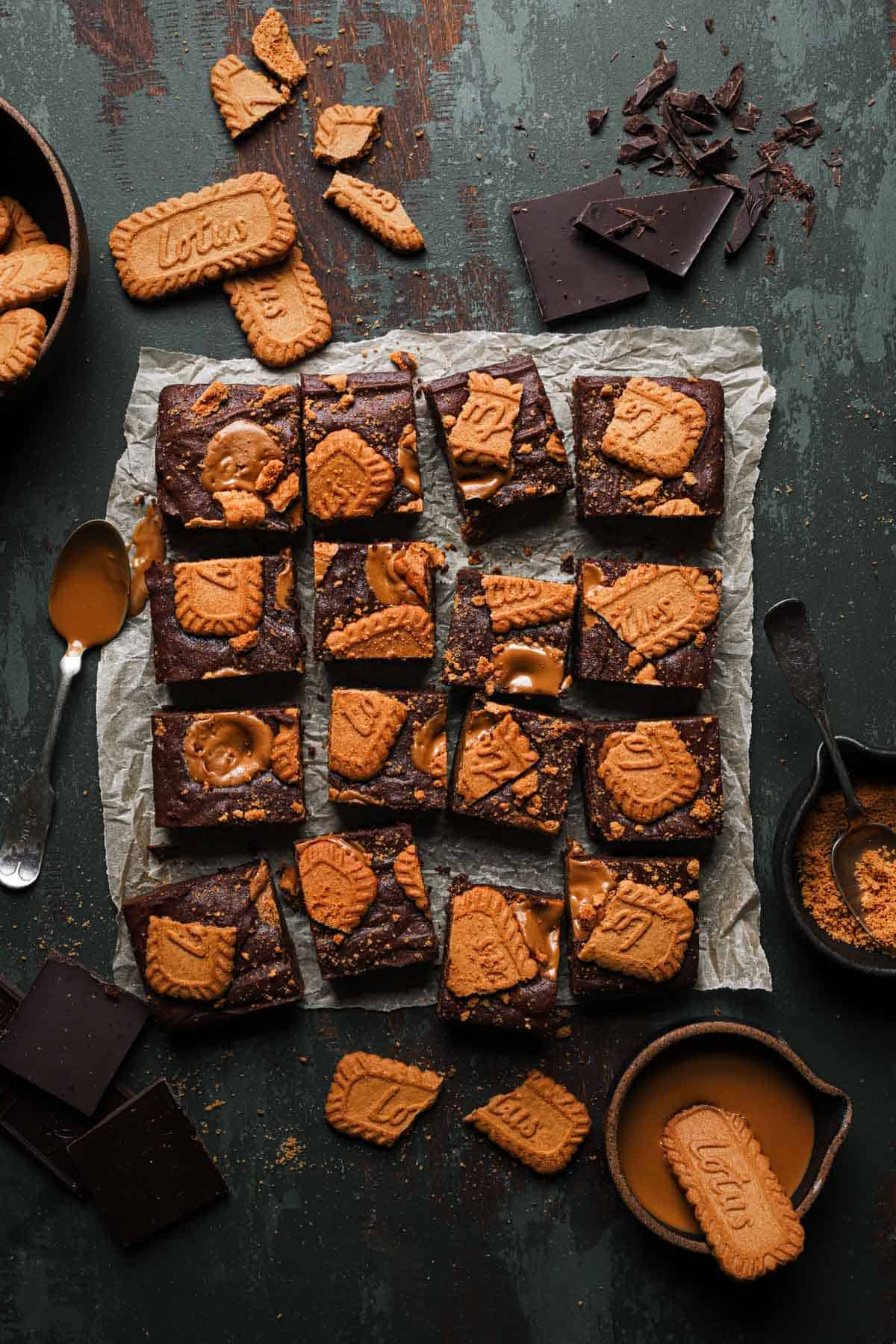 INGREDIENTS
The full recipe, including measurements, can be found on the recipe card below. Check out my Baking conversion charts for common baking ingredients conversions.
The recipe calls for a few ingredients, and most are simple everyday ingredients you will likely have in hand already.
Unsweetened chocolate. Instead, you can use dark chocolate; I like to use 65% or 72% when baking. Do not use milk chocolate.
Unsalted butter
Dutch-processed cocoa powder *. If using unsweetened cocoa powder, reduce baking time by 2-3 minutes.
Light brown sugar
Granulated sugar
Large eggs at room temperature. If you have egg sensitivity, use flax eggs instead.
Cake flour. You can also use all-purpose flour (bleached or unbleached). During the testing, I found that combining the dutch cocoa powder and cake flour helps with the unique, not too fudgy, not too cakey brownies. Both dutch cocoa powder and cake flour can be easily found at your local grocery store. You can read about What Is Cocoa Powder for more information about this subject.
Salt
Lotus biscoff cookies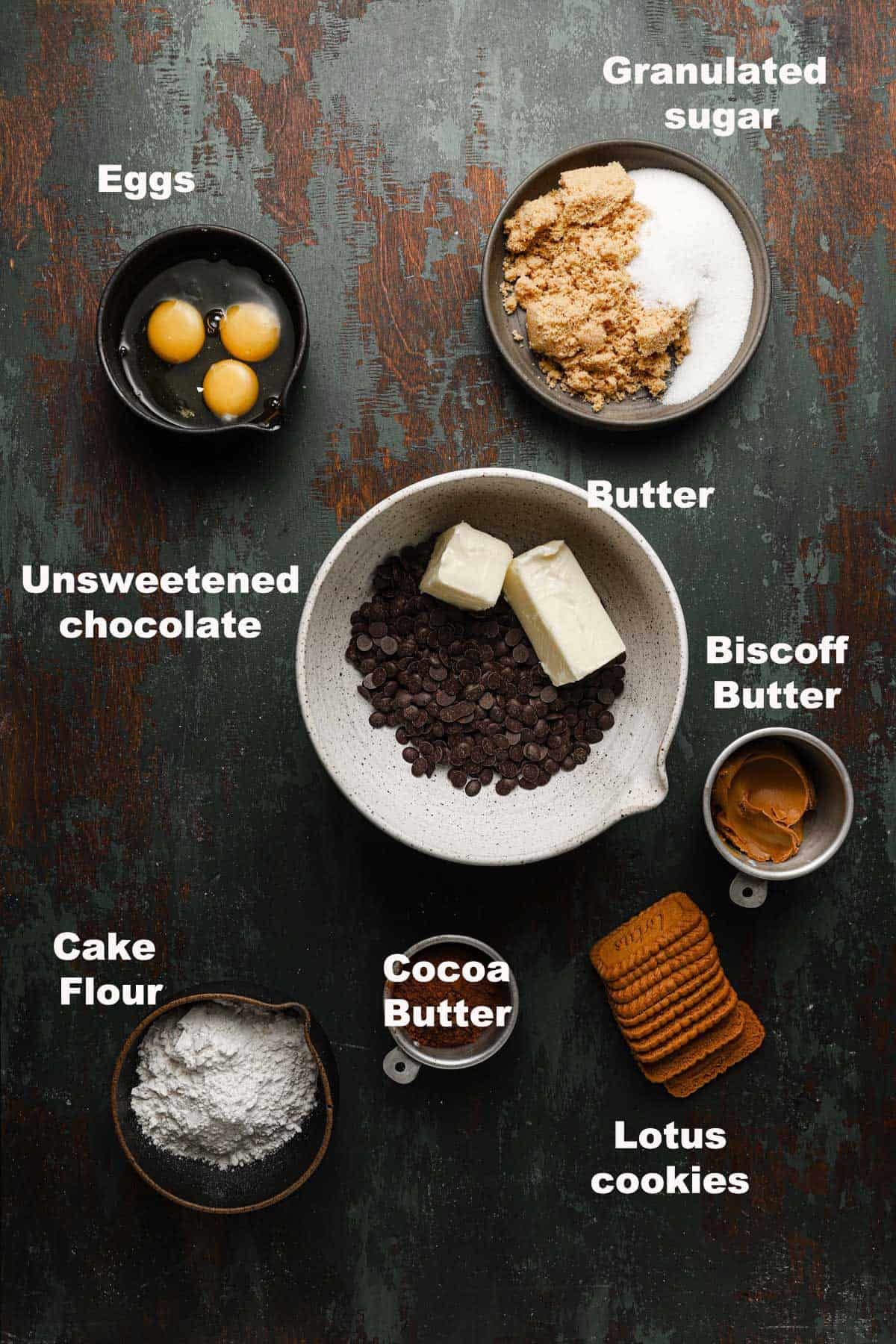 HOW TO MAKE BISCOFF BROWNIES
Below are the step-by-step instructions. You can find the full recipe card at the bottom of the post.
Before starting to bake, preheat your oven to 325F (160C) and line an 8"x8" square pan with parchment paper.
Place the chocolate and butter in a large mixing bowl (microwave-safe bowl) and melt using 30-second increments. Mix in the cocoa powder.
Mix in the sugar and then the eggs.
Use a whisk to vigorously mix the eggs into the wet ingredients until it goes from lumpy to completely smooth. This part is essential; we need to force the eggs into the batter to bond the fat with the rest of the ingredients properly. It is also our way of incorporating some air into the recipe.
Mix the dry ingredients: salt and flour, then fold the flour mixture into the chocolate mixture.
Pour the batter into the prepared tin, then use a small cookie spoon or a teaspoon to dot the cookie butter into the brownie batter. Top with lotus cookies and bake.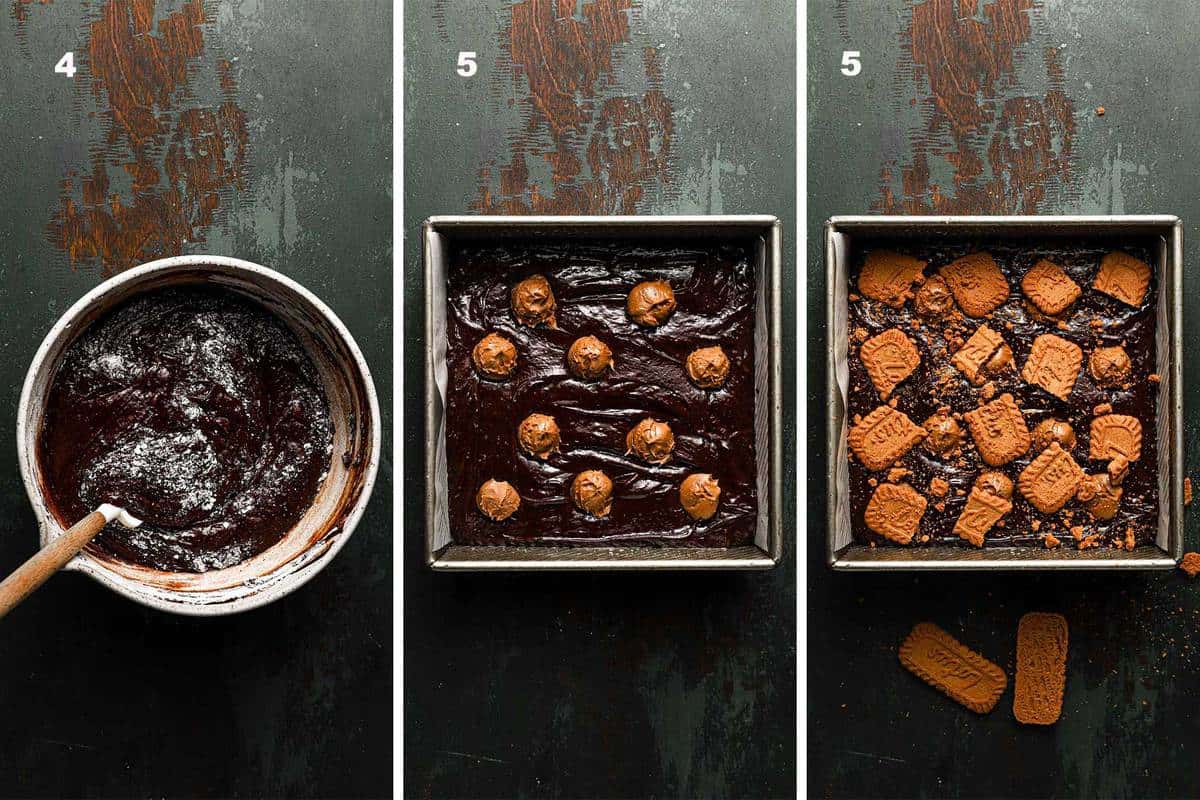 EXPERT TIPS AND FAQ
To bake the perfect brownies, please take a minute to read through these tips carefully.
To make biscoff cookie butter swirl. Use the cookie butter to create a biscoff brownie swirl. Melt the butter for about 15 seconds, drizzle it on top of the brownie batter, and use a knife to create the swirl.
For the best lotis biscoff brownies. Make sure all of the ingredients are at room temperature.
Do not overbake the brownies. This is the key to having not-too-cakey, not-too-fudgy chocolate brownies.
How to tell if the lotus biscoff brownies are ready? I like to do the toothpick brownie test in two sections of the pan. The edges and the center. The toothpick should come out with a few moist crumbs from the edges and a bit wet with moist crumbs from the center. It might look undone, and that's good. It will set as it cools. If the toothpick comes out completely dry from the center, it is overbaked.
When fitting the parchment paper into the pan, ensure that the sides of the paper overhang for an accessible invert.
How to give it a crisp crackly top?
Whip the eggs and sugars for about 4 minutes, then fold the mixture into the chocolate/flour mixture. Pour into the pan, dot with Biscoff Butter (or swirl), and bake.
What is the best way to slice these fudgy brownies?
Allow the brownies to cool for 1-2 hours before inverting and slicing. For a smooth slice, place the bronies in the refrigerator for 20 minutes, slice, and allow to reach room temperature.
Why did my brownies turn out too cakey?
The brownies are cakey because you did not add enough fat, or you added too much flour, or you baked it for too long. Avoid all three for the perfect cakey-fudgy texture balance bars.
Why are my brownies not set at the center? Y
You did not add enough flour, or you added too much butter. Also, there was not enough baking time.
Can I double the recipe?
Yes, use a 9×13-inch baking tin and double the recipe. Baking time might need to increase, so pay attention to the signs.
Can I add chocolate chips?
Yes, mix 1/2 cup into the batter.
STORING
Best at room temperature, covered or in an airtight container, for up to 2 days.
To freeze, wrap the brownies in groups of 4 using a plastic bag, then place them in a freezer ziplock bag.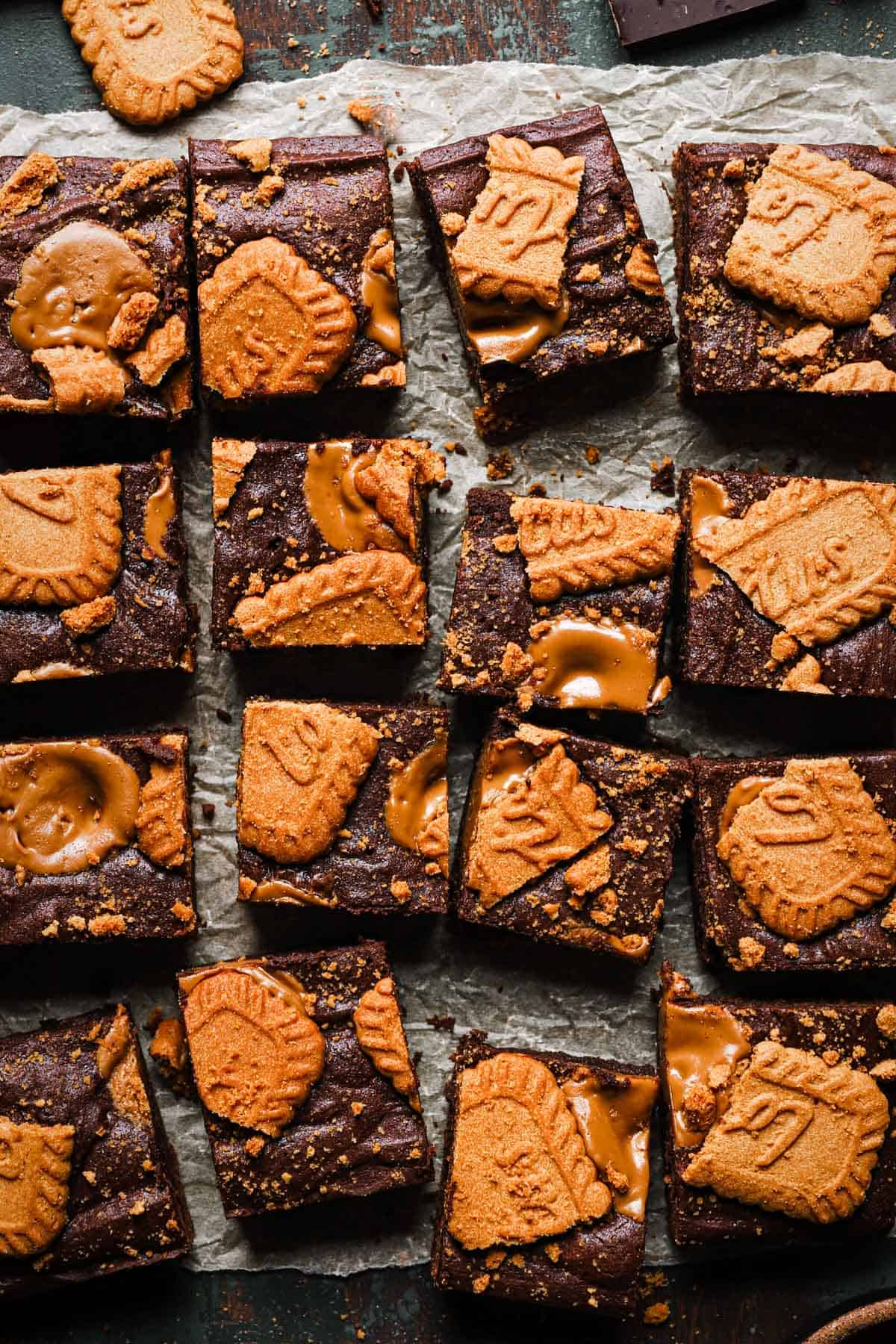 MORE Bars and Chocolate RECIPES YOU MIGHT LIKE
Brownie Blondies, Butterscotch Blondies, Matcha brownies, Pecan white chocolate Blonds, Brownie Pizza Recipe, Black Forest Brownies.
DID YOU TRY THIS RECIPE?
If you tried this recipe or any other recipe by One sarcastic Baker baking blog, please take a movement to rate and comment at the end of each recipe. Your questions, ideas, and thoughts are priceless, and here at OSB we value them more than butter!
And don't forget to tag me on Instagram
Biscoff Brownies Recipe
Ingredients
2/3

cup

Unsweetened chocolate, chopped

(115 g / 4 oz)

12

TBSP

Unsalted butter, soft

(180 G / 6 oz)

1/4

cup

Dutch-processed cocoa powder

(25 g / 1 oz)

3/4

cup

Light brown sugar

(150 g / 5 oz)

1/4

Cup

Granulated sugar

(50 g / 2 oz)

3

Large

Eggs, at room temperature

3/4

Cup (+ 1 TBSP)

Cake flour

(100 g / 3 1/2 oz)

1/4

tsp

Salt

1

Cup

Biscoff butter

(120 g / 4 oz)

5

Lotus cookies
Instructions
Preheat oven to 325F and line an 8×8 baking sheet with parchment paper.

Place the chocolate and butter in a large microwave-safe bowl and use 30 seconds increments to melt the two together.

Mix in the cocoa powder, then mix in the light brown sugar and granulated sugar.

Add the eggs and use the whisk to vigorously mix them in until the mixture is smooth.

Fold in the flour and salt then pour the batter into the prepared pan.

Use a small cookie spoon (or a teas spoon) to scoop the biscoff butter ontop of the batter. Gently press the cookie butter then randomly top it with Lotus cookies.

Bake for 20-22 minutes or just until a toothpick comes out from the center of the pan with moist crumbs.

Remove from the oven and allow to cool before inveritng and slicing.
Recipe Notes
Make sure the ingredients are all at room temperature.
Make sure not to overbake the brownies. They are ready when a toothpick comes out with moist crumbs around it. If the toothpick is completely wet, like you dipped in with melted chocolate, then it needs more time. If it comes out completely wet then you overbaked it.
Store the brownies covered at room temperature for up to 3 days. To freeze, wrap the brownies with plastic wrap and in a plastic freezer bag for up to 4 weeks.