Last updated on July 17th, 2023.
I think the best way to easily explain these Brownie Blondies is simply adding the word "and" in the middle, which is basically Brownies AND Blondies. Yep, it is the best of both worlds: blondie and brownie. Rich and dense texture brownie bottom topped with a gooey blondie layer with a chewy texture.
Of course, we can also name them Blonde Brownies or blondie brownies, but the name doesn't really matter. What is important is that we have a brownie (like these Biscoff Brownies and Matcha Brownies) and a blondie dessert (like this Butterscotch blondies recipe and this Pecan White Chocolate recipe) made in less than an hour. You don't even need a hand mixer.
What are Brownie Blondies?
The best way I can think of describing brownie blondies bars is Marble cake. Just like marble cake has some vanilla cake in it and some chocolate cake in it, this blond brownie recipe has some brownie in it and some blondie in it. And in every bite, you get to enjoy both worlds.
What is a blondie?
Blondie is a brownie with no chocolate. It is dense, chewy, tender, and soft cookie bars occasionally baked with add ons such as chocolate chips and nuts.
Why this blonde brownie recipe?
To be honest, it is kind of a rhetorical question, but here are just a few of the reasons why you should make these brownie blondie bars:
Easy. This is truly an easy blondie recipe. All you need to master is using the microwave and chopping the chocolate.
Unique. And will please both the brownie lover in your life and the blondie lovers.
Fun. So much fun you can use it as a family quality time.
Simple. Both recipes call for base ingredients like unsalted butter, sugar, and all-purpose flour.
Super delicious. I mean these brownie blondies bars are a brownie layer topped with a blondie layer, how can it not be insanely delicious?
Ingredient in this recipe:
Full measurement and instructions for the Brownie blondies you can find below on the recipe card.
The main difference between the two batters is the fact that the brownie batter calls for the chopped chocolate.
Ingredients for the brownie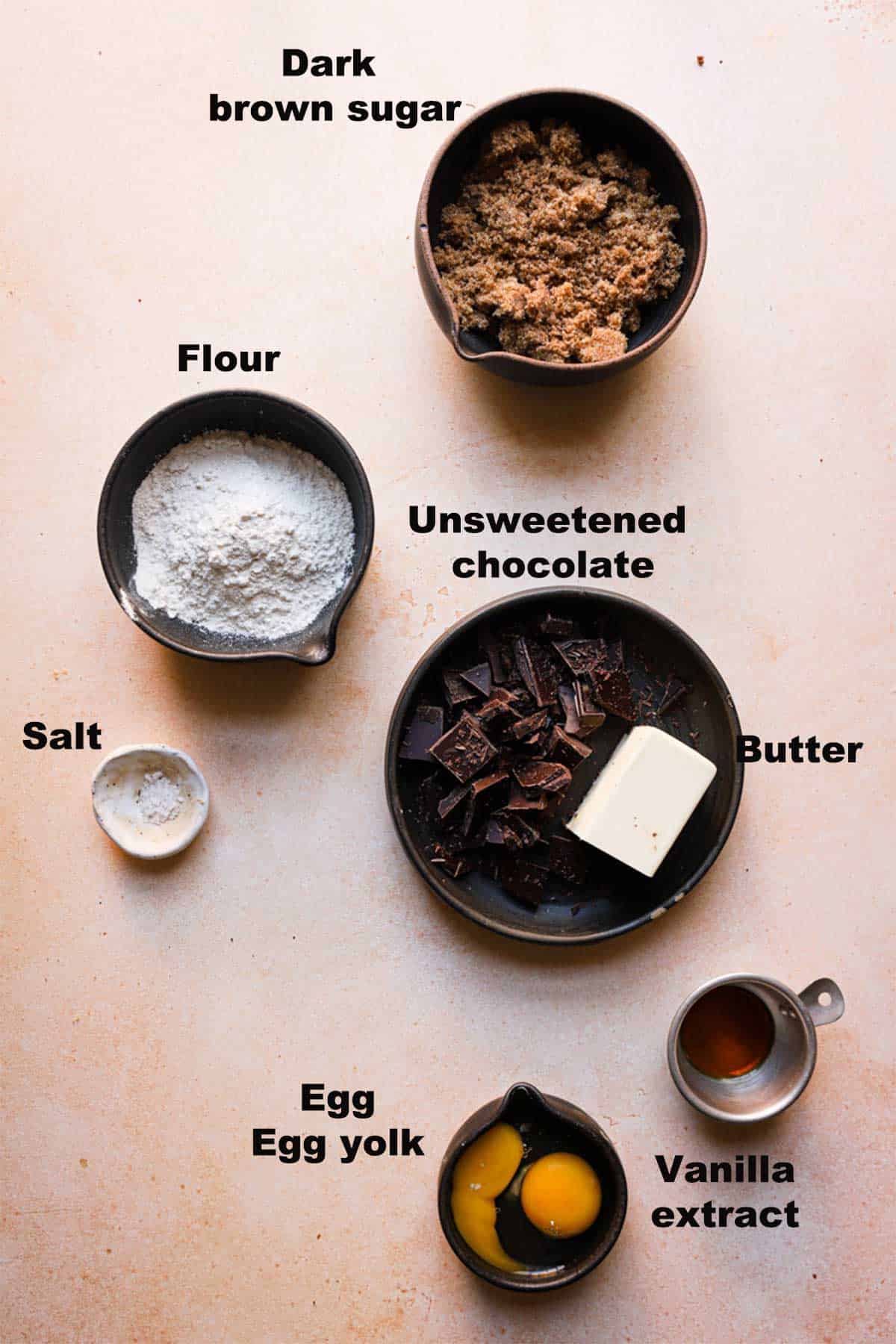 Unsalted butter
Dark brown sugar. I decided to go with dark sugar because it will complement the sweet butterscotch flavor of the blond brownie recipe.
Egg
Egg yolk
Vanilla extract
All-purpose flour
Salt
Ingredients for the blond brownie batter
Melted butter
Light brown sugar. This is how we achieve a tender, soft and chewy texture.
Egg
Vanilla extract
All-purpose flour
Salt
Substitutions
Replace dark brown sugar with light brown sugar.
If you do not have unsweetened chocolate, use ⅓ cup (30 g) of dutch process cocoa powder and increase the butter to 10 tbsp (140 g).
Dairy-free option. Use vegan butter and dairy-free add-ons if you choose to.
How to make this recipe?
What I love the most about this Brownie blondie is that we are not only learning how to make brownies but also how to make blondies. Each is a super simple, fast, and easy recipe. Be sure to read the expert tips below for the best results, followed by these step-by-step instructions.
Brownie batter
In a large bowl, melt the chopped chocolate and butter.
Mix in the sugar then mix in the egg and vanilla extract.
Add the flour and salt and use a wooden spoon to blend the flour mixture into the wet ingredients at low speed. Fold in the chocolate chips or nuts halfway into the mixing.
Pour the batter into a prepared 8"x8" square baking pan lined with parchment paper.
Blondy brownie batter
In a medium bowl, mix the butter and sugar together then add the egg and vanilla extract.
Add the dry ingredients and gently mix them into the batter.
Pour the batter into the prepared pan, over the brownie batter, and use the back of a knife to gently mix the two, once or twice. Do not overdo it or the two will bind together and you will have just bars instead of brownie blondie bars.
Variations
Add ½ cup of chocolate chips, white chocolate chips, butterscotch chips, chopped macadamia nuts, chopped pecans or any other chips or nuts of your choice.
Make a brookie, brownie, and chocolate chip cookies by replacing the blondie recipe with your favorite chocolate chips cookie dough. (This Pecan chocolate chip cookie is a great option).
Peanut butter and biscoff butter bars. Mix in 2 tbsp of each to the blondie batter along with the sugar. Fold in ½ of roasted peanuts or top the batter with pieces of Bischoff cookies.
Brown butter. Use brown butter for chewy blondies with a nutty flavor in the blonde batter. Make sure to mix in 1 tbsp of milk to compensate for the loss of water in the butter.
For an intense chocolate flavor, add 1 tsp of espresso powder or instant powder to the brownie mix.
Expert tips and troubleshooting
As I was testing the recipe I learned that the key to the success of this recipe is accuracy.
When I added too much flour (intentionally or by mistake) the bars came out too cakey, with a dense unpleasant texture.
When I added not enough flour or too much butter, the blonde batter came out too thin and did not set. I was not even able to lift it, it just laid there on the cutting board.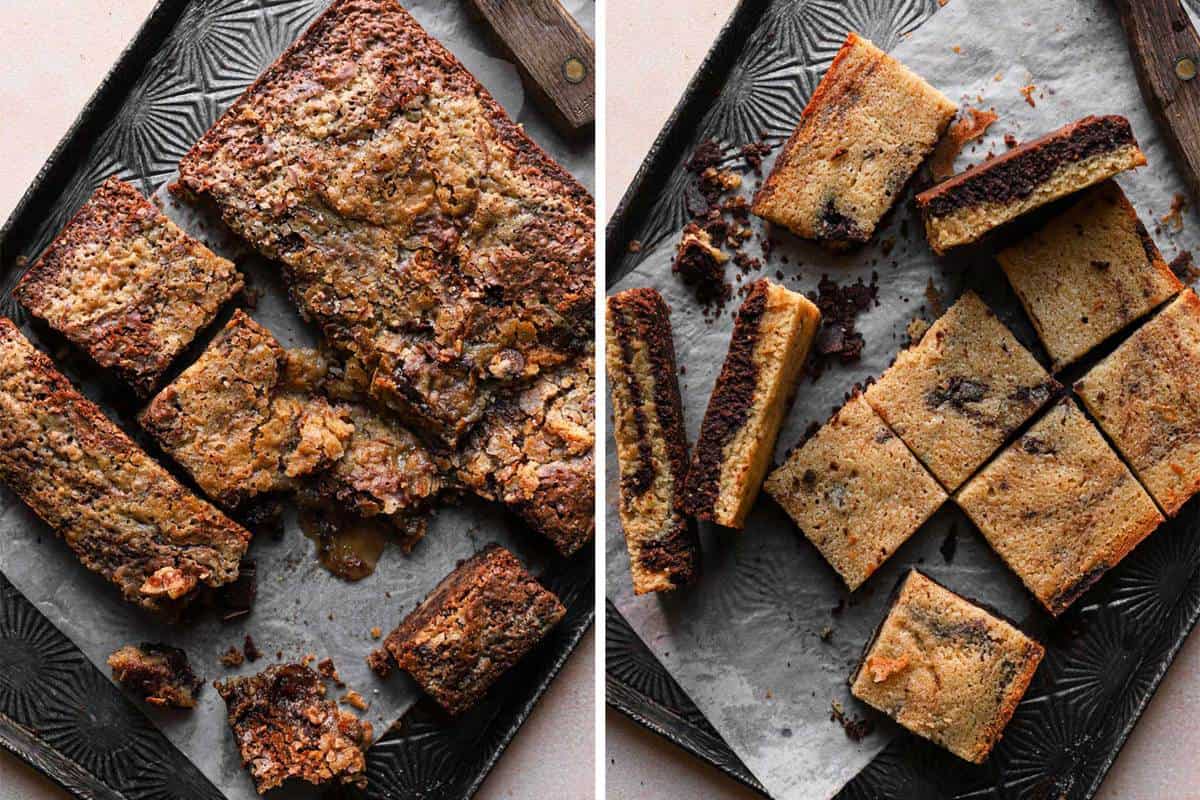 In order to achieve not too dense and not too cakey bars follow these tips:
If possible, invest in a high quality kitchen scale. I believe that this is the most important tool for any baker, even more so than a stand mixer. Check out this Baking Conversions post for exact measurements.
Make sure the ingredients are all at room temperature, mainly the eggs. This is key for a tender texture.
For both recipes, add the flour into the wet ingredients at the same time. That means that you will need to make the brownie batter then set it aside before adding the dry ingredients. Then prepare the blondie batter fully. Once it is ready, mix in the flour to the brownie mix. Then pour in the blondie brownie mix into the pan as the recipe instructs. This extra step will ensure the flour will not soak up whatever little liquid is in the batter and "dry" it out.
The cookies are ready when a cake tester comes out dry with some moist crumbs around them. The top should be golden brown.
Allow the cookies to cool completely in the pan before removing them. There is no need to use a wire rack, they will break if removing too soon.
Storing
Best to store the cookies at room temperature in an airtight container for up to 3 days.
Do not refrigerate.
You can freeze them for up to 4 weeks. Wrap in groups of 4 using a plastic wrap, then cover with an aluminum foil or a freezer bag and freeze.
FAQ
What is the difference between blondies and brownies?
The presence or lack of chocolate.
Can I use salted butter?
Yes, remove the salt.
Can I use egg substitution?
Yes. Use what you are familiar with.
What is a blondie brownie made of?
A combination of the two baked together.
Are my blondies supposed to be gooey?
Yes, in a tender chewy way. If it does not set it is too gooey.
Why are my blondies greasy?
You did not mix in the eggs at the right time or the eggs you used are too small.
Can I use white sugar?
Yes, but I do not recommend it. It will affect the tender chewy texture of the bars.
Why is there no baking powder in the recipe?
It will create a light cakey texture.
Can I bake this recipe in a 9″x13″ pan?
Yes. Make sure to double the recipes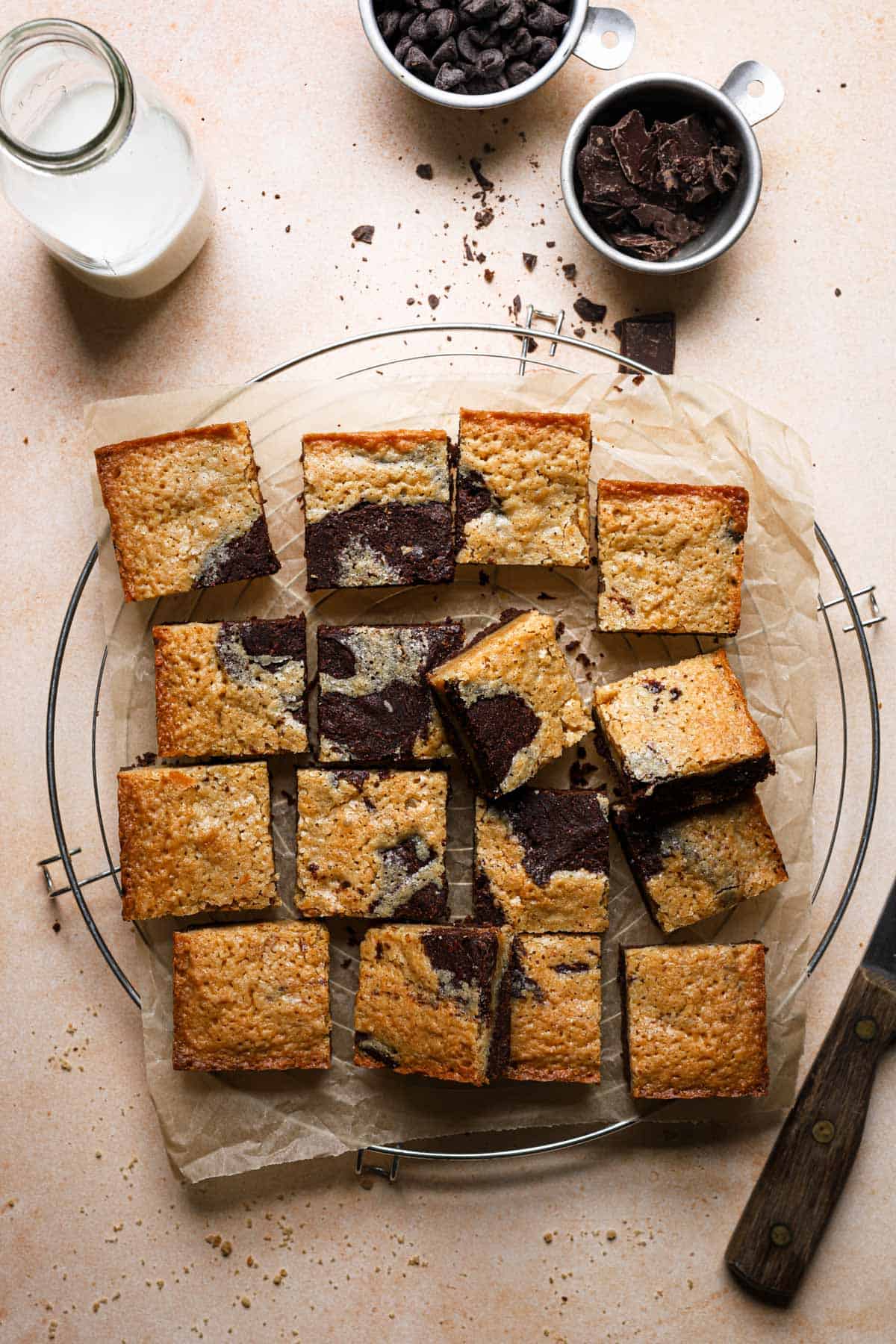 More recipe you might like
Vanilla bean cake, Sponge cheesecake, Brioche Donuts
DID YOU TRY THIS RECIPE?
If you tried this recipe or any other recipe by One sarcastic Baker baking blog, please take a movement to rate and comment at the end of each recipe. Your questions, ideas, and thoughts are priceless, and here at OSB we value them more than butter!
And don't forget to tag me on Instagram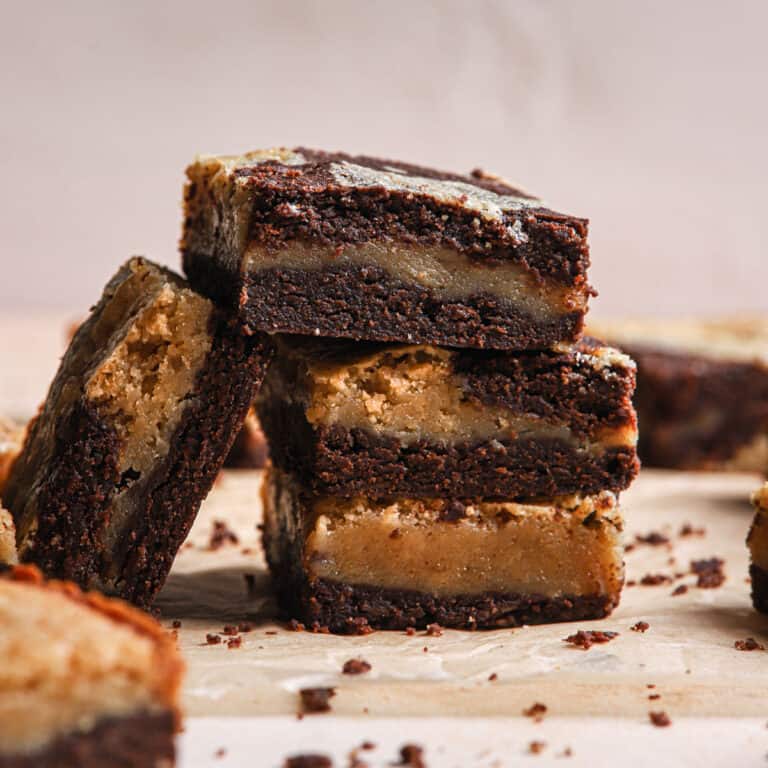 Brownie Blondies
The best of both worlds: blondie and brownie. Rich and dense texture brownie bottom topped with a gooey blondie layer with a chewy texture
Ingredients
Brownie batter
6

TBSP

Unsalted butter

(85 g / 3 oz)

1/2

cup

Unsweetened chocolate, chopped

(85 g / 3 oz)

1/2

cup

Dark brown sugar

(100 g / 3.5 oz)

1

Large

Egg

1

Large

Egg yolk

1/2

Cup

All purpose flour

(60 g / 2 oz)

1/4

tsp

Salt
Blondie batter
1/2

Cup

Unsalted butter,melted

(113 g / 4 oz)

3/4

Cup

Light brown sugar

(150 g / 5 oz)

1

Large

Egg

1/2

Cup

All-purpose flour

(60 g / 3 oz)

1/4

tsp

Salt
Instructions
Brownie
Preheat oven to 350F and line 8"x8" square pan with parchment paper.

Place the butter and chopped chocolate in a medium bowl and melt together. You can use the microwave or a double broiler.

Add the sugar and mix until incorporated then mix in the egg and egg yolk. Set aside while you make the blondie batter.

Fold in the flour and salt and mix until fully blended.
Blondie
In a medium bowl, mix the melted butter and sugar then mix in the egg.

Fold in the flour and salt. (at this stage you can fold the flour into the brownie batter)
Assemble
Pour the brownie batter into the prepared pan then the blondie batter.

Use a knife to create a few swirls hen bake for 22 minutes. The blondies are ready when a toothpick comes out with a few moist crumbs from the center.

Remove from the oven and alow to completely cool before inverting and slicing.