Last updated on March 2nd, 2022.
Baking conversions and conversion charts are important and essential for all home bakers whether here in the United States or anywhere in the rest of the world. Consistent results are an important thing in baking, and for our grandmother's recipe collection to work, we need to convert recipes from standard measurements (volume measurements like 1 cup of butter, or 1 cup of flour) to the imperial measurements (volume ounces, and fl oz) or the metric measurements (grams).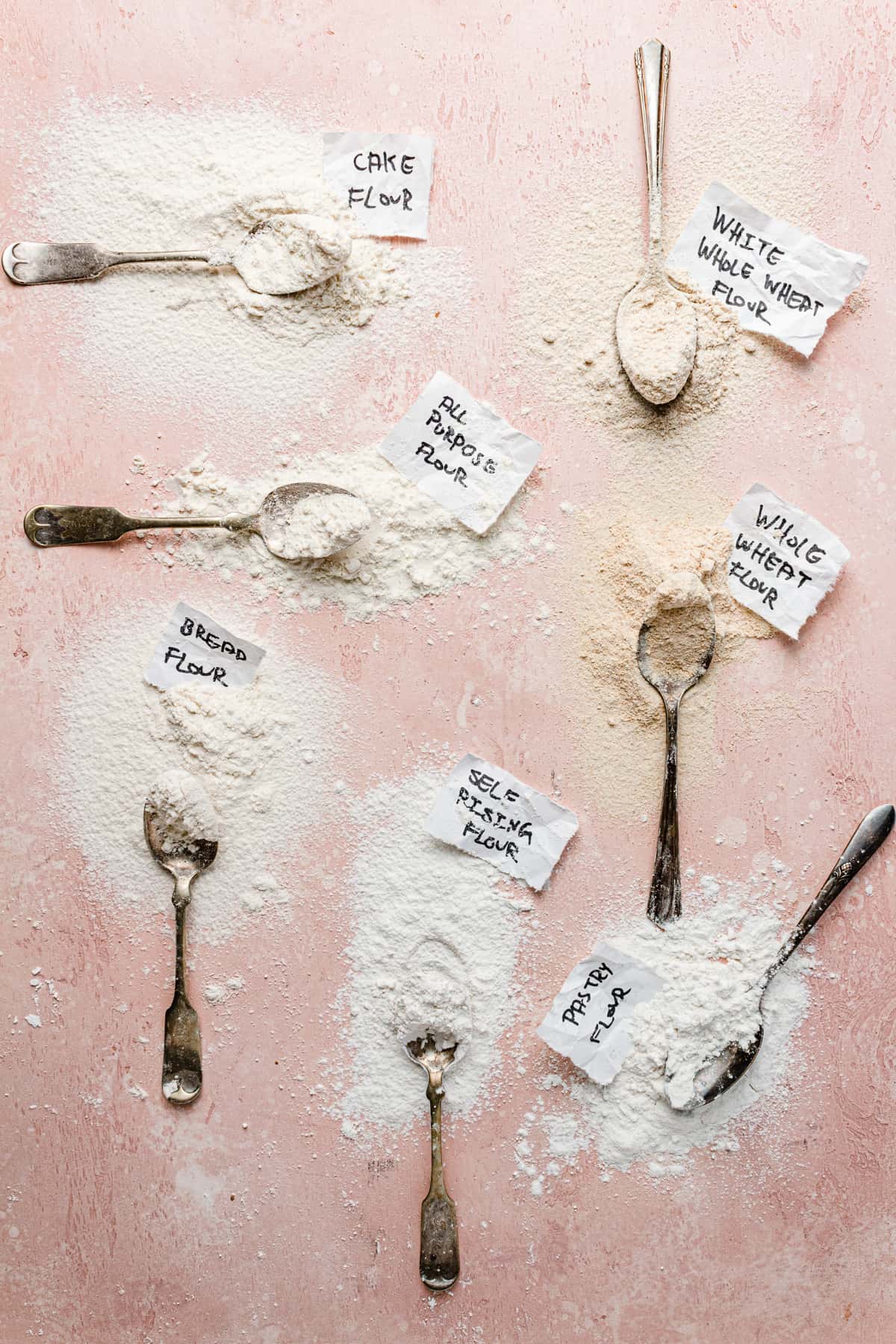 The most accurate way to convert any weight measurements of common ingredients is with a kitchen scale, preferably a digital scale. As well as using the metric system (the most accurate weight system).
Below are different baking conversions charts grouped by ingredients and organized in alphabetical order. Dry ingredients are converted into Grams and Ounces (OZ). For example, 1 cup of cake flour is 120 grams or 4 oz.
Liquid ingredients are converted into Grams, Ounces, ML, and fluid ounces (fl oz), for example, 1 cup of milk weighs 240 grams, 8 oz, and is a cup equals 240 ML, 8 fl oz. Using liquid measuring cups is a great option for different liquids such as milk or even vegetable oil.
I hope you'll find these Baking Conversions charts helpful, and if you have any other ingredients in mind you think should be a part of the collection, feel free to send me an email to dee@onesarcasticbaker.com, or you can DM me via my Instagram account.
Chocolate
Volume
Grams
OZ
Chocolate chips
Chopped chocolate
1 cup
1/2 cup
170
85
7 1/2
3 1/2
Cocoa powder (unsweetened)
1 cup
1/2 cup
1/3 cup
1/4 cup
1 TBSP
90
45
30
23
6
3
1 1/2
1
3/4
1/4
Dutch Process (unsweetened)
1 cup
1/2 cup
1/3 cup
1/4 cup
1 TBSP
96
48
32
26
8
3 1/2
1 1/2
1
1
1/3
Dairy
Volume
Grams
OZ
ML
FL OZ
Buttermilk
1 cup
1/2 cup
1/3 cup
1/4 cup
1 TBSP
227
114
75
56
14
8
4
3
2
1/2
240
120
80
60
15
8
4
3
2

Cottage cheese
1 cup
1/2 cup
1/3 cup
1/4 cup
1 TBSP
234
117
84
65
15
8 1/2
4
3
2
1/4
240
120
80
60
15
8
6
3
2

Heavy cream
1 cup
1/2 cup
1/3 cup
1/4 cup
1 TBSP
230
115
83
57
14
8 1/2
4
3
2
1/2
240
120
80
60
15
8
4
3
2

Cream cheese
1 cup
1/2 cup
1/3 cup
1/4 cup
1 TBSP
225
112
75
57
14
9
4 1/2
3
2 1/4
1/2
Evaporated milk
1 cup
1/2 cup
1/3 cup
1/4 cup
1 TBSP
253
126
85
63
16
9
4 1/2
3
2 1/4
1/2
240
120
80
60
15
8
4
3
2

Milk
1 cup
1/2 cup
1/3 cup
1/4 cup
1 TBSP
240
120
80
60
15
8 1/2
4 1/4
3
2
1/2
240
120
80
60
15
8
4
3
2

Ricotta
1 cup
1/2 cup
1/3 cup
1/4 cup
1 TBSP
248
124
83
62
15
9
4 1/2
3
2 1/4
1/2
240
120
80
60
15
8
4
3
2

Sour cream
1 cup
1/2 cup
1/3 cup
1/4 cup
1 TBSP
225
112
75
57
14
8
4
3
2
1/2
240
120
80
60
15
8
4
3
2

Sweetened condensed milk
1 cup
1/2 cup
1/3 cup
1/4 cup
1 TBSP
300
150
100
75
19
10 1/2
5 1/2
3 1/2
3
2/3
240
120
80
60
15
8
4
3
2

Eggs
Volume
Grams
OZ
Egg, whole (whole egg)
Egg yolk
Egg white

1 large


55
18
37
2
1/2
1 1/2
Egg white powder
1/4 cup
1 TBSP
1 tsp
24
6
2
1
1/5

Fats
Volume
Grams
OZ
ML
FL OZ
Butter (salted or unsalted butter)
1 cup (2 sticks)
1/2 cup (1 stick)
1/3 cup
1/4 cup (1/2 stick)
1 TBSP
225
113
75
55
14
8
4
2 1/2
2
1/2
Coconut butter
1 cup
1/2 cup
1/3 cup
1/4 cup
1 TBSP
248
124
82
62
15.5
9
4 1/2
3
2
1/2
240
120
80
60
15
8
4
3
2

Lard
1 cup
1/2 cup
1/3 cup
1/4 cup
1 TBSP
200
100
65
50
12.5
7
3.5
2 1/4
2
1/2
Margarine
1 cup (2 sticks)
1/2 cup (1 stick)
1/3 cup
1/4 cup (1/2 stick)
1 TBSP
225
113
75
55
14
8
4
2 1/2
2
1/2
Oil (olive oil, vegetable oil)
1 cup
1/2 cup
1/3 cup
1/4 cup
1 TBSP

200
100
65
50
12.5

7
3.5
2 1/4
2
1/2

240
120
80
60
15

8
4
3
2


Vegetable shortening
1 cup
1/2 cup
1/3 cup
1/2 cup
1 TBSP
192
86
64
48
12
7
3
2
1/2

240
120
80
60
15
8
4
3
2

Flour and starches
Volume
Grams
Oz
All-purpose flour
1 cup
1/2 cup
1/3 cup
1/4 cup
1 TBSP
120
60
40
30
10
4 1/4
2
1 1/2
1
1/3
Bread flour
1 cup
1/2 cup
1/3 cup
1/4 cup
1 TBSP
120
60
40
30
10
4 1/4
2
1 1/2
1
1/3
Cake flour, unbleached
1 cup
1/2 cup
1/3 cup
1/4 cup
1 TBSP
120
60
40
30
10
4 1/4
2
1 1/2
1
1/3
Cake flour, bleached
1 cup
1/2 cup
1/3 cup
1/4 cup
1 TBSP
113
55
38
28
9
4
2
1/2
1
1/3
Oat flour
1 cup
1/2 cup
1/3 cup
1/4 cup
1 TBSP
102
50
33
25
8
3 2/3
1 3/4
1 1/4
1
1/3
Pastry flour
1 cup
1/2 cup
1/3 cup
1/4 cup
1 TBSP
102
50
33
25
8
3 2/3
1 3/4
1 1/4
1
1/3
Whole wheat flour
1 cup
1/2 cup
1/3 cup
1/4 cup
1 TBSP
113
55
38
28
9
4
2
1/2
1
1/3
Corn starch
1 TBSP
1 tsp
8
2.6
1/4
Potato starch
1 TBSP
1 tsp
9
3
1/4
Fresh Fruits & Purees
Volume
Grams
OZ
ML
FL OZ
Apple puree (apple sauce)
1 cup
1/2 cup
1/3 cup
1/4 cup
1 TBSP
260
130
85
65
16
9
4 1/2
3
2
1/2
240
120
80
60
15
8
4
3
2

Blackberries
1 cup
1/2 cup
1/3 cup
1/4 cup
1 TBSP
140
70
45
35
12
5
2 1/2
1 1/2
1 1/4
1/2
Blueberries
1 cup
1/2 cup
1/3 cup
1/4 cup
1 TBSP
150
75
50
37
9
5 1/2
2 1/2
1 3/4
1 1/4
1/3
Cherries pitted
1 cup
1/2 cup
1/3 cup
1/4 cup
1 TBSP
160
80
53
40
13
5 1/2
3 1/2
2
1 1/2
1/4
Cranberries, fresh
1 cup
1/2 cup
1/3 cup
1/4 cup
1 TBSP
100
50
33
25
8
3 1/3
2
1
1
1/3
Pumpkin puree
1 cup
1/2 cup
1/3 cup
1/4 cup
1 TBSP
240
120
80
60
15
8 1/2
4 1/4
3
2
1/2
240
120
80
60
15
8
4
3
2

Strawberries, fresh
1 cup
1/2 cup
1/3 cup
1/4 cup
211
105
70
53
7.5
4
2 1/2
2
Strawberries, chopped
1 cup
1/2 cup
1/3 cup
1/4 cup

132
66
42
33
5
2
1 1/2
1
Leaveners and powders
Volume
Grams
OZ
Baking powder
1 TBSP
1 tsp
13
4.5
1/2
1/7
Baking soda
1 TBSP
1 tsp
18
6
2/3
1/5
Cream of tartar
1 TBSP
1 tsp
12
4
3/7
1/7
Dried milk powder
1 TBSP
1 tsp
21
7
2/3
1/4
Espresso powder
1 TBSP
1 tsp
7
2
1/4
Gelatin
1 TBSP
1 1/4 TBSP
1 tsp
9
7
3
1/3
1/4
1/9
Instant coffee
Malted milk powder
1/4 cup
1 TBSP
1 tsp
351 1/2
1
1/3
27
9
Yeast
1 1/4 TBSP
1 TBSP
1 tsp

9
7
3

Nuts & Dried Fruits
Volume
Grams
OZ
Apricots, dried
1 cup
1/2 cup
1/3 cup
1/4 cup
1 TBSP
190
85
65
42
14
7
3
2 1/4
1 1/2
1/2
Almond flour
1 cup
1/2 cup
1/3 cup
1/4 cup
1 TBSP
112
55
40
30
8
4
2
1 1/2
1
1/3
Almond meal
1 cup
1/2 cup
1/3 cup
1/4 cup
1 TBSP
120
60
40
30
8
4 1/4
2
1 1/2
1
1/3
Almonds, whole
1 cup
1/2 cup
1/3 cup
1/4 cup

145
72
48
36

5
3
2 3/4
1 1/3

Almond paste
1 cup
1/2 cup
1/3 cup
1/4 cup
1 TBSP
320
160
106
80
20
11 1/2
5 2/3
4
3 1/2
3/4
Almonds sliced
1 cup
1/2 cup
1/3 cup
1/4 cup
1 TBSP
1 tsp
70
35
23
18
4.5
1.5
2 1/2
2
3/4
1/2
1/7

Almonds slivered
1 cup
1/2 cup
1/3 cup
1/4 cup
1 TBSP
1 tsp
108
54
36
27
9
3
4
2
1 1/3
1
1/3

Cashews
1 cup
1/2 cup
1/3 cup
1/4 cup
1 TBSP
140
70
45
35
12
5
2 1/2
1 1/2
1 1/4
1/2
Cherries, dried
1 cup
1/2 cup
1/3 cup
1/4 cup
1 TBSP
71
35
24
17
8
2 1/2
1 1/4
1
1/2
1/3
Cranberries, dried
1 cup
1/2 cup
1/3 cup
1/4 cup
1 TBSP
130
65
43
32
8
4 1/2
2 1/4
1 1/2
1
1/3
Coconut unsweetened, shredded
1 cup
1/2 cup
1/3 cup
1/4 cup
1 TBSP
60
30
20
15
4
2
1
2/3
1/2
1/7
Coconut sweetened, shredded
1 cup
1/2 cup
1/3 cup
1/4 cup
1 TBSP
80
40
27
20
7
3
2 1/2
1
2/3
1/4
Dates, whole
1 cup
1/2 cup
1/3 cup
1/4 cup
225
112
75
60
8
4
2 1/2
2
Dates, pitted and chopped
1 cup
1/2 cup
1/3 cup
1/4 cup
1 TBSP
170
85
56
42
14
6
3
2
1 1/2
1/2
Figs, dried
1 cup
1/2 cup
1/3 cup
1/4 cup
1 TBSP
150
75
50
37
9
5 1/2
2 1/2
1 3/4
1 1/4
1/3
Hazelnuts
1 cup
1/2 cup
1/3 cup
1/4 cup
1 TBSP
140
70
45
35
12
5
2 1/2
1 1/2
1 1/4
1/2
Hazelnuts, chopped
1 cup
1/2 cup
1/3 cup
1/4 cup
1 TBSP
115
83
57
14
5
4
3
2
1/2

Macadamia nuts
1 cup
1/2 cup
1/3 cup
1/4 cup
120
60
40
30
4 1/4
2
1 1/2
1
Macadamia nuts, chopped
1 cup
1/2 cup
1/3 cup
1/4 cup
1 TBSP
150
75
50
37
9
5 1/2
2 1/2
1 3/4
1 1/4
1/3
Peanuts
1 cup
1/2 cup
1/3 cup
1/4 cup
1 TBSP
130
65
43
32
8
4 1/2
2 1/4
1 1/2
1
1/3
Pecans halves
1 cup
1/2 cup
1/3 cup
1/4 cup
1 TBSP
90
45
30
23
6
3 1/4
2
1 1/2
1/2
1/7
Pecan pieces
1 cup
1/2 cup
1/3 cup
1/4 cup
1 TBSP
120
60
40
30
10
4 1/4
2
1 1/2
1
1/3
Pistachios
1 cup
1/2 cup
1/3 cup
1/4 cup
1 TBSP
125
62.5
41
32
8
4.5
2
1 1/2
1
1/3
Poppy seeds
1 cup
1/2 cup
1/3 cup
1/4 cup
1 TBSP
144
72
48
36
9
5
2 1/2
1 1/2
1 1/4
1/3
Poppy seeds paste
1 cup
1/2 cup
1/3 cup
1/4 cup
1 TBSP
225
112
75
60
20
8
4
2 1/2
2
2/3
Raisins (packed)
1 cup
1/2 cup
1/3 cup
1/4 cup
1 TBSP
85
42
28
21
7
3
2 1/2
1
3/4
1/4
Walnuts
1 cup
1/2 cup
1/3 cup
1/4 cup
1 TBSP
100
50
33
25
8
3 1/3
2
1
1
1/3
Walnuts chopped
1 cup
1/2 cup
1/3 cup
1/4 cup
1 TBSP
115
83
57
14
5
4
3
2
1/2

Others
Volume
Grams
OZ
ML
FL OZ
Biscoff butter (cookie butter)
1 cup
1/2 cup
1/3 cup
1/4 cup
1 TBSP

240
120
80
60
20

8 1/2
4 1/4
3
2
2/3

Graham cracker crumbs
1 cup
1/2 cup
1/3 cup
1/4 cup
1 TBSP
90
45
30
23
6
3
1 1/2
1
3/4
1/4
Marshmallow fluff
1 cup
1/2 cup
1/3 cup
1/4 cup
1 TBSP

100
50
33
25
8

3 1/3
2
1
1
1/3

Mini marshmallow
1 cup
1/2 cup
1/3 cup
1/4 cup
1 TBSP
45
22
15
12
4
1 1/2
3/4
1/2
3/7
1/7
Nutella
1 cup
1/2 cup
1/3 cup
1/4 cup
1 TBSP
300
150
100
75
19
10 1/2
5 1/2
3 1/2
3
2/3
Peanut butter
1 cup
1/2 cup
1/3 cup
1/4 cup
1 TBSP
270
135
90
67.5
17
10
4 1/2
3 1/3
2 1/4
1/2
Sesame seeds
1 cup
1/2 cup
1/3 cup
1/4 cup
1 TBSP
144
72
48
36
9
5
2 1/2
1 1/2
1 1/4
1/3
Sprinkles (rainbow)
1 cup
1/2 cup
1/3 cup
1/4 cup
1 TBSP
80
40
27
20
7
3
1 1/2
1
2/3
1/4
Tahini
1 cup
1/2 cup
1/3 cup
1/4 cup
1 TBSP
128
64
43
37
12
4.5
2
1 1/2
1 1/4
1/2
240
120
80
60
15
8
4
3
2

Spices & Flavoring
Volume
Grams
OZ
Cinnamon, ground
1 TBSP
1 tsp
6
2
1/5

Citrus zest
1 TBSP
1 tsp
6
2
1/5
Ginger, ground
1 TBSP
1 tsp
9
3
1/3
Kosher salt, sea salt
1 TBSP
1 tsp
15
5
1/2
1/6
Table salt
1 TBSP
1 tsp
18
6
2/3
1/5
Vanilla extract
1 TBSP
1 tsp
14
4.5
1/2
1/7
Sugars and syrups
Volume
Grams
OZ
ML
FL OZ

Brown sugar (light and dark)
Granulated sugar
1 cup
1/2 cup
1/3 cup
1/4 cup
1 TBSP
1 tsp
200
100
65
50
12.5
4
7
3.5
2
2
1/2
1/7
Corn syrup
1/2 cup
1/3 cup
1/4 cup
1 TBSP
150
105
80
20
5 1/3
3 1/2
3
3/4
120
80
60
15
4
3
2

Honey
1 cup
1/2 cup
1/3 cup
1/4 cup
1 TBSP
1 tsp
336
168
112
84
21
7
12
6
4
3
2/3
1/3
240
120
80
60
15
5
8
4
3
2


Maple Sugar
1 cup
1/2 cup
1/3 cup
1/4 cup
1 TBSP
1 tsp
160
80
53
40
13
4
5 1/2
3 1/2
2
1 1/2
1/4
1/7
Maple syrup
1 cup
1/2 cup
1/3 cup
1/4 cup
1 TBSP
1 tsp
312
156
104
78
20
7
11
5 1/2
3 1/2
3
2/3
1/3
240
120
80
60
15
5
8
4
3
2


Molasses
1/2 cup
1/3 cup
1/4 cup
1 TBSP
150
105
80
20
5 1/3
3 1/2
3
3/4
120
80
60
15
4
3
2


Powdered sugar
1 cup
1/2 cup
1/3 cup
1/4 cup
1 TBSP
125
62.5
41
32
8
4.5
2
1 1/2
1
1/3
Turbinado sugar
1 cup
1/2 cup
1/3 cup
1/4 cup
1 TBSP
1 tsp

180
90
60
45
15
5

3 1/4
2
1 1/2
1/2
1/7