Last updated on September 4th, 2022.
Delicious, melt in the mouth traditional hamentashen cookie recipe. An easy one-bowl recipe that can be your next Purim tradition.
Don't forget to check out this S'mores Hamentashen and Biscoff butter Hamentashen cookies.
When life gives you lemons, make lemonade.
Or, as Jewish history taught us when someone tries to kill you, turn him into a cookie. Which is how we got HAMENTASHEN.
Yep. IT IS HAMENTASHEN TIME. ( Let me hear you say YEAH!!!!!!).
This triangle filled cookie is named after Hamen.
Hamen was a not so nice dude who wanted to kill all the Jews a long time ago in Persia. He failed and we turned him into a cookie, Which we eat every year during Purim. The holiday to celebrate the victory.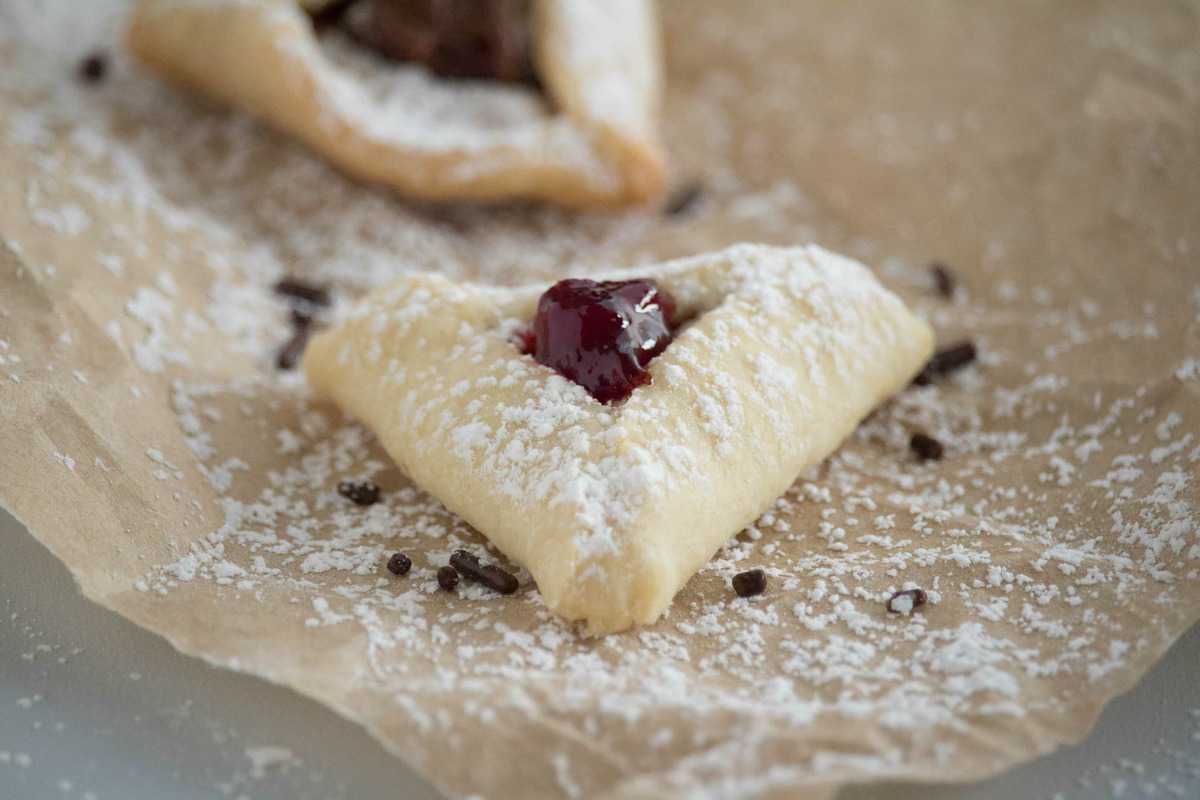 I have to say, for someone so mean, Hamen has it good.
I mean these cookies are AMAZING, and this is a very easy Hamentashen recipe! As you take your first bite, you inhale the sweet powdered sugar. Your mouth is filled with crumbly pastry that quickly melts in your mouth only so you can taste the extra texture of the delightful filling. Perfect harmonious.
Baking Hamentashen (or hamantashen, or hammentashen) is a great activity to enjoy with the kids. When Emily was in preschool, I used to bake these with her class. The kids LOVE how they make magic and turn a circle into a triangle.
These can be baked dairy or Parve (nondairy); see the recipe below for both options.
Now let's Talk about this Hamentashen recipe!
Do not overfill the cookie, a tiny drop (1/4-1/2 teaspoon) is perfect. If you do, the filling will overflow and/or flatten the cookie.
To give the cookie an extra "omph" pipe extra filling into the center of the cookie AFTER it has cooled and you sprinkled some powdered sugar.
After applying the filling, before shaping, use a small brush dipped in egg white and apply some around the side of the cookie. This will be the glue that helps the cookie to stick.
After shaping, before baking FREEZE the cookie for a minimum of 30 minutes (or days in advance). This will make sure the cookie will keep its shape and prevent it from spreading.
If you decide to freeze days in advance, make sure you lay a baking sheet between the layers so the cookies will not stick.
But, DO NOT WORRY. If some cookies do lose their shape, so what? Hamen won't mind.
For the Parve (no dairy) version:
Firstly, replace the Butter with Margarine.
Secondly, replace the Sour cream with 2 TBS orange juice + 2 TBS Lemon juice OR 4 TBS unsweetened apple sauce
HAPPY BAKING!!!
Here are some more cookies recipes you might like:
Also, one more thing…
Don't forget to tag @OneSarcasticBaker on Instagram if you bake this recipe. I would love to see your creations!
Love this recipe? Save it to your Cookies or Baking boards
Hamentashen
Servings
32
medium cookies
Ingredients
3

cups

AP Flour

(360 g/ 12.5 oz)

1

TBS

Baking powder

1/2

cup

Sugar

(100 g / 3.5 oz)

2

Sticks

Unsalted butter, soften

(225 g / 8 oz)

2

large

Egg yolks

4

TBS

Sour cream

1

TSP

Vanilla ext.

1

Cup

Nutella, poppy seeds filling or jam for filling
Instructions
Preheat oven to 350F and line two cookie pans with parchment paper.

Place ingredients in a big bowl, and mix with your hands until a dough form. 

Divide the into 4 pieces.

Flour the surface of your work area and roll each piece 1/4" thick.

Cut the rolled dough to a 2″ circles and apply 1/4 teaspoon of filling in the center of the dough.

Use the egg white leftover to brush some around the edges of the cut circles.


Form a triangle by lifting each circle with your two index fingers and pinching the corner where the dough meets. Repeat with the other two corners.

If time permits, place the unbaked cookies in the refrigerator or freezer for about 30 minutes.

Bake for 12 minutes. Remove from the oven and let cool before sprinkling sugar.