Last updated on June 9th, 2022.
Smores Hamentashen are made of soft and buttery shortbread dough, filled with chocolate and topped with marshmallows.
Be sure to check out this Hamentaschen recipe and this Biscoff Butter Hamentashen cookies. And if you are a S'mores fan then you will love these recipes: S'mores Pies, S'mores Bars, S'mores Babka.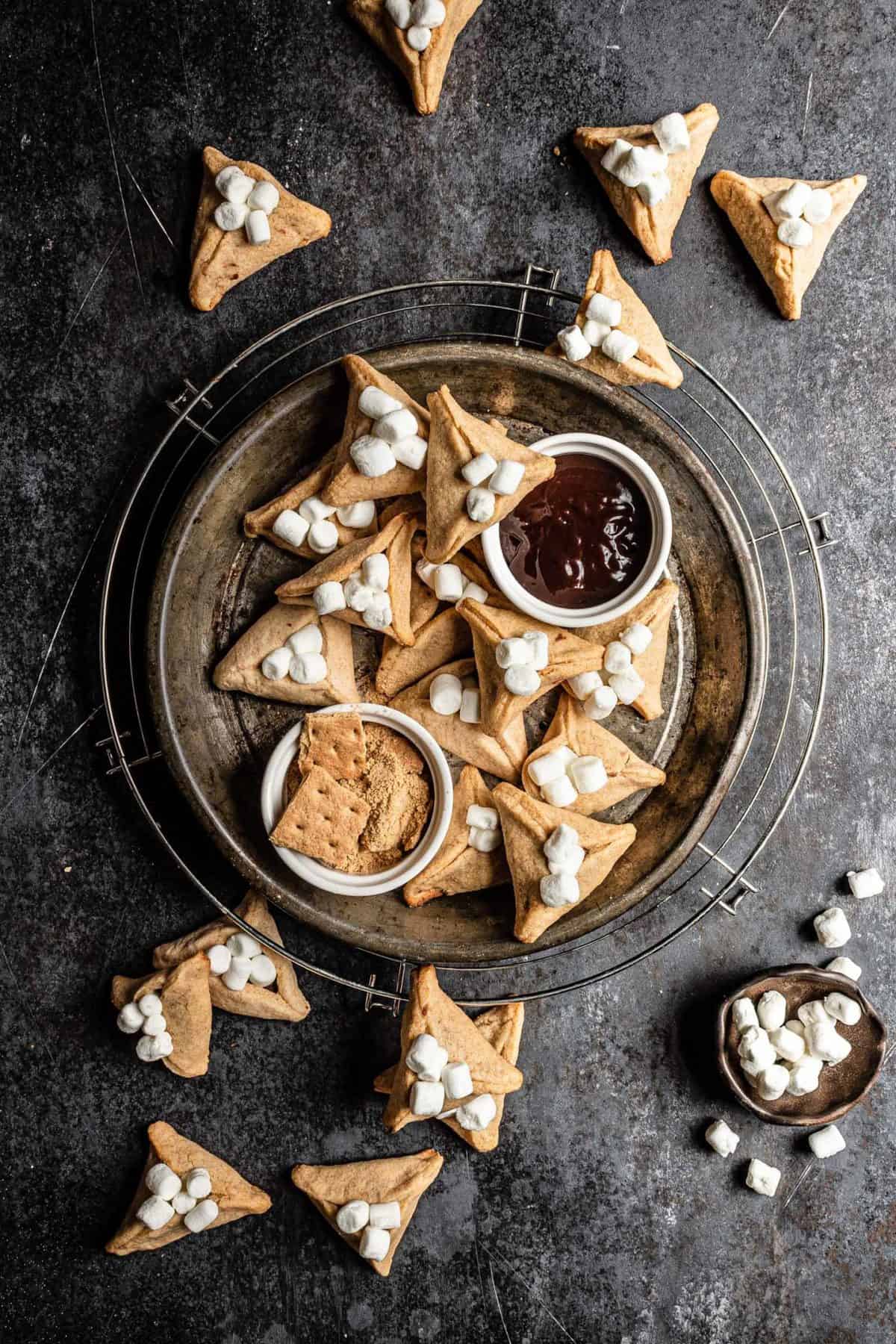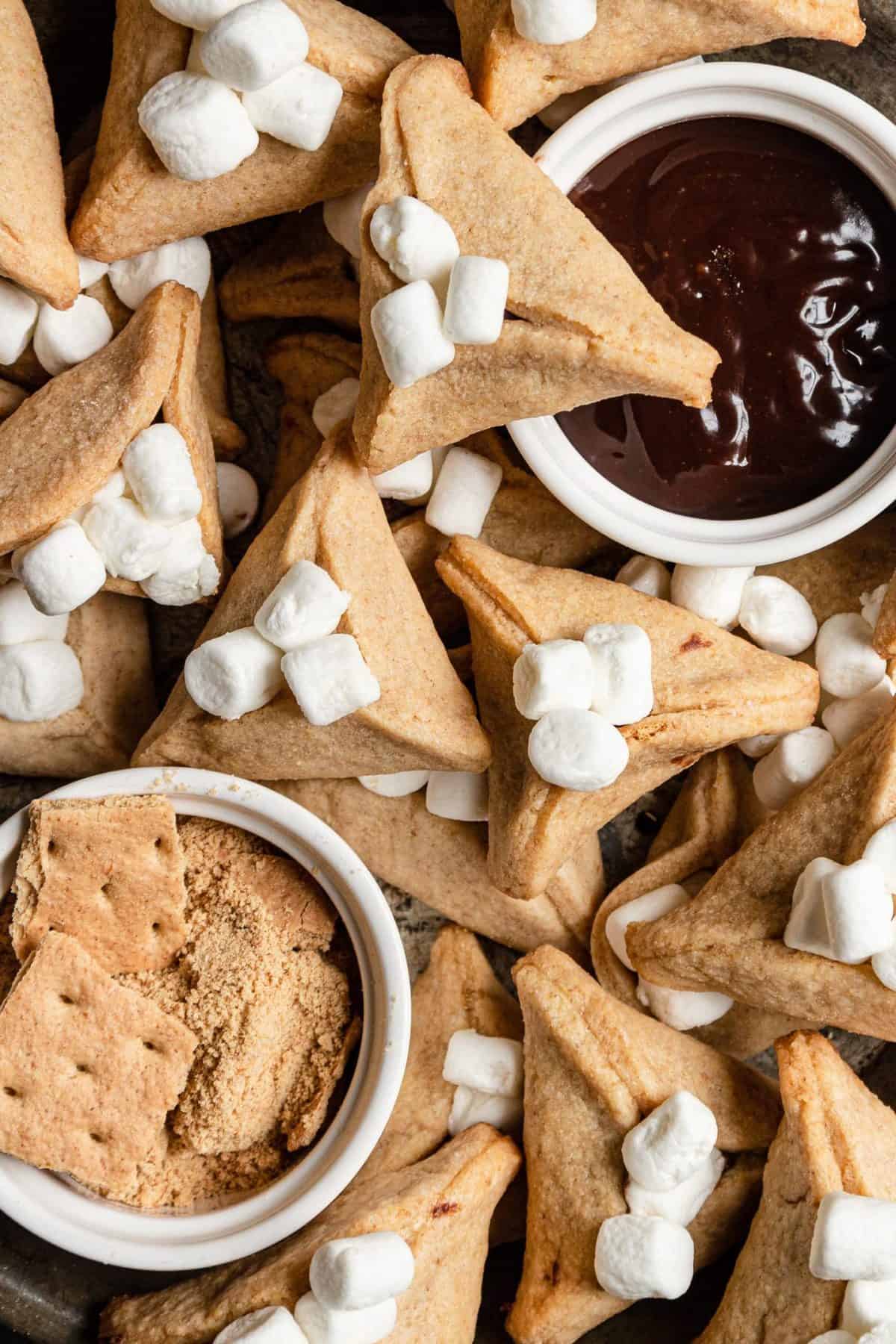 Every year comes March I roll my up sleeves and bake dozens and dozens of this delicious cookie. Baking Hamentashen for Purim has been a Jewish tradition for countless generations. One that as you can imagine I hold dear to my heart. But for some unclear reason, every time I share this treat the response is "What! You baked Hamentashen?".
Weird, right? The thought of me magically turning a circle into a triangle is just too unbearable to perceive. It appears that baking Hamentashen should be the sole responsibility of certified engineers. On the other hand, it could be a genius performance of a person being just too lazy to actually bake some.
No judgment because I am A-OK being the hero baker. And boy am I looking forward to seeing the response to this S'mores Hamentashen!
So, to create this magic you will need two things. Firstly, adding some Graham crackers crumbs to the dough. Secondly, carefully placing mini Marshmallows at the center of each cookie immediately when taking the cookies out of the oven.
During cooling time, the heat coming out of the cookies will partly melt the marshmallows. This way the marshmallows will stick together but will not deflate completely.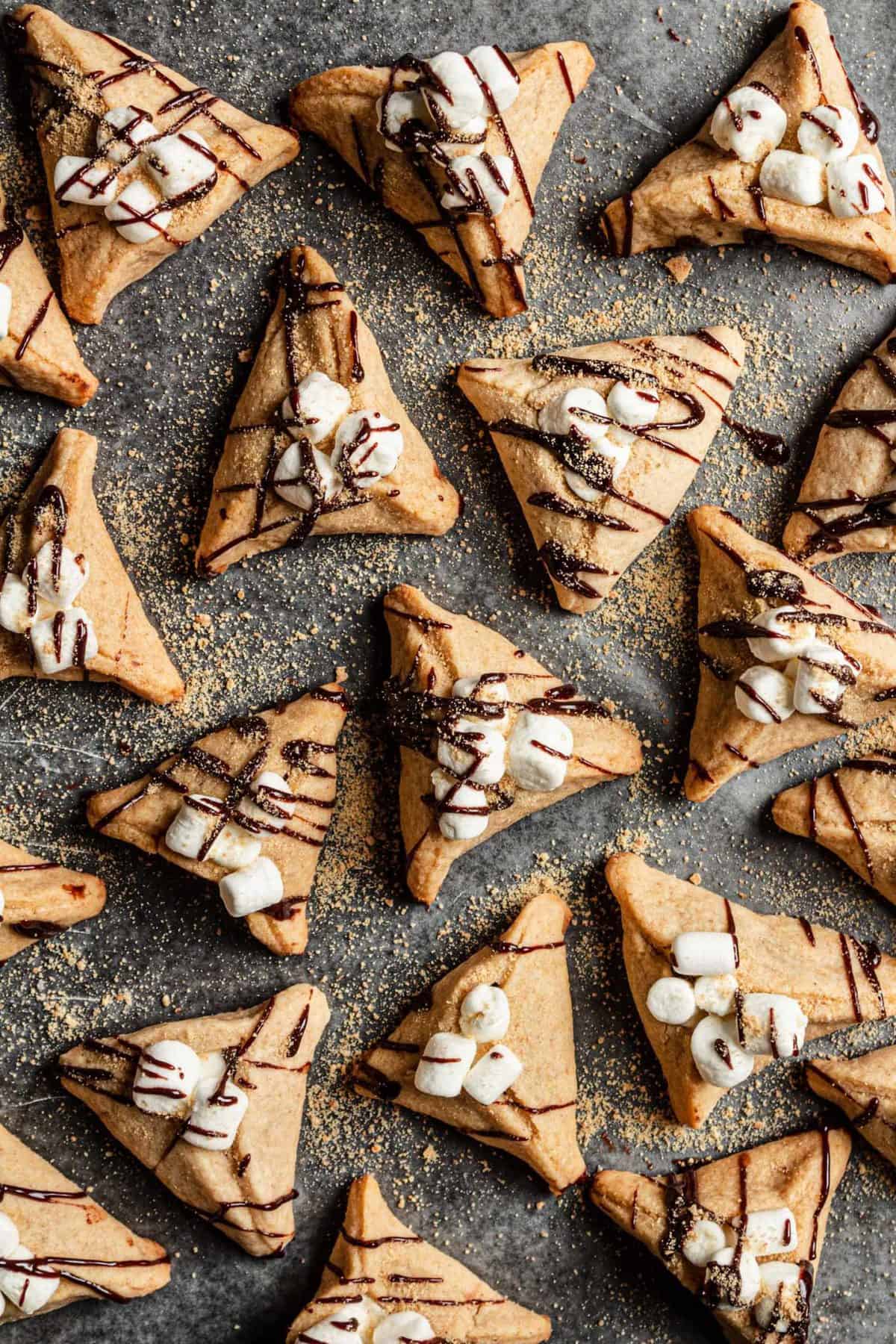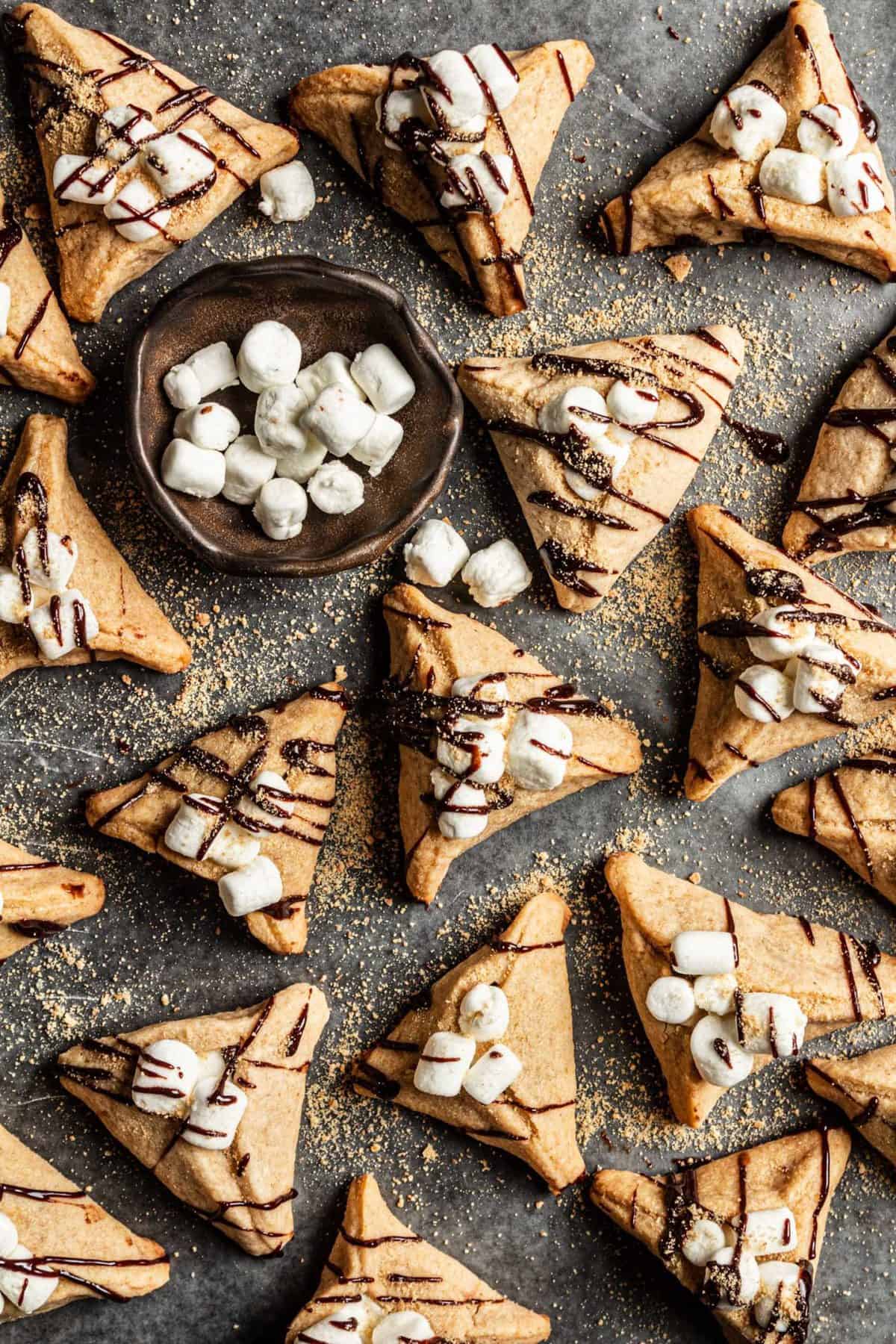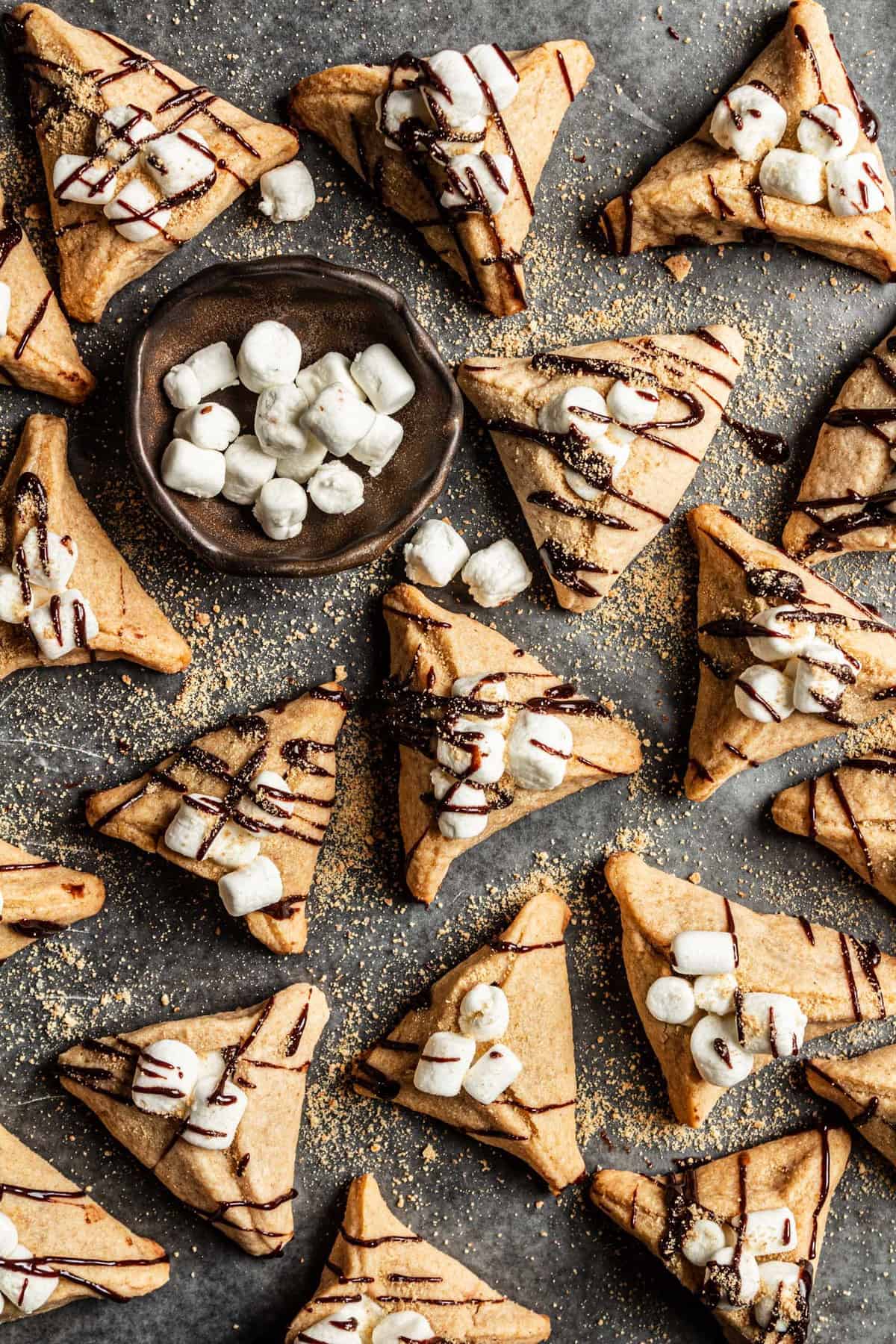 Now Let's Talk About This Smores Hamentashen:
Even though the tutorial calls to mix the dough by hand, you can use a standing mixer. However, please make sure not to over mix the dough.
While you can drizzle the cookies with melted chocolate, using a kitchen torch for an extra s'mores "touch" is also an option.
Hamentashen are triangle cookies eaten during Purim. However, this cookie can be eaten year-round. Feel free to skip the triangle look and just create a sandwich cookie. But make sure to bake the bottom first, fill it and place the top right when coming out from the over so the marshmallows will melt.
Baking hamentashen can get a bit frustrating because as the cookies bake they sometimes open up and lose their triangle shape. To avoid that I recommend not to skip brushing the dough with egg whites. And in addition, refrigerate or freeze the cookies before baking. This will allow the cookies to set before it has a chance to lose its shape.
You can make the dough and shape the cookies up to 2 weeks ahead and store in the freezer. Bake frozen and adjust baking time.
The cookies are best when stored in a tight container at room temperature up to 4 days.
Here are some more recipes you might enjoy:
Also, One more thing…
Don't forget to tag @OneSarcasticBaker on Instagram if you bake this recipe. Would love to see your creations!
Did you like this recipe and inspiring? Save THIS PIN to your Cookies OR Desserts boards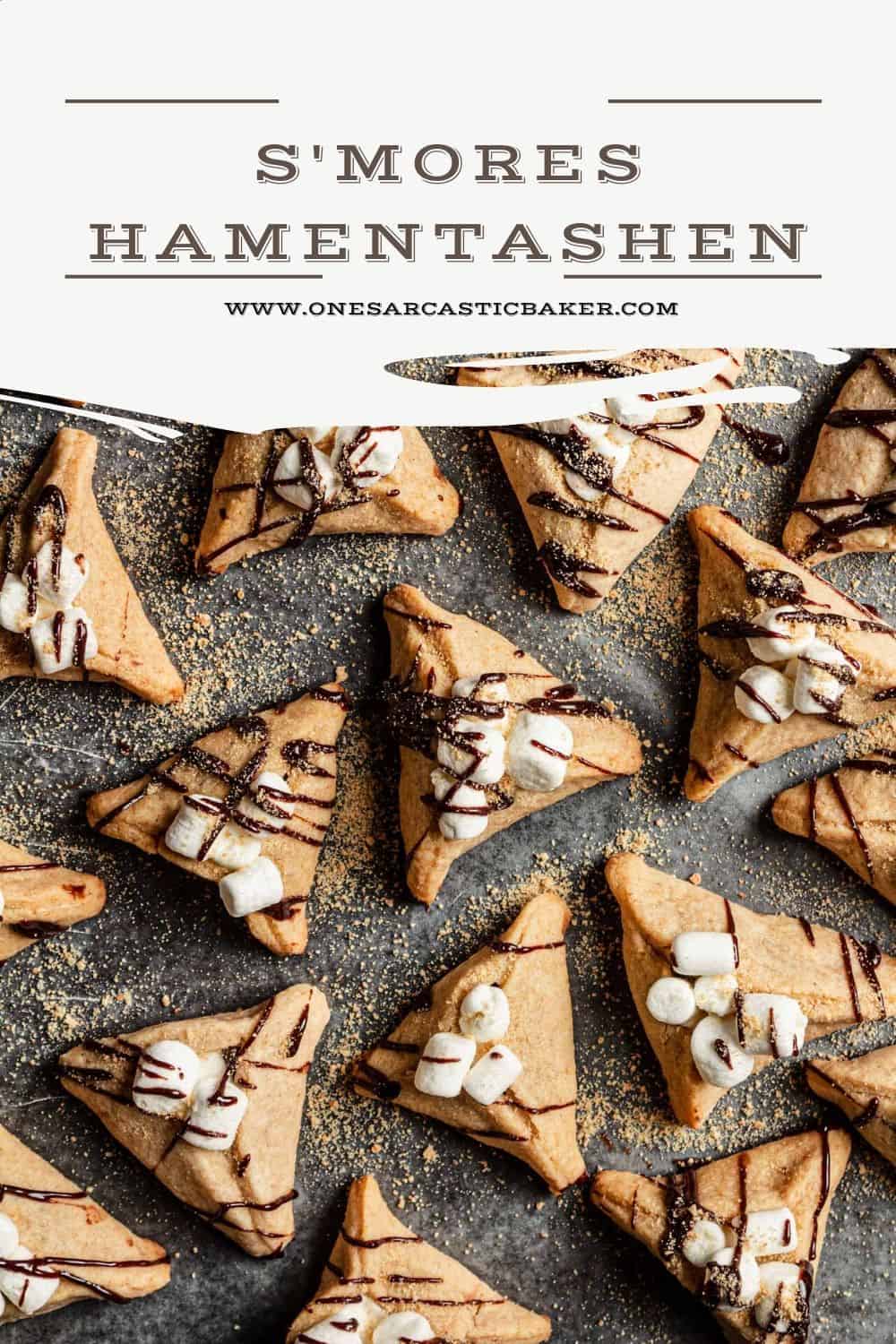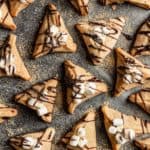 S'mores Hamentashen
Ingredients
1 1/4

Cup

AP Flour

(140 g / 5 oz)

1

Cup

Graham crackers crumbs

(90 g / 3 oz)

1

Stick

Unsalted butter, soften

(113 g / 4 oz)

1/4

Cup

Sugar

(56 g / 2 oz)

1/2

tsp

Baking powder

2

TBS

Sour Cream or heavy cream

2

Large

Egg Yolks

2

Egg whites, for pasting the dough

1/2

Cup

Chocolate spread, your choice

1

Cup

Mini Marshmallows
Instructions
Place the flour, baking powder, cookie crumbs, sugar, butter, cream and yolks in a medium bowl and mix using your hands until all the ingredients come together and form the dough.

Roll the dough into a rectangle 1/4" thick and cut 2.5" circles using a round cookie cutter.

Repeat the above step with the remaining dough.

Dip a thin pastry brush in egg whites and brush the edges of each circle. Fill the center with 1/2 tsp of chocolate spread.

To shape the triangle, using your two fingers gently lift the sides of the cut circle dough and pinch the corner where they meet. Repeat with the opposite sides.

Freeze or refrigerate the triangle-shaped cookies for a minimum of 30 minutes or overnight.

When ready to bake, preheat oven to 350F and place the cookies on a cookie sheet lined with parchment paper.

Baker for 10-12 minutes (or 15 minutes if baked frozen).

Immediately after removing the pan from the oven, gently place 3-4 mini marshmallows in the center of each cookie.

Let cool. As the cookies cool, the heat escaping will melt the marshmallows.

You can drizzle melted chocolate and sprinkle with Graham crackers crumbs or use a pastry torch to roast the marshmallows.