Last updated on May 7th, 2021.
Traditional Chocolate babka made with buttery dough, citrus zest, and spices. This Babka is the best and most comforting partner to a warm cup of coffee.
Early 20th century. Immigrant Jews from Eastern Europe now living the life of poverty in Manhattan. But this was not a race thing, just a hard economic time in the history of the USA.
Synagogues and bakeries were (still are) the center of the community. So bakers working 108 hours a week, baked what they knew using what they had. AKA Babka, a humble version for the rich Polish Baba bread baked in Poland to celebrate easter.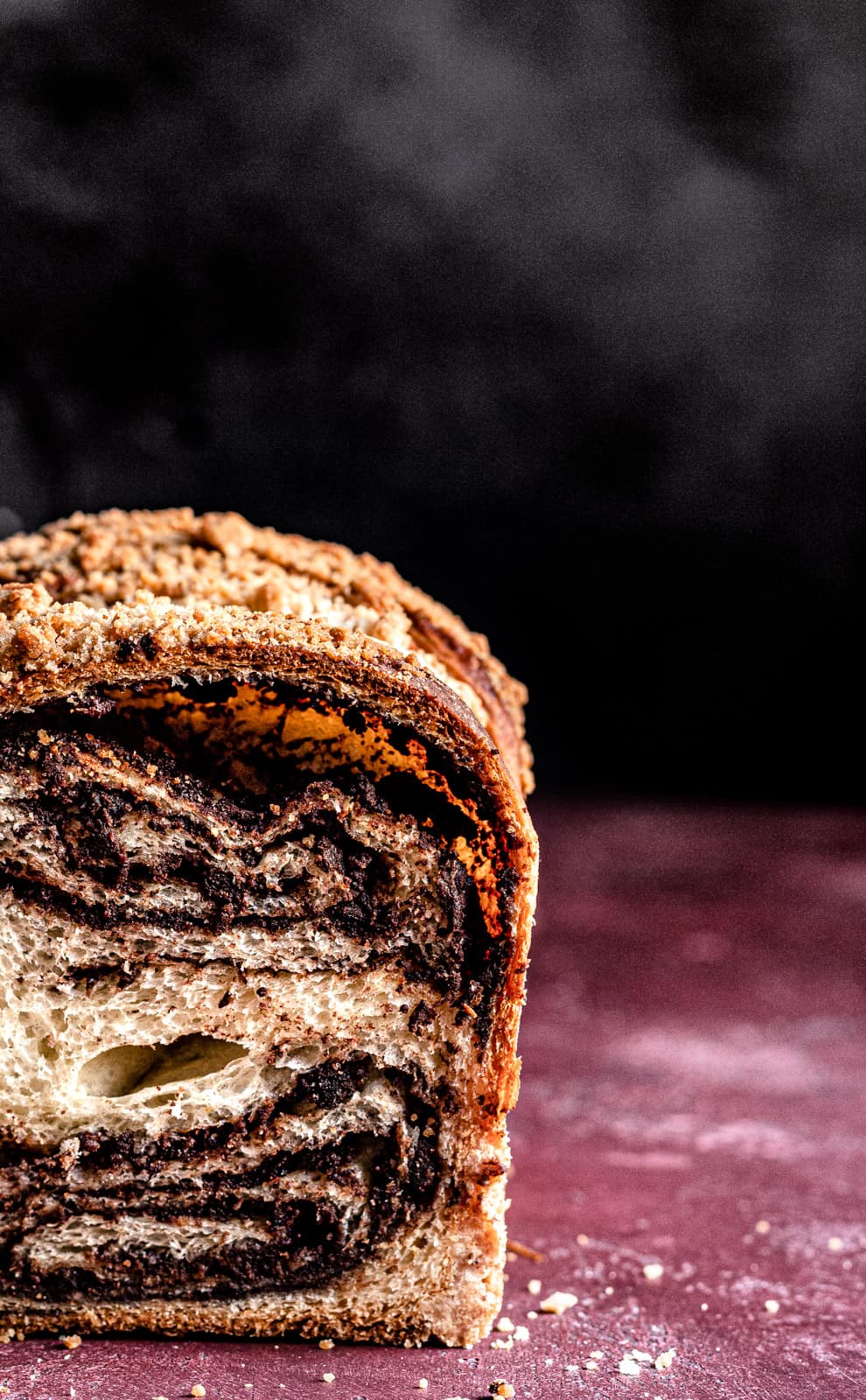 Fast forward 100 years and bakers are award-winning celebrities (or bloggers) who above all creating art in the name of cakes, cookies, pies and all sorts of desserts.
And the Babka? oh, the babka is having its own moment. It is as known and certainly as desired as cupcakes or brownies. One might say it is the Steven Spielberg of yeasted cakes. (Ok, fine Mark Zuckerberg dear millennials generation).
This recipe and tutorial is my way to give a tribute to the pioneer bakers back in the days who made lemonade out of a very sour situation.
Now Let's Talk About This Traditional Chocolate Babka:
HIGHLY RECOMMENDED: For a richer flavor, make the dough the day before. Allow it to rise, then punch it to remove all the air, divide into 2 or 3 parts, shape each part into an oval then refrigerate overnight while covered with plastic wrap. The next day, remove from the refrigerator and assemble the Babka with the dough cold from the refrigerator.
The recipe yields 2 x 8″ loaves or 1 large cake for example tube pans. You can also use 3×8″ loaf pans for smaller, not as tall cakes.
You can freeze the dough unbaked or baked. But make sure to tightly wrap the dough/baked babkas.
The dough is very delicate so make sure to roll it gently and not too thin.
I chose to sprinkle the babkas with streusel, however, you can soak it with simple syrup. (1 cup water and 1 cup sugar).
There is a dought recipe included but you can use this filling and folding technique with your very own favorite babka recipe.
Use any type of fillings, for example, Nutella, cinnamon, or even cookie butter.
HAPPY BAKING!!!
Here are some more sweet bread recipes you might enjoy:
Also, One more thing…
Don't forget to tag @OneSarcasticBaker on Instagram if you bake this recipe. Would love to see your creations!
Did you find this recipe fun and also inspiring? Save THIS PIN to your Bread OR Desserts boards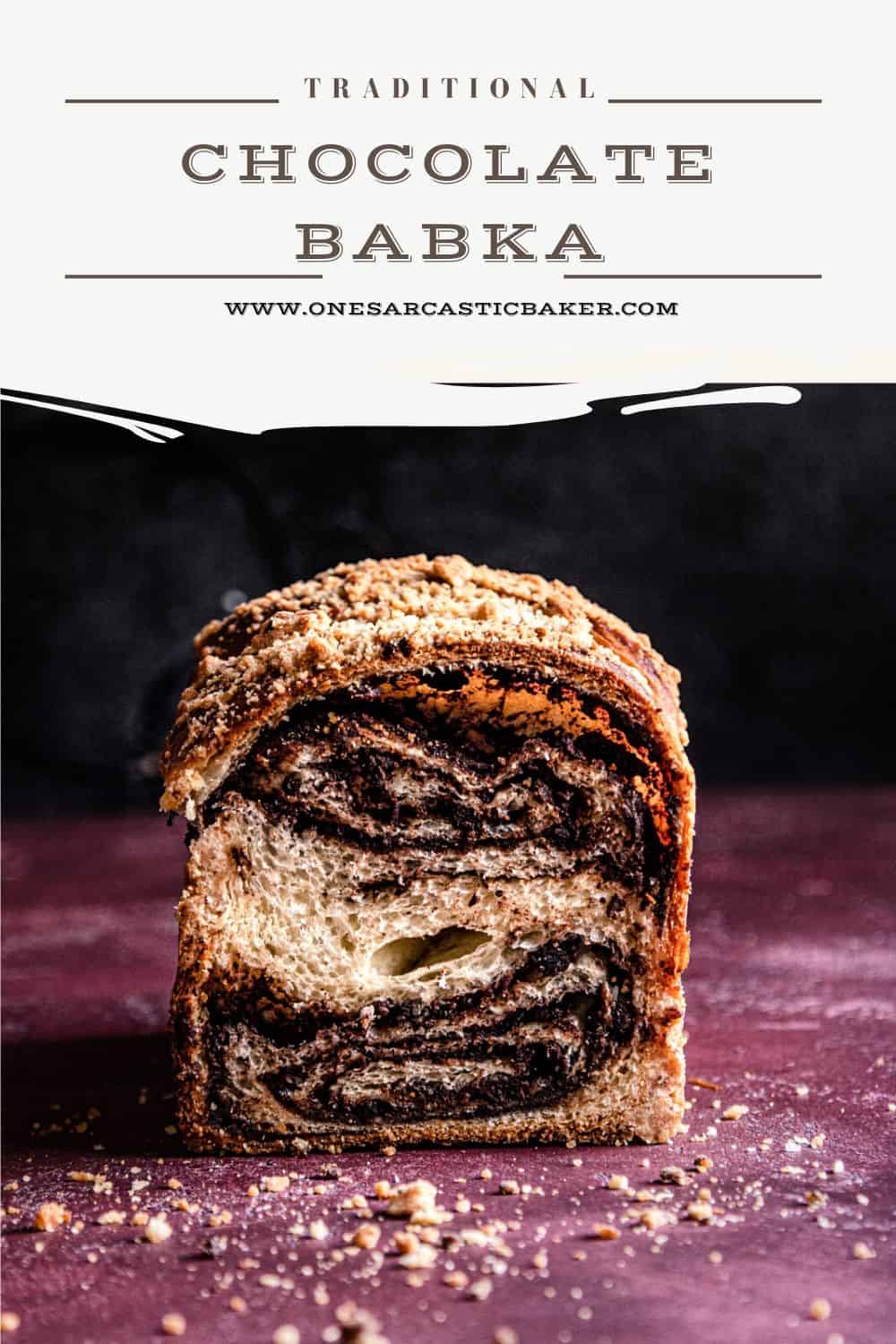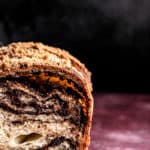 Traditional Chocolate Babka
Ingredients
Babka Dough
1/4

Cup

Warm milk (90F)

(60 ml /2 oz)

1 1/2

TBSP

Active dried yeast

(21 g )

2

TBSP

Granulated sugar

(30 g)

5

Cups

AP Flour

(600 g / 21.5 oz)

1/2

Cups

Sugar

(100 g / 3.5 oz)

1/2

tsp

Salt

1/4

tsp

Nutmeg (optional)

2

Large

Eggs

2

tsp

Vanilla

1 1/4

Cup

Full fat sour cream

(300 ml/ 11 oz)

1

Sticks

Unsalted butter, melted and cooled

(113 g / 4 oz)
Chocolate filling
1

Cup

Semisweet chocolate chips (or milk)

(170 g /6 oz)

1

Stick

Unsalted butter

(113 g / 4 oz)

1/2

Cup

Sugar

(100 g / 3.5 oz)

4

TBS

Cocoa powder

1

Cup

Toasted cake crumbs / finely chopped nuts.

(120 g / 4 oz)
Streusel Topping
1/4

Cup

Sugar

(50 g / 2 oz)

1/2

Stick

Butter, soften

(56 g / 2 oz)

3

TBS

Honey

1/2

Cup

AP Flour

(60 g / 2 oz)

1/2

Cup

Roughly chopped nuts

(60 g / 2 oz)
Instructions
Babka Dough
In a bowl of a standing mixer, mix the warm milk, 2 tbsp of sugar, and yeast and let sit for 20-25 minutes, until the mixture is frothy. That is a sign that the yeast has been activated.

In a large bowl, sift together the flour, remaining sugar, nutmeg if using, and salt. Add the mixture into the yeast mixture and with the paddle attachment, mix on low.

In a medium bowl mix together the sour cream, eggs, and vanilla then add it to the flour-yeast mixture.

Drizzle in the melted butter while the mixer is on low and mix until you have a shaggy mass.

Replace the paddle attachment with the dough attachment then mix until the dough is smooth, and the sides of the bowl are clean. This can take anything between 10-15 minutes.

Stop the mixer, spray the dough with a cooking spray then cover with a plastic wrap, and let rise until double in size about 2-3 hours.
Chocolate Filling
Using a hand mixer, beat butter and sugar until incorporated.

Melt the chocolate, add to the butter mixture following the cocoa butter and mix to incorporate.
Streusel Topping
Cream butter with sugar and honey until smooth.

Add flour and nuts and mix until a pea-sized lumps form.
Assemble
Line the bottom of the 2 8" loaf pan with parchment paper and grease the sides.

On a lightly floured surface, divide the babka dough into 3 equal parts.

Roll the first part into 12" wide and about twice the length of your pan.

Spread the dough with chocolate filling, leaving an uncoated band in the center and about 1"-2" from the bottom edge.

Sprinkle with chopped nuts or cake crumbs.

Starting with the edges furthest from you roll the dough towards you into a tight log and seal the bottom.

Fold the dough into half and twist it 3-4 times into a spiral.

Place the loaf into your prepared pan, brush with egg wash and sprinkle with streusel.

Let rise for about 2-3 hours.

Preheat oven to 350F and bake for 45-50 minutes, until the loaf is a rich brown color, and a thermometer reads 190-200F when inserted to the center of the cakes.

Remove from oven and let cool for about 10-15 minutes before removing from pan and slicing.