Last updated on December 3rd, 2022.
Cinnamon Coffee rings are sweet and comforting pastries loaded with cinnamon filling and toasted pecans.
So there is this Jewish holiday called, Yum Kippur. I won't bore you with the details but long story short, this is the time to make amends by fasting for a full 24 hours. From sundown to sundown. The idea is to focus on all the things you did wrong in the past year and how you can strive and do better.
Well, I don't know about you but I am certain I am not the only one who is not thinking clearly without her morning coffee. And as a result, during that day there is no plan on how I will better myself or search for inner peace. There is, however, a countdown for the minute I can sniff the steam coming up from my mug while holding a warm cinnamon filled sweet Cinnamon coffee ring(s).
Why this specific pastry? I have no idea nor a need for an answer. It is as good as it sounds and is the perfect companion for any time of the day coffee (or tea).
And as a true believer of love, sharing this recipe (labor of love) is just the thing that makes the most sense.
I guess you can say coffee makes a better me!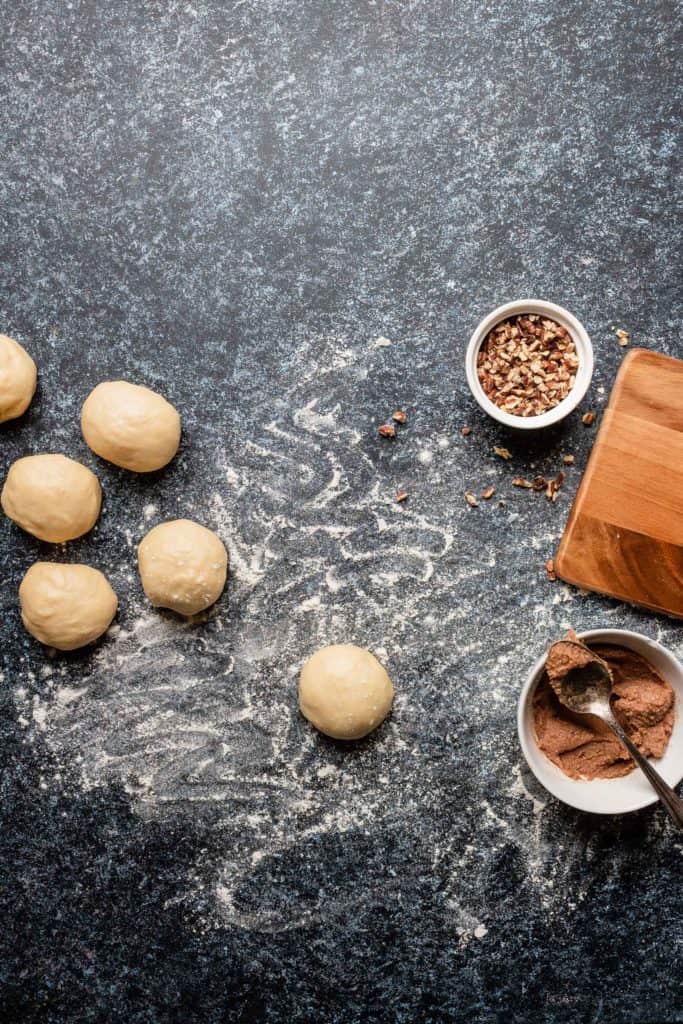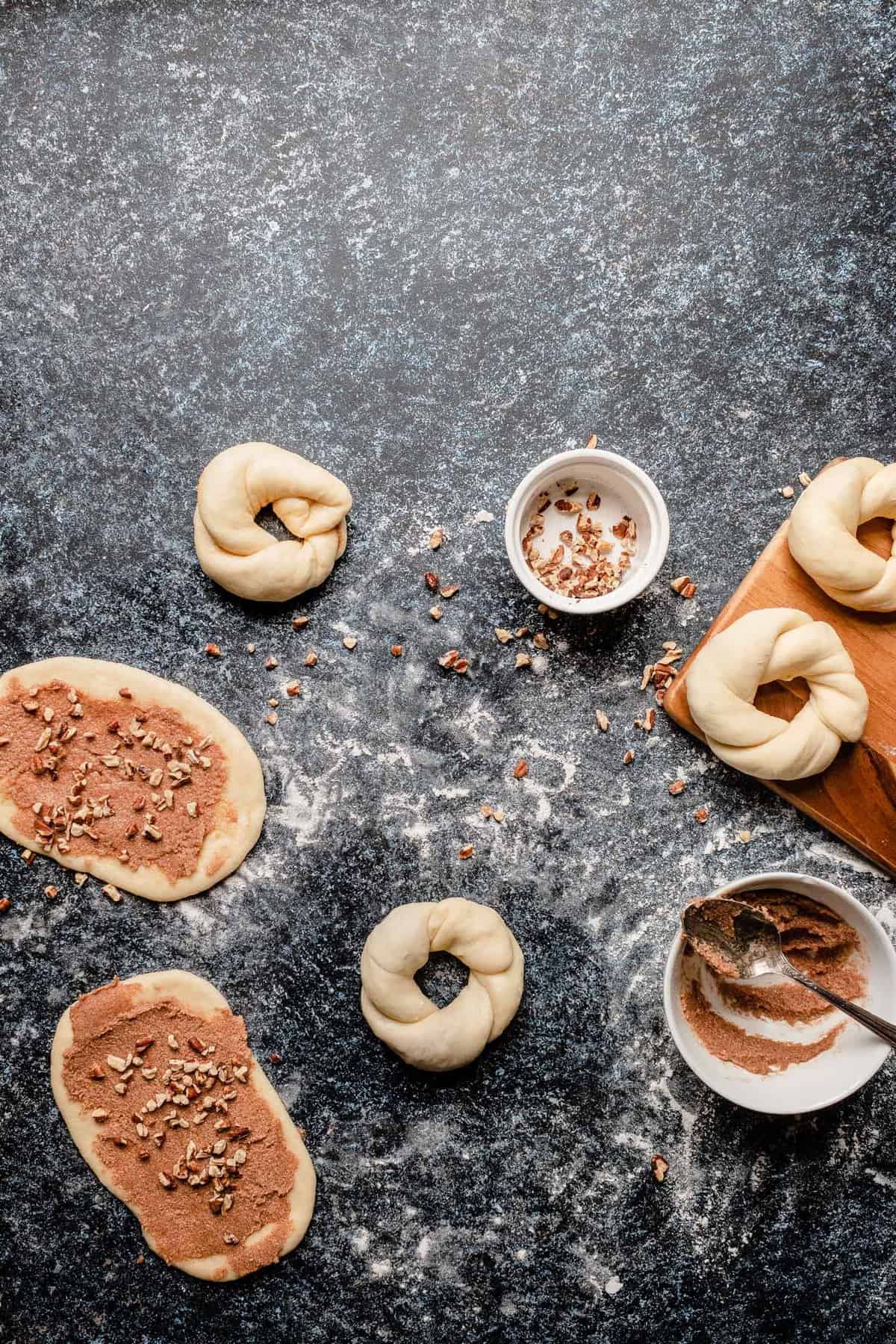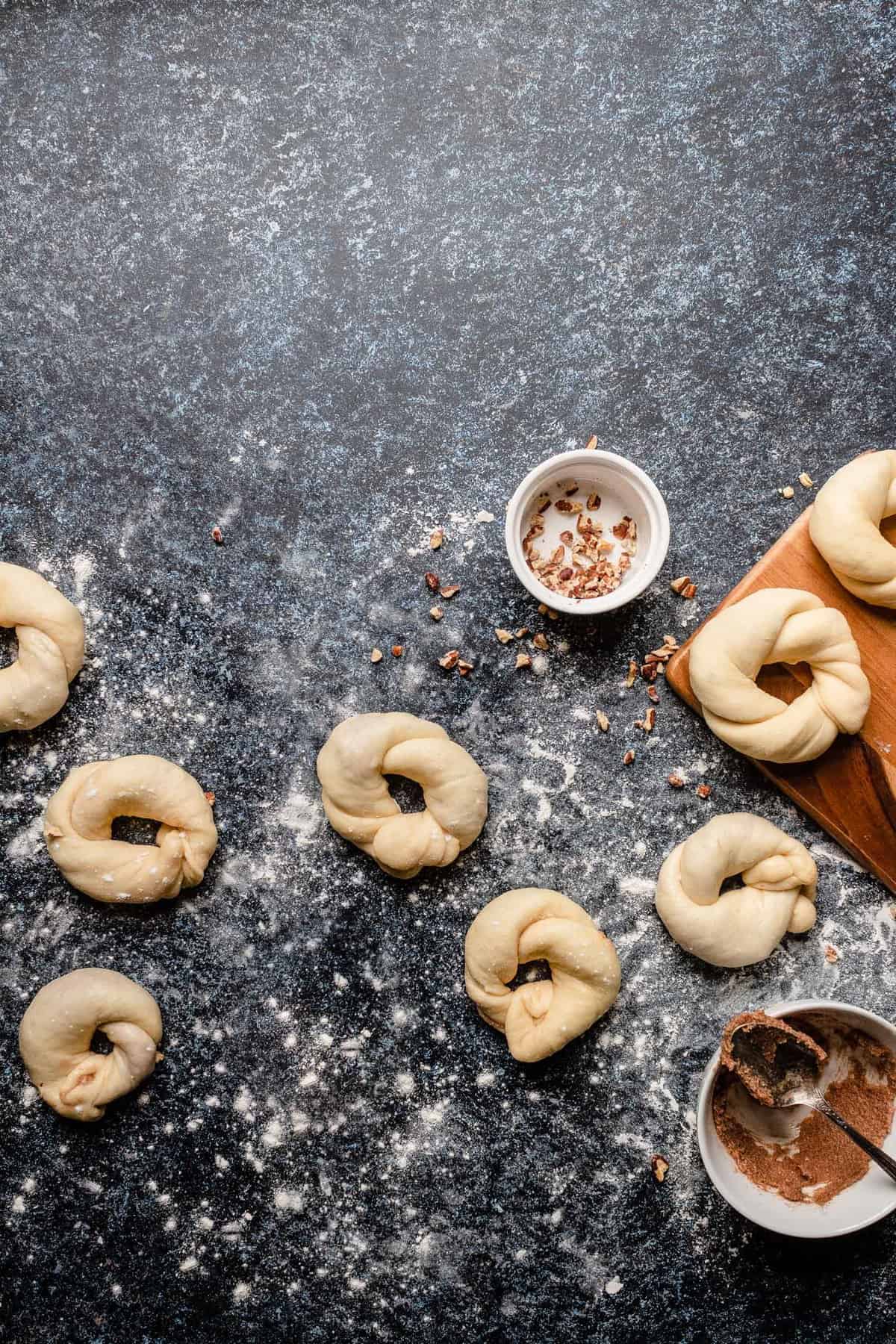 Now Let's Talk About This Cinnamon Coffee Rings Recipe:
There are two ways you can make the dough: by hand and/or using a standing mixer. Standing mixer: Use the paddle attachment when you first add the ingredients to the yeast mix. Let the ingredients mix on low and the flour hydrate. Once you have a soggy mix, replace the paddle attachment with the dough hook. By Hands: This may take about 12-15 minutes. If you feel the dough is too sticky, sprinkle some extra flour. Please remember that the dough should be soft so do not add too much flour.
It is very important to lightly grease the dough and cover before the first rest. Otherwise it the external layer might get dry and you will have a lumpy dough.
The above rolling technique is just a suggestion, feel free to use your favorite one.
You can roll the dough into 12 mini pastries or 2-3 large ones.
Chose your favorite pastry filling such as, peanut butter, Nutella, chocolate or anything that comes to your mind.
HAPPY BAKING!!!
Video by : Marie Sugar Salt Magic
Here are some more recipes you might enjoy:
One more thing…
Don't forget to tag @OneSarcasticBaker on Instagram if you bake this recipe. Would love to see your creations!
Video by @SugarSaltMagic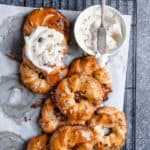 Cinnamon Coffee Rings
Ingredients
Pastry dough
1

TBS

Dry yeast

(14 g / 0.5 oz)

1

TBS

Sugar

(15 g / 0.5 oz)

1/4

Cup

Lukewarm water

(60 mk / 2 oz)

4

Cups

AP Flour

(480 g / 17 oz)

1/2

Cup

Unsalted butter, soften

(113g / 4oz)

1/2

Cup

Sugar

(100 g / 3.5 oz)

2

Large

Egg yolks

1/2

Cup

Full fat sour cream

1

tsp

Vanilla extract
Cinnamon Filling
1

Cup

Sugar

(200 g / 7 oz)

1/2

Cup

Unsalted butter, soften

(113 g / 4 oz)

3

TBS

Ground cinnamon

1

Cup

Chopped pecans

1

Large

Beaten egg, mixed with 1 tsp sugar, from brushing.
Simple syrup
1

Cup

Sugar

(200 g / 7 oz)

1

Cup

Water

(240 ml / 8 oz)
Instructions
To make the pastry dough
In a large bowl (or a bowl of a standing mixer) mix the dry yeast, 1 TBS sugar, and water. Gently stir with a fork and set aside until the mix starts to bubble. About 10-15 minutes.

Once the yeast mixture is activated and full of bubbles, add the remaining ingredients and mix until a very soft smooth dough is formed. (please see notes about mixing by hand or with a mixer)

Place the dough in a large bowl spray with some oil spray and wrap the bowl with a plastic bag. Allow the dough to rest and rise for a minimum of 2 hours.
To make the cinnamon filling
Place the butter, sugar, and, cinnamon in a bowl of a mixer and mix on high until smooth.
Roll and bake the pastries
Once the dough has risen, divide it into 12 even parts. Roll each piece into a 5"x3" rectangle.

Spread each piece with 1 TBS of the cinnamon filling and sprinkle with some pecans.

Roll the wide ends of the rectangle towards the middle of the pastry, the eds should meet.

Hold the pastry using one hand on each side and rotate it in different directions. About 5-7 times.

Shape the dough into a circle and "glue" the ends with some egg white.

Place the shaped pastry on a cookie sheet lined with baking paper. Leave about 4" space between each pastry.

Let rest and rise for the second time. About 2 hours. Preheat oven to 350F about 30 minutes before baking.

Brush the pastries with some egg wash sprinkle with some chopped pecans and bake for about 15-18 minutes. Rotate the pan halfway into baking time. As soom as you take the pastroed out of the oven, brush it with the simple syrup.
Simple syrup
While the pastries are resting for the second time, make the simple syrup simply by mixing the sugar with the water and cooking for about 5 minutes (once boiling reduce to simmer)