Last updated on November 15th, 2023.
These bakery-style Cinnamon Rolls are fluffy, tender, and the kind of pastry that makes you smack your tongue and mouth without even noticing. And yes, the sticky brown sugar cinnamon filling will absolutely fill your home with a warm comforting aroma.
This post may contain affiliate links, which means I might be earning a small commission at no cost to you.
Today we are turning a page and starting a new chapter right here at One Sarcastic Baker blog with a little new corner I am super excited about!
Welcome my friends to the Baker's Book Club, where I share some thoughts and a recipe from a baking novel I absolutely adore.
So, what is a baking novel?
Great question! I'm not so sure that it is actually an official genre but the way I can best describe it is to say that a baking novel is a novel with a strong correlation to baking (or food). And as a true believer that great music, great books, and above all great recipes are to be shared, I figured a virtual book club would be a great addition to my blog.
And so, without any further ado, I am happy and thrilled to present OSB first book:
Avery short summary:
Polly, our hero, and baker is in desperate need to distract herself from her troubles and failed relationship. and so she moves far away to the sleepy seaside resort of Polbearne, where she lives in a small, neglected flat above an abandoned shop, with a beautiful seashore view. Soon Polly throws herself into her favorite hobby: baking bread. But with every new loaf, Polly discovers new trails that lead her to an unexpected path...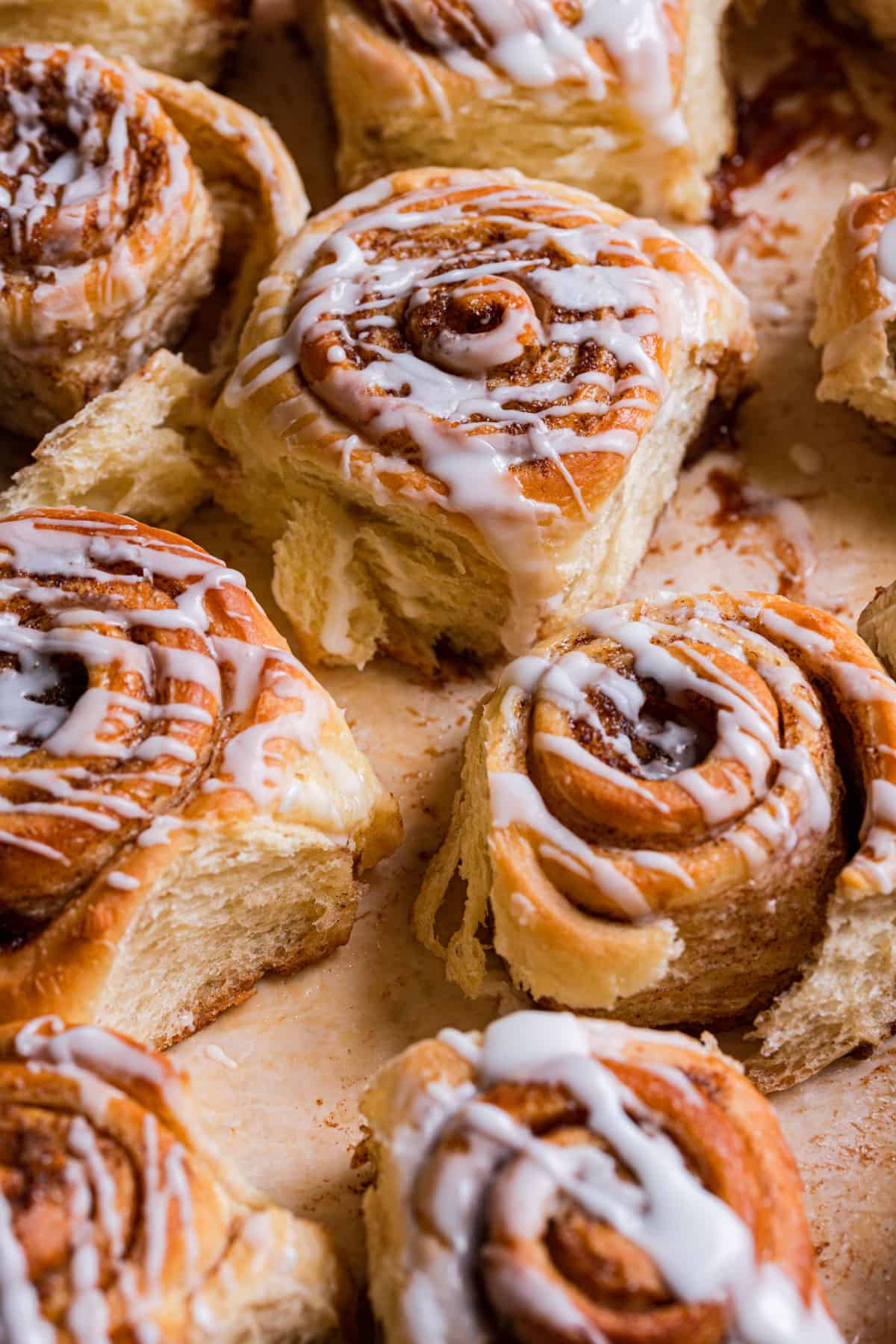 And that is all I can share without any spoilers. But I will add and say that even though baking is more in the background of the book it is truly the essence of it. This book does an amazing job of showing how baking can truly make a difference in one's life and even a whole town. Us bakers, we already know the power of baking and this book is a great way of proving us right. Oh, plus there is a huge Hallmark spirit going on with a few blue-eyed men, filthy rich American, and an unconditionally devoted best friend. But really it's all about the baking!
The book includes 7 recipes and I decided to go with cinnamon rolls because well, its cinnamon rolls. I wanted the rolls to be big and fat like you would get in a bakery so I increased the recipe by 50%.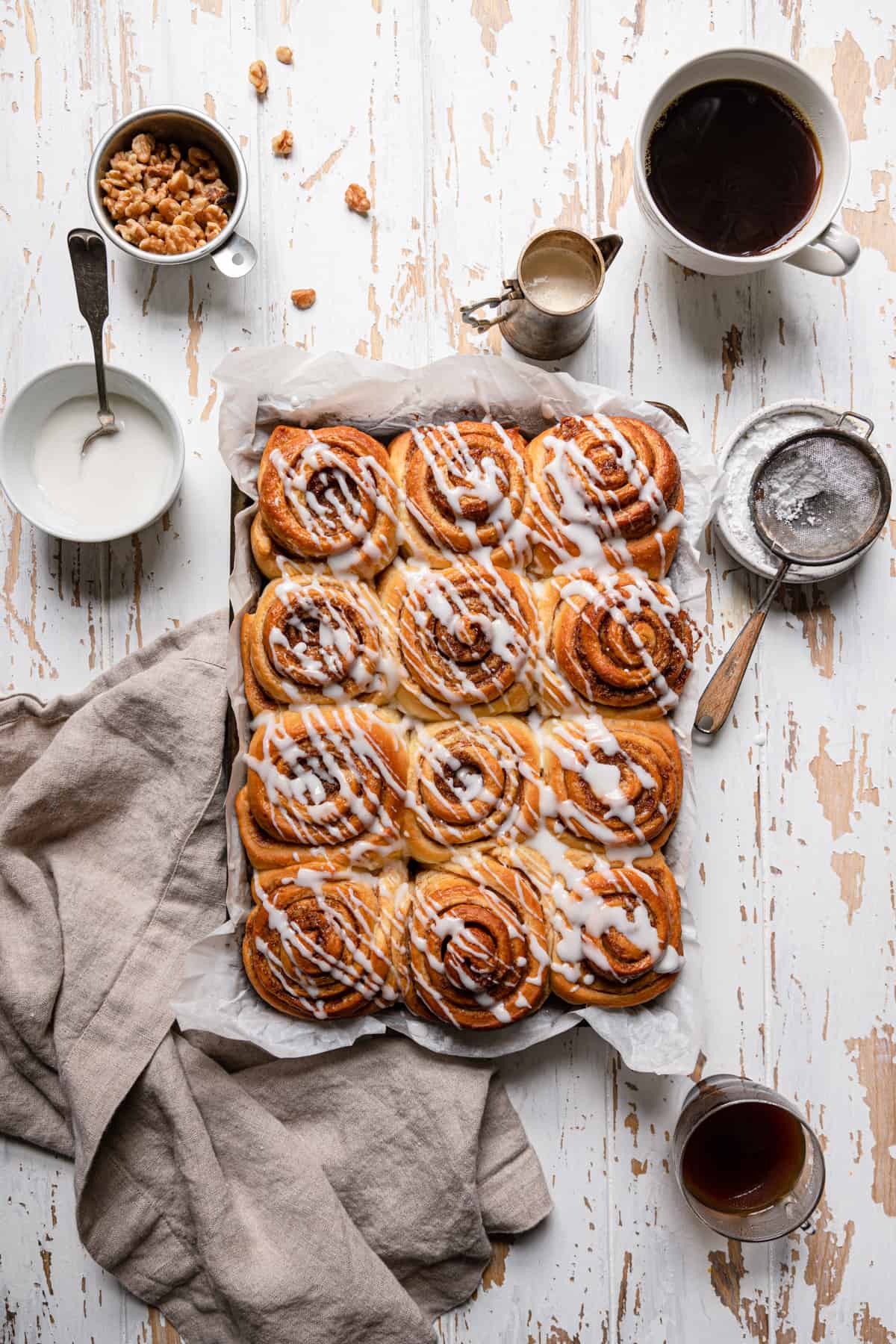 What ingredients are in this Cinnamon Rolls recipe?
Milk, use full fat, not reduced fat.
Unsalted butter (for both the dough and filling)
Sugar
Egg
Egg yolk
Dried yeast
AP Flour
Salt
Light brown sugar (for the filling)
Ground cinnamon (for the filling)
How to make this Cinnamon Rolls recipe?
Even though this recipe has 3 steps and two rest time it super simple steps:
Step 1- making the dough:
Warm-up together the milk, butter, and sugar then allow it to cool.
Mix the milk mixture with 2 cups of flour, yeast, salt, and beaten egg and egg yolk.
Sprinkle in the remaining of the flour then knead until smooth about 5 minutes using a standing mixer, 8-10 minutes by hand.
Let rest and rise.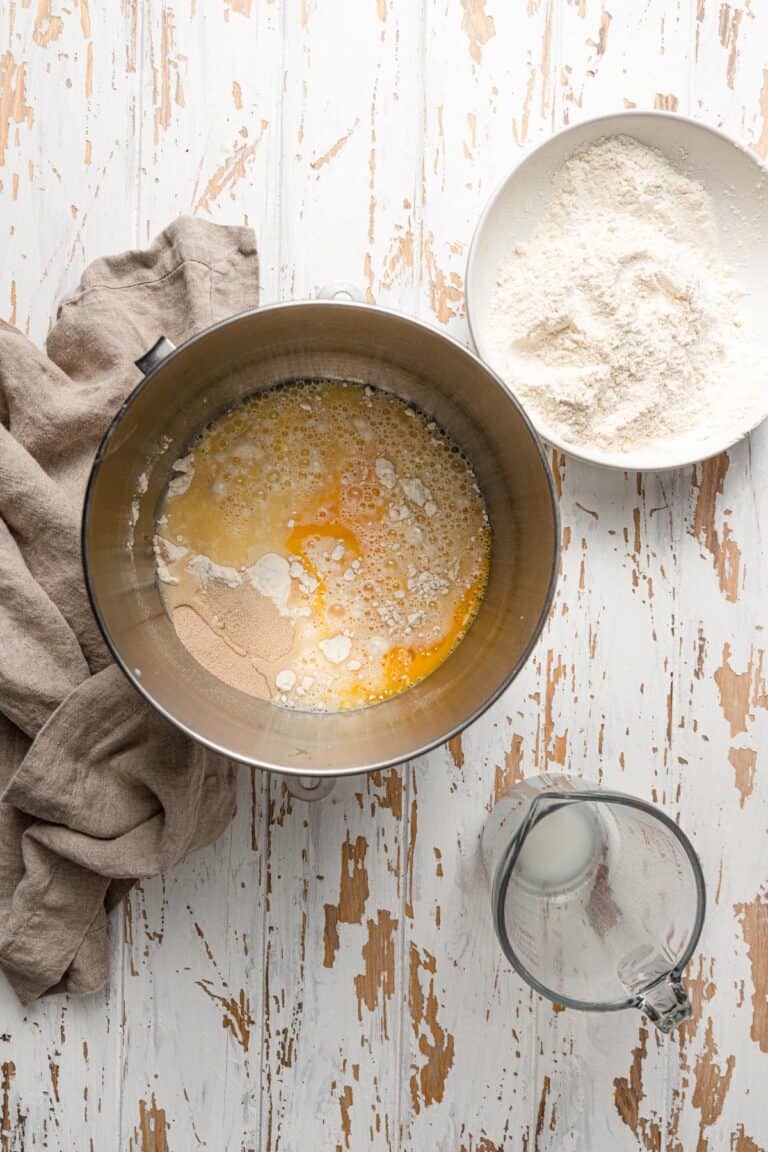 Step 2 – rolling and filling:
Roll the rested dough into 13″-18″ rectangle and spread the filling.
Roll the dough much like a sweet sweet roll.
Cut the rolled dough into 12 even pieces, place each piece spiral facing up on a greased baking pan.
Let rest and rise.
Step 3 – Bake
Bake the rolls until golden brown.
Remove from oven and drizzle/frost with toppings.
Storing the rolls:
Much like bread and pastry, the rolls are best eating the same day they are baked and do not stay fresh for much longer after that.
However, I enjoyed them for up to 3 days with a 30 seconds help from my microwave. Make this French Toast Casserole recipe with leftovers.
HAPPY BAKING!!!
This post contains affiliated link.
Here are some more sweet bread recipes you might enjoy:
Also, One more thing…
Don't forget to tag @OneSarcasticBaker on Instagram if you bake this recipe. Would love to see your creations!
Lastly, did you find this recipe fun and also inspiring? If so, save THIS PIN to your Bread OR Desserts boards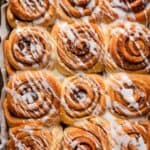 Cinnamon Rolls
Fluffy, comfirting anf delicous bakery style cinnamon rolls.
Ingredients
Cinnamon rolls dough
1 1/2

Cups

Milk

(360 ml / 12 oz)

6

TBS

Unsalted butter

(90 g / 3 oz)

1/3

Cup

Sugar

(70 g / 2.5 oz)

2 1/4

teasponns

Instant yeast

1

Large

Egg, beaten

1

Large

Egg yolk, beaten

5 1/4

Cups

AP Flour

(630 g / 22.5 oz)

3/4

tsp

Salt
Cinnamon Filling
1.5

Cups

Light brown sugar

(300 g / 11 oz)

2-3

tsp

Ground cinnamon

3/4

Cup

Unsalted butter, softened

(175 g / 6 oz)
Frosting
1

Cup

Powdered sugar

(125 g / 4 oz)

1-3

TBS

Water
Instructions
Line a half-sized baking sheet with parchment paper and set aside.

In a large saucepan, heat the milk, butter, and sugar until the butter has melted and the sugar has dissolved.

Remove from the stove and allow it to cool.

Pour milk mixture into a bowl of a standing mixer and add 2 cups of flour, egg, egg yolk, yeast, and salt.

With the dough hook attachment on and on low speed sprinkle the rest of the flour. Knead for 5 minutes then leave to rest until double in size. About 1-2 hours.

Mix the filling ingredients together until smooth. Set aside.

Place dough on a clean surface sprinkled with some flour and roll into 13"18" sized rectangle.

Spread the filling and tightly roll up the dough starting with the end close to you.

Cut the log into 12 even slices and place each slice on the prepared baking pan, spiral design facing up (while it's bottom side is facing down).

Allow resting for an additional 2 hours then bake for 30 minutes in a 350F preheated oven.

While the rolls are baking make the frosting by mixing the ingredients in a medium-sized bowl.

Once out of the oven drizzle with the frosting and serve.