Last updated on September 29th, 2023.
This Sweet Challah is made using a simple recipe that includes everyday ingredients and can be made either using a standing mixer or by hand. The result is a sweet, rich, and glorious challah that is perfect for any holiday celebration.
If you are looking for a more traditional, savory challah recipe, check out my Bakery Style Challah and my Easy Challah Recipe.
First, for the bread lovers among us, I must give a warning and say that this challah is SO GOOD you will not want to put it down! So I highly recommend that you wear a nice stretchy pair of pants and enjoy every bite of the challah. Either that or gather your loved ones so they can crown you as their world's favorite person!
Sweet Round Challah Background:
Every year comes fall we celebrate the Jewish new year. Unlike most Jewish holidays where we basically read some kind of a murder mystery novel (someone tried to kill us, we won yada,yada,yada…) on this holiday we just relax, dip everything in honey, and wish for a wonderful, sweet and healthy year.
So, the challah is round just like the years that going by are. And is extra sweet as a sort of wishful thinking, eat sweet and we'll have a sweet year.
Even thou this dough is rich and sweet, it is also super fluffy and light which is why I love baking it as a pull-apart roll and enjoy it fresh from the oven as much as I would enjoy cinnamon rolls.
Ingredients Used In This Challah Recipe: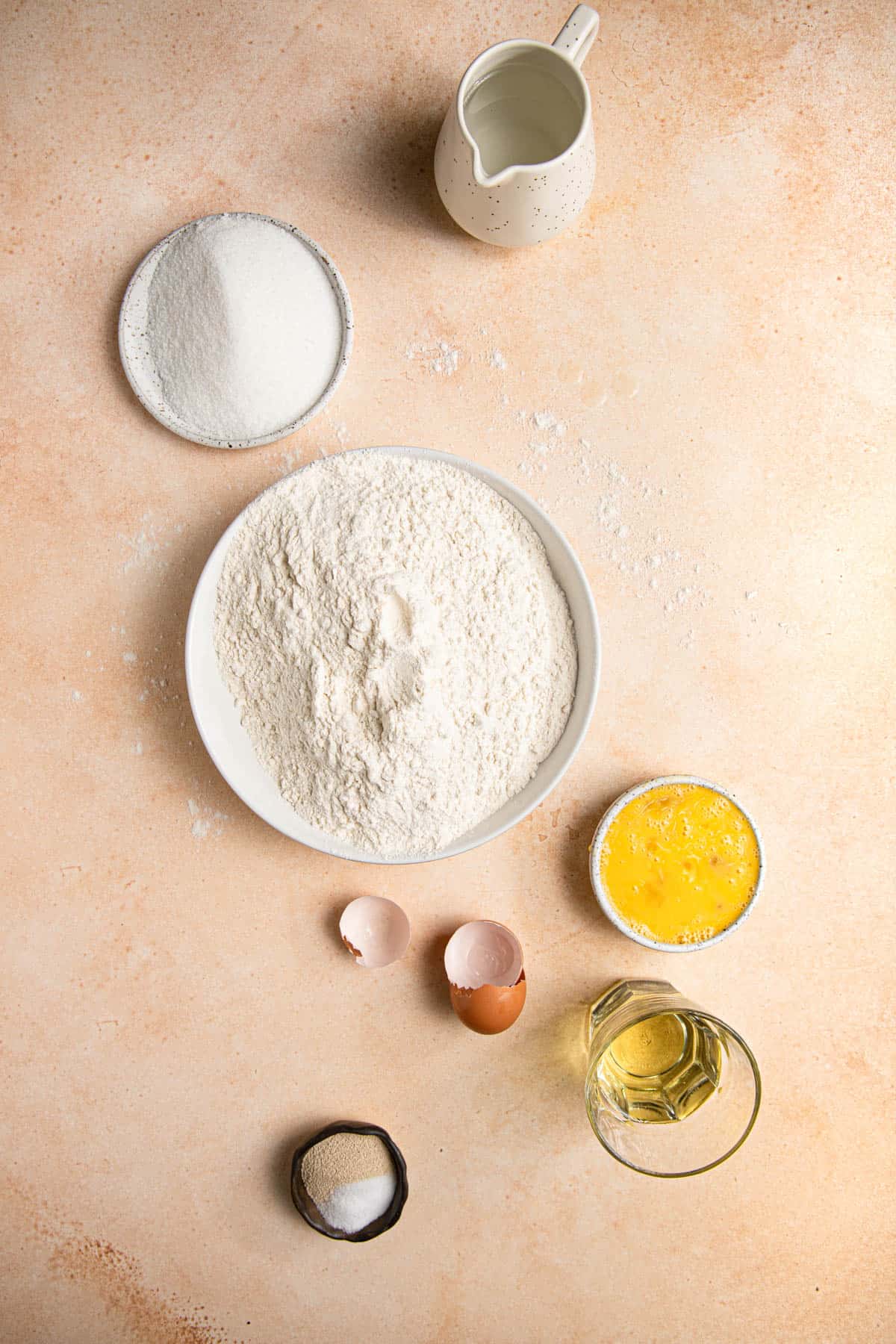 Bread Flour, divided into 2 parts.
Dried yeast
Water, lukewarm (about 90F)
Sugar
Eggs
Egg yolk
Vegetable oil
Salt
Making this Sweet Challah Recipe:
Step 1:
In a large bowl (ok to use the mixer bowl, if using one) place the first quantity of the flour with the yeast and water). Then, use a fork to mix all of the ingredients into a smooth paste.
Set a side in a warm place for about 30-40 until the mixture is frothy.
Step 2:
In a separate bowl mix the eggs, egg yolk and vegetable oil then pour it into the flour-yeast mixture and beat to fully incorporate. If using a stand mixer, use the paddle attachment.
Sprinkle in the remaining flour, sugar, and salt.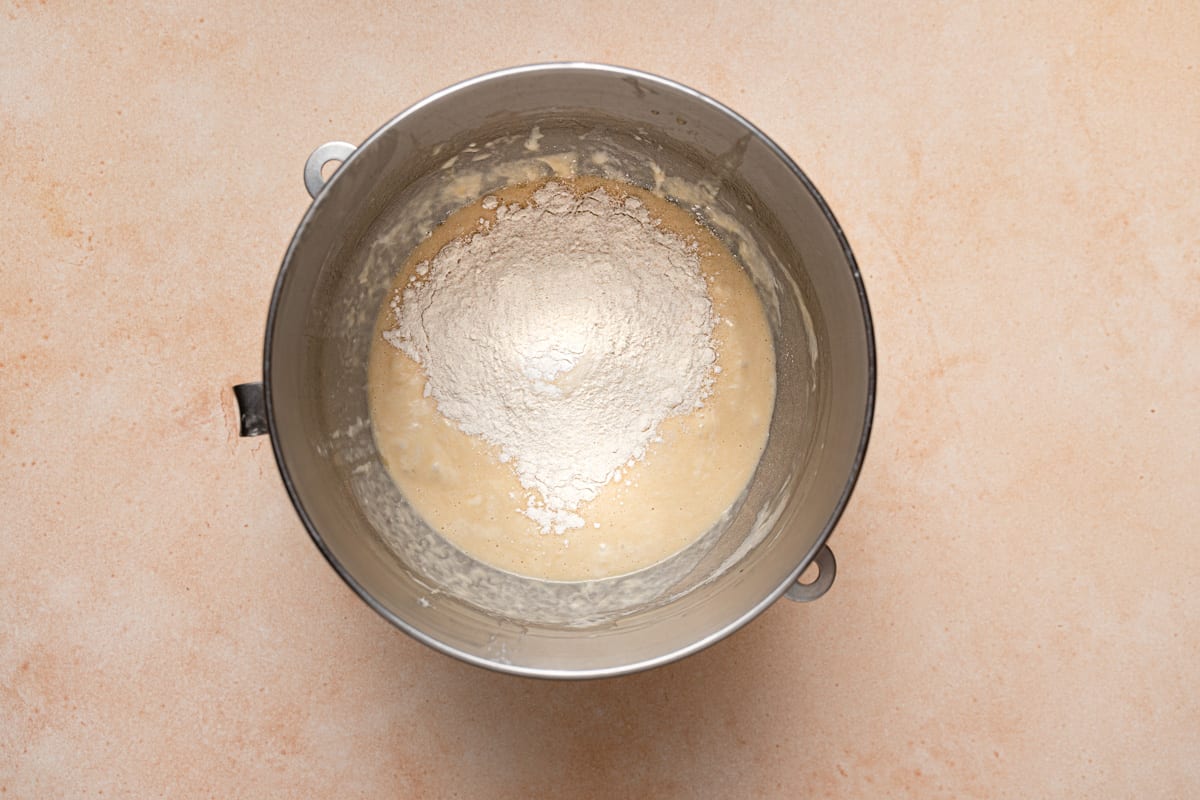 Mix using the paddle attachment until a shaggy mass is formed, then replace the attachment with the dough hook.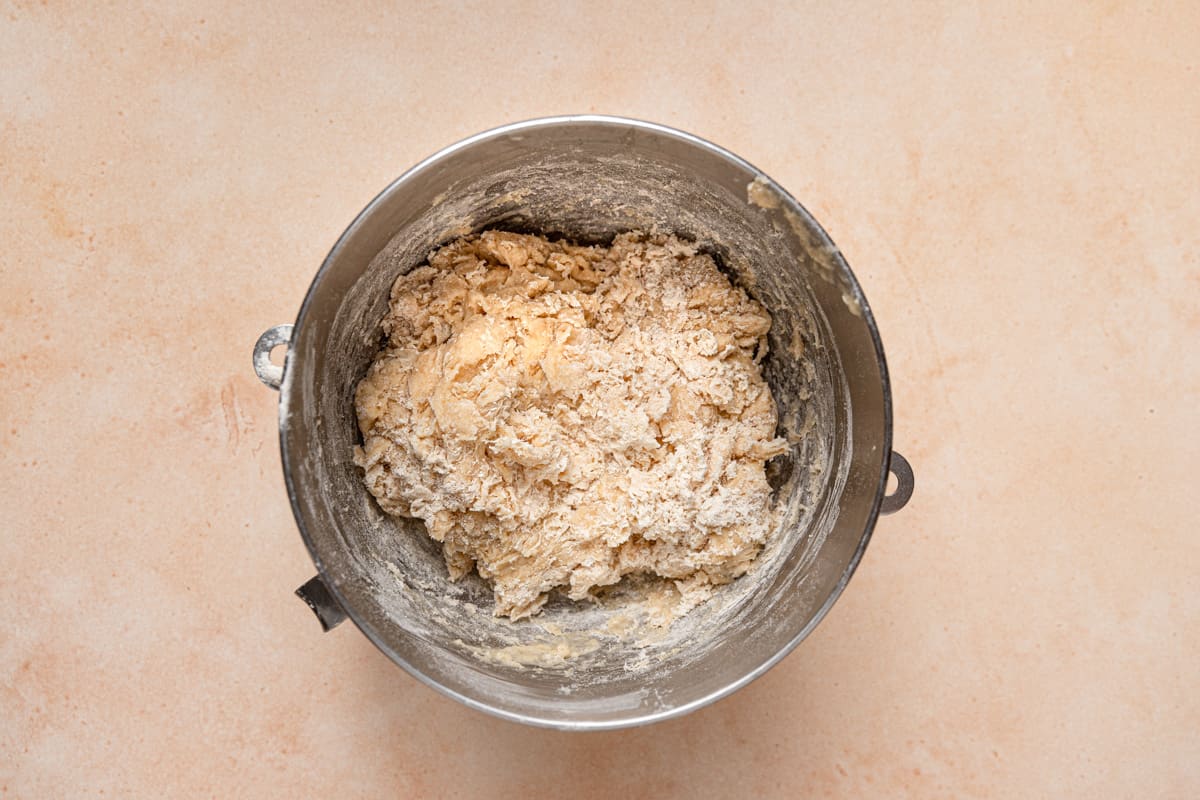 Mix for 6-8 minutes until smooth and the bowl is clean. Place dough in a large oiled bowl, cover with a plastic bag, and let rest until double in size. (2-3 hours).
Part 3:
Divide the dough into 2 parts (each about 650 g / 23 oz). Roll each piece into a 25″-30″ long log then roll one end inwards toward the other end. Brush with egg and sprinkle with your choice of topping.
Let rest for 2-3 hours then bake 30-35 minutes until golden brown in a 350F preheated oven.
Pull-Apart Rolls
To make pull-apart challah rolls, simply divide the dough into 24 equal pieces (each about 60 g /2 oz), roll each in the same way you would the large challah then place each roll on a large baking sheet lined with parchment paper. Leave about 1.5″ space between each roll.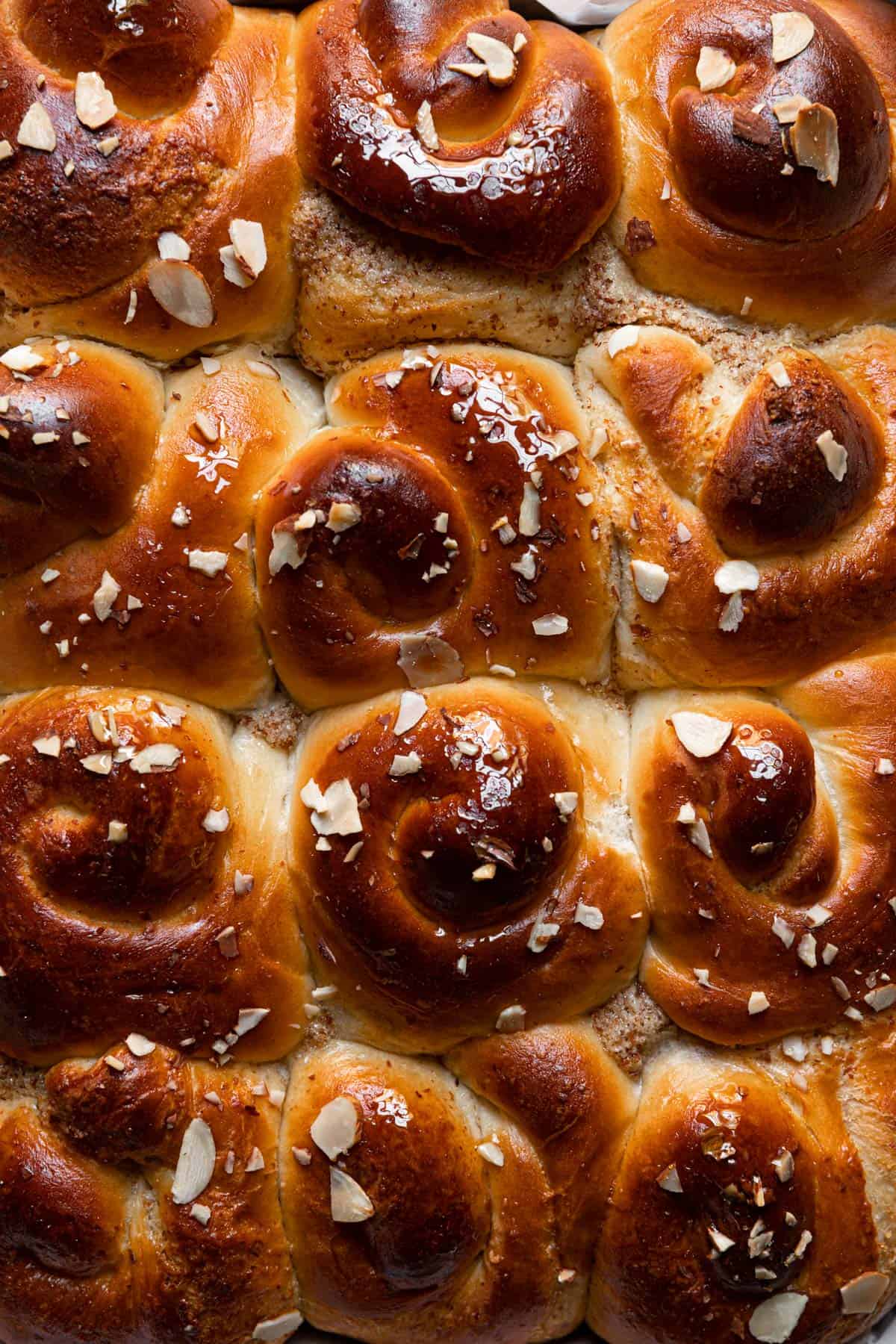 You use a half-sized cookie sheet to bake 12 rolls plus one large challah.
Filling the rolls:
A great option is to fill the rolls pre-baked with frangipane, jam, or chocolate spread. To do that, simply roll each piece of dough into 3″x6″ rectangle, spread with 1 TBS of filling, roll into a log then roll again from one end inward toward the other end.
Storing The Sweet Challah:
The challah is best the day it is baked and in order to keep its freshness, I highly recommend covering it with a kitchen towel or placing it inside a plastic bag.
You can bake it ahead and freeze it for up to 3 weeks. Make sure to wrap it with foil paper and place it in a plastic bag before freezing. When ready to eat, remove from the freezer, uncover, and let defrost at room temperature. Same with the rolls.
Baking Half A Recipe:
This recipe yields two large challahs which might be a bit too much sometimes.
If you wish to bake a smaller amount you can firstly, cut the recipe in half (use 1 egg and 2 egg yolks). Or you can bake the full recipe and freeze the baked challah (or challahs)
HAPPY BAKING!!!!
Also, don't forget to tag @OneSarcasticBaker on Instagram if you bake this recipe. I would love to see your creations!
Here are some more recipes you might enjoy: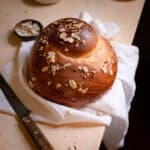 Sweet Challah
Servings
2
Large round challah
Ingredients
1 3/4

Cup

Bread Flour

(225 g / 8 oz)

3 1/2

tsp

Instant yeast

(14 g / 0.5 oz)

1

Cup

Water

(240 ml / 8 oz)

5

Cups

Bread flour

(565 g / 20 oz)

3/4

Cup

Sugar

(155 g / 5.5 oz)

2 1/4

tsp

Salt

(14 g / 0.5 oz)

3

Large

Eggs, beaten

1

Large

Egg Yolk

1/2

Cup

Vegetable oil

(100 g / 3.5 oz)

1

Large

Egg, beaten for glazing

1/4

Cup

Sliced almonds, poppy seeds, sesame seeds or coarse sugar
Instructions
In a bowl of a standing mixer, combine the first quantity of flour, yeast, and water and use a fork to beat until smooth and thick.

Cover with a kitchen towel and let sit for 30-40 minutes until frothy.

In a medium bowl, whisk the eggs, egg yolks, and oil until blended, set aside.

Add the liquid ingredients(step 3) into the sponge (steps 1-2) and use the paddle attachment to blend it all together. (Use a wooden spoon if making by hand)

Gradually add the remaining of flour, sugar, and salt and continue to mix until it all comes into a shaggy mass. About 2-3 minutes.

Replace the paddle attachment with the dough hook and keep kneading for 6-8 minutes until the dough is smooth and the sides of the bowl are clean. (10 minutes in kneading by hands)

Spray the dough with some oil spray and cover the bowl with a plastic bag. Let rest and rise for about 2-3 hours or until double in sized.

Place the dough on a clean work surface and knead to 1 minute. Divide dough into two even pieces (each piece about 650 G / 23 oz)

Roll each piece into 30" long log and then roll one end towards the other end. Repeat with the second piece.

Place challahs each on a large baking sheet (they will rise again) brush with egg wash and sprinkle with your choice of toppings.

Let sit and rise again for about 2 hours.

Bake for 30 minutes at a 350F preheated oven.