Last updated on October 3rd, 2023.
If you've ever indulged in a French pastry or tart, chances are you've encountered the creamy, almond-infused Almond Cream goodness also known as Creme Frangipane. This exquisite filling has a rich history and a flavor that will leave you craving for more.
What is Crème Frangipane, and Why You Will Love It?
Crème Frangipane, often simply referred to as Frangipane, is a luxurious almond cream filling that hails from the heart of French pastry-making tradition. Its silky texture and nutty, sweet flavor make it a favorite among bakers and dessert enthusiasts alike. Here are a few reasons why you'll undoubtedly adore it:
Buttery Almond Bliss: Crème Frangipane is made with ground almonds, sugar, butter, eggs, and sometimes a touch of flavoring like vanilla or almond extract. The result is a luscious, almond-forward filling that's both creamy and slightly crunchy.
Versatile: This almond cream can be used in various pastries, including tarts (check out this Pear Frangipane Tart), croissants (hello almond croissants), Cornetti, and cakes like this Almond Cake, and Almond Pear Cake. It pairs wonderfully with fruits like raspberries, apricots, and pears, creating a harmonious balance of flavors and textures.
Impressive Presentation: Whether you're a professional baker or a home cook, Crème Frangipane elevates your creations to a whole new level. Its golden-brown top, speckled with toasted almond slivers, adds a beautiful finishing touch.
Crème Frangipane vs. Crème d'Amande
Before we dive into making this homemade Frangipane, it's essential to understand the difference between Crème Frangipane and Creme d'amande. While they share some similarities, there are distinct variations:
Crème Frangipane: Contains ground almonds, sugar, butter, and eggs. It has a richer and creamier texture and is often used as a filling in pastries. The classic frangipane cream is mixed with crème pâtissière (pastry cream) for added flavor and texture.
Crème d'Amande: Primarily composed of almond paste or marzipan, sugar, and butter. It's typically used as a cake or tart topping and has a denser, sweeter consistency.
Ingredients
Before you embark on your Crème Frangipane-making adventure, gather the following basic ingredients ahead of time. The full recipe you can find below at the recipe card.
Whole almonds, or ground almonds (almond meal)
Granulated sugar
Unsalted butter, softened
Eggs
Flour
Pure vanilla extract and almond extract (optional). Almond extract is extracted from bitter almond and it's the only way to add frangipane to the famous and distinguished almond flavor.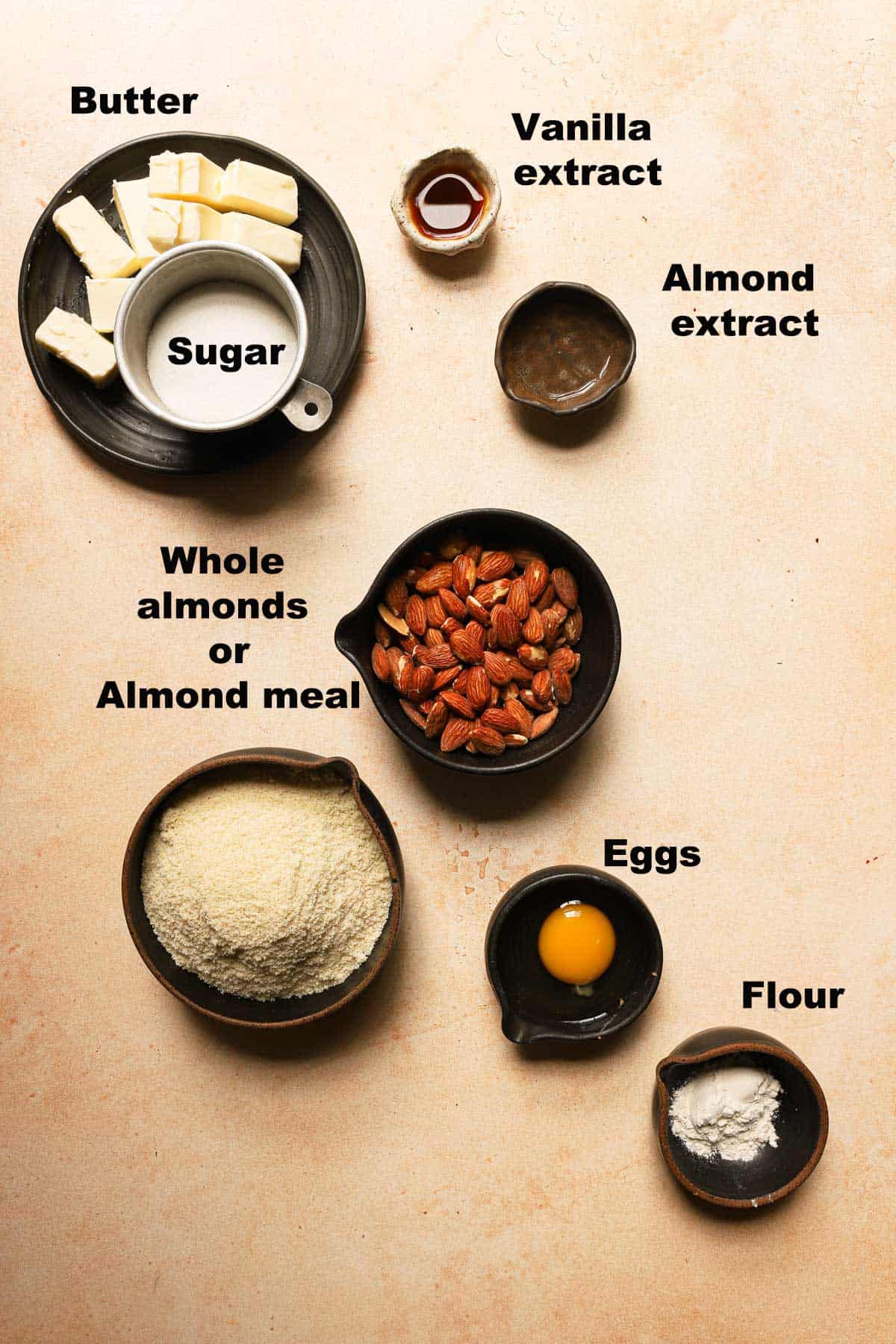 Nutts Variations
While frangipane refers to almond cream, it is very common to use other nuts, such as:
Walnuts
Pecans
Pistachios
Hazelnuts
If your local store offers any of the above in flour/meal form, use it. Otherwise, process the nut of your choice in a food processor along with the sugar, before adding the rest of the ingredients.
How to Make Frangipane
Using a Food Processor
A food processor is great for when you are using whole nuts, or you wish to double the recipe.
Place the ground almonds (or whole almonds) flour and sugar in a food processor. Pulse until well combined and the mixture becomes finely textured.
Add the softened butter and continue pulsing until the mixture is smooth and creamy.
Incorporate the eggs, vanilla, and almond extract and process until smooth.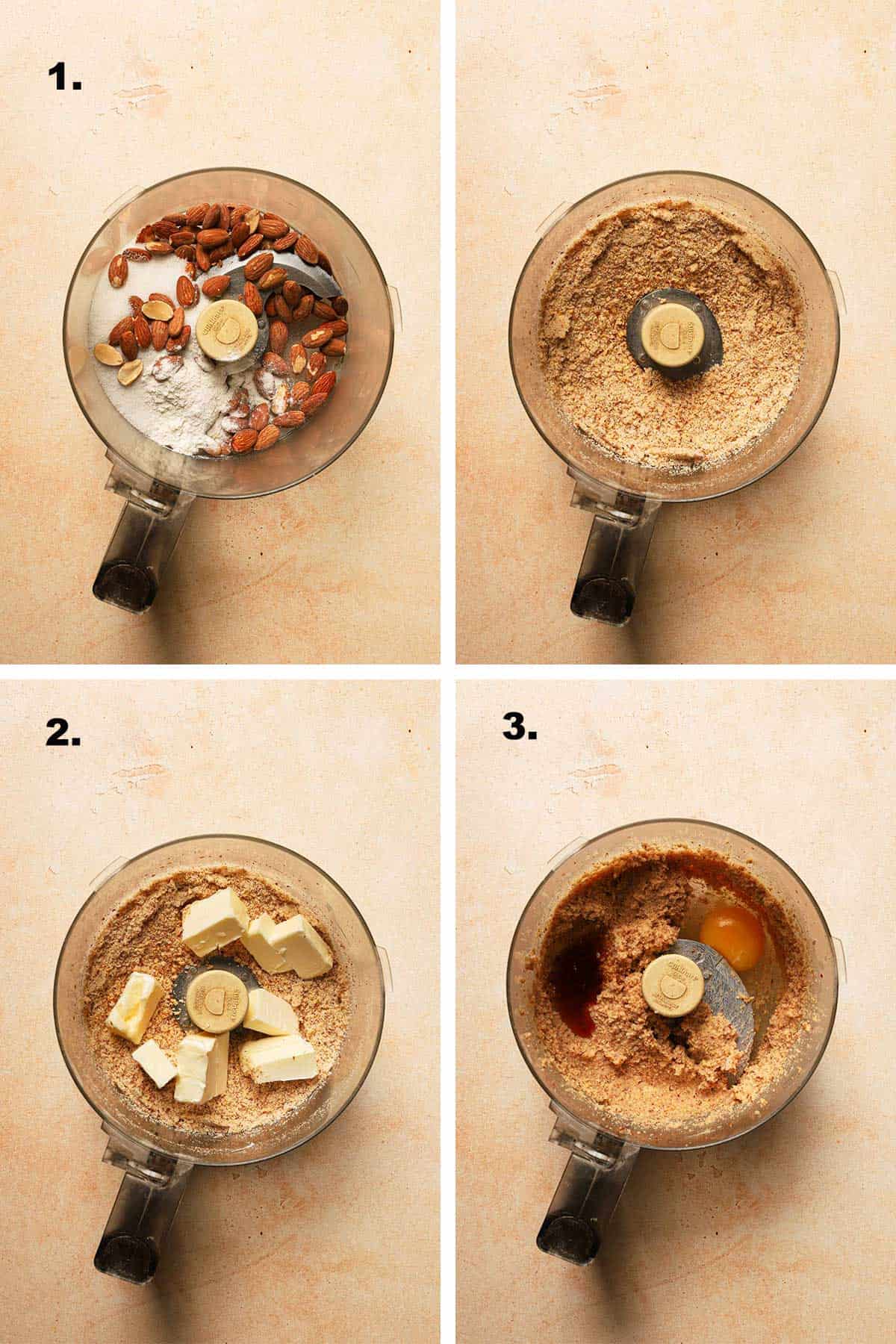 Using a Stand Mixer
A stand mixer (or an electric mixer) is the best way to achieve a cohesive creme.
In a mixing bowl, combine the ground almonds, sugar, and flour. Add the softened butter and mix on medium speed using the paddle attachment until creamy and well combined.
Beat in the eggs one at a time, ensuring each egg is fully incorporated before adding the next. Add the extract with the last egg.
A Bowl
I like to use a bowl whenever I make a last-minute dessert, and instead of soft butter, I use melted butter.
Place the ingredients in a large bowl.
Use a wooden spoon or a whisk to blend everything until smooth.
The Consistency
This frangipane recipe is great as an almond filling for pies and galettes, like this Cherry Frangipane Galette, this Mini Apple Galette, and this Summer Fruit Galette, or tarts like Pear Frangipane Tart. The amount of eggs, butter, and sugar helps the filling spread, or rise and fill the pie, pastry, or tart shell.
But, sometimes I would like the filling to be firmer so I can use it to make some Almond Challah or challah rolls using my Sweet Challah dough without worrying it might spread out. To do that I reduce the amount of eggs to one egg, or the butter from 1/2 cup to 4-6 tablespoons. To help the filling spread I use melted butter and spread/pipe it right away.
Expert Tip
For an extra layer of flavor and texture, you can add a tablespoon of your favorite liqueur, such as amaretto or Grand Marnier, to the mixture, or a teaspoon of orange or lemon zest. This will impart a delightful complexity to your Crème Frangipane.
Make sure the ingredients are at room temperature for best results.
If the cream is too runny, refrigerate for a while and allow it to set.
Since the recipe contains raw egg, you should always bake it before serving. While it is not fit to fill a layer of cake with it, you can fold up to two tablespoons of the cream into every cup of cake batter. Or, scoop some on top of your cake before baking.
Storage
Unused Crème Frangipane can be stored in an airtight container in the refrigerator for up to five days. Alternatively, you can freeze it for up to 8 weeks. Just remember to thaw it in the refrigerator before using it in your next baking project.
To freeze: line a large piece of plastic wrap, then pile the cream in the corner. gently roll the cream with the plastic wrap, then place it in a freezer bag, mark the date, and freeze.
FAQs
Can I substitute almond flour for ground almonds?
Yes, almond flour is essentially ground almonds and can be used interchangeably.
Can I make Crème Frangipane without eggs for a vegan version?
While it won't be exactly the same, you can experiment with egg substitutes like aquafaba or a commercial egg replacer to make a vegan-friendly version.
What are some desserts I can make with Crème Frangipane?
You can use Crème Frangipane as a filling for tarts, Danishes, or even as a layer in cakes. It pairs beautifully with fruits like peaches, cherries, and apples.
Related Recipes You Might Enjoy
Creme Legere, French Strawberry Tart, Almond Cupcakes
Don't forget to leave a comment and tag me on Instagram when you make one of my recipes.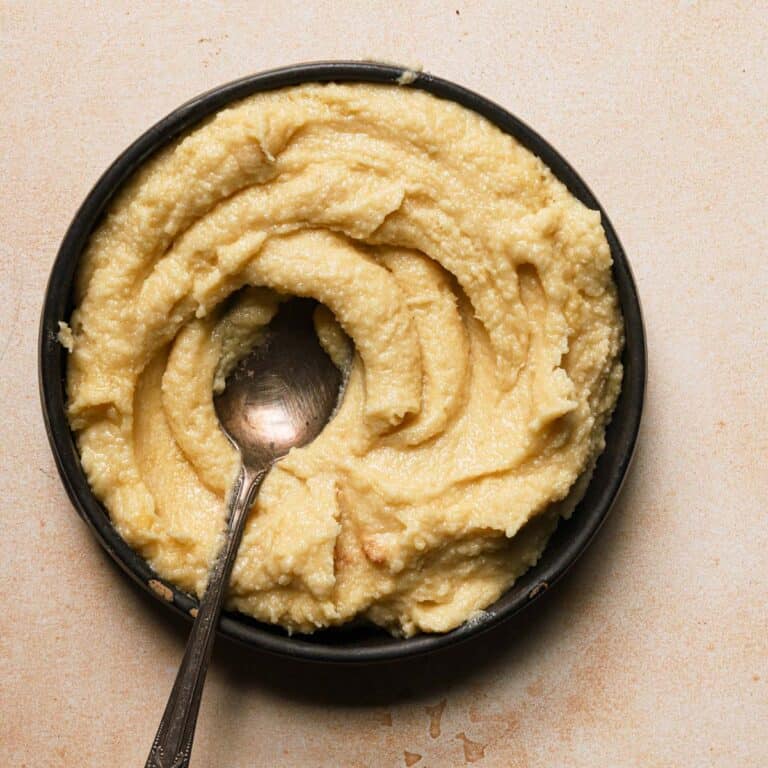 Almond Cream Recipe Creme Frangipane
Creamy and flavoful almond filling
Ingredients
1

Cup

Almond meal or, whole, or slivered almonds

(120g)

1/2

Cup

Sugar

(100g)

1

tablespoon

Flour

(8g)

1/2

Cup

Unsalted butter, soft

(112g)

1

Large

Egg, at room temperature

1

teaspoon

vanilla extract

1

teaspoon

Almond extract
Instructions
Using the food processor
Place the whole almonds (or almond meal), sugar, and flour in a bowl of a food processor and pulse until the almonds are ground and you have a mixture that ressembles coarse sand.

Add the butter and pulse until blended and you have a paste-like texture.

Add the egg, vanilla, and almond extract and process until combined.
Stand or electric mixer
In a bowl of a standing mixer, mix the almond meal, flour, and sugar until blended.

Add the butter and beat until the butter is fully incorporated.

Add the eggs one at a time, adding the vanilla and almond extract with the last egg. Beat until cohesive and smooth.
A bowl
Melt the butter, then pour it into a large bowl along with the rest of the ingredients.

Use a whisk or a wooden spoon to blend until smooth.
Recipe Notes
The cream should be used immediately or, stored in the refrigerator for up to three days.
To freeze, line a large piece of plastic wrap, dollop the cream at one side then gently roll the cream with the plastic wrap towards the other side. Place in a freeze bag and freeze for up to eight weeks. When ready to use, allow the creme to thaw in the refrigerator the night before.
Use other nuts such as pecans, almonds, pistachios, walnuts, or hazelnuts.
 If the creme seems to loose, place it in the refrigerator to set.
If the frangipane is too hard when taken out of the refrigerator, either allow it to warm at room temperature, or, place the container in a large bowl filled with warm water reaching the middle height of the bowl.
This recipe should not be eaten raw due to the use of raw eggs.
For a gluten-free option, use gluten-free flour 1:1.