Last updated on September 29th, 2023.
Buttery, flaky and tender crust layered with almond paste and topped with sweet Cheery filling. This Cherry Galette is what summer is all about!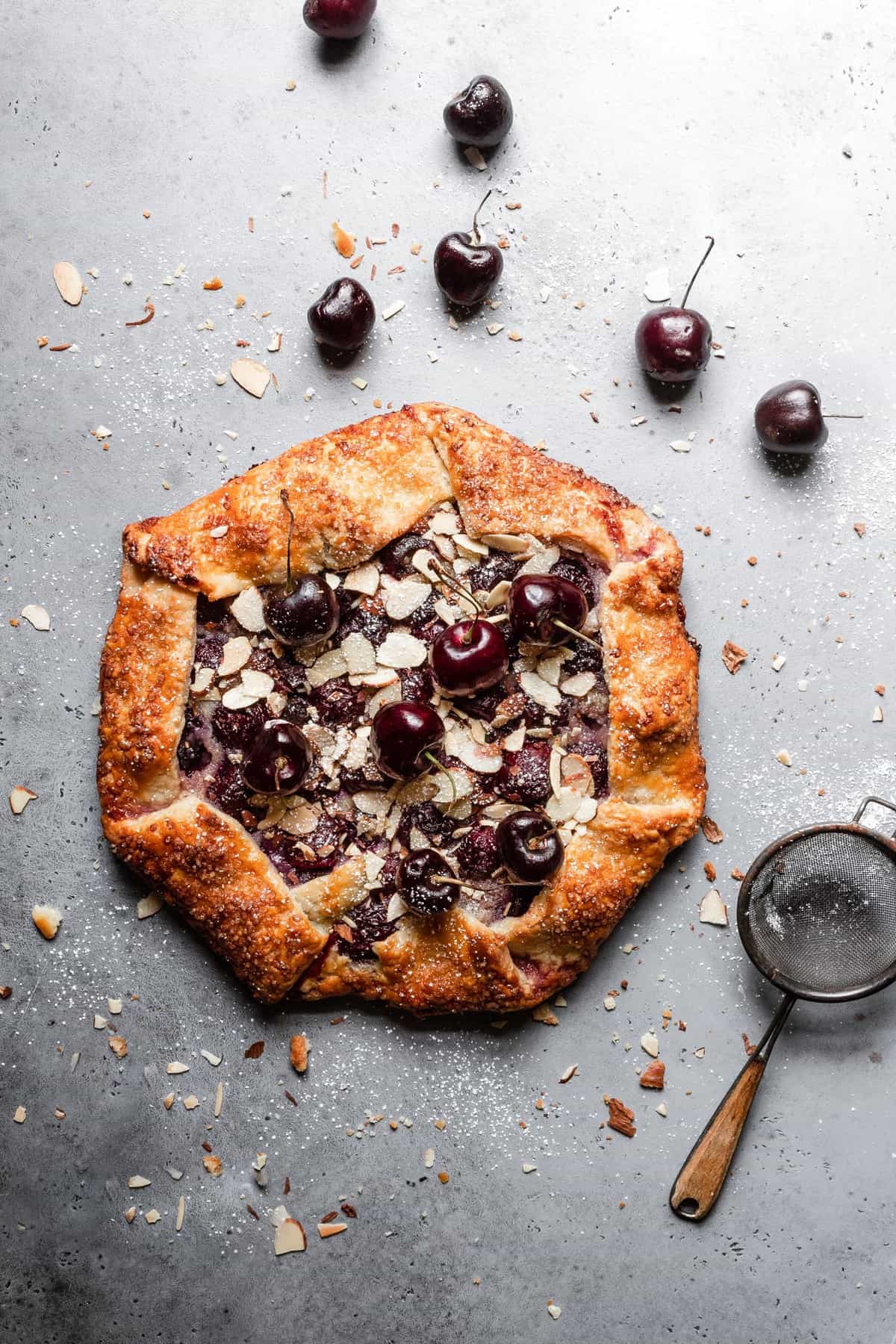 Is there anything better than the first bite of a really good Galette? Wait, defiantly the first coffee of the day. But this comes second.
Flaky, tender and buttery crust bursting with sweet and fruity filling. Sprinkle it with some toasted almonds or topped with ice cream and you have the perfect summer (or any season) celebration.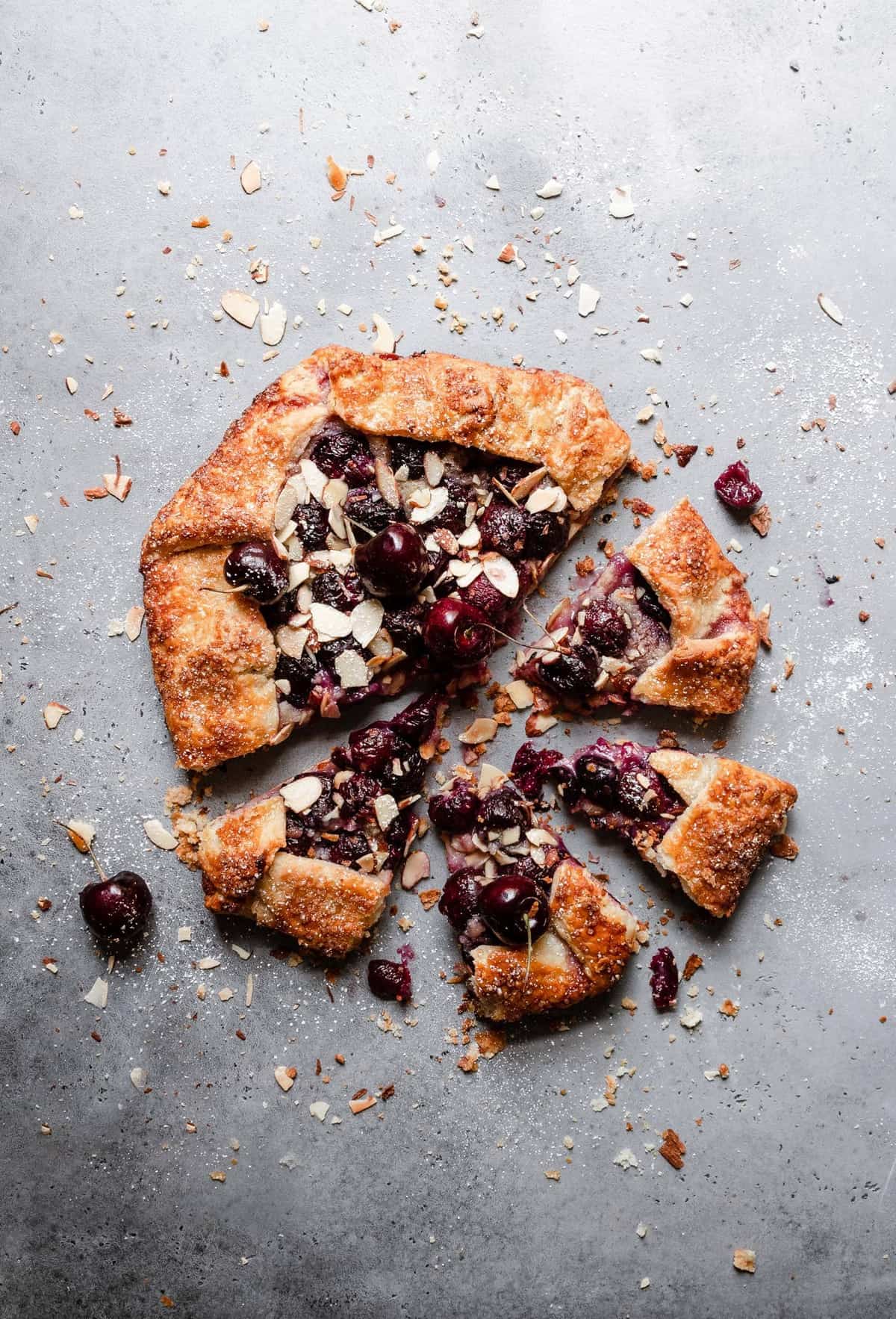 It's no secret that Galette is basically pie in a different form. I have this theory that Galette is the "casual" summer pie, with its simple countryside rustic look. While pie is the "formal" fall (holidays) representative, proudly wearing leaves, braids and lattice crust cuts. But at the end of the day, it doesn't really matters. The secret is always in the crust.
Now Lets Talk About This Cherry Galette Recipe:
The secret is in the crust and the way to have a flaky tender crust is to minimize the development of gluten during mixing, rolling and filling. Best way to do that is to keep the dough cool during that process. Heat / warm environment is the enemy. Think I'm being too dramatic? Good! But I'm totally serious!.
Here are some tips to help you do that:
Freeze the butter and flour for a minimum of 30 minutes. Cold ingredients will not absorb moist as much during the mixing process. Less moist = less gluten threads. Less gluten thread = flaky and tender crust.
Do not over mix the dough. Mix it just until the ingredients have been evenly distributed and the butter is the size of small peas. The dough should not come together, that is a sign of over mixing.
Do not knead the dough. Press it all together then wrap it in plastic wrap and let rest in the refrigerator.
Work fast. When it is time to assemble the galette, make sure you roll the dough in a cool corner away from the stove. Then roll, fill and place to bake as fast as you can to make sure the dough does not start to warm. If needed, place it back in the refrigerator for about 30 minutes after rolling and filling. This will also insure the Galette shape to maintain during baking.
I have a full step-by-step post on how to make Frangipane, Almond Cream.
More About This Recipe:
This crust is great for different fillings for example peaches, blueberries, or apples.
You can definitely skip the frangipane layer and just fill it with cherry filling. Brush the dough with egg white before adding the filling.
Bake the Galette on the lowest oven rack. This direct heat will help set the crust fast and prevent a soggy result.
Turn the Galette halfway through baking. If the crust looks too brown, place a piece of aluminum foil on top.
HAPPY BAKING!!!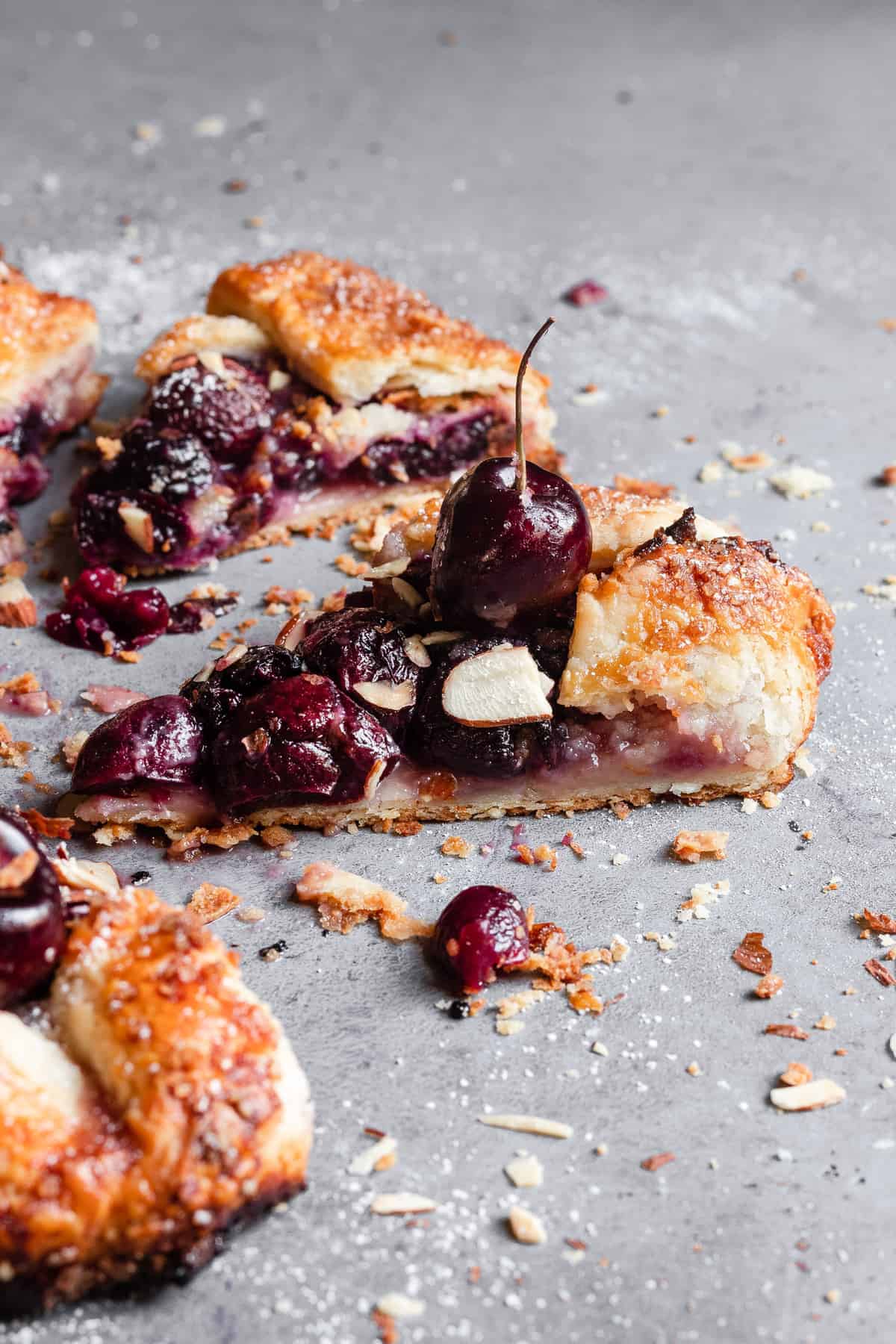 Here are some more recipes you might enjoy:
One more thing…
Don't forget to tag @OneSarcasticBaker on Instagram if you bake this recipe. Would love to see your creations!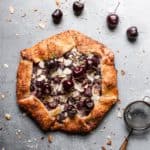 Cherry Almond Galtte
Ingredients
To Make The Pie Dough
1 1/2

Sticks

Butter, colde cut into 1/2" cubes

(170 g / 6 oz)

2

Cups + 3 TBS

Pastry Flour or Bleached flour

(280 g / 10 oz)

1/4

tsp

Salt

1/8

tsp

Baking Powder

1/2

PGK

Cream cheese, cold

(128 g / 4.5 oz)

2

TBS

Heavy Cream

1

TBS

Apple Cider Vinegar

1

Egg beaten for brushing
To Make thw Cherry Filling
3 1/2

Cups

Pitted cherries , liquid reserved.

(1 1/4 LB / 570 g )

3/4

Cup +2 TBS

Sugar

(6 oz / 175 g)

2 1/2

TBS

Cornstarch

Salt, a pinch

1/4

tsp

Almod Extract
To make the Frangipane
1

Cup

Almon Flour

(100 g / 3.5 oz)

1/2

Cup

Sugar

(100 g / 3.5 oz)

1/2

Cup

Butter, melted

(113 g / 4 oz)

1

Large

Egg

1

TBS

Flour

1

tsp

Almond Extract
Instructions
To Make the Pie Dough
Place the butter cubes in a plastic wrap and freeze for a min. of 30 min.

Sift the flour, baking powder and salt together and freeze (in a bag) for a min. of 30 minutes.

Place the flour mix in a food processor and pulse about 3 times.

Cut the cream cheese into 3-4 pieces and add it to the flour, process for about 10 seconds.

Add the butter and pulse until the butter is the size of a pea.

Add the heavy cream followed by the apple cider and pulse the butter is the size of a small pea.

The dough will stick together when press between your fingers but will look particles.

Place it on a layer of plastic wrap and press it to bring it togther as little as you can. It part is key in order to have flaky crust.

Shape it into a disk and flat is just a bit. Place back in the refrigarator and let chill for min. of 1 hour of preferable over night.
To Make The Cherry Filling
In a large bowl, mix the sugar, cornstarch and salt.

Add the cherries and almod extract and toss to distribute. Let sit for min. 10 minites up to 30 minutes.
To Make the Frangipane
Place all the ingridients in a medium bowl and mix to combine until smooth.
To Assemble
Preheat oven to 425F. Place a baking rack at the lowest level.

Remove dough from the refrigartor and roll it on a lighlty floured surface to a 14" round circle.

Spread the frangipane in the centre leaving 4"-6" clean edges.

Layer the cherry filling on top.

Fold the edges towards the center and brush with an egg.

Bake for 35-40 minutes or just until the filling is bubbling and the crust is golden brown.

Remove from oven and allow to cool completely before slicing.