Last updated on November 3rd, 2021.
This pink Lemonade Pie is made of a tender, sweet and crumbly tart shell filled with creamy Raspberry Lemon Curd.
If you're a food blogger or thinking of becoming one, then you probably know that planning is key. All food bloggers experts recommend that you plan your posts a month (or more) ahead. In fact, I even hear this tip from other mothers with elaborated side notes as they show off their beautifully highlighted weekly planner.
(Yeah, I keep on rocking in the free world!)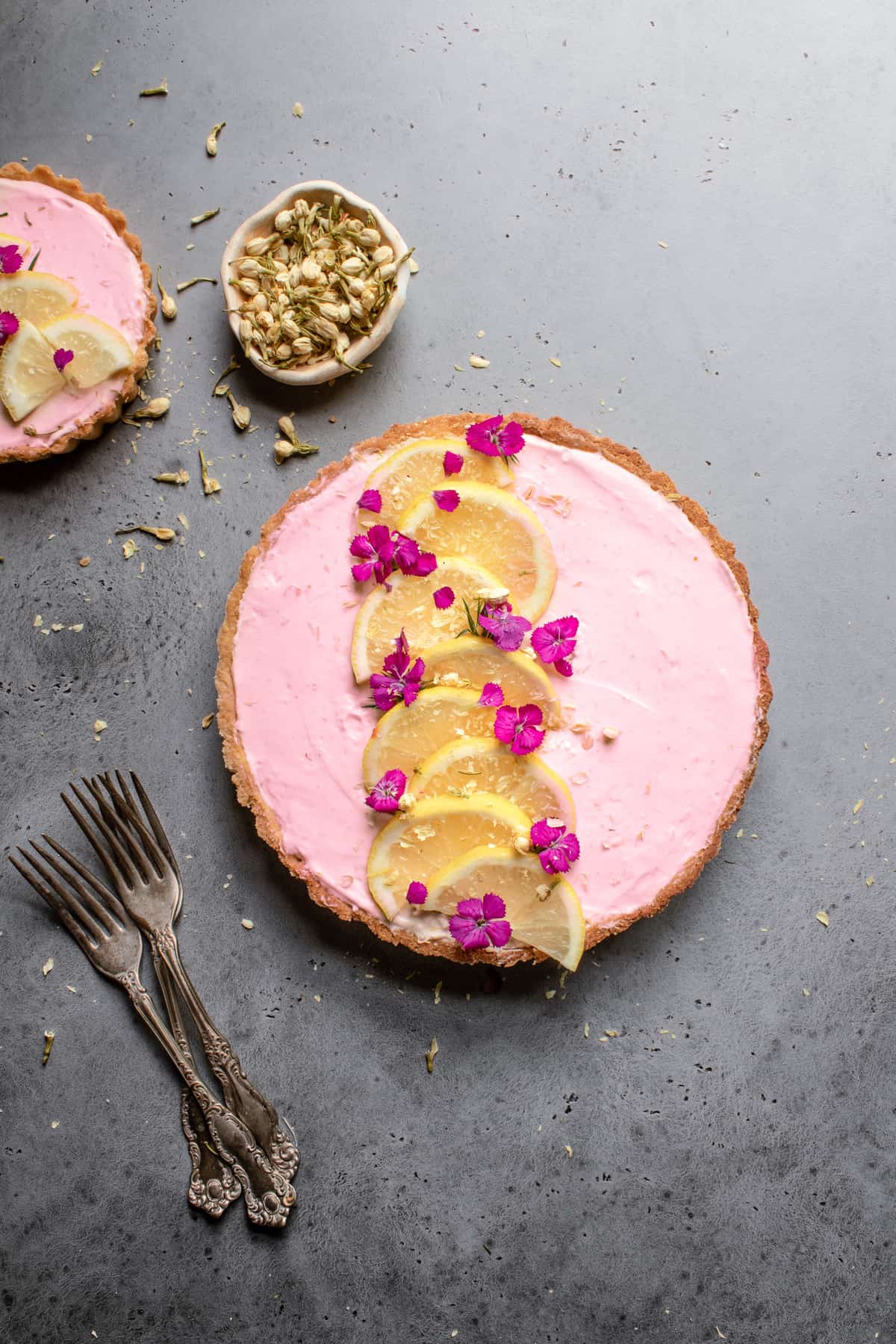 To that I say: "to each his own". When inspiration strikes it is never scheduled with a star sticker on my planner. Not knowing when, how or why it hits is the best part.
It could be during a run, at a trip to the market, as I read a book to my girls (thank you Cookie Monster!) but at most time I'm just sitting in a quit room staring at thin air waiting for it to show up. That's how this recipe came about.
For example, last mother's Day I posted on my instagram account Raspberry Chocolate barks. At the end of the shooting session, there was a nice a mount of raspberries that did not make the cut. Despite that, they had this intense, dynamic and vibrant red color. JUST STUNNING! and inspiring. I remember just staring at it for quit a while trying to figure out how I can preserver this color. Then it hit me, CURD! Pink Lemonade curd! Not quit the invention of Macarons, but it felt right!
And since summer is upon us, a light, creamy and festive dessert is best.
Use the recipes below as you wish, it is a collection of 3 different recipes: Raspberry lemon curd, Sweet tart dough and stabilized whipped cream. Use any of the three for unlimited options, together or separately. Pink Lemonade Pie is just one option.
Now Lets Talk About This Pink Lemonade Pie Recipe:
Raspberry Curd:
It is important that you discard the raspberries seeds. The way to do it is by first mash them into puree using a fork or food processor. Then run the puree through a strainer over a bowl. With the back of a spoon, press the puree until only seeds remain. Discard seeds.
You can use the seedless raspberry puree in cake batters, cupcakes batter or add it to buttercream.
For the curd, you need a total of 4.5 oz. Use this amount and decide how much of it is raspberry and how much is lemon juice.
When cooking the curd, do not let it boil or else it will curdle!
Sweet Tart Dough:
This recipe can yield 1 9″ tart shell or 5-6 4″ mini tarts.
The most important thing to remember when making the dough is that you want incorporate the ingredients as fast as you can. This way the dough will have a very small amount of gluten. Less gluten = tender and crumbly crust.
Another way of avoiding the development of gluten is not to over knead the dough. It may seem crumbly but it will come together as it cools in the refrigerator.
After laying the dough in the pan, make sure you have some access dough. Do not trim it. Bake it as is for the first few minutes. This way the crust will set and you will avoid the sides from shrinking.
When placing pie weights, GREASE THE BAKING PAPER BEFORE LAYING IT ON THE DOUGH! Other wise the dough will stick to it.
Stabilized Whipping Cream:
Making the cream is the exact same process as the regular whipped cream, with the difference of adding the gelatin.
When adding the gelatin, please make sure it is still warm or it will harden when added to the cream.
Do not over mix the cream. Once it stabilized turn the mixer off. Few extra seconds can deflate the cream.
HAPPY BAKING!!!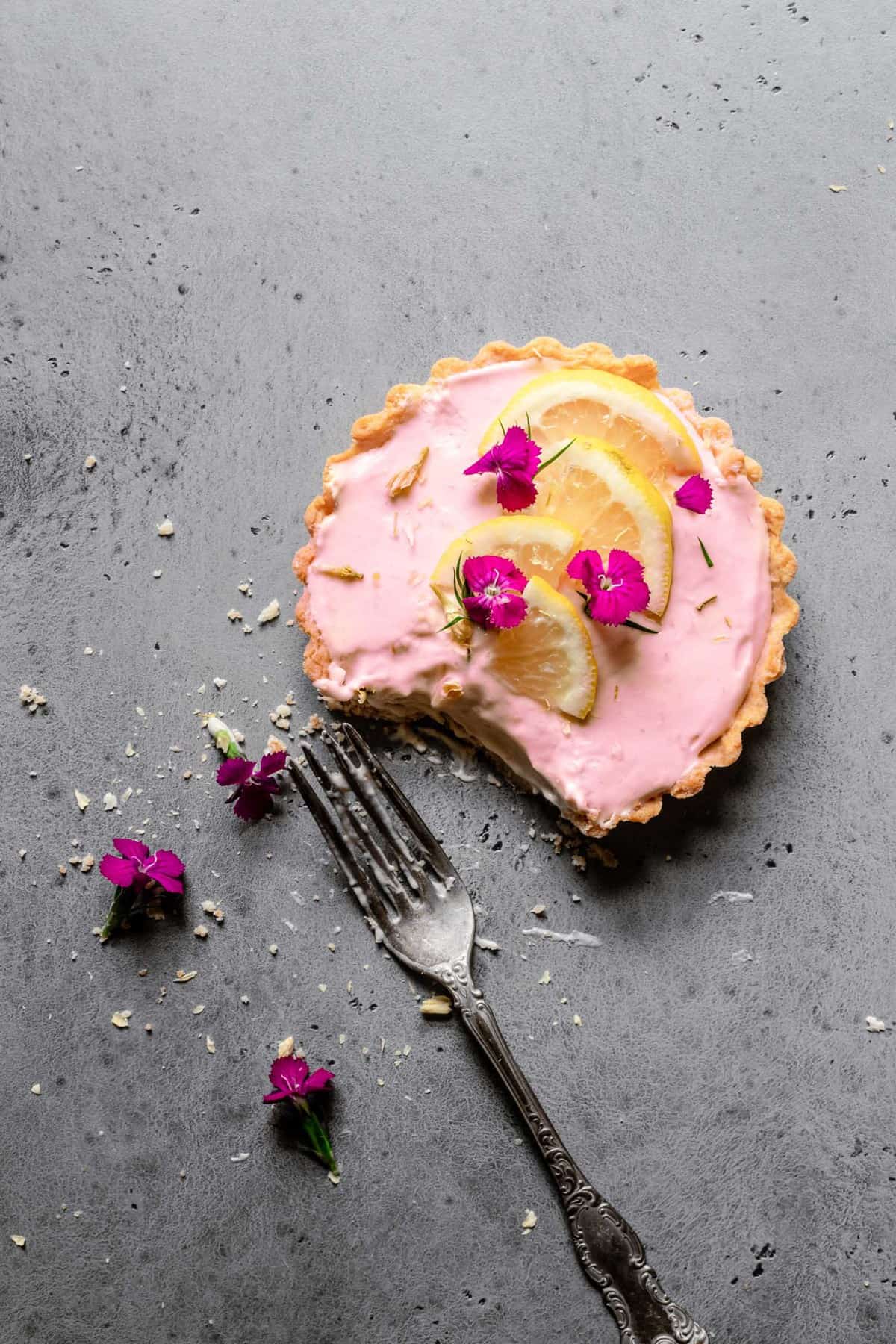 Here are some more fun recipes you might enjoy:
One more thing…
Don't forget to tag @OneSarcasticBaker on Instagram if you bake this recipe. Would love to see your creations!
Pink Lemonade pie
This pink Lemonade Pie is made of a tender, sweet and crumbly tart shell filled with creamy Raspberry Lemon Curd.
Servings
1
9 " tart or 6-4″ mini tarts
Ingredients
For the Raspberry Lemon Curd
1.5

tsp

Fresh grated lemon zest

6

Large

Egg Yolks

1 1/8

Cup

Sugar

(225 g / 8 oz)

1

pkg

Fresh or frozen Raspberries

(6 oz/ 170 g )

1/4

Cup

Fresh squeezed Lemon juice

(1 .5 oz / 42 g )

6

TBS

Unsalted butter

(3 oz / 84 g )
For the Tart Dough
1

Stick

Unsalted Butter, cold cut into 1" cubes

(113 g / 4 oz)

1/4

Cup

Sugar

(50 g / 2 oz)

1 2/3

Cup

Bleaced AP flour

(200 g / 7 oz)

1/8

tsp

Salt

1

Large

Egg Yolk

2

TBS

Heavy Cream

(28 g/ 1 oz)
Stabilized whipped Cream
1

tsp

Gelatin

1

TBS

Water

1

Cup

Heavy cream

(240ml /8 oz)

2

tsp

Sugar
Instructions
Place the raspberries in a bowl and mash it using a fork.

Pour the puree in a strainer over a bowl and press it with the back of a spoon until only seeds remain.

Place the puree in a measuring cup and add the lemon juice. You should have a total of 4.5 foz, so you might have to add more or less of lemon juice.

In a medium pan, beat the sugar and egg yolks until well blended. Add the raspberry-lemon juice, butter and salt and cook over medium-low heat stirring constantly until the mixture has thickened.

Do not allow the mixture to boil. When ever you notice steam, remove the pan from the heat and stir for a few seconds.

Once the mixture has thickend pour it into a stranier set oven a bowl, press with the back of a spoon until only corase residue remain.

Stir in the lemon zest and allow to cool.
To Make the Tart Dough
In a food processor, pulse the sugar and butter until the sugar disapears.

Add the flour and salt and pulse again until the butter is about the size of peas.

In a small bowl, stir together the yolk and cream and add to the mixture. Pulse just combined. The dough will still apear crumbly.

Empty it into a plastic bag and press it into a dough.

Remove the dough from the bag and cover it using plastic wrap. Allow to chill in the refrigator for minimum of 1 hour, preferly over night.

When ready to bake, preheat oven to 425F . Remove the dough from the refrigarator and roll it on top of a lighlty floured surface to the desire size.

Place the rolled dough in the pan(s) and gently press the side. Do not remove any access dough.

Using an oil spay, grease a piece of parchment paper and place it on the dough. Add pie wieghts and bake on top of a cookie sheet for 5 minutes.

Remove the tart from the oven and using a knife, remove any access dough from the sides.

Reduce oven temperature to 375F and bake for addtional 15 minutes.

Lift out the weights and parchment paper, gently prick dough with a fork and bake for 10-15 minutes longer.

Remove tart shell(s) from the oven and allow to cool before filling.
To MAKE THE CREAM
In a small bowl, place the gelatin and water. Stir and allow it to sit for 5 minutes.

Set the cup in a pan of simmering water and allow the gelatine to dissolve (or heat in the microwave for 10 seconds)

In a bowl of a standing mixer fitted with the whisl attachment, place the cream and sugar and beat until the cream begins to thicken.

Slowly add the warm gelatin and beat just until stiff peak forms when the beater is raised.
To Assemble
Place 1 cup of the Raspberry lemon curd in a mediul bowl and gintly fold in the whipped cream.

Using a spatula evenly spread the cream in the tart shell and decorate with pieces of sliced lemons or fresh raspberry. Refrigerate until serving.