Last updated on May 7th, 2021.
These Chocolate Baked Donuts are not only super easy to make but also moist, tender, and loaded with a dense chocolate flavor.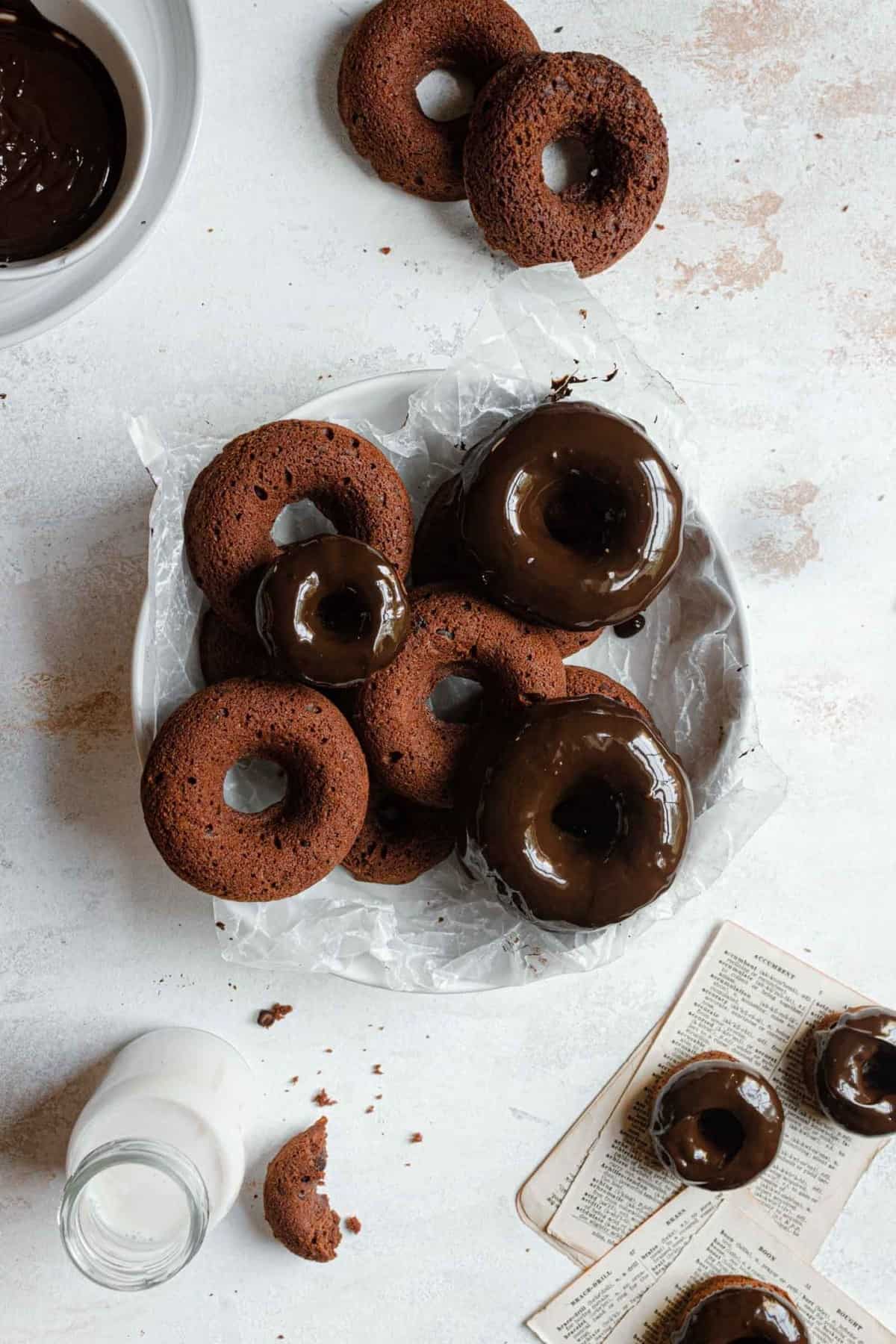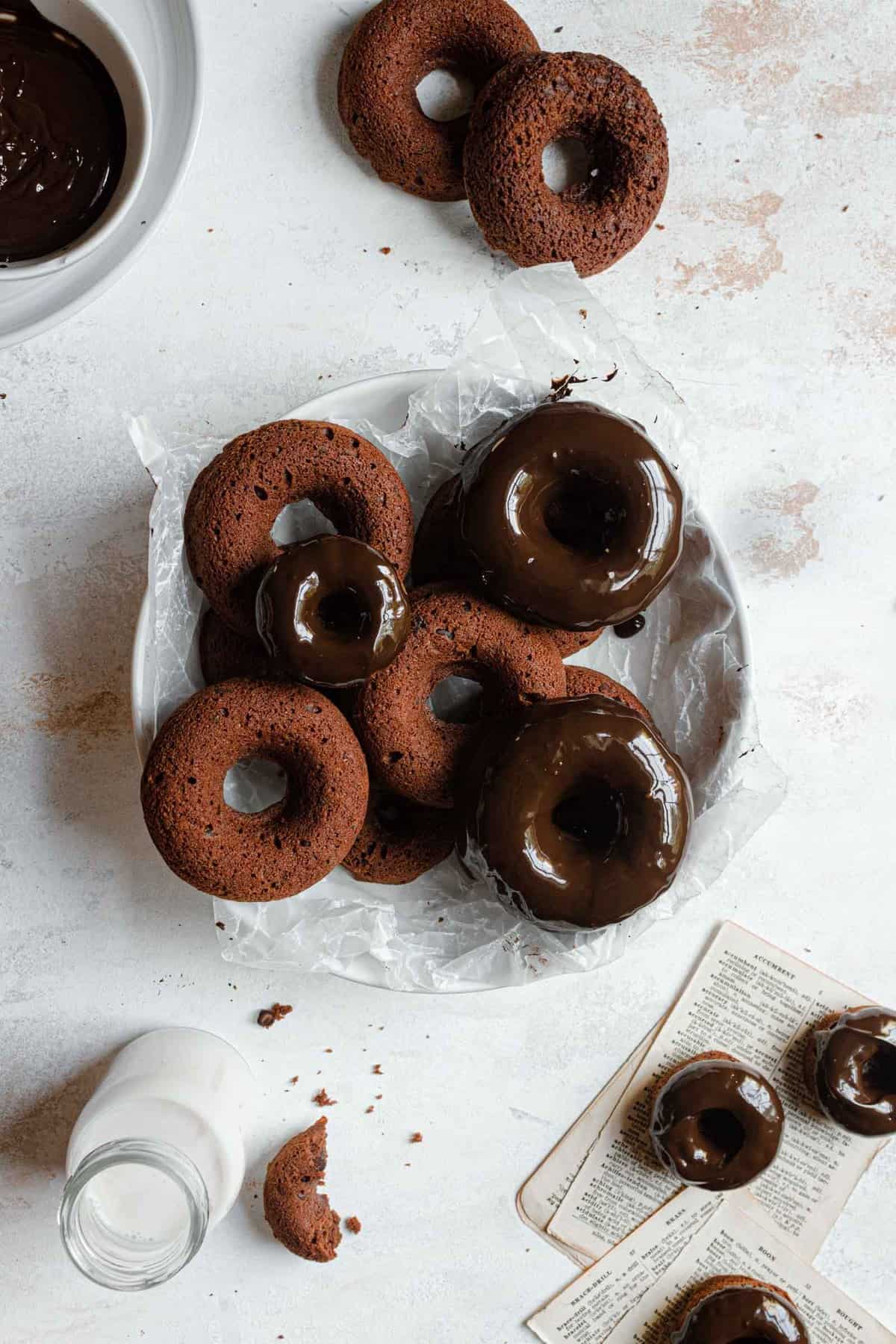 It would be true to say that these days we are all in need of some chocolate love. But let's be honest, this statement is true for any day.
These chocolate donuts are your "any time of day" answer to your "any time of the day" chocolate craving. You can dip it in melted chocolate, dust it with powdered sugar, or frost with plain frosted and sprinkles.
And in addition, this recipe is super easy and fast. All you need are basic ingredients, 2 bowls, 2 pans, and 25 minutes.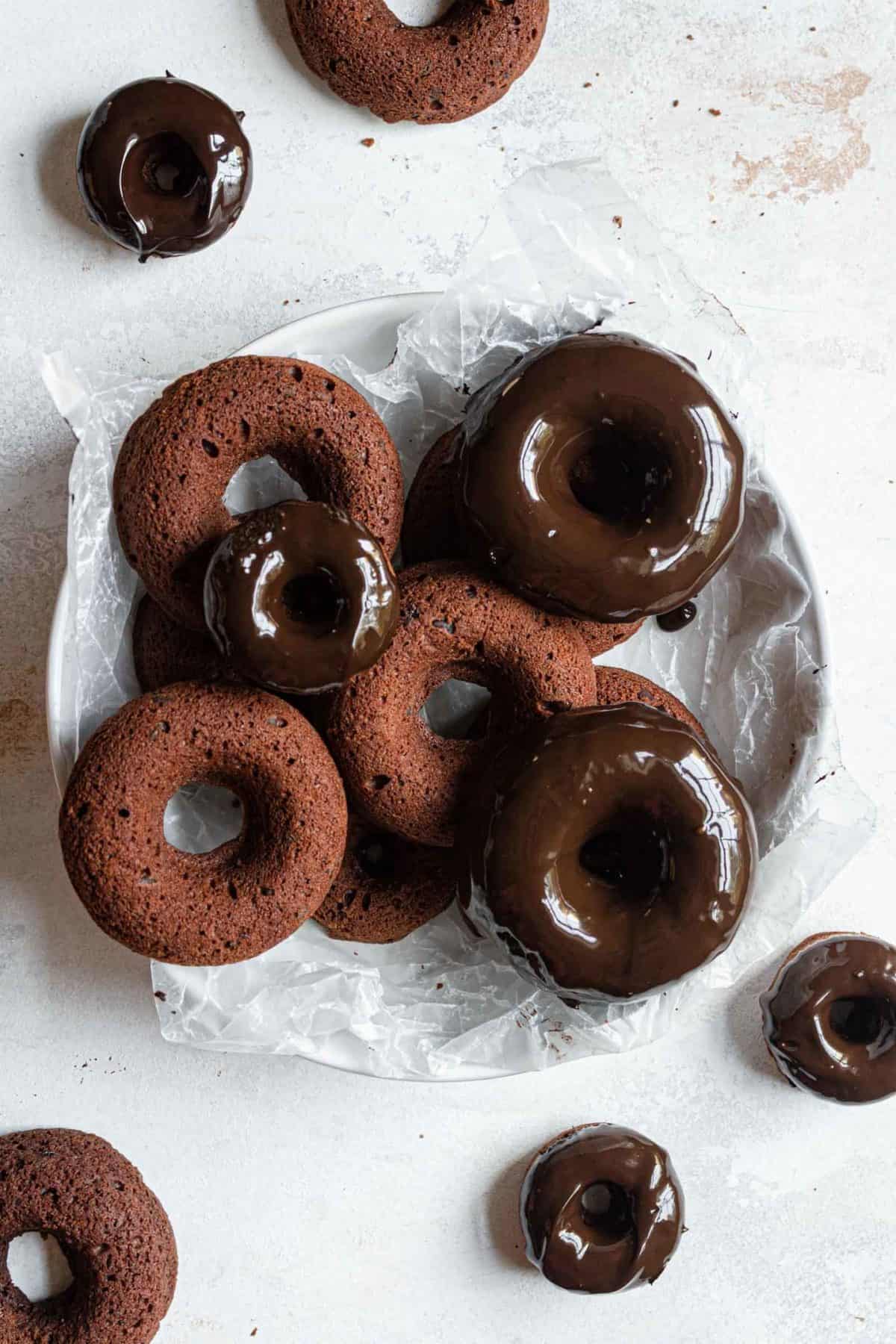 Ingredients Used In This Recipe:
AP Flour
Unsweetened cocoa powder, I like to use Hershey's or Hershey's special dark cocoa powder.
Light brown sugar, firstly it enhances the chocolate flavor and secondly, it adds moisture. In addition, you can use dark brown sugar or regular sugar.
baking powder
Salt
Chocolate Chips, dark, semi-sweet, or milk. Your choice. (I like to use mini chocolate chips)
Espresso Powder, optional. You can also use instant coffee.
Eggs
Milk, full fat preferably.
Vinegar, regular or apple cider. This is a super important ingredient. It helps the donuts become soft and moist. However, if you do not have any vinegar, use freshly squeezed lemon juice.
Unsalted Butter, melted and slightly cooled. If using salted butter, drop the salt.
How To to make these donuts:
Very simple. Firstly, mix all dry ingredients in a medium-sized bowl, secondly mix the wet ingredients in a separate bowl. Then lastly pure wet ingredients into dry ingredients and mix to incorporate.
I like to pipe the batter into the donut pans, but you can use a spoon to do so.
How to store the donuts:
The donuts can be stored at room temperature for up to 3 days, and also bagged unfrosted in a freezable bag and frozen for up to two weeks.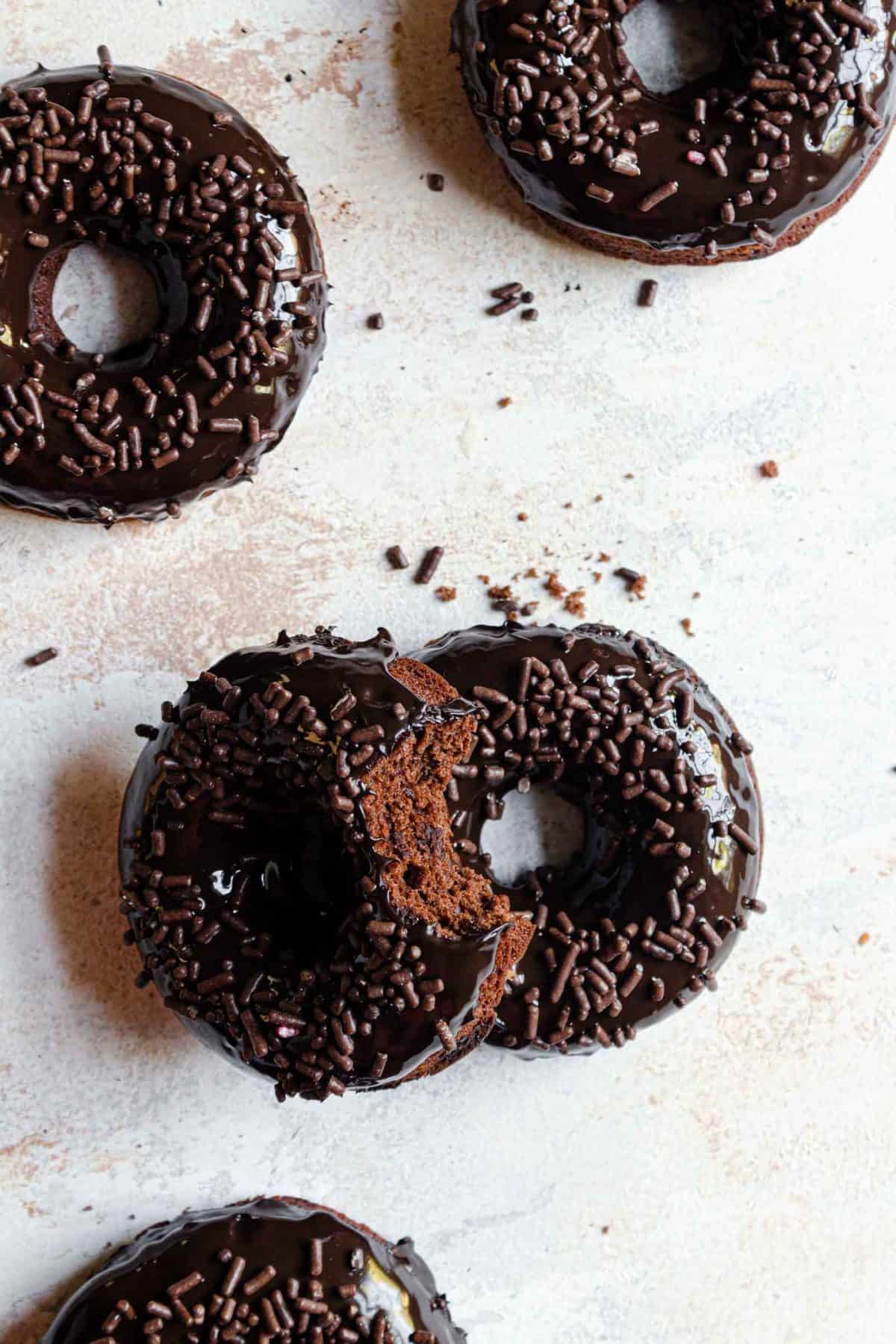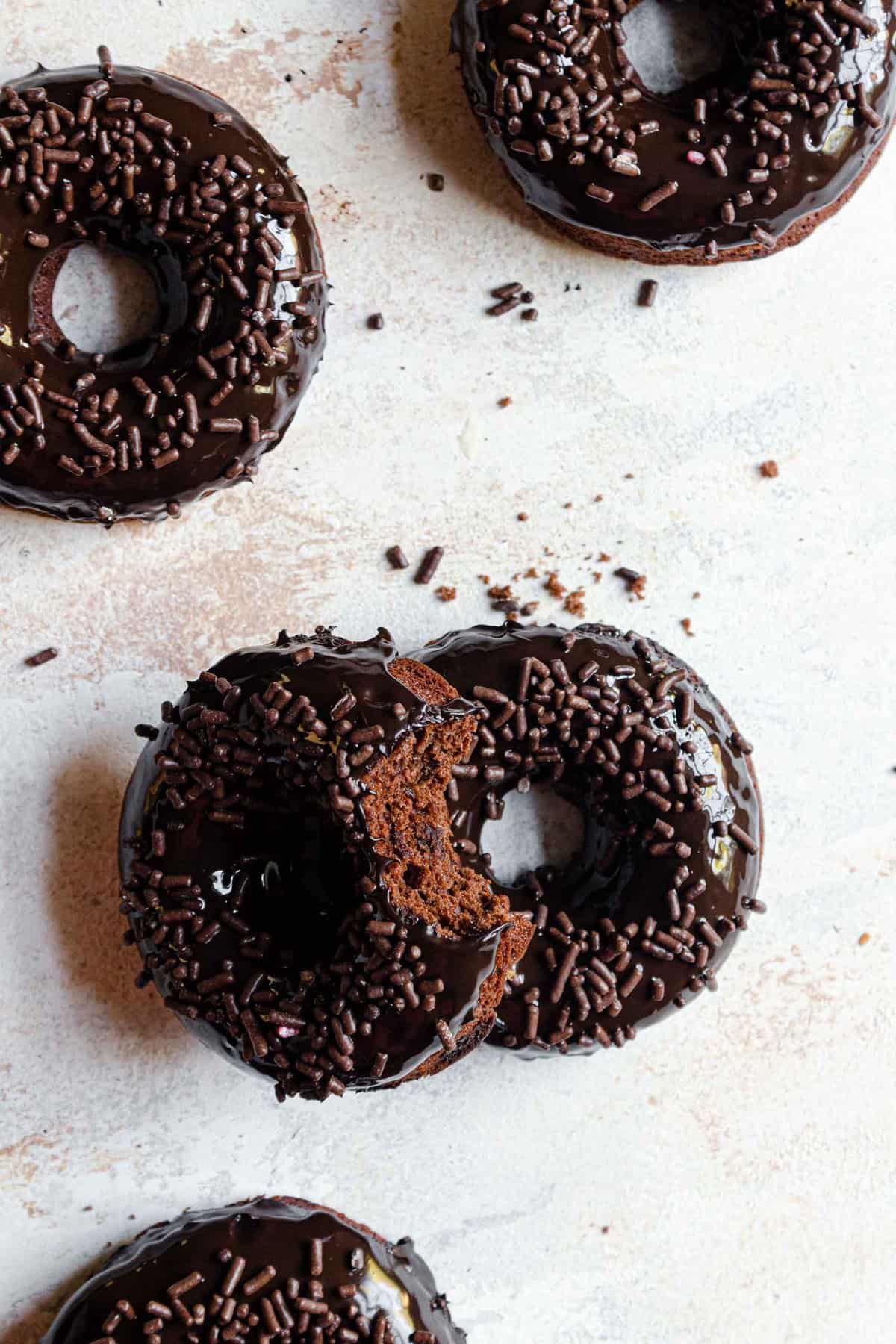 Few more notes about this Chocolate Baked Donuts
This recipe was adapted from King Arthur Flour and it also calls for an additional 1 tsp of Baking Soda. I chose to skip it because it made the donuts overflow and get flat.
Feel free to get creative and add nuts, crushed Oreo cookies, coconut, or whatever you chose instead of the chocolate chips. Same with the topping.
You can skip the chocolate icing and just dust with powdered sugar or regular icing.
For a smaller batch, cut the recipe in half.
HAPPY BAKING!!!
HERE are some more recipes you might enjoy:
Also, don't forget to tag @OneSarcasticBaker on Instagram if you bake this recipe. Would love to see your creations!
Did you like this recipe and inspiring? Save THIS PIN to your Chocolate, Desserts, or Donuts boards.
Triple Chocolate Baked Donuts
Ingredients
2/3

Cup

Cocoa Powder

(57 g/ 2 oz)

1 3/4

Cups

AP Flour

( 206 g/ 7 1/4 oz)

3/4

tsp

espresso powder (optional)

1 1/4

Cups

Light Brown Sugar

(266 g/ 9 1/3 oz)

1

Tsp

Baking Powder

3/4

tsp

Salt

1

Cup

Chocolate Chips

(170 g/ 6 oz)

2

Large

Eggs

3/4

Cups

Milk

2

tsp

Vanilla Extract

2

tsp

vinegar, white or cider

1/2

Cup

Unsalted Butter, Melted (or 1/3 cup vegetable oil)

(113 g/ 4 oz)
Chocolate Icing
1

Cup

Chocolate chips

(170 g/ 6 oz)"

4

TBS

Whole milk or Half and Half

1

Cup

Sprinkles (optional)
Instructions
Preheat oven to 350F. Grease 2 standard donuts pans.

In a large bowl, mix together the flour, cocoa powder, baking powder, salt, espresso powder, sugar and Chocolate Chips.

In a large measuring cup, whisk together the milk, eggs, vinegar and vanilla extract.

Pour the liquid mix into the flour mix following the melted butter and mix just to combine.

Pipe or spoon the batter into the Donuts pans 3/4 full.

Baked for 12-15 minutes. Remove from the oven and allow 5-10 minutes to cook before removing from the pans.

When completely cool, melt the chocolate chips and milk together and whisk until you get a smooth icing.

Dip each donut in the chocolate icing and add the sprinkles.