Last updated on February 13th, 2023.
Homemade chocolate waffles are the perfect breakfast, snack, and chocolate lover recipe. These waffles are crispy on the outside, light, and tender on the inside, and easy and fun to make.
Scharffen Berger sponsors this post. All thoughts and opinions are my own; thank you for supporting the brands that make One Sarcastic Baker possible.
I am a massive fan of easy and comforting pastries like these Apple Muffins and these Coconut Scones, but every once in a while, I want to treat myself and my loved one with an indulging chocolate recipe. So today, we are expanding our brunch recipes repertoire with the most delicious and easy Chocolate Waffle Recipe.
How to make chocolate waffles
This recipe is more like double chocolate waffles since it calls for both cocoa powder and chopped chocolate. Still, you can also sprinkle some chocolate chips into the batter, making it a triple chocolate waffle.
It is as easy as this Double Chocolate Muffins recipe or this Chocolate Glazed Donut, and you will need only two bowls and a waffle maker. I like to grease mine using baking spray, but you can also brush melted butter.
Start by measuring your ingredients: natural cocoa powder, all-purpose flour, baking powder, sugar, eggs, vegetable oil, egg whites, and milk. I used Scharffen Berger chocolate products; the taste and quality are always excellent.
In a large bowl, place the cocoa powder and chopped dark chocolate, bring the milk to a simmer, pour it over the chocolates, allow it to sit for 1-2 minutes, then stir until smooth.
Mix in the vegetable oil and egg yolks. Mix the flour, sugar, baking powder, and salt in a separate medium bowl. Add the dry ingredients to the wet ingredients and mix to blend.
Whip the egg whites until a thick opaque meringue is formed, about 2-3 minutes. Fold the meringue into the chocolate waffle batter. Kind of like when making chocolate Belgian waffles.
Pour one cup of waffle mix over your warm waffle maker, and sprinkle with some chocolate chips. Cook over medium heat for about 3 minutes on each side. Remove from heat, and place over a cooling rack or serving plate. Top with your favorite toppings.
Storing
The waffles are best when fresh. Or it can be stored at room temperature for one day, covered, then warmed in the toaster. Do not store the leftover chocolate waffles in the refrigerator; it will dry them.
Freezing and Reheating Chocolate Waffles
Just like traditional waffles you buy at the frozen aisle, you can freeze these fluffy waffles, reheat them in your toaster, or over and enjoy them fresh.
Layer the waffles in a freezer bag in a single layer (or a few layers divided by parchment paper), and freeze them for up to four weeks. To reheat, remove from the freezer and place in the toaster or oven until thawed and warm. For crispier waffles, increase the toasting/baking time.
Topping ideas
There are no wrong options here, but I like the toppings to be the clue of the occasion; for example, fresh fruit or fresh berries drizzled with maple syrup are great toppings for breakfast or brunch. A scoop of Ice cream and whipped cream drizzled with chocolate sauce are great for a mid-week dessert. Of course, more options are caramel syrup, peanut butter, fresh strawberries, or even simple powdered sugar dust.
Tips
Please read the below tips carefully for the best results.
Make sure that the eggs are at room temperature.
Please do not bring the milk to a full boil. Otherwise, it might burn the separate the chocolate from its fat. When that happens, a layer of light fat floats on top.
If you don't want to make the meringue, reduce the egg whites to 3 (total of 2 large eggs, plus one large egg white), and add them to the chocolate milk mixture. Note that the waffles might not be as crispy as they would with the meringue.
Do not overmix the batter; lumps are ok. Overmixing might deflate the batter.
Do not add chocolate chunks or chips to the batter; they will sink to the bottom and might deflate the batter.
Cook the waffles until crispy, it took me a total time of 6 minutes, but that might change depending on your maker.
Whole milk is best, but reduced milk is also a good option, as well as plant base milk. Do not use skim milk.
To make a pancake mix, use one cup of milk (240 ml) and two whole eggs.
Cool waffles over a wire rack to prevent them from sweating and losing their crispy texture.
Here are a few more recipes you might enjoy
Brownie Cake, Black Forest Brownies, Fluffy Pancakes, Brioche French Toast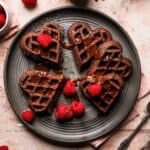 Chocolate Waffles Recipe
Chocolate waffles, tender and crispy on the outside and light and airy on the inside.
Ingredients
1/2

Cup

Unsweetened cocoa powder

(50g/2oz)

1/3

Cup

Chopped semi-sweet dark chocolate

(60g/2oz)

1 1/2

Cup

Milk

(360ml/12floz)

2

Large

Egg yolks

1/4

Cup

Vegetable oil

(50ml/2floz)

1 1/4

Cup

All-purpose flour

(150g/5oz)

2

teaspoons

Baking powder

1/2

teaspoon

salt

1/2

Cup

Sugar

(100g/3.5oz)

4

Large

Egg whites
Instructions
Place the cocoa powder and chopped chocolate in a large bowl.

Bring the milk to a simmer, pour it over the chocolates, then use a whisk to stir until the chocolate is completely melted.

Mix in the oil, followed by the egg yolks.

Sift together the flour, baking powder, salt, and sugar in a separate bowl. Add it to the chocolate mixture and mix to blend. Do not over-mix.

Whip the egg whites in a separate large bowl, then whip until a thick opaque meringue forms.

Pour one cup over a medium-heat warmed waffle maker, and cook for 3 minutes on each side.
Recipe Notes
Here are the Scharffen Berger products I used: Unsweetened cocoa powder, 62% semi-sweet dark chocolate, and 55% dark milk chocolate with maple sugar chunks. 
Make sure the eggs and egg white are at room temperature.
Chocolate chips might deflate the mix and sink to the bottom, so sprinkle them after you pour the batter (like pancakes).
To avoid making the meringue, mix two large whole eggs plus one egg white after adding the vegetable oil.
The waffles are ready when they feel slightly crisp when you touch them with your fingers. 
To make chocolate pancakes, use one cup of room-temperature milk and two large eggs.