Last updated on March 13th, 2023.
Brioche French Toast is what you always needed and never knew. This buttery bread your whole family will love gets a sweet, soft texture that goes perfectly with a drizzle of maple syrup and fresh berries.
What Makes Brioche French Toast Special?
The Brioche Bread. It is very rich in butter, giving it a buttery flavor and unique texture that keeps its tenderness even when not fresh and a bit dry. However, you can make this recipe using Challah bread, Chocolate Chip Brioche, Chocolate Brioche Bread leftovers, day-old Croisaants, leftover Cornetti (Italian Croissants) and even Cinnamon Brioche Rolls leftovers.
Ingredients
The custard calls for simple ingredients; you can find the complete list and measurements in the recipe card below.
Brioche bread. Sliced into 1/2-inch slices. You can get one at your local grocery stores (trader Joes has a great one) or a homemade one.
Whole milk and Heavy cream. I like to use a combination of the two, mostly milk, but you can do the opposite, even use half-and-half or plant base milk.
Maple syrup. To sweeten the custard and add flavor, you can use honey instead or brown sugar.
Large eggs.
Salt.
Cinnamon sticks and vanilla extract. Optional, I add it to the custard the night before to add a hint of flavor, but you can make it without the cinnamon and vanilla.
Butter. To grease the pan.
How to make French toast crispy and not soggy?
It is easier than one might think to follow those three rules, and you'll get the best F. toast recipe:
Use stale/dry bread. Fresh bread will crumble and will not set well.
After soaking in the custard mixture, let the bread rest for a few minutes, so the custard can evenly distribute.
Bake at 375F (190F) for 5 minutes after cooking, optional.
How To Make It?
You can make this recipe within 30 minutes, start to finish, but I like to prep the night before so the custard will develop its flavors and the bread gets its chance to dry out.
Slice the bread into 1/2-inch thick slices and bake at 250F for about 20 minutes (to dry it) while you make the custard. Or, line it over a wire rack overnight for 8 hours.
Mix the milk, heavy cream, maple syrup, salt, and eggs in a large mixing bowl. If making the night before, add the cinnamon sticks and refrigerate.
Pour the egg mixture into a large wide bowl (or a pie dish), and soak two bread pieces for 30 seconds on each side. Remove the slices onto a wire rack and dip the next slices.
Warm a wide skillet (frying pan) and grease it with about one teaspoon of butter. Once the butter is sizzled, add the soaked bread and cook on medium heat for 2 minutes on each side until golden brown.
Transfer to a plate, drizzle with syrup, and enjoy.
Storing and reheating
This recipe is best when fresh, but it can be frozen for up to four weeks, just like my Fluffy Pancakes and Chocolate waffles recipes. When ready to use, please remove it from the freezer, line it over a baking sheet, and bake it at 300F (150C) until defrosted and warm. You can warm a single slice in the toaster. If you have leftovers, place them in a freezer bag or an airtight container and freeze them for up to 3 weeks.
Topping and serving ideas
There is no best way to serve your French toast. The best part about this homemade recipe is that you can make it your own with your favorite toppings; here are some ideas: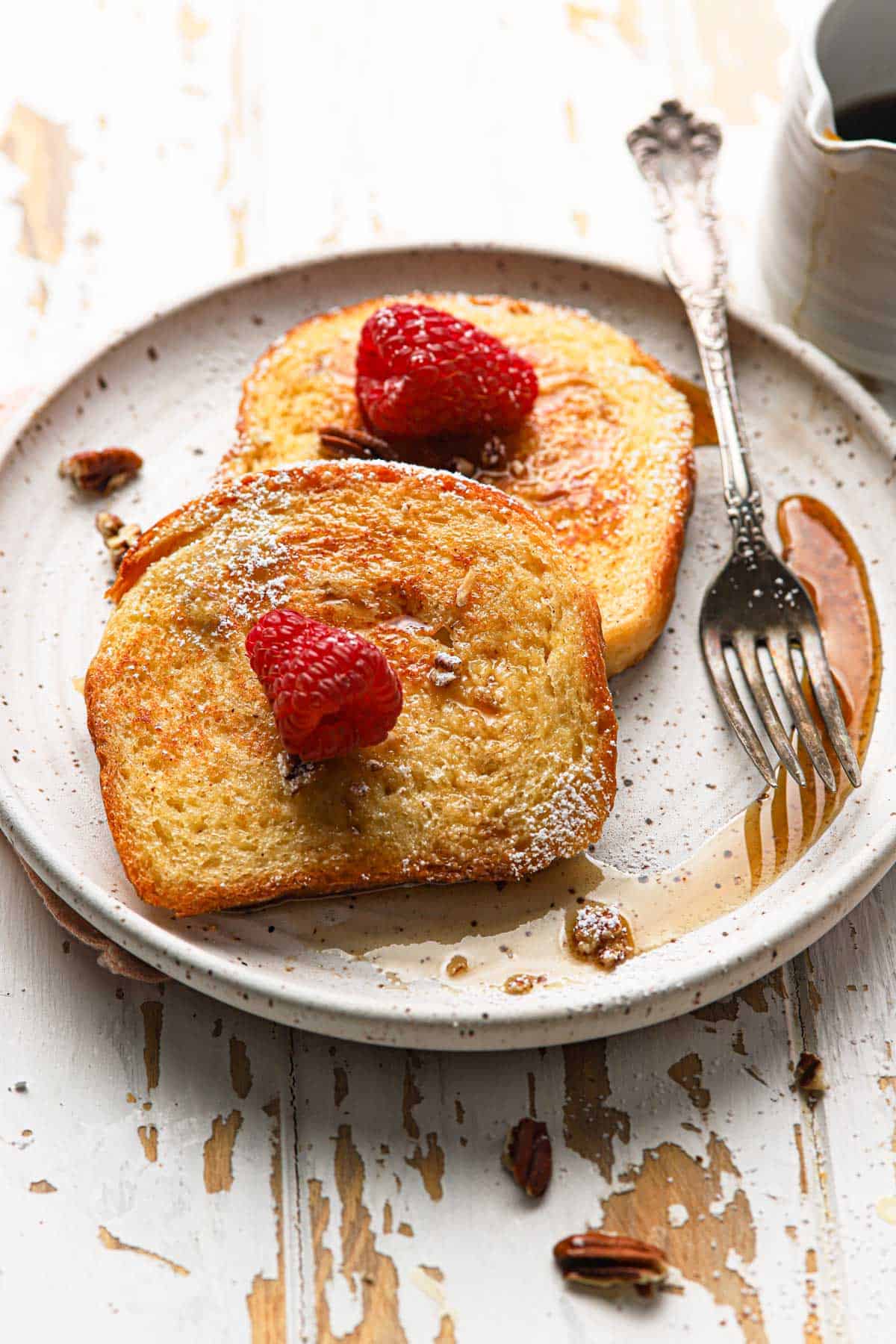 Tips and FAQ
Use a paper towel to wipe the pan as you go.
As you cook, the milk solids in the butter get dark and might give an unpleasant appearance. Carefully wipe the melted butter with a paper towel and add new butter.
Place the cooked slices over a wire rack.
To prevent the bottom of the toast from getting soggy.
How to store leftovers?
Wrap the leftovers in aluminum foil and place them in the refrigerator for up to 3 days or freeze them for up to 3 weeks.
What is brioche French toast?
It is slices of brioche bread soaked in simple egg custard and then sauteed in butter.
Can applesauce replace eggs?
No, eggs are the best option in this case.
How do I make French toast with cornflakes?
Before cooking the toast, coat the bread with cornflakes crumbs and cook. Increase cooking time as needed.
How do I make this recipe with regular bread?
Use bread instead of french bread (brioche) and follow the recipe.
Can I make baked this recipe?
Yes, bake at 350F (180C) for 12 minutes on each side or until golden brown and dry.
Can I use this recipe to make a casserole?
Yes, line the bread in a French Toast casserole dish, pour over the custard, and let sit for about 20 minutes. Bake at 350F (180C) for about 30-35 minutes or until golden brown.
More Breakfast and Brunch recipes
Brioche French Toast Recipe
A homemade french toast made with brioche bread.
Ingredients
10-12

1/2-inch

Brioche bread slices

3/4

Cup

Whole milk

(180ml)

1/4

Cup

Heavy cream

(60ml)

2

tablespoons

Maple syrup

(30ml)

1/4

teaspoom

salt

3

Large

Eggs

1/2

Stick

Butter, for cooking
Instructions
The night before: Mix the milk, heavy cream, salt, maple syrup, cinnamon sticks, vanilla extract, and eggs in a large bowl and place in the refrigerator overnight.

Line the brioche bread over a wire rack, over a baking sheet, and toast in the oven at 250F, for 20 minutes. If the bread is dry, you can skip this step.

Remove the custard from the refrigerator and pour it into a wide plate (like a pie dish). Dip two-three slices in the custard and soak for 30 seconds on each side.

Remove the slices from the custard, and place them over a wire rack for 2-3 minutes to completely soak in the custard.

Warm your skillet and melt one teaspoon of butter.

Place the bread in the skillet and cook for 2 minutes on each side over medium-low heat.

Remove from heat and place over a wire rack to cool or serve.
Recipe Notes
You can skip making the custard the night before; remember not to add the cinnamon sticks.
You can use honey instead of maple syrup.
Use a paper towel to wipe the skillet between each slice.
You can freeze leftovers in a freezer bag for up to three weeks or in the refrigerator for up to 3 days.
Bake the F.toasts at 350F (180C) for 12 minutes on each side. 
Use regular bread or challah instead of brioche bread.