Last updated on August 13th, 2023.
Homemade Brioche bread is soft, buttery, and easy to make despite its high couture french cuisine reputation. This versatile bread dough can make countless recipes in addition to sandwiches and french toast like Cinnamon rolls and even challah recipes.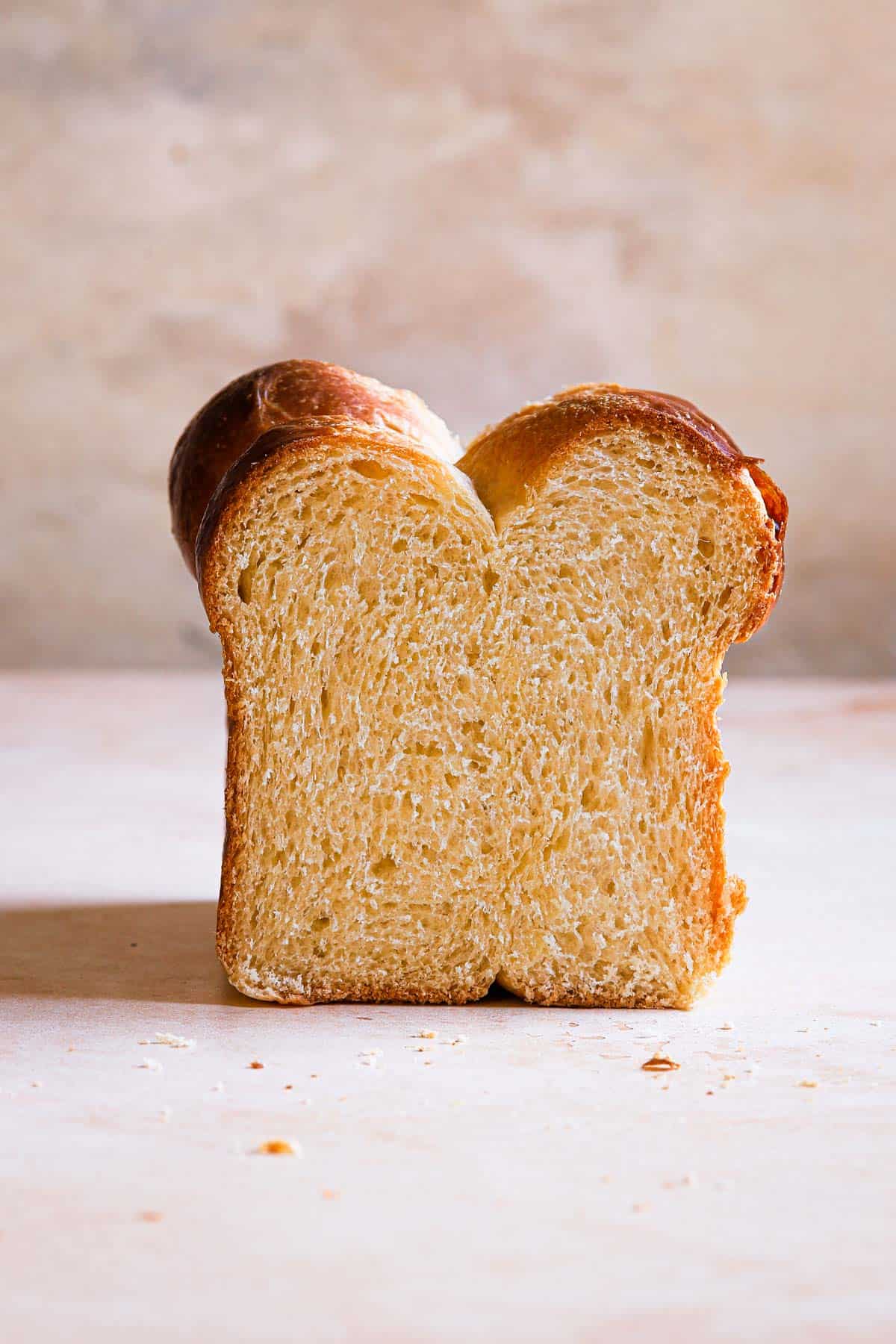 What Is Brioche?
Brioche is a classic French bread dough; it gets its tender crumb and rich buttery flavors from generous additions of eggs and butter. This enriched dough is the base for many pastries such as croissants, Cornetti, danish pastries, and sweet rolls.
Learn how to make the perfect Brioche dough by Understanding the science
By understanding the basic elements, we can troubleshoot any problem and master it, even if this is your first brioche bread recipe.
Brioche dough is used to make bread, rolls, and pastries, and it is a crossbreed of elastic, sturdy bread and tender, soft cakes and pastries. What gives bread its stretchy quality is a strong gluten development, and what gives pastries their delicate bite is the butter.
But we can't just mix butter into a bread mixture so easily because butter, or any other fat, disturbs gluten formation. Gluten is a long chain that, when mixed with water, stretches and connects to other chains. The tighter (more mature) the connection is, the more sturdy the dough is. And just like our hands won't be able to open a door knob with oily hands, the gluten chains won't bind and strengthen with butter in the mix.
The solution is straightforward: we add the butter after we create the gluten bonds. So the butter will coat the gluten chains instead of coating the flour granules, and as we knead, the dough can incorporate the butter while the butter-coated gluten chain continues developing and maturing.
Think of it like opening the door before greasing your hands.
How To Make Brioche Bread?
Time needed: 13 hours and 10 minutes
Prepping the Ingredients

Unless otherwise stated, ensure your ingredients are at room temperature, especially the butter and eggs. This recipe calls for:
Flour. A combination of unbleached all-purpose and bread flour (affiliate link) is ideal. Bread flour has a strong gluten that will bond more quickly, but If you do not have it available, use all-purpose flour. Do not use bleached all-purpose flour or cake flour.
Active dry yeast does not need to be soaked in water before adding the flour. I included substitutions and instructions for cake yeast or instant yeast in the recipe card below.
Granulated sugar and salt.
Large eggs at room temperature.
Cold water so the dough temperature won't rise too high and kill the yeast caused by friction during the long kneading processes.
Butter, soft at 71-73F (21-23C), cut into 1-inch pieces.

Making the foundation dough

Mix the flour, yeast, sugar, and salt in a large bowl of a stand mixer. Use the paddle attachment on low to incorporate the ingredients, then add the eggs, followed by the water.
Mix until you have a shaggy mass.

Replace the paddle attachment with the dough hook attachment and knead on medium for about 3 minutes. We are mixing to make a sturdy dough full of long and string fibers that we will coat in step 3.

Adding the butter

Add the butter. Reduce speed to medium-low and add the butter two pieces at a time, waiting about 10-15 seconds before adding the following pieces. Start with medium speed and increase to high speed once you add the last piece of butter.

Knead. Now it is time to mature the gluten. Keep kneading until the dough is separated from the sides of the bowl, and when you pull, it stretches without easily tearing. Be patient. It can take 15-20 minutes, and remember that the kneading process is the key to the best result. I added some images of before and after.

Proofing

Right now, it is relatively warm and sticky dough that is not easy to work with, and it is time to allow the dough to rest and for the yeast to release air and puff the dough. The best way to do that is in the refrigerator because we want to be able to shape it when it is ready before the butter can melt.

Divide the dough into two equal pieces.
Wrap each piece in plastic wrap. Make sure to wrap it loosely and leave room for the dough to rise. Place in the refrigerator and rest overnight or for 10-12 hours.

Shaping Brioche Loaf

When ready to shape, remove the dough from the refrigerator and have a loaf pan (or two) greased and ready.

Unwrap the dough, and place it over a clean work surface dusted with flour.
Gently press the dough and shape it into a square about 9×9-inch (or 8×8-inch if using a nine-inch loaf pan).

Fold the top part of the dough towards the center, then fold the bottom over the center.
Place the loaf in the prepared pan and gently brush with an egg wash.

Cover with plastic wrap and let rest again in a warm place.

Shipping Nantaise Loaf

This is the traditional way to shape Brioche bread.

Divide the dough into eight equal portions.

Roll each piece into a symmetric ball by caging the dough in the palm of your hand, then move your hand in a circular motion and allow the friction of the movement to shape the dough into a ball.

Line the balls in the pan in two rows. Brush with egg wash and set aside to rest.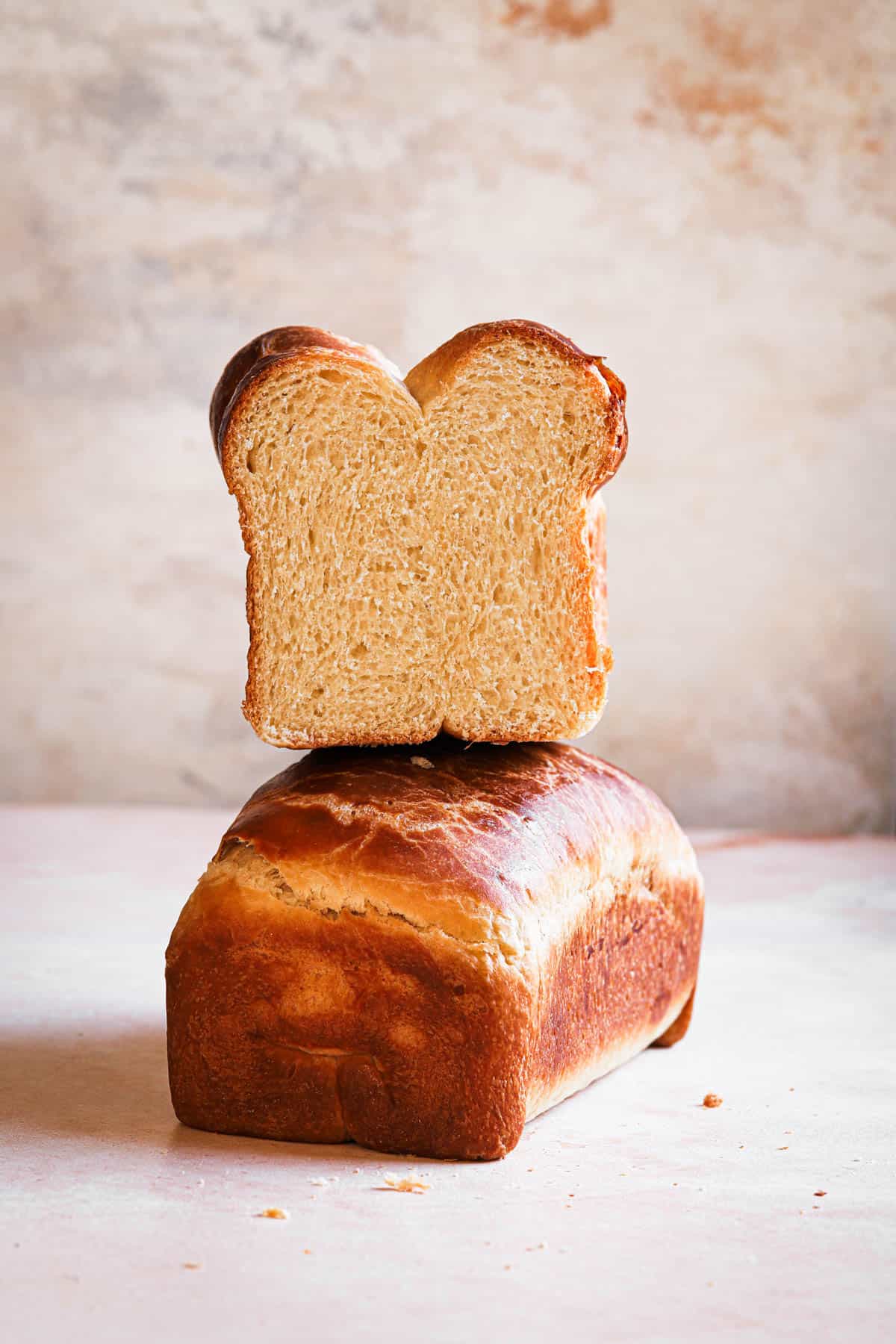 Can I make brioche dough without a mixer?
Marie Antoinette is famously known for saying, "Qu'ils mangent de la brioche". That was back in 1789, and I doubt Kitchen Aid was trending, so yes, you can make brioche bread by hand. Follow the recipe, be patient, and do not be tempted to add more flour or butter. It is supposed to feel and look this way! Also, please do not use a hand mixer; mixing the dough using a whisk attachment would be like mixing the dough.
Storing
This buttery bread is best when fresh out of the oven when the internal temperature is 180-190F (76-82C). Let it cool slightly in the pan, then remove it and place it over a wire rack to cool.
You can keep the bread at room temperature for up to two days, in the refrigerator for up to five days, or in the freezer for up to 3 weeks.
To freeze, wrap it with plastic or aluminum foil, then place it in a freezer bag and freeze. When ready to eat, remove from the freezer, unwrap, and let warm up to room temperature.
How to enjoy the bread?
Firstly, you can make more baked goods like brioche buns, Chocolate Babka, Chocolate Chips Brioche, brioche donuts, Bavarian cream donuts, Pain Aux Raisins, and even Boston cream donuts. I like to spread butter and homemade preserves like this candied apple jam when baked. You can use the bread to make:
Brioche Bread Tips and FAQs
Use a kitchen scale
For best results, use a kitchen scale to measure the ingredients; too much flour or not enough will make a huge difference and can make or break a recipe.
What does brioche bread taste like?
A buttery and slightly sweet white bread.
Why didn't my dough rise?
It could be that the yeast is dead, the dough did not develop mature gluten, and the gas escaped.
Why does my dough smell like vinegar?
Either you over proved it, placed it in a warm place, or did not mix long enough for the gluten to mature.
Can I use milk instead of water?
Yes, you can use slightly cold milk. Bring the milk to a boil, then cool it down to 65F. It might affect the bread's height, like when I baked this choux pastry.
Can I skip the overnight proofing?
Brioche dough develops its rich flavor from the long proofing process. In addition to carbon dioxide (gas), the yeast releases flavor molecules, so a long rest time is necessary.
Why do we need the second rise?
Because we released all the air when we shaped the dough, the yeast needed to release more gas for the bread to turn light and airy.
Can I use salted butter?
No, salt contributes to the texture of the bread, so you want to control how it goes in.
Can I freeze the dough?
Yes, wrap it in plastic and freeze it for up to a week. A day before baking, remove from the freezer and place in the refrigerator; the next day, shape and bake.
What makes brioche bread different?
It is rich in eggs and butter and has a more extended proofing period.
What is the best way to eat brioche?
Brioche is best eaten warm and fresh.
Is brioche a sweet bread?
Most brioche recipes call for 10-20% of the flour in sugar, considered sweet bread.
Does Brioche bread freeze well?
Yes, both as baked bread and raw dough.
Can I use only bread flour or only all-purpose flour?
Yes. If using only bread flour, increase the butter amount by 2 (25g) tablespoons, a total of 275g/10oz.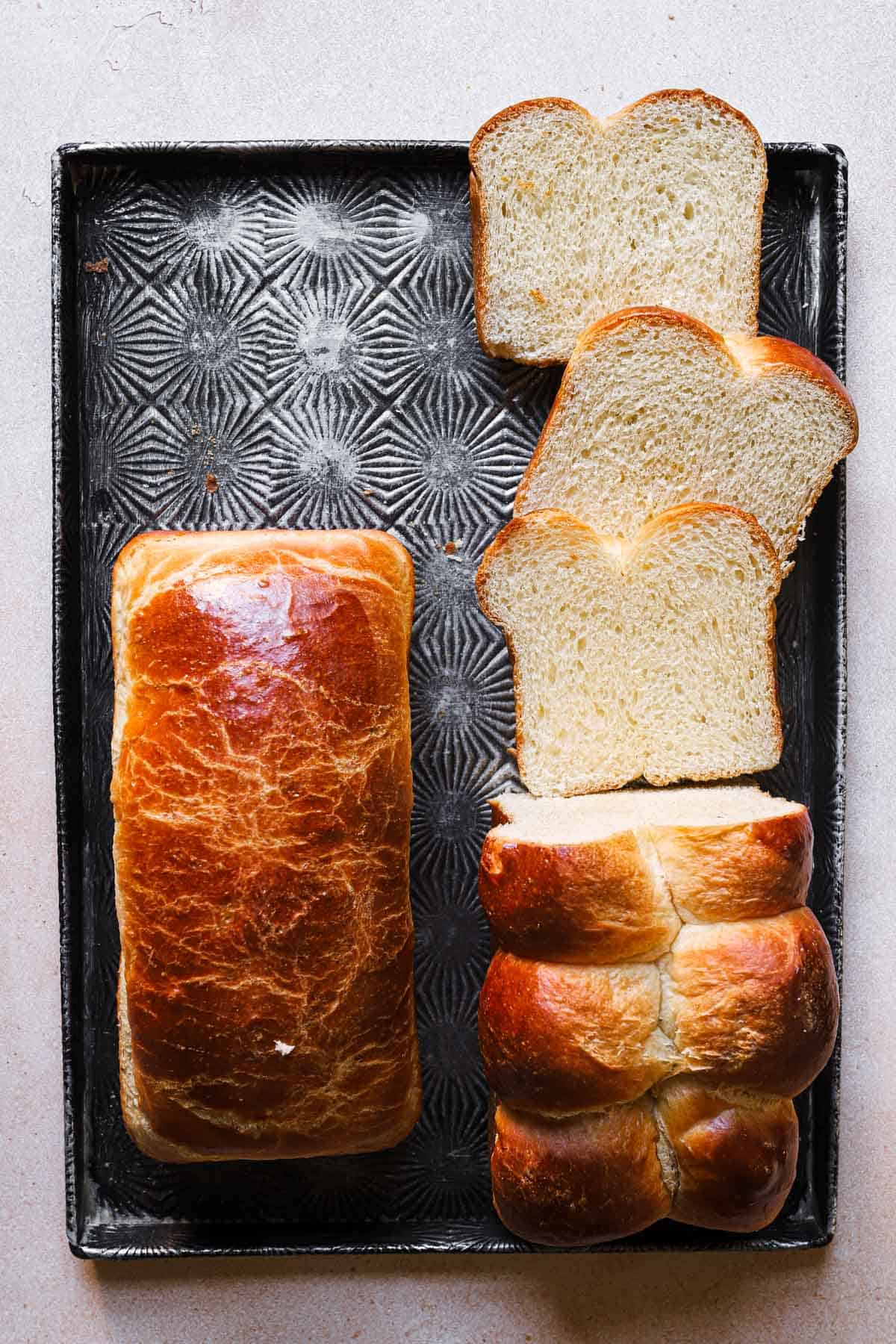 More recipes you might enjoy
How To Stabilize Whipped Cream, Sweet round challah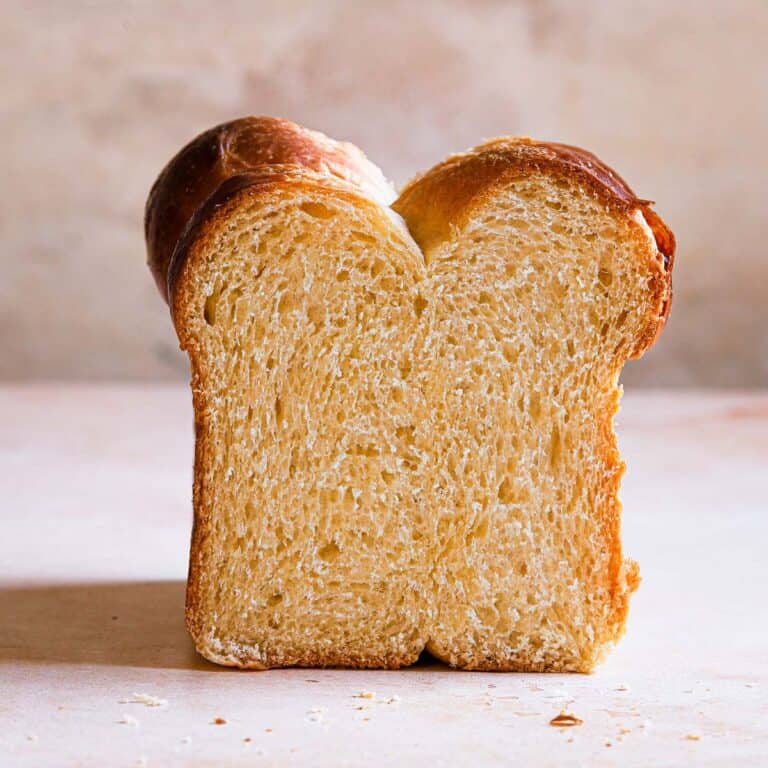 Brioche Bread Recipe
Buttery, tender, and comforting homemade brioche.
Ingredients
3

Cups (- 2 tablespoons)

Unbleached all-purpose flour

(350g / 12.5oz)

3

Cups (- 2 tablespoons)

Bread flour

(350g / 12.5oz)

2 1/4

Teaspoons

Instant yeast

(10g / .5oz)

2

teaspoons

Salt

(12g)

1/2

cup

Sugar

(100g / 3.5oz)

4

Large

Eggs, at room temperature

3/4

Cup

Cold water

(180ml)

20

Tablespoons (2 1/4 sticks)

Unsalted butter, at room temperature, cut into one-inch pieces.

(250g / 9oz)
Instructions
In a stand mixer bowl, add the two types of flour, yeast, sugar, and salt. Use the paddle attachment to mix at medium speed.

Add the eggs, followed by the water, and continue mixing until a shaggy mass forms and the flour is fully hydrated.

Replace with the dough hook, and knead for additional three minutes.

Add the butter, one piece at a time, waiting about 15 seconds between each addition.

Increase speed to high, and keep kneading until the sides of the bowls are clean, and the dough easily stretches without tearing.

Divide the dough into two equal parts, and wrap each piece in plastic, and refrigerate for 10-12 hours.
Shape the dough
Unwrap one portion of the dough, and place it over a clean surface with some flour.

Gently deflate the dough and press it into a 9-inch square.

Fold the top part towards the center, then the bottom over it. Gently lift the loaf and place it in an 9-inch pan lined with parchment paper, and grease on the sides.

Brush with an egg wash, cover with plastic wrap, and place in a warm spot until double in size.

Bake for 35-40 minutes at 350F (180C) until the internal temperature is 180-190F (82-87C).

Invert the bread to a wire rack after 10 minutes of cooling in the pan at room temperature.
Recipe Notes
Use a kitchen scale for the best result.
Make sure the eggs and butter are at room temperature. 
Yeast conversions: use 3 3/4 tablespoons of active dry yeast and 4 1/2 tablespoons of fresh yeast. Soak the yeast in both cases with 1/4 cup warm water and 1/2 teaspoon sugar. Reduce the water amount to 1/2 cup.
The bread is best eaten when fresh and stored at room temperature for two days in the refrigerator for five days.
You can freeze the dough for up to one month. A night before use, place it in the refrigerator, then shape it the next day.
If using milk instead of water, bring the milk to a boil, then allow it to cool to room temperature (65F).
Do not use salted butter.
You can use all all-purpose flour or all-bread flour. If using bread flour only, increase the butter amount to 275g/28oz.
Onesarcasticbaker.com