Last updated on March 13th, 2023.
This oven-baked Brioche French Toast Casserole is easy, impressive, and delicious. Buttery brioche bread is soaked into a creamy cinnamon custard and served with maple syrup, fresh berries, or fresh fruit.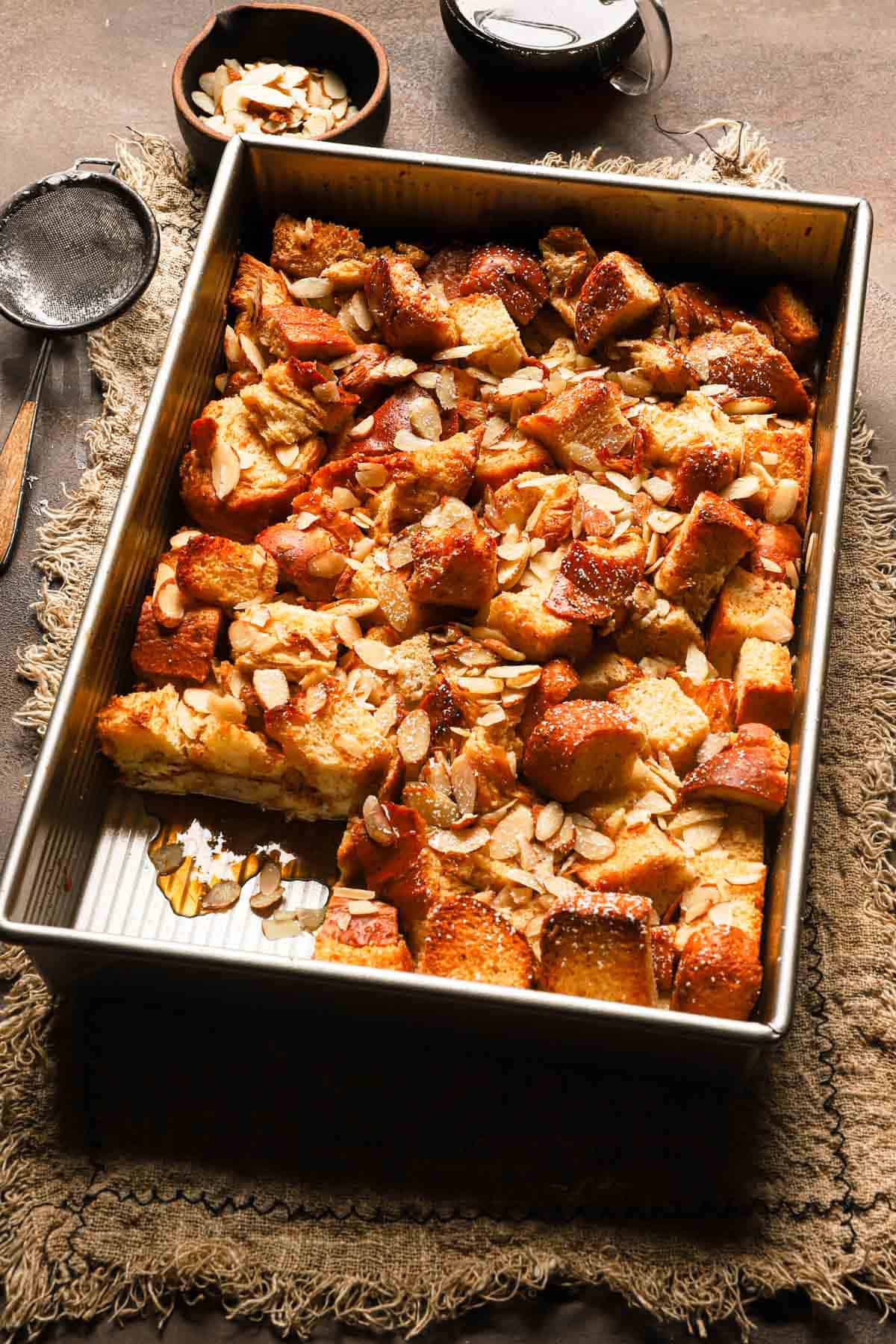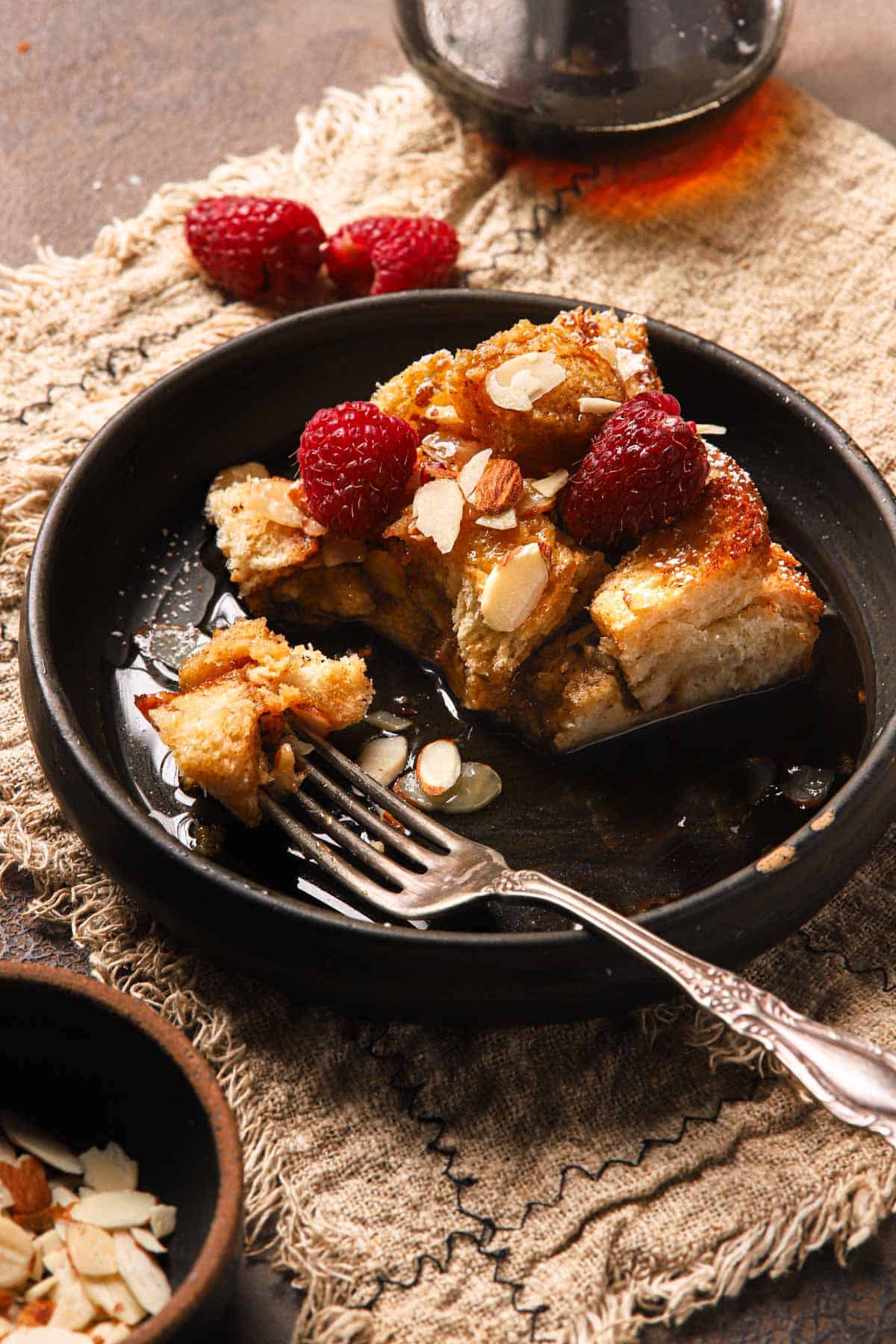 Why Casserole, and how is it different from a French Toast recipe
While a classic French toast is easy and sometimes a last-minute recipe for the whole family, you can make as few or as many slices as you wish. Baked french toast casserole is great for a crowd. It can be made ahead; you can customize it to fit your guests or add a personal touch.
This easy french toast bake takes only 10-15 minutes to assemble, it calls for simple ingredients, so it is the perfect recipe to construct the night before and bake the next morning just before serving time.
This is the perfect recipe for your weekend mornings, Christmas morning, easter morning, and even mother's day brunch. Add it to your easy breakfast recipes repertoire, right next to these fluffy pancakes and apple muffins.
Ingredients
You will only need basic ingredients to make this perfect breakfast dish, and you can find the full list and measurements in the recipe card below. I listed substitution options next to each ingredient.
Brioche loaf. You can bake your own or get a loaf from your local grocery store. You can also use challah, and chocolate chip brioche bread.
Eggs, large.
Milk and heavy cream. You can also use whole milk, half and half, and plant-based milk.
Maple syrup. I like the delicious breakfast tones it adds to the casserole, but you can remove it or replace it with honey or brown sugar.
Ground cinnamon. You can add a pinch of nutmeg or ground cloves or remove it altogether.
Salt. Just a pinch to extract the flavors.
Vanilla extract. A small amount will make a huge difference; it rounds up the flavors and adds a light taste.
Optional add-ons options: for a special occasion or to match it to the season: chopped dried fruits like raisins, dates, apricots, chopped nuts, chocolate chips, cinnamon streusel, and fresh fruits like fresh blueberries, raspberries, or even bananas.
How to make Brioche french casserole
The first step is for when your bread is still fresh. The bread must be stale or dry to soak up the custard.
Cut your bread into 1-inch cubes, and spread them over a baking sheet in a single layer. Bake for 20 minutes at 250F (121C). Toss it mid-bake.
In a large mixing bowl, pour the milk, heavy cream, maple syrup, ground cinnamon, salt, vanilla extract, and eggs. Mix until smooth.
Spread the bread in your baking dish, then pour the custard over the bread. Let sit for 15 minutes to soak in the liquids, and use a spoon or your fingers to toss the bread cubes once or twice gently.
Sprinkle with slivered almonds or streusel if desired
Bake according to the instruction below, remove from the oven and serve.
Note on baking the brioche cassarole
The casserole is ready when lightly golden on top, and the bottom is not completely dry and has yet to set. It will set as it cools down.
If you notice that the top of the casserole is browning too much, cover it with aluminum foil before it is ready.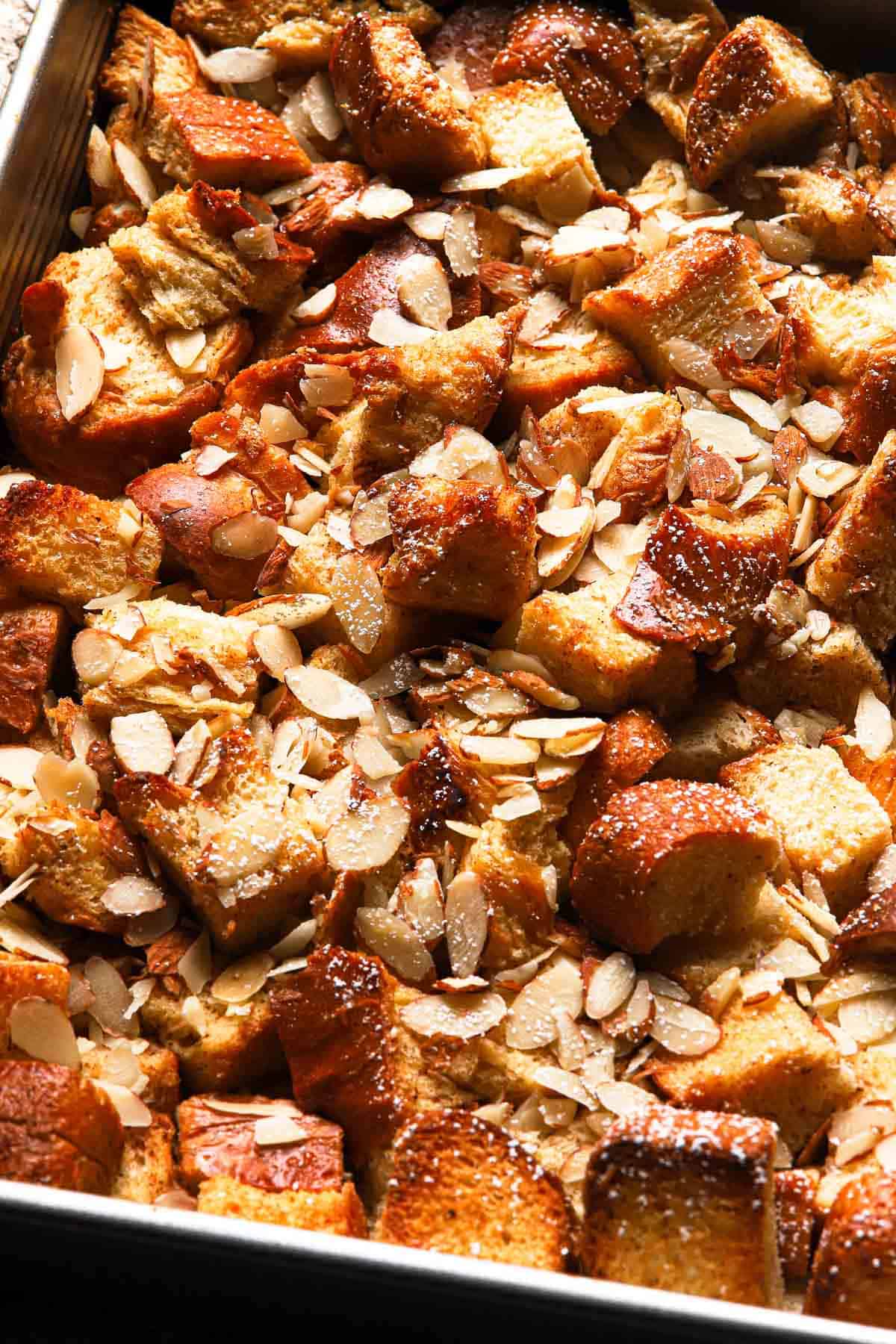 Storing, making ahead, and freezing
This easy french toast casserole is best served when at room temperature. Store leftovers in an airtight container in the refrigerator for up to 3 days or in the freezer for up to 14 days.
To make ahead, refrigerate the night before for up to 10 hours.
To reheat, warm in the oven at 300F until warm.
Recipe tips and FAQ's
The optimal size
Is an oval 11" (affiliate), but you can also use a glass dish or a 9×13-inch pan. (mine broke just before, 🙁 )
Slice the bread
To 1/2-inch thick and layer them pointing up in a row for a different look.
Why is my french toast eggy?
You may have added too many eggs or not enough liquids. Another reason is your baked it for too long, so the liquids have evaporated, and the eggs are overcooked.
Why is my french toast casserole soggy?
It is underbaked; pay attention to the tips above about baking the recipe. If it is too soggy, place it back in the oven and bake some more.
Can I bake this recipe as a savory recipe?
Yes. Follow the recipe; reduce the maple to two tablespoons or skip it altogether and add chopped herbs, grated cheese, or chopped meat.
Here are more Brioche and breakfast recipes you might enjoy
Cinnamon Brioche Rolls, Chocolate Waffles, Double chocolate muffins
Brioche French Toast Casserole Recipe
An easy and delicous crown pleaser for any occasion
Ingredients
1

Loaf

Brioche bread, cut into 1-inch cubes

(500g / 18oz)

4

Large

Eggs

1

Cup

Whole milk

(240ml)

1

Cup

Heavy cream

(240ml)

1/4

Cup

Maple syrup

(60ml)

1

teaspoon

Vanilla extract

1

teaspoon

Ground cinnamon

1/2

tespoon

salt
Instructions
If the bread is fresh, preheat the oven to 250F (120C) and bake for 20 minutes, tossing once.

Grease a 10×6.6-inch casserole dish with butter and preheat the oven to 350F (180C)

In a large bowl, mix the milk, heavy cream, maple syrup, eggs, cinnamon, salt and vanilla extract.

Spread the bread cubes in the prepared pan, then pour the custard over the bread.

Let sit for 10-15 minutes, using a spoon or your hands to toss the cubes for an even distribution of the custard.

Sprinkle with sliced almonds, streusel, or any other add-ons you would like. (optional)

Cover the pan with aluminum foil and bake in the middle rack for 20 minutes. Remove the foil and bake for additional 15-20 minutes.

Remove, let cool and set for about 10 minutes and serve.
Recipe Notes
You can prepare the dish the night before, refrigerate then bake it the following day.
Add-on options: chopped nuts, dried food, fresh berries, chocolate chips, and streusel.
Serve at room temperature or warm.
Store at room temperature for up to 3 days, in the refrigerator for up to 5 days, or freeze for up to 14 days.
Warm in a 300F oven for about 15 minutes.