Last updated on May 7th, 2021.
This Amaretto Passover Cake is an impressive Passover dessert soaked with Amaretto flavors and smothered with chocolate ganache.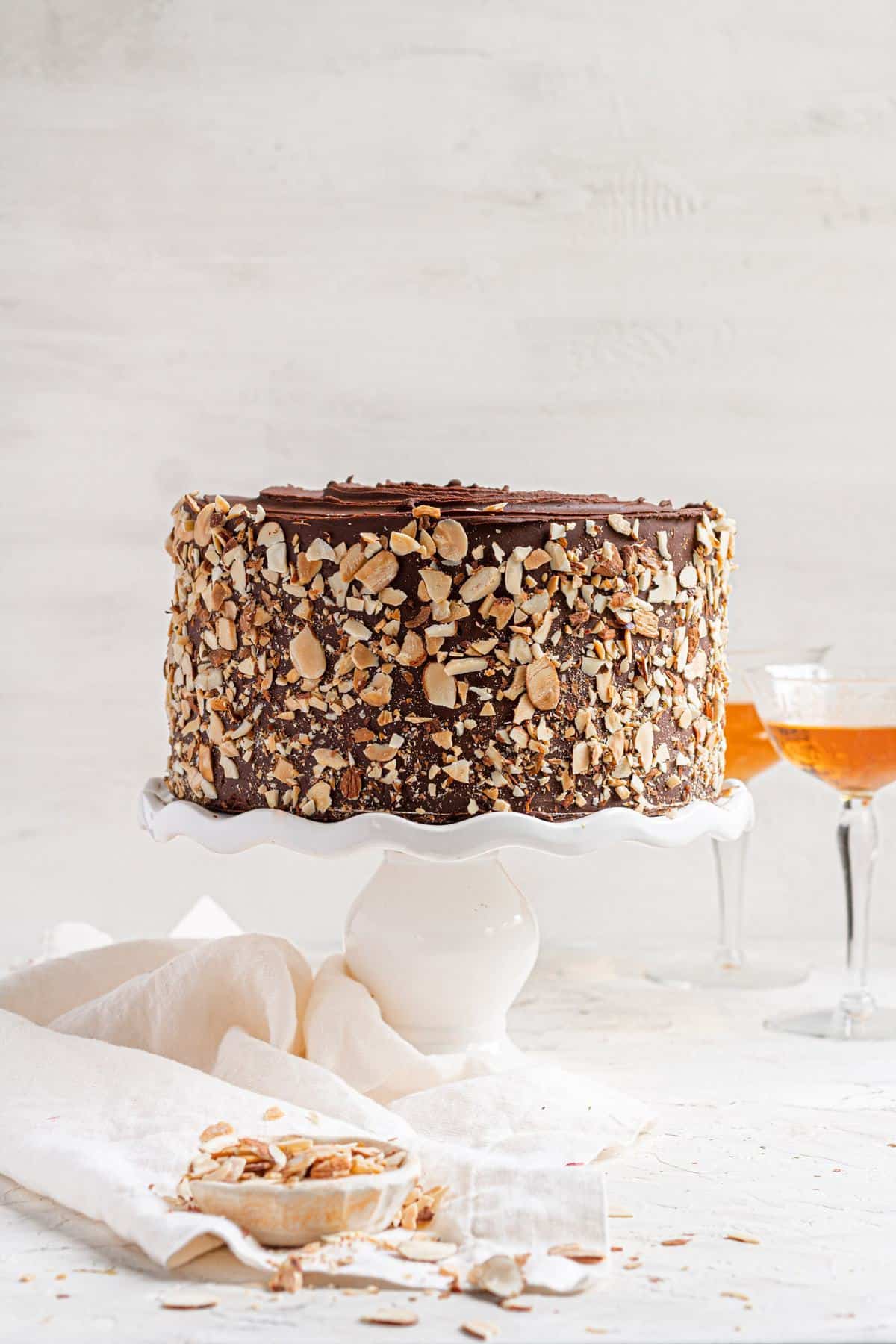 Happy, happy, joy, joy…Passover is almost here.
Yes, I am being sarcastic.
Time for Amaretto Passover cake
The story behind most of the Jewish holidays is pretty much the same:
They tried to kill us. We won. Now let's eat.
Like a good action movie, it has a villain some tension and a happy ending. Sounds good right?
Wrong!
Every rule has its exception. True, we snack on fried donuts during Hanukkah and fill Hamentashen with chocolate when it is Purim time. During Passover, we get the pleasure of avoiding any food that contains flour and might leaven.
Hence, no bread, no pasta and no flour for desserts! FOR A WHOLE WEEK! (Before you raise your eyebrows and decide that I am being too dramatic over one week, please know that complaining is part of the tradition.)
And by the end of the week when my Jewish mother and mother-law no longer contain "I'll make you feel guilty for not following the rules" in their eyes. I feel so light and happy like I was set free from slavery.
Every year as I shove my mouth with thick crust pizza I realize that that is the whole reason for the rule. Freedom is a blessing not to be taken for granted (and to remember how we were slaves in Egypt and were freed,). Also, God bless America.
Lesson learned (for the 38th time…).
No flour is no reason for not baking a cake!
This Sponge cake is not really about the cake. It is more about the Amaretto syrup that is smothering it, giving it a festive texture and flavor.
How to bake this Passover Cake:
This is a sponge cake. Sponge cakes are light, tall and airy and get their flavor from the added flavoring/extracts. In this recipe, it is the Almond extract and Amaretto simple syrup. In addition, most sponge cakes such as this recipe do not have the addition of fat.
The first step in making this cake you need to place the eggs, sugar, and salt in a large metal bowl (I used my mixer bowl) over a double broiler. Use a hand whisker to very occasionally whisking until mixer reaches 130F. Another way is to dip your finger into the mix. If you feel it is too hot it is read.
The next step is to whisk it on medium-high using a standing mixer/hand mixer until light and thick custard has formed. The mix should leave a thick trail that does not close when you run your finger.
Now, sift over the egg/sugar mix the dry mix and gently fold it with a spatula. When all of the dry ingredients have been fully incorporated it is time to gently fold in the meringue.
Divide batter between pans and bake.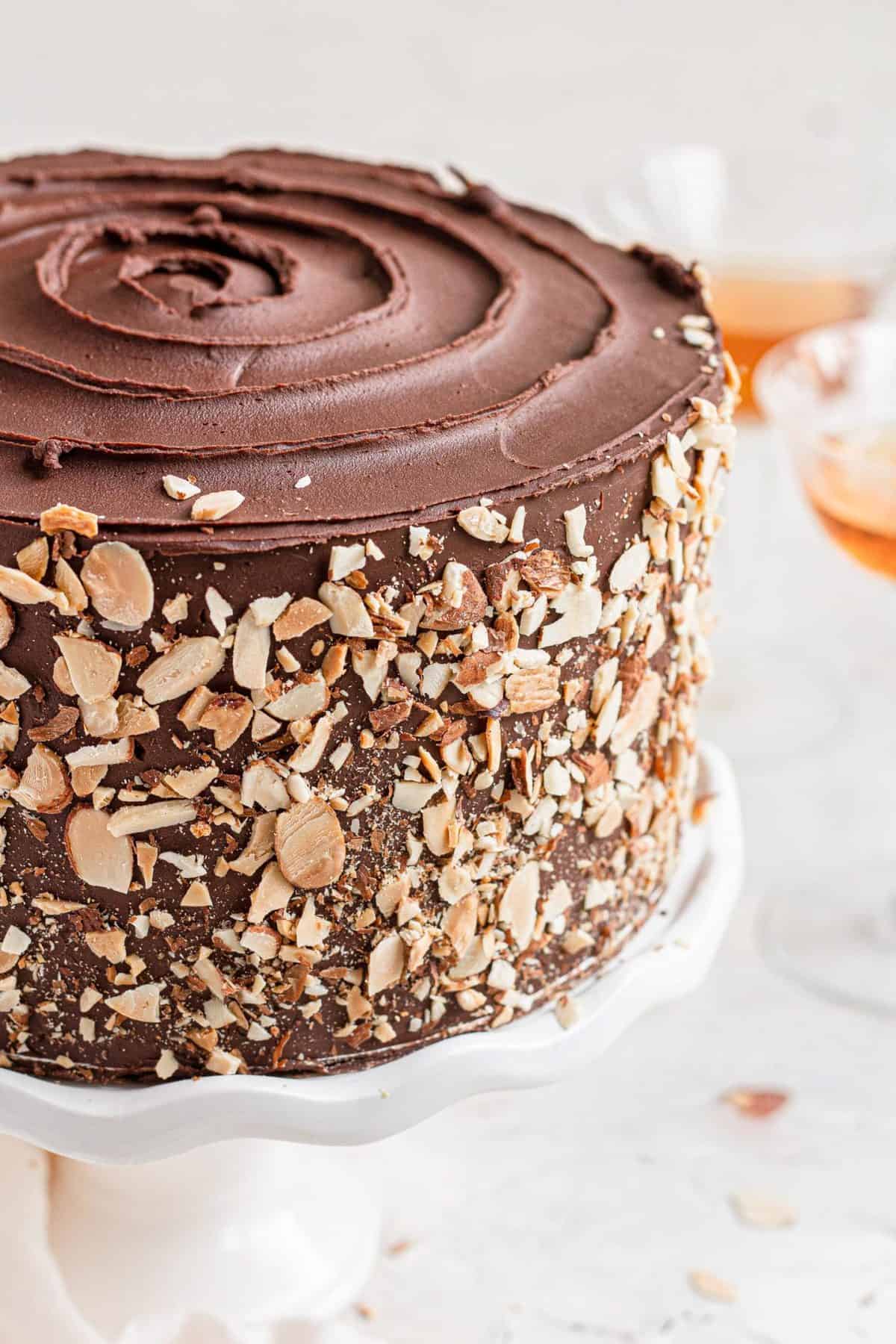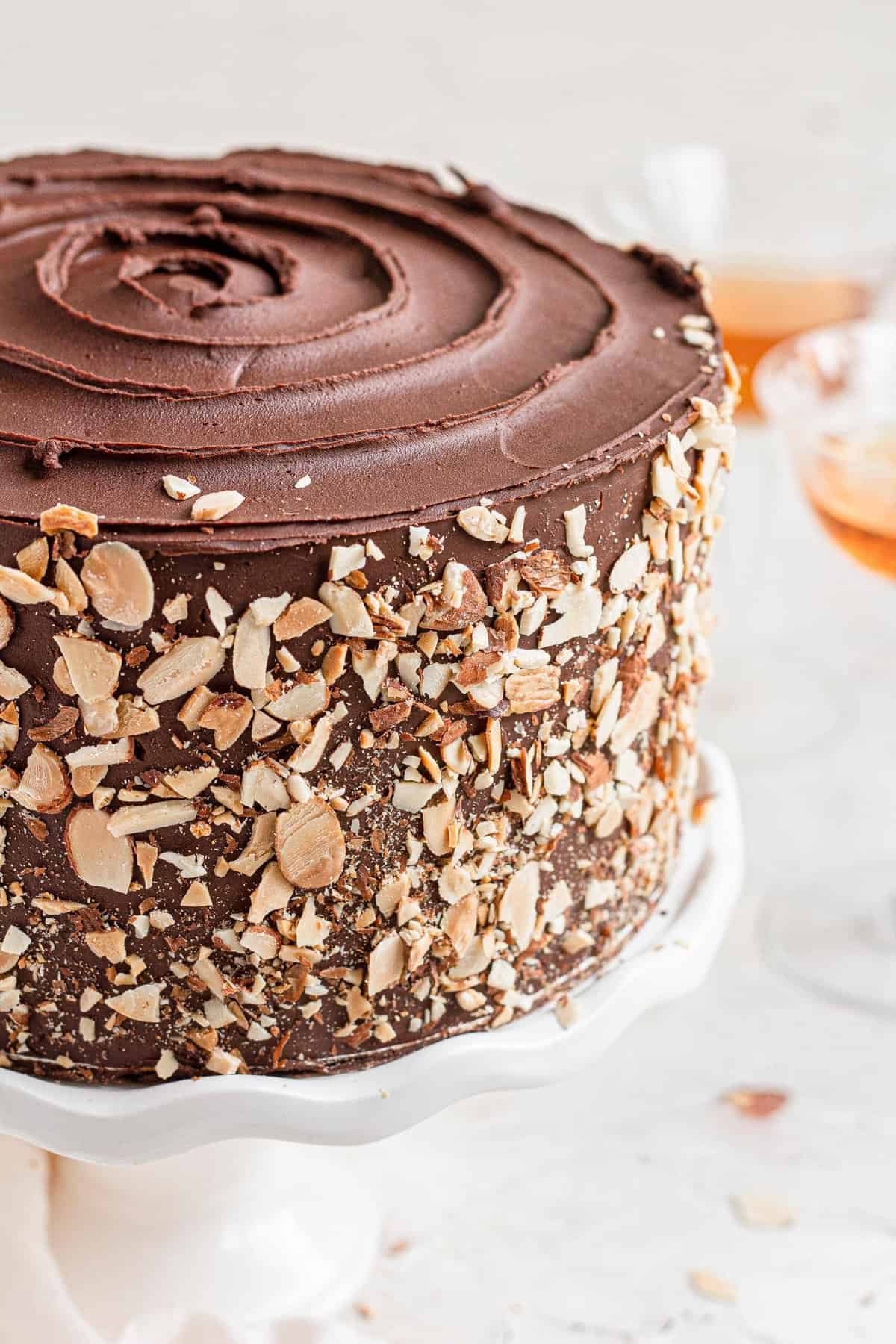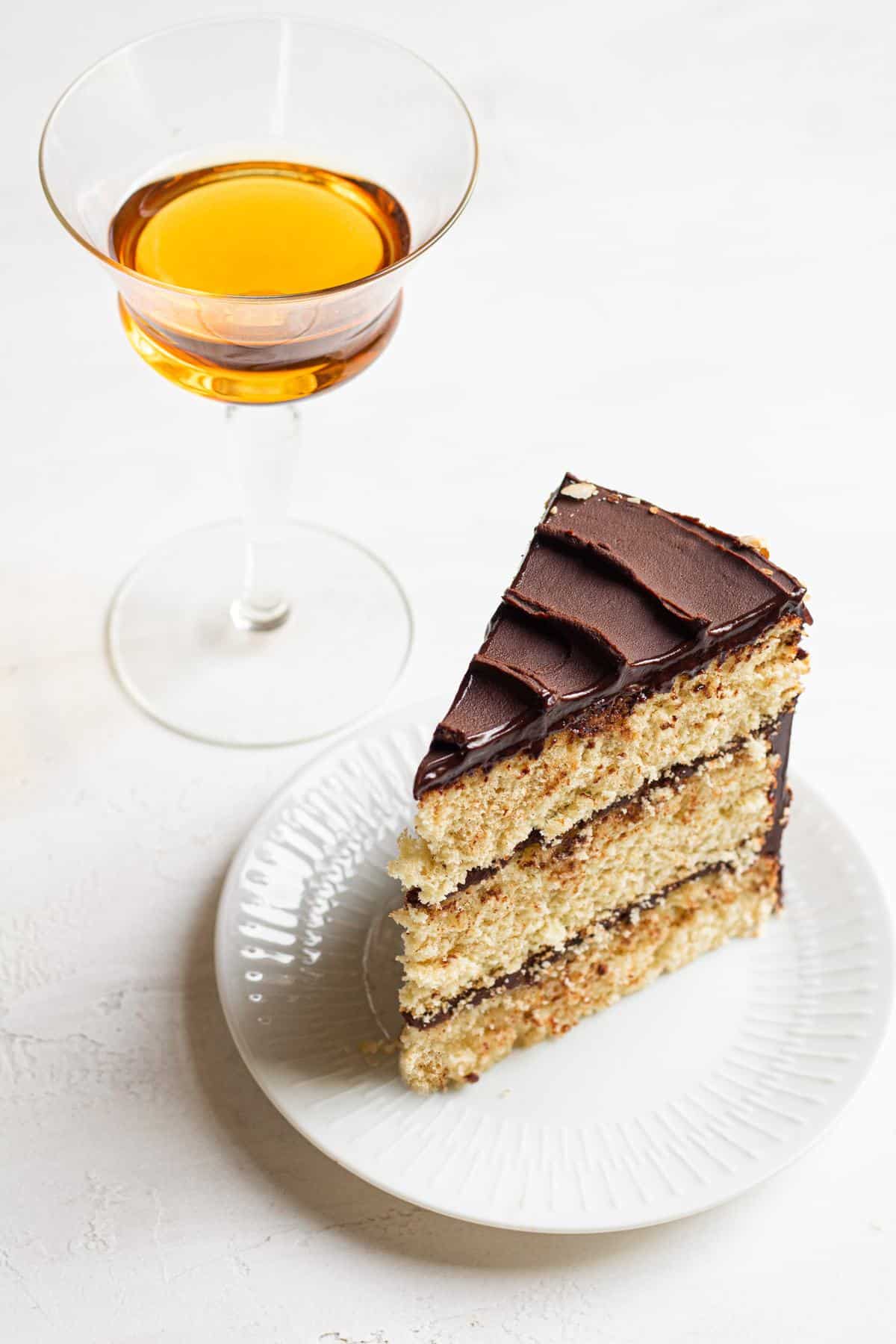 Here are some more note about his Amaretto Passover Cake:
You can bake this cake using 3×8″ pans, 2×9″ pans or 1×9″x13″
A candy thermometer will help however if you do not have one use your finger as an indication. When it starts to be too hot for the finger to touch, remove from heat.
The ganache takes about 2-3 hours to set, you can plan ahead or place in the refrigerator to speed the process.
The ganache can be at room temperature for up to 2 days.
The recipe calls for almond extract and Amaretto but you use whichever flavor, filling and topping you have in mind. Please see below some ideas.
For the best result please make sure the syrup and cake are at the opposite temperature. For example a warm cake, cold syrup.
Flavoring and Topping Ideas:
Orange Chocolate – Firstly replace the almond extract with 1 tsp orange extract in the cake recipe. Secondly, when making the simple syrup, replace Amaretto with Grand Marnier and Almond extract with Orange extract. Sprinkle the cake with some chopped candied oranges.
Funfetti Cake – For the cake recipe replace the almond extract with 1 TBS vanilla bean paste. In addition, replace the almond extract with vanilla extract when making the simple syrup and drop the Amaretto. Cover the sides of the cake with rainbow sprinkles.
Strawberry Shortcake – when baking cake replace almond extract with 1 TBS vanilla bean paste. In addition, replace the almond extract with vanilla extract when making the simple syrup and drop the Amaretto. Fill the cake with fresh strawberries that have been sprinkled with sugar and frost the cake with fresh whipped cream. In addition, you can place some fresh strawberries on top of the cake.
HAPPY BAKING!!!
Here are some more fun recipes you might enjoy:
One more thing…
Also, don't forget to tag @OneSarcasticBaker on Instagram if you bake this recipe. Would love to see your creations!
Did you find this post useful and you like this recipe? PIN THIS PIN to one of you Cake or Dessert boards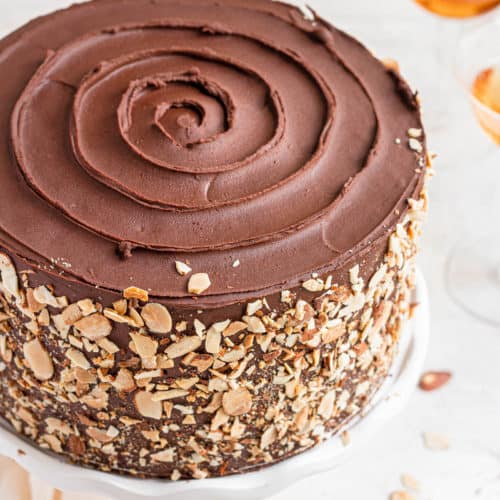 Passover Sponge Cake
Ingredients
1 3/4

Cups

Sugar

(340 g/12 oz)

1/2

tsp

Salt

10

Large

Eggs, beaten

(510 g/ 18 oz)

1 1/3

Cup

Cake Matzo Meal

(170 g/ 6 oz)

1

Cup

Potato Starch

(170 g/ 6 oz)

5

Large

Egg Whites

(170 g/ 6 oz)

1/4

Cup

Sugar

(50 g/ 2 oz)

1

tsp

Almond extract

1/2

Cup

Toasted Almond Flakes

(50 g / 2 oz)
Chocolate Ganache
2

Cup

Chocolate Chips

(900 g/ 16 oz)

1.5

Cups

Heavy cream

1/2

Cup

Light brown Sugar

(100 g/ 3.75 oz)
Simple Syrup
1 1/2

Cups

Sugar

(300 g/ 10.5 oz)

1 1/2

Cups

Water

1/3

Cup

Amarreto

1/2

tsp

Almond extract

Optional
Instructions
Preheat oven to 350F. Grease and flour with parchment paper 3×8" (or 2×9" pans), set aside.

Sift potato starch and matzo cake meal and set aside.

Set a metal bowl over boiling water and place the eggs, salt, and sugar whisking by hand. When the temperature reaches 130F/55c remove bowl from the heat and keep whisking using a standing mixer until you have a think and light custard.

Gently fold in the matzo meal and potato starch 1/2 cup at a time. Fold just enough to blend making sure to maintain as much air as possible.

Whisk the egg whites and remaining sugar into a stiff meringue and fold into the batter until no strikes are left.

Divide the batter into the pans and bake until the cake is light brown and springs back at the center when pressed with a finger. About 20 minutes.

Allow the cake to cool before assembling
To make the Ganache
Place heavy cream and brown sugar in a pan over the stove.

Place chocolate chip in a large bowl.

Over a medium heat while stirring, allow the heavy cream and sugar to combine and remove from heat when starts to simmer.

Pour the warm liquid over the chocolate chip and cover with a lid or a plastic wrap for a few minutes.

Remove the lid and slowly whisk the mixture from the center to the sides until you get a smooth frosting.
To make the simple Syrup
Place ingredients in a pan over a stovetop.

Over a medium heat, while occasional stirring allow mixture to boil. Remove from the stove.
To assemble the cake
On a cake board or a serving dish, place the first layer of cake.

Using a pastry brush, brush the cake with 1/3 of the simple syrup.

Spread about 1/4 cup of chocolate frosting and repeat with the remaining layers.

Cover the cake completely with the remaining of the frosting and decorate with the toasted almonds.