Last updated on November 3rd, 2021.
When you treat someone with one of your baked goods and the response is: " it taste like Passover cookie…" you know it is not a good sign.
Hence, Meringue Tarts Sandwiches.
For these who are not familiar with Passover, it is a Jewish holiday that lasts 7 days in which you can not eat any leavened food. (bread, pasta, cakes)
This year, I decided to look at the glass half full and instead of thinking: "no flour, no flour, no flour" I am thinking: "sugar, lots and lots of sugar…"
And so I present: Meringue Tarts Sandwiches filled with sticky sweet marmalade and Almond flavored Whipped cream. Yumm-eeee!!!
Trust me, no one will think about Passover cookies or Matzot.(even thou you might be snacking on these beauties during the Seder.) You might even forget the 3 hours (going on 5) of family over load.
The crunchy meringue tart is so sweet and balances perfect with the bitterness of the orange marmalade (or tart cherry filling) and the smooth soft texture of the whipping cream.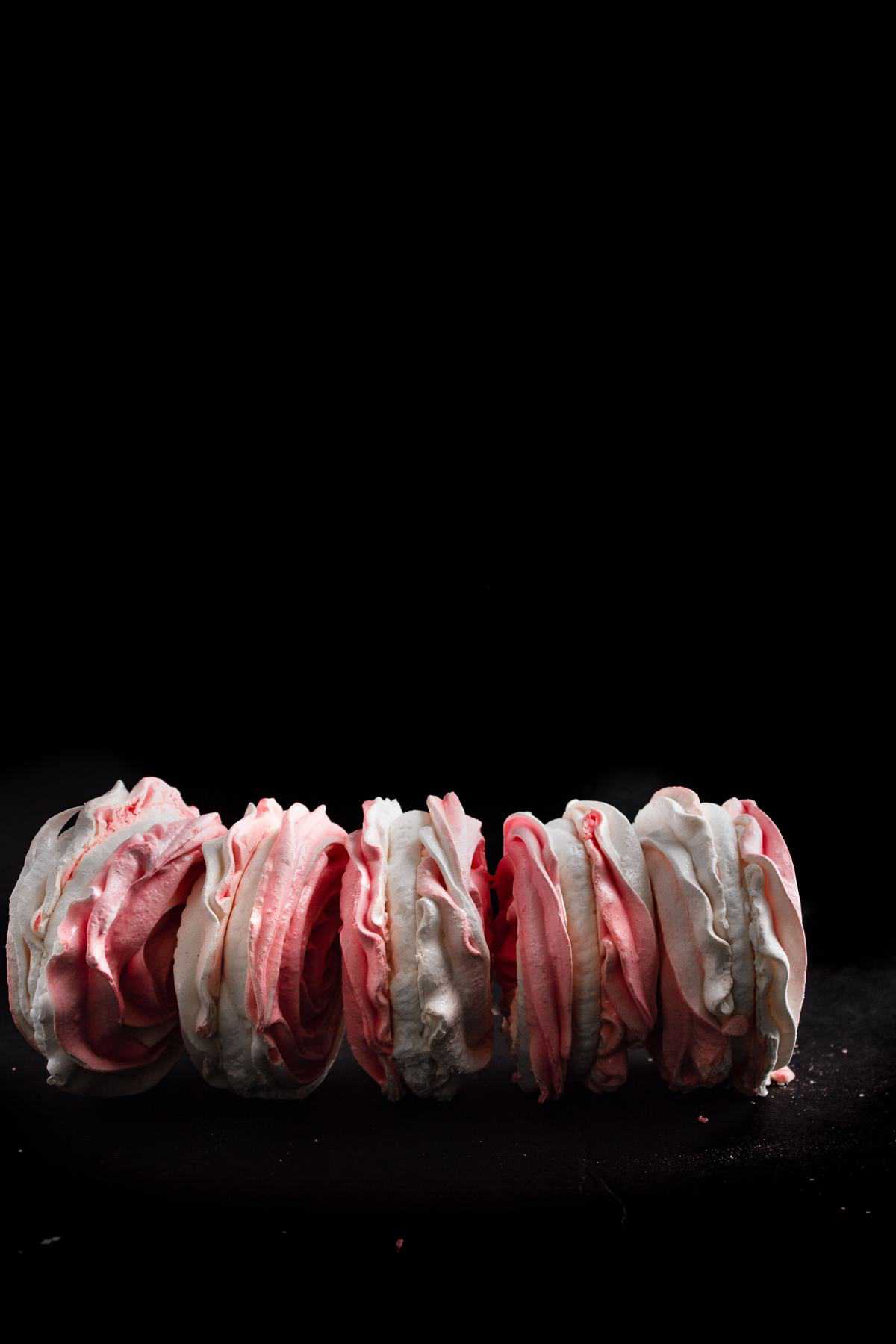 The best part is that you can totally play with the flavors combinations. Not into Orange Almond or Cheery Almond? How about Strawberry Pistachio? Chocolate Coffee? Banana Peanut butter? Lemon Mint?
Anything goes! Now that is not something you hear very often when it comes to Passover cuisine.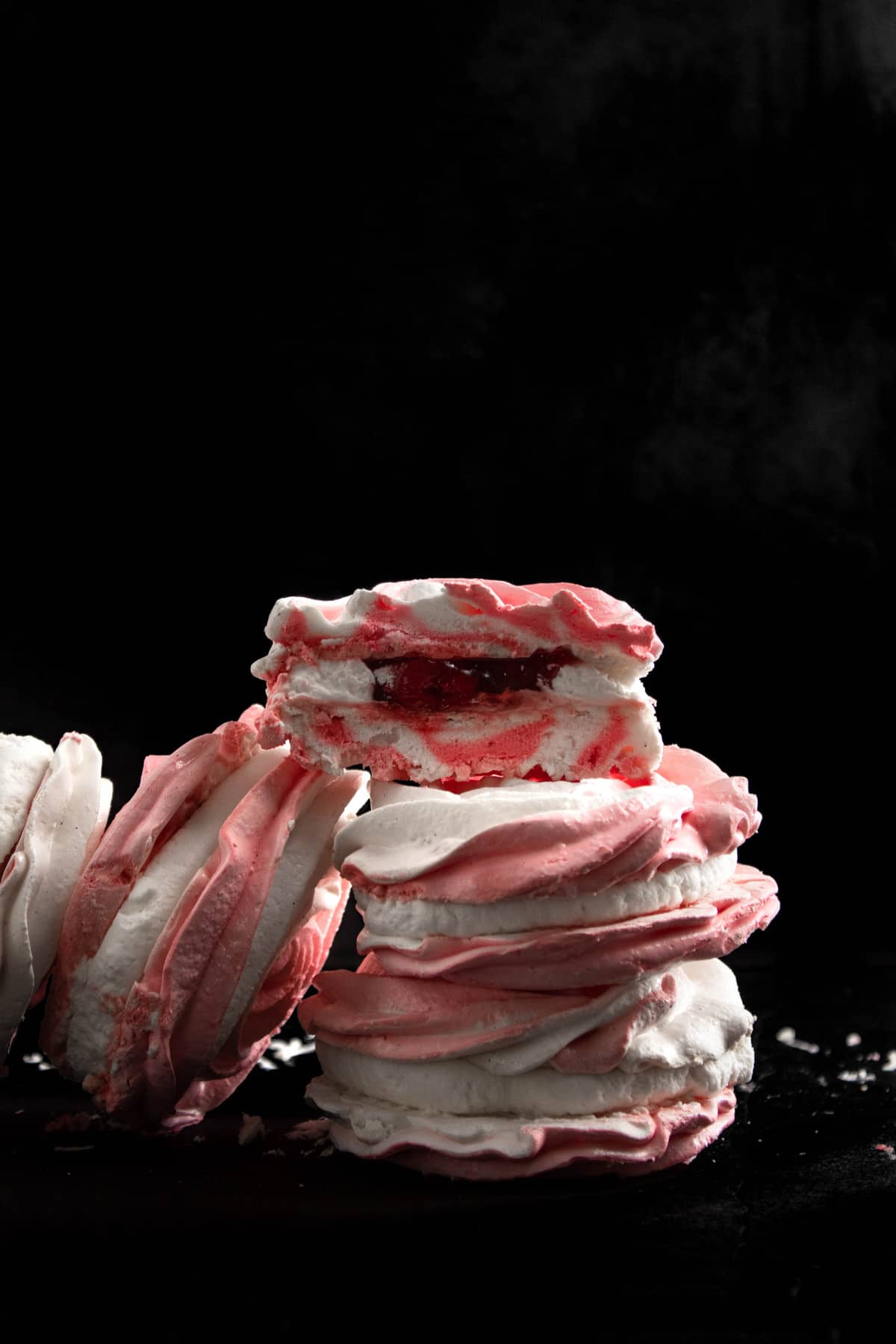 Now Lets talk about this Meringue Tarts Sandwiches recipe:
To pipe same size tarts, trace a 3 1/2″ inch (or what ever size you choose) cookie cutter and place the paper under the parchment paper. Remove the paper after piping.
Very important not to use extracts that are basted on oil. The fat will deflate the meringue.
Make sure you assemble the tarts no more than as close to serving time as possible. The moist in the whipping cream will soften the tarts after a while (will still taste delicious but you will lose the crunchy texture .
For Parve (Non dairy) recipe simply use Parve whipping cream and follow the recipe as is.
Here are some more meringue recipes you might enjoy:

One more thing…
Don't forget to tag @OneSarcasticBaker on Instagram if you bake this recipe. Would love to see your creations!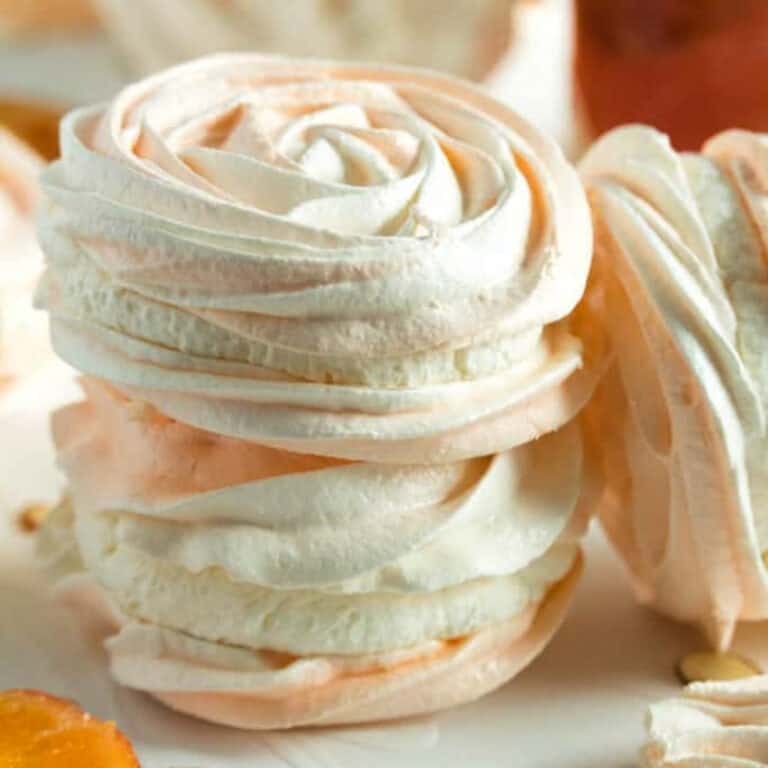 Almond Orange Meringue Tarts filled with Whipped cream
Light as air meringue disks filled with creamy orange filling.
Ingredients
4

Egg Whites

Large

1/4

TSP

Salt

1/4

TSP

Cream of Tartar

1/2

TSP

Orange Extract

1

Cup

White Sugar

1/2

Cup

Orange Marmalade

2

Drops

Orange Food Coloring
To Make the Whipped Cream
1

Cup

Heavy whipping cream

1/2

TSP

Almond Extract

1

TBS

White Sugar
Instructions
To Make the Meringue Tatrs
In a bowl of a standing mixer, place the egg whites and whisk with the cage attachment until foamy.

Add the salt and cream of tartar.

Slowly add the sugar, one table spoon at a time. I sprinkle the sugar over the mixer bowl and count to 5 before adding the next spoon.

Keep mixing on high until very stiff meringue forms (about 5 minutes) .

Add the orange extract and the orange food coloring and gently fold into the meringue.

Place the meringue into a plastic piping bag fitted with a large rosette tip and pipe 3 1/2 " rosettes.

Bake for 2 hours. When done, allow the tarts to cool before removing from pan.
To Make the Whipped cream
In a bowl of a standing mixer, add the whipped cream, sugar and almond extract.

Whisk on high until the cream stabilized.

Place the whipped cream in a piping bag fitted with a round tip.
To Assemble
Take the meringue tart, top faced down and in the middle place 1/2- 1 tsp of orange marmalade .

Pipe the whipping cream around the orange marmalade and place the second meringue tart on top.