Last updated on October 26th, 2021.
This Banana Cookie Butter Cake is an impressive, eye-opening dessert made of a tender and fluffy banana sponge cake filled and frosted with cookie-butter buttercream.
Baking this AMAZING Banana Sponge Cake with Cookie Butter Buttercream, made me think about Albert Einstein.
Albert Einstein's (which we all can agree was a pretty smart dude) definition of insanity was: "Doing the same thing over and over again and expecting different results.
For example, asking your host what can you bring to dinner and expect the answer to be different than: "Dessert.".
But hi, I highly doubt I could end up with such impressive result had I needed to make a salad.
Why Banana and Cookie-butter?
Super simple. August 2016 I traveled to Chicago to see my band, Pearl Jam. On my way to pick up the tickets, there was a sweet little donut shop. The one donut that caught my eye was a big fat donut loaded with fresh bananas and a thick layer of cookie butter. SO GOOD!!!
Ever since then, banana and cookie-butter combo is my go-to combo right after chocolate with a bit more chocolate.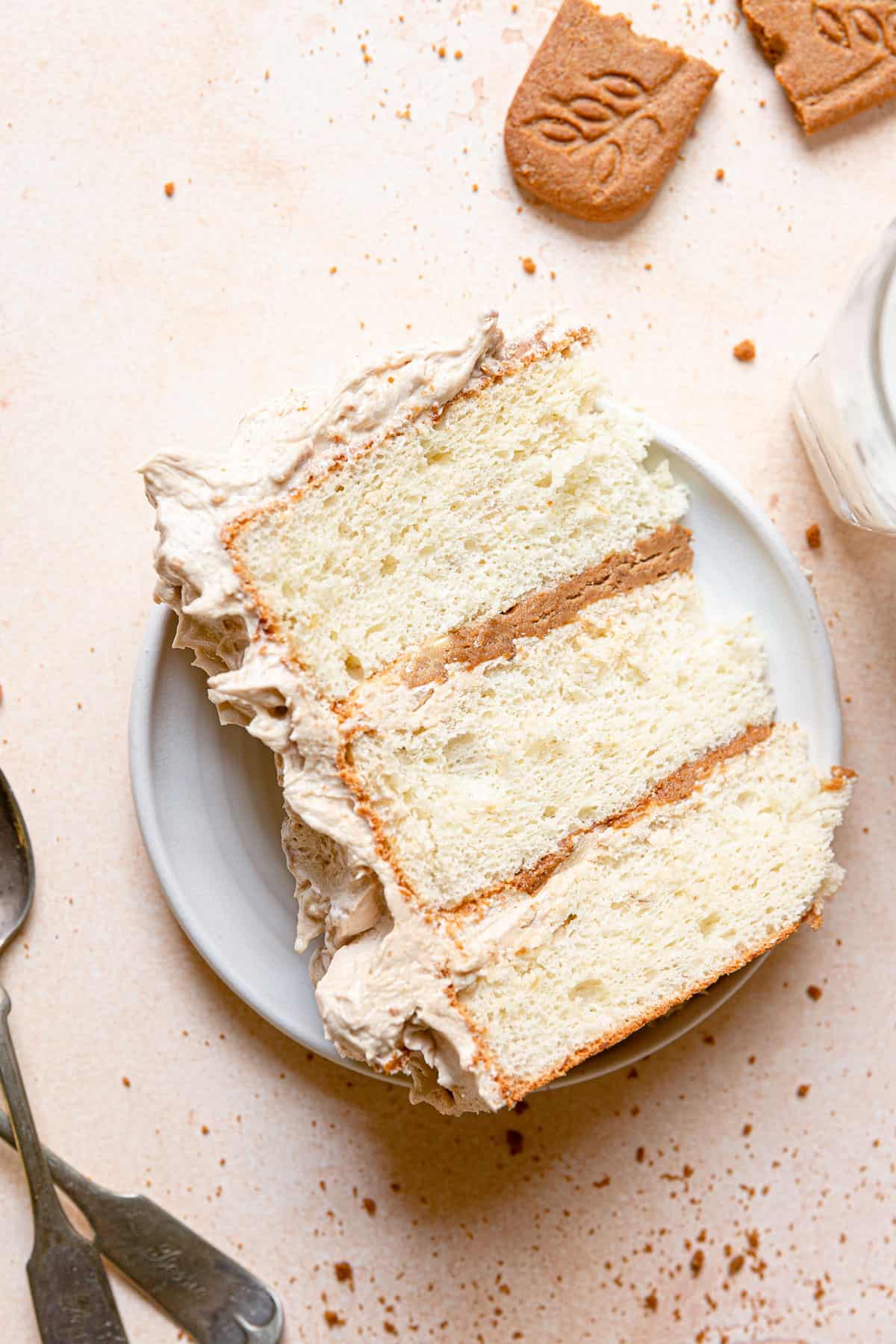 Ingredients Used In This Banana Cookie-Butter Cake Recipe:
Cake Flour, since this is a sponge cake, we need cake flour only.
Sugar, divided into 1 1/4 cup for the yolks mixture and 1/4 cup for the meringue.
Baking powder
Salt
Vegetable Oil is what gives the cake a soft and tender texture.
Milk
Mashed Bananas
Eggs, separated.
Egg Whites
Cream of tartar helps stabilize the meringue.
Vanilla Extract
Baking the cake:
This recipe is a sponge cake recipe. When baking a sponge cake, firstly we start by separating the eggs.
Next, we will mix the egg yolk with the wet ingredients and fat (milk, bananas, vanilla extract, and oil). Once the egg yolks mixture is cohesive we will add the dry ingredients (flour, part of the sugar, baking powder, and salt) and mix until smooth.
Now, we will whip the egg whites with the cream of tartar then sprinkle in the remaining of the sugar and whip until to a stiff meringue.
Lastly, we will fold the meringue into the egg yolk/flour mixture, divide the batter and bake.
Few Words About The Old Fashion Buttercream:
Old-fashion buttercream is a milk-based buttercream. The milk gives the buttercream an amazing creamy texture without getting that oily after taste we sometimes have with other buttercream recipes.
In order to incorporate the milk into the butter and sugar, we cook the milk with some flour. The flour, which acts as a thickener absorbs the liquids from the milk during cooking. The result is a thick paste that easily incorporates the butter and sugar.
You can see how to make this buttercream in the video HERE. (I use melted ice ice-cream in this recipe, but it works just the same with milk)
This is my favorite buttercream recipe but feel free to use your favorite. You can add the cookies-butter to any plain buttercream you may choose.
Storing the Cake:
Firstly, you can bake a head the cakes and freeze for up to 3 weeks. (make sure you wrap them tightly). Assembled, the cake can be left at room tempertautre for up to 48 hours. Also refrigerated for up to 5 days and even frozen for up to 14 days.
Few more important tips and notes about this Banana Cookie-Butter Cake:
Do not grease the sides of the pans. It is important that the cake can "climb" up the sides of the cake. The cake will shrink into the center of the pan and will not be as tender and airy. (run a sharp knife around the sides of the pan when releasing the cakes)
Your oven is different than mine, so the recipe might need less/more time than what the recipe calls for. I recommend setting a timer halfway to what the recipe states and check how the cake is progressing. But avoid opening the door, look through the window of the oven, of the cake tops are pail and shiny it needs more time. However, if they are golden you might want to check with a toothpick.
You can bake this cake in 2×9″ pans or 3×8″ pans.
Before storing, avoid storing the buttercream in the refrigerator, as it goes back to room temperature, it might separate. If that happens, simply place the buttercream in a bowl of a standing mixer and beat until it is back in the right texture.
HAPPY BAKING!!!
Here are some more recipes you might enjoy:
One more thing…
Don't forget to tag @OneSarcasticBaker on Instagram whenever you bake this recipe. Would love to see your creations!
Lastly, did you like this recipe and find inspiring? Save THIS PIN to your Baking or Cake boards.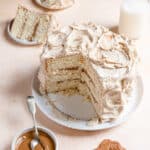 Banana Cookie Butter Cake
Servings
1
8″ cake (serves 10 people)
Ingredients
Banana Sponge Cake
2 1/2

Cups

Cake Flour

(300 g/ 10.5 oz)

1 1/2

Cups

Sugar (divided to 1 1/4 cup and 1/4 cup)

(300 g/ 10.5 oz)

1

TBS

Baking Powder

1

Tsp

Salt

1/3

Cup

Vegetable Oil

(70/ g/ 2.5 oz)

8

Large

Egg Yolks

1/3

Cup

Whole Milik

(75 g/ 2.5 oz)

2

medium

ripe bananas, mashed into puree

(220 g / 8oz)

2

tsp

Vanilla extract

8

Large

Egg whites

1/2

tsp

cream of tartar

8-10

small

cookies, for decoration

Optional

1/2

Cup

Dried Banana chips, for decoration

Optional
Old Fashion ButterMilk
1

Cup

Whole Milk

(240 ml/220 g/8 oz)

1/3

Cup

Flour

(40 g/1.5 oz)

1

Cup

Butter, soften

(220 g/ 8 oz)

1

Cup

Sugar

(200 g/ 2.5 oz)

1/2

Cup

Cookie Butter Spread
Simple Syrup
1/2

Cup

Sugar

1/2

Cup

Water
Instructions
To Make The Cake
Preheat oven to 325F. Line 2 9″ (or 3 8″) cake pans with parchment paper.

Sift the flour, baking powder 1 1/4 cup (250 g/9 oz) sugar and salt twice.

In a large bowl, whisk together the egg yolks, milk , oil ,vanilla and banana puree to combine.

Slowly add the flour mixture and stir until smooth.

In a bowl of a standing mixer, fitted with the whisk attachment, beat the egg whites,cream of tartar and the remaining of the 1/4 cup (50 g/2 oz) sugar.

Whip until stiff meringue is form.

Using a rubber spatula, gently fold 1/4 of the meringue into the batter. then fold the remaining of the meringue.

Divide the batter between the cake pans and bake until the cakes springs back when touched in the middle. About 35-40 minutes.

Allow the cakes to cool to room temperature before removing from the pans.
To Make the ButterCream
Slowly add the milk to the flour, 3-4 TBS at a time and whisk to combine between each addition.

You should get a smooth sticky looking mix.

Place the flour and milk mixture in a heavy bottom saucepan over medium heat.

Allow the mixture to simmer while stirring.

Once the mixture is simmering, vigorously whisk with a hand whisk for about 30-45 seconds more. The mixture should be thick and pasty.  

Remove from heat and place a plastic wrap on top. Allow to cool to room temperature.

Place the butter and sugar in a bowl of a standing mixer and mix on high for about 5 minutes.

Add the cool flour and milk mixture and continue mixing for an additional 5 minutes or until you get a smooth and airy buttercream.

Add the Cookie Butter spread and mix until combine.
To make the Simple Syrup
Place the sugar and water in a heavy bottom saucepan and allow to boil over medium heat.
To Assemble
Divide each cake into two layers. Place one layer on top of a cake board or on top of a serving plate.

Brush the cake with simple syrup and spread with 1/4 cup of buttercream.

Repeat the above steps but spread plain cookie butter spread on the second layer.

frost the cake with the remaining butter cream and decorate with cookies and dried bananas.