Last updated on December 2nd, 2022.
This Caramelized Banana Cookie-Butter Ice-cream is super smooth, extra silky, and the most delicious no-churn ice cream you can imagine.
I am excited to include yet another recipe to my Biscoff butter collection like Biscoff Cheesecake, Biscoff layer cake, Biscoff baked donuts, Biscoff brownies, and this Biscoff cookie recipe.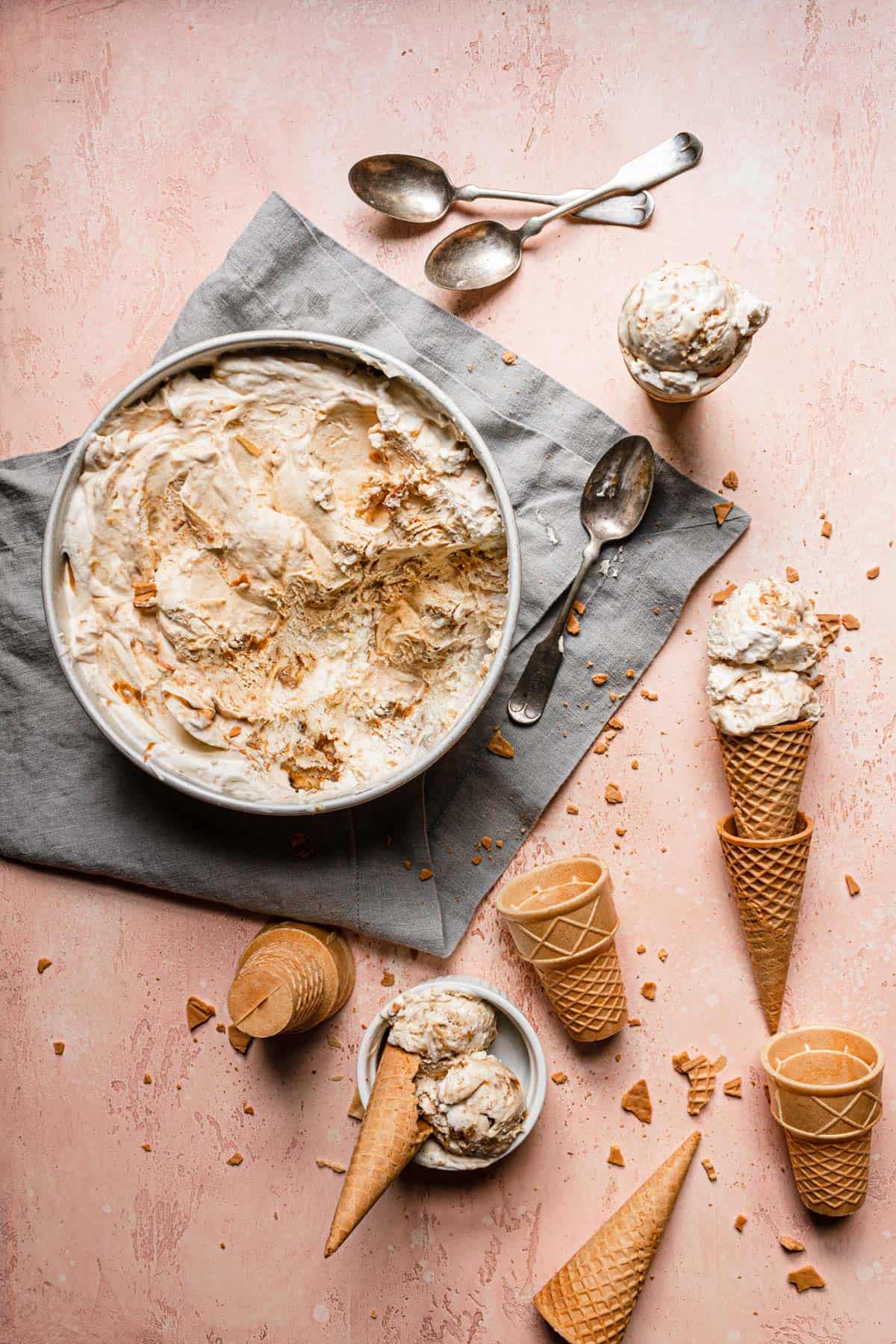 There is absolutely no reason to explain how delicious caramelized bananas are, but I feel perfectly ok to let you know that caramelized bananas and cookie-butter together is THE perfect combination. Simply. The. Best.
If you are a lover of both bananas and cookie-butter and you're a bit skeptical about what I just told you, go ahead and dip a banana in some cookie-butter.
You're Welcome!
Now, add some buttery caramelization to the bananas, warm up the cookie-butter, mix all of that goodness in some no-churn, silky smooth, homemade ice-cream and you are officially your family's (and friend's and co-workers') new favorite person.
You're Welcome!
What Ingredients Are in This Caramelized Banana Cookie-Butter Ice-Cream:
Bananas, for this recipe I like to use ripe bananas that are also firm. Over ripped bananas might be over sweet and unripped bananas might not be sweet enough.
Butter, to saute the bananas and give them a nice brown color while coating them with a rich buttery flavor.
Dark Brown Sugar, for an extra deep molasses flavor.
Salt
Heavy Whipping Cream, we will use it for both the bananas and ice cream. I use regular heavy cream and find that it whips just as good and heavy whipping cream.
Corn starch, a small amount will go a long way and coat the bananas for a smooth bite.
Sweetened Condensed Milk, a full can. This is the ingredients that in behind a silky smooth ice-cream.
Cookie-Butter goes so well with the flavors of the bananas, and in addition, once you warm it in the microwave it melts and changes its consistency with solid to liquid which means we can pour it into the ice-cream.
How To Make This Ice Cream Recipe:
First, we need to make the caramelized bananas.
We start by sautéing the banana slices with the butter until they are beautifully browned.
Now, I am going to go Julia Child on you and say "do not crowd the bananas or they won't brown". What I mean by that is that you should use a wide pan that will give enough space for the banana slices not to overlap each other and maybe even leave some space between.
Do they really need to brown?
No, not really. BUT, Browned bananas have an extra crispy buttery layer to them which means, MORE FLAVOR.
Once the bananas are brown we add the rest of the ingredients.
The next step would be to make the ice-cream base by folding whipped cream with sweetened condensed milk. In this recipe, we will firstly fold 3/4 of the whipped cream, add the bananas then the remaining of the cream with the warmed cookie butter.
Storing the ice cream:
The obvious location is the freezer. As you have notices this recipe has a fair amount of fat which means it will absorb other flavors. What I am trying to say is that it is best to cover the ice-cream with plastic warp and tin foil.
If you have a glass container (8″x3″ the smallest) that would be great! But as you can see I simply used a cake pan.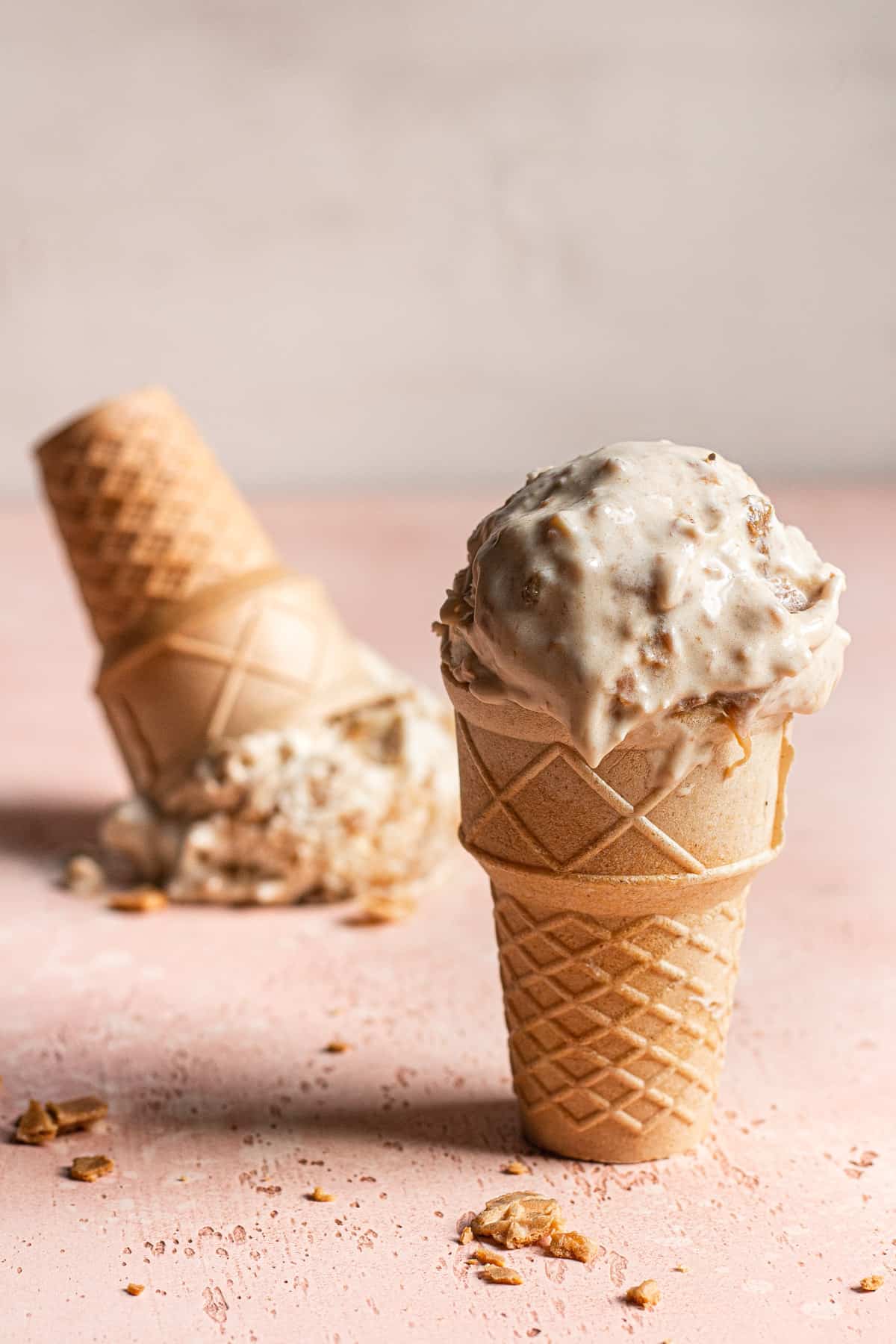 Few More Notes about this Caramelized Banana Cookie-Butter Ice Cream:
The caramelized banana recipe can be used for many other options for example ice-cream toppings, cupcakes/cake fillings, or buttercream flavoring.
The bananas might get smashed a bit but for the most part, will keep its shape. Before I folded the bananas into the ice cream, I used a fork to mash about 1/2 of the amount just to "play" around with texture. Keep that in mind.
For the cookie-butter lovers among us, feel free to increase the amount to 3/4 cup.
VERY IMPORTANT! This is not a recipe for these who "do not like sweets" or tend to request a "not so sweet" dessert. This ice-cream is sweet and if you are a fun of sweet-salty desserts go ahead and sprinkle some coarse salt on top.
HAPPY BAKING!!!
Here are some more recipes you might enjoy:
Also, don't forget to tag @OneSarcasticBaker on Instagram if you bake this recipe. Would love to see your creations!
And last, did you like this recipe and inspiring? Save THIS PIN to your Ice-cream, Sweets, or Summer Recipes.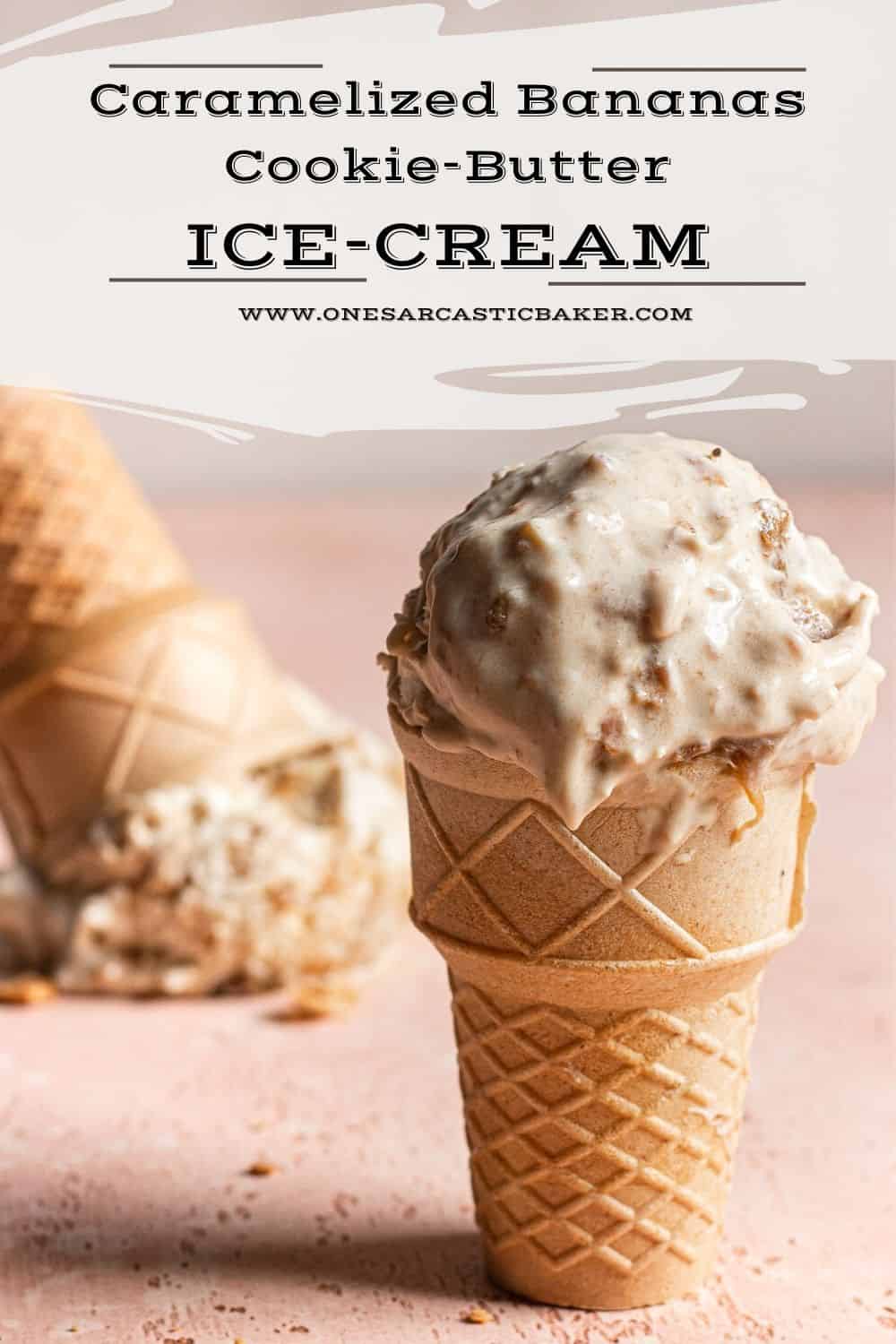 Caramelized Banana Cookie-Butter Ice-cream
Ingredients
Caramelized Bananas
3

Bananas

4

TBS

Unsalted butter

(55 g / 2 oz)

1/3

Cup

Dark Brown sugar

(70 g / 3 oz)

1

tsp

Salt

6

TBS

Heavy Cream

1

tsp

Corn Starch

1

TBS

Water
No-Churn Ice Cream
1/2

Cup

Cookie Butter, warmed

1

Can

Sweetened condensed milk

(400 g / 14 oz)

3

Cups

Heavy whipping cream

(720 ml / 24 oz)
Instructions
Caramelized Bananas
Cut the bananas into 3/4" thick and set aside.

Using a wide pan melt the butter over medium heat then add the bananas flat side down, allow to cook for about 3-4 minutes until browned.

With a fork turn the bananas slices the other side for an even brown.

Add the sugar and salt to the bananas, once the sugar has melted add the heavy cream and gently stir.

In a small bowl mix the cornstarch with the water and mix to blend.

Add cornstarch to the banana mix, reduce heat to low, and continue stirring until the mix has thickened while stirring. About 1-2 minutes.

Remove from heat and allow to cool.
To Make the Ice Cream
In a large bowl pour the condensed milk.

Whip heavy whipping cream to a stiff pick and gently fold 3/4 into the sweetened condensed milk.

Fold in the caramelized bananas followed by the remaining whipped cream and warmed cookie butter.

Pour ice-cream mix in 8" pan and freeze for 6-12 hours.