Last updated on August 30th, 2023.
These Pumpkin Cookie-butter Baked Donuts are an addictively delicious and surprisingly easy fall treat you can enjoy in just one hour.
Cookie Butter is the next best thing after chocolate. What's even better is that once warmed it can be drizzled or dipped into just like chocolate ganache. How awesome is that?
This is why cookie-butter is the best candied to frost these pumpkin muffins. Both have warm confirming notes coming from the spices making them a match made in heaven!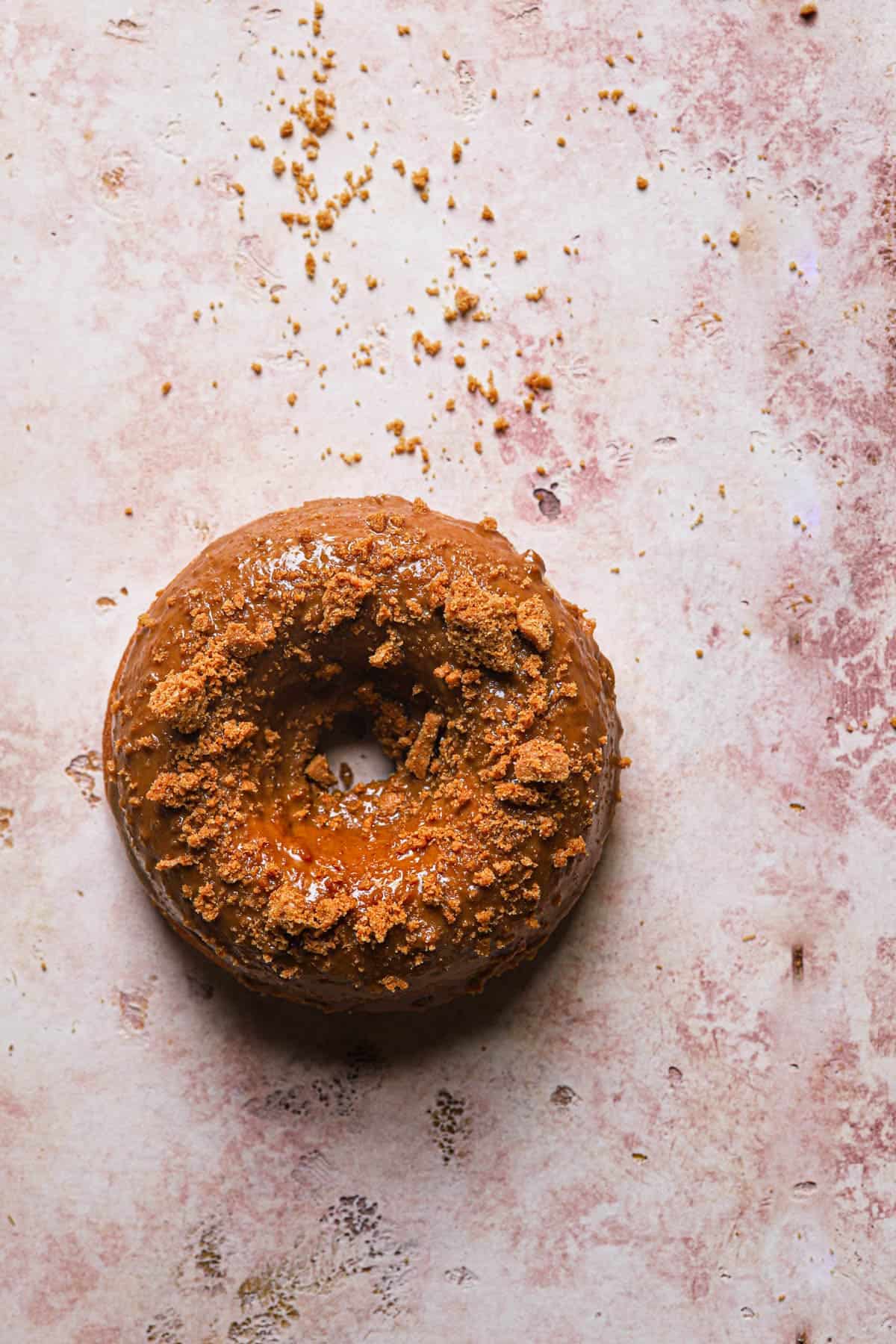 Why this Pumpkin Cookie-butter Baked Donuts recipe?
It is a unique combination as well as addictively delicious.
We are baking not frying these donuts.
No need for a mixer, only two large bowls.
It takes 35-45 minutes to make, start to finish.
You can bake it ahead and enjoy it up to 4 weeks later.
You can also adapt this recipe and bake different donuts flavors.
Here are some more "one bowl" recipes: Double muffins chocolate donuts, Maple pound cake, Coconut scones, Basic Challah loaf.
Ingredients in this Pumpkin Cookie-butter Baked Donuts recipe
All-purpose flour, I like to use unbleached all-purpose flour and found that King Arthur flour and Gold-medal are the best brands for best results.
Granulated sugar, no need for light or dark brown sugars. The flavors will come from spices and cookie butter.
The baking powder is the main source of leavening.
Salt
Pumpkin spice and cinnamon are the best spices to bring out the pumpkin flavors.
Vegetable oil is the main source of moist and as well it coats the flour granulate preventing them from bonding and creating an elastic gluten net. (We want tender easy to bite donuts)
Eggs, large
Pumpkin puree, make sure to use a brand you are familiar with. I found that Libby's pureed pumpkin is thick and is best for baking.
Cookie-butter either smooth or with chunks whichever you prefer. Note that Lotus cookie-butter brands tend to set very well.
Ingredient's substitutions
Please make sure not to replace more than one ingredient.
Granulate sugar with light brown sugar. Note that baking time might increase by 2 minutes.
Pumpkin spice can be replaced with the same amount of cinnamon. If you chose to replace the pumpkin spice, replace the cinnamon with ground ginger.
Vegetable oil with melted butter or any other flavorless oil.
Pumpkin puree can be replaced with the same amount of mashed ripe bananas for banana donuts, also full-fat sour cream for bakery-style sour cream muffin flavored donuts, Full fat coconut milk for coconut donuts, and berry (blueberry, strawberry, or raspberry) puree for berry donuts. Adjust spices if choosing to replace the pumpkin.
Mixing process
Like mentioned before, this recipe is simple fast, and easy. There are 5 simple parts to it:
In a large bowl mix together the pumpkin puree, eggs, and vegetable oil then set aside. In a medium separate bowl, sift together the flour, baking powder, salt and spice then add the sugar and use a fork to distribute.
Pour pumpkin puree mixture over flour mixture and mix to fully incorporate, but make sure not to over mix.
Fill greased donuts pan ¾ full.
Bake.
Frost.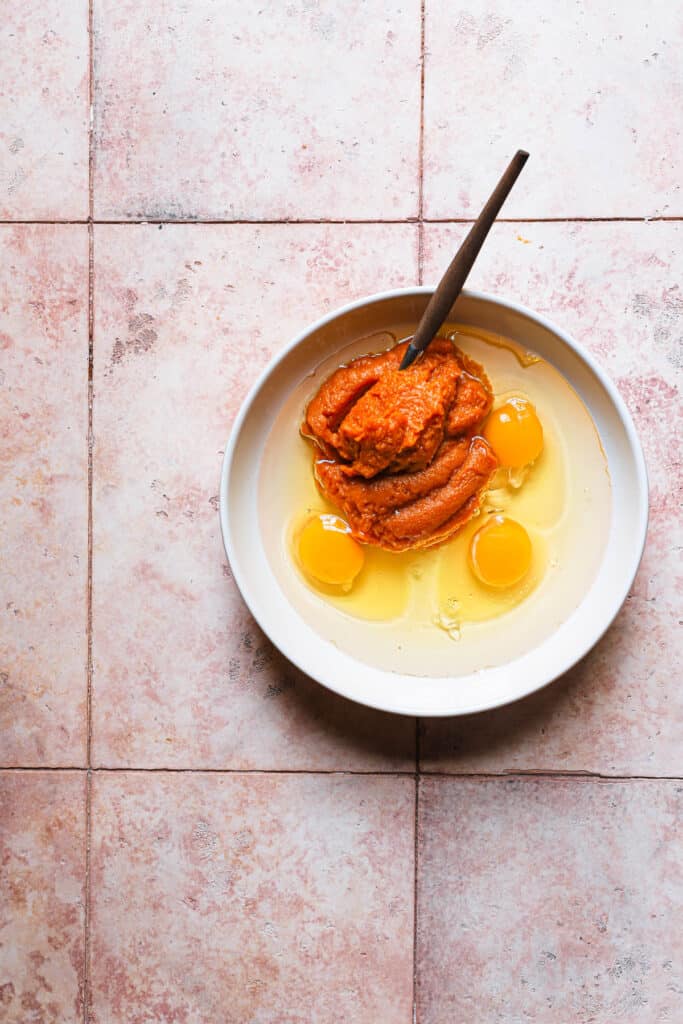 ---
Expert note:
For easy, fast, and even distribution of the batter, use a pastry bag (or a large Ziplock bag) fitted with a large round tip (or no tip at all) to fill the pans cavitied.
---
Baking the donuts
The donuts are baked at 350F for 15-18 minutes. Since your oven is different than mine, I highly recommend that you set your oven to 12 minutes and check.
This recipe yields 14 regular size donuts, 30 mini donuts and also 12 regular size donuts and 10 mini donuts.
Frosting the donuts
Frosting the donuts is easy and simple. Warm the cookie-butter in the microwave for 30-45 seconds then dip the donuts and sprinkle with crushed speculoos cookies.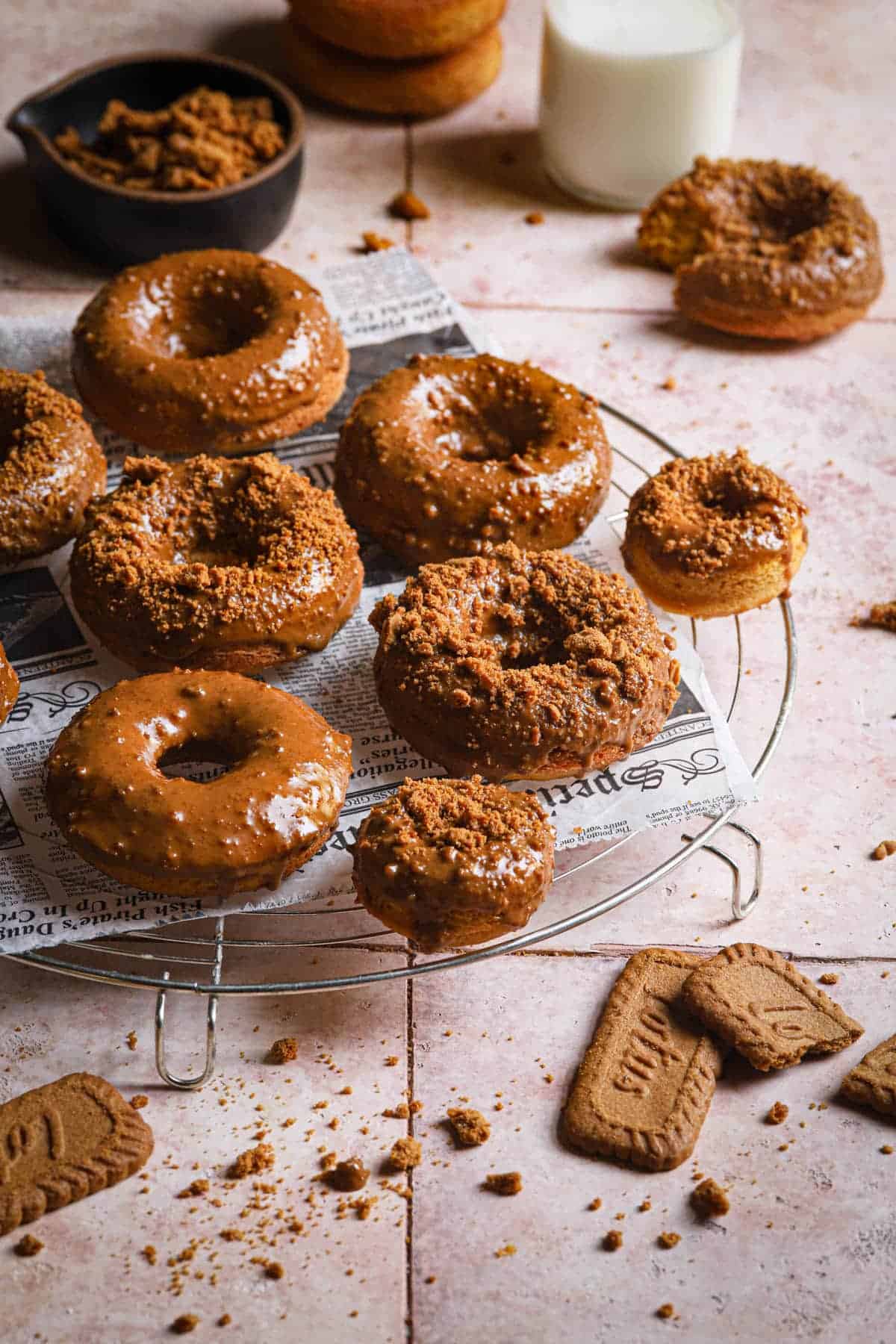 Storing these Pumpkin Cookie-butter baked donuts
Unfrosted, you can freeze the donuts in a freezable plastic bag for up to 4 weeks. When ready to eat make sure to bring it to room temperature before frosting.
But when frosted, the donuts are best covered at room temperature for up to 3 days.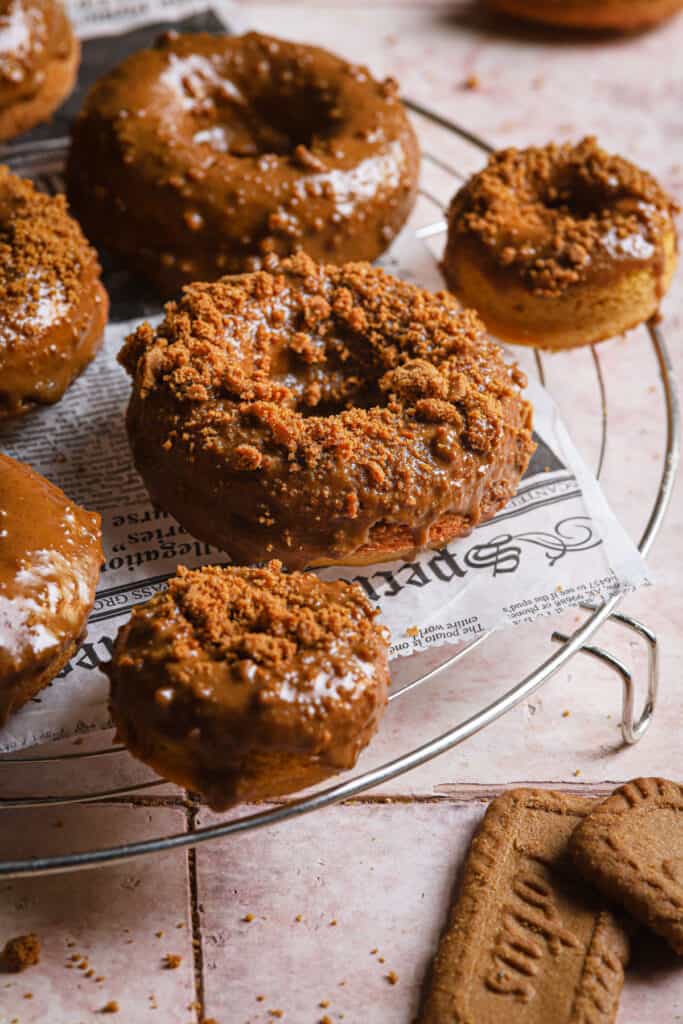 FAQ
Can I use a mixer to make these donuts?
Technically yes, but I highly recommend not to. Using a mixer might encourage a strong gluten net formation and as a result the donuts might turn out too tough.
Do I need a donut pans?
Yes, for this recipe I recommend making the investment and buy donut pans.
Can I add ad on to the batter?
Yes! You can use 1 cups of chocolate chips, chopped nuts and also crushed speculoos cookies.
Do I have to use cookie-butter?
No, the donuts are good as they are, but you can replace the cookie-butter with THIS chocolate frosting.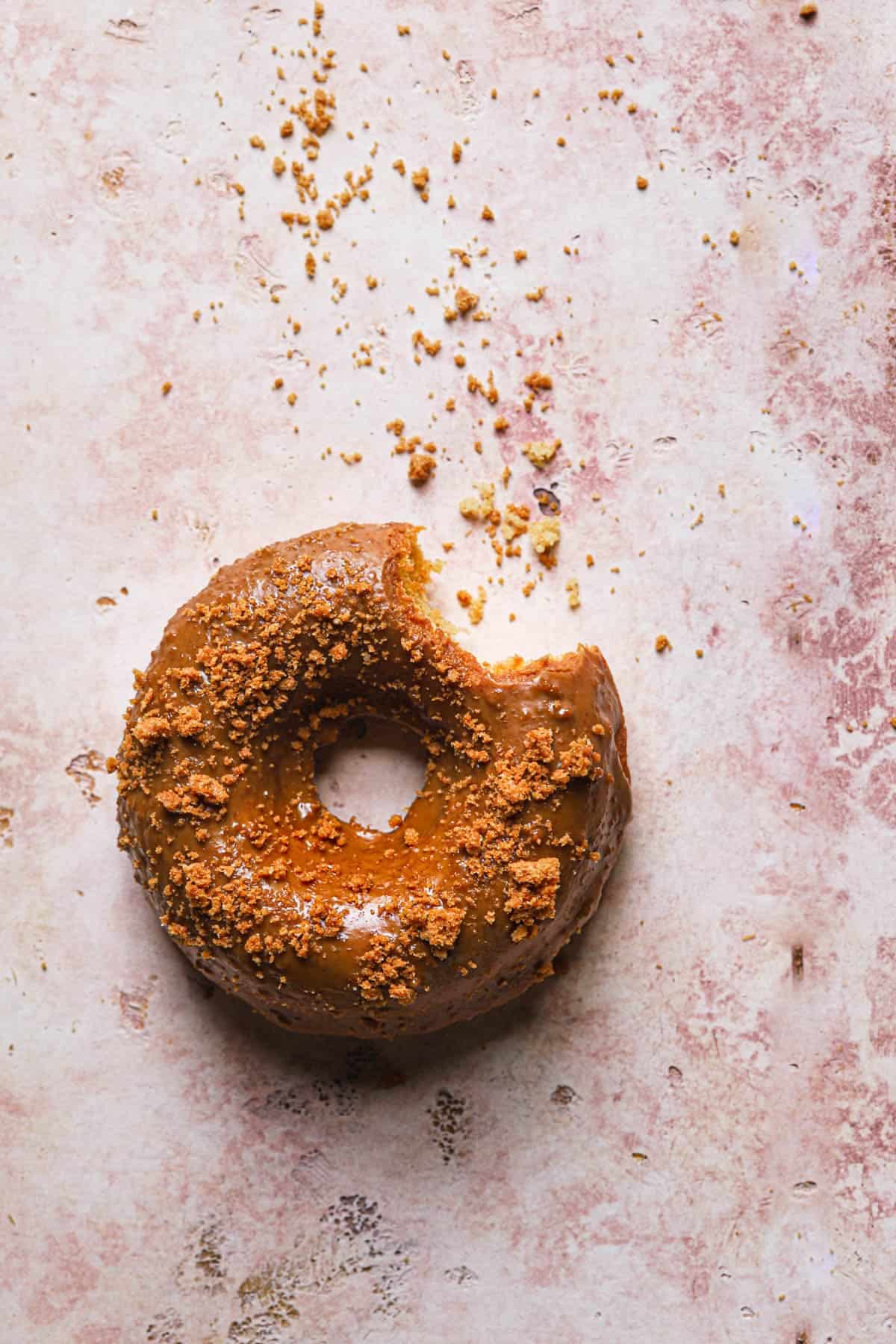 More recipes you might like
Chocolate baked donuts, Potato donuts, Pumpkin cake , Chocolate Oreo Cupcakes
One more thing before you bake: please rate and comment on this recipe if you like it, and don't forget to tag me on Instagram, I would love to see your creations!
And last thank you for visiting and supporting One Sarcastic Baker!
HAPPY BAKING!!!

Pumpkin Cookie Butter Baked Donuts
Ingredients
1/2

Cup

Vegetable Oil

(100 g/ 3.5 oz)

3

Large

Eggs, room teperature

1 1/2

Cups

Sugar

(300 g / 11 oz)

1

Cup

Pumpkin Puree

(240 g /8.5 oz)

1 1/2

tsp

Pumpkin Pie Spice

1/2

tsp

Ground Cinnamon

1/2

tsp

Salt

1 1/2

tsp

Baking Powder

2

Cups

AP Flour

(240 g / 8.5 oz)

1

Cup

Cookie Butter
Instructions
Preheat oven to 350F, grease two standard donuts pans.

In a large bowl, place the oil,eggs, sugar and pumpkin puree and mix until smooth.

In a separte bowl sift the flour, baking powder and spices and mix to combine.

Add the flour mix to the pumpin mix and stir just to incoporate.

Fill the greased pans 3/4 full (about 1/4 cup) and bake for 15-18 minutes or until a tooth pick comes out clean.

Remove pans from the oven and allow 5-10 minutes to cool in the pan before loosening the edges and removing from the pan.

When the donuts have reached room temperature, warm the cookie butter in the microwave until smooth and liquid (about 45-60 seconds).

Deep the top side each donut in the warm cookie butter and gently shake to remove excess. Place on a cooking rack and sprinkle with pumpkin seeds.