Last updated on November 2nd, 2021.
These Chai Cupcakes are little comforting cakes bursting with warm spices and frosted with creamy, tangy, and sweet cream cheese frosting.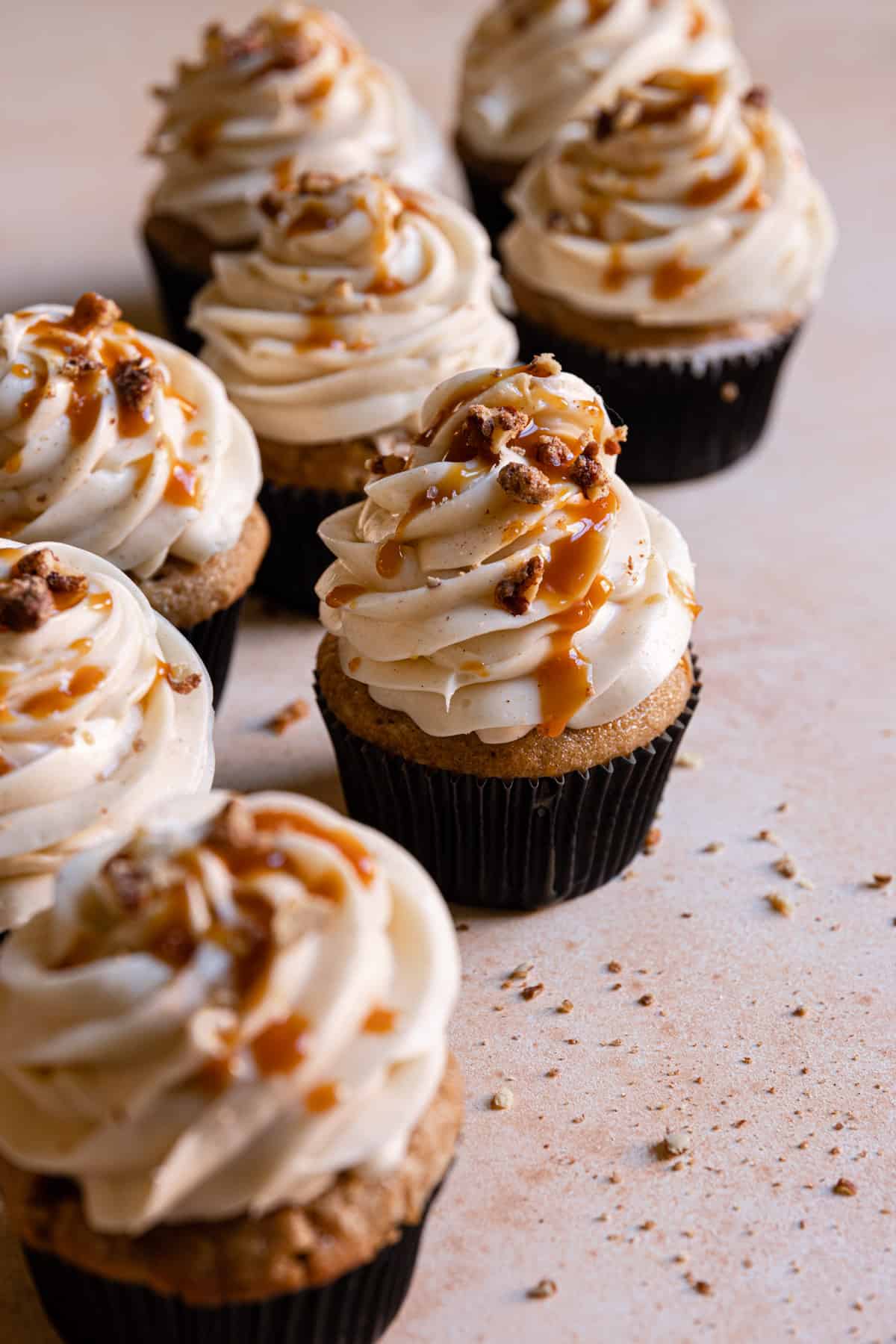 If you're like me, then your chai is never creamy enough. Something about all those spices that makes you just want to add some extra sugar (and cream) and bite it all. I guess that's why there are so deliciously wonderful Chai recipes, like these Bernice's White Chocolate Chai Cookies, and Mike's Chai Spices Cinnamon Rolls.
To this Chai party I am bringing some Chai cupcakes frosted with cream cheese. (Because hello, cream cheese yummm).
I enhanced the Chai flavor in two ways:
Added some Chai tea using only 1 bag of my favorite Chai tea that I soaked in boiling water for about 15-20 minutes.
Created a sort of chai spice blend using cinnamon, cardamom, ginger, and ground clove. Now I feel more than comfortable admitting I have no idea what spices are traditionally in a spice blend. I only know that I took a close look at the ingredients of my favorite chai blend tea. If you have a chai brand you can not live without then go ahead and do the same. (the ingredients are listed starting the largest amount)
What Ingredients Are In These Chai Cupcakes?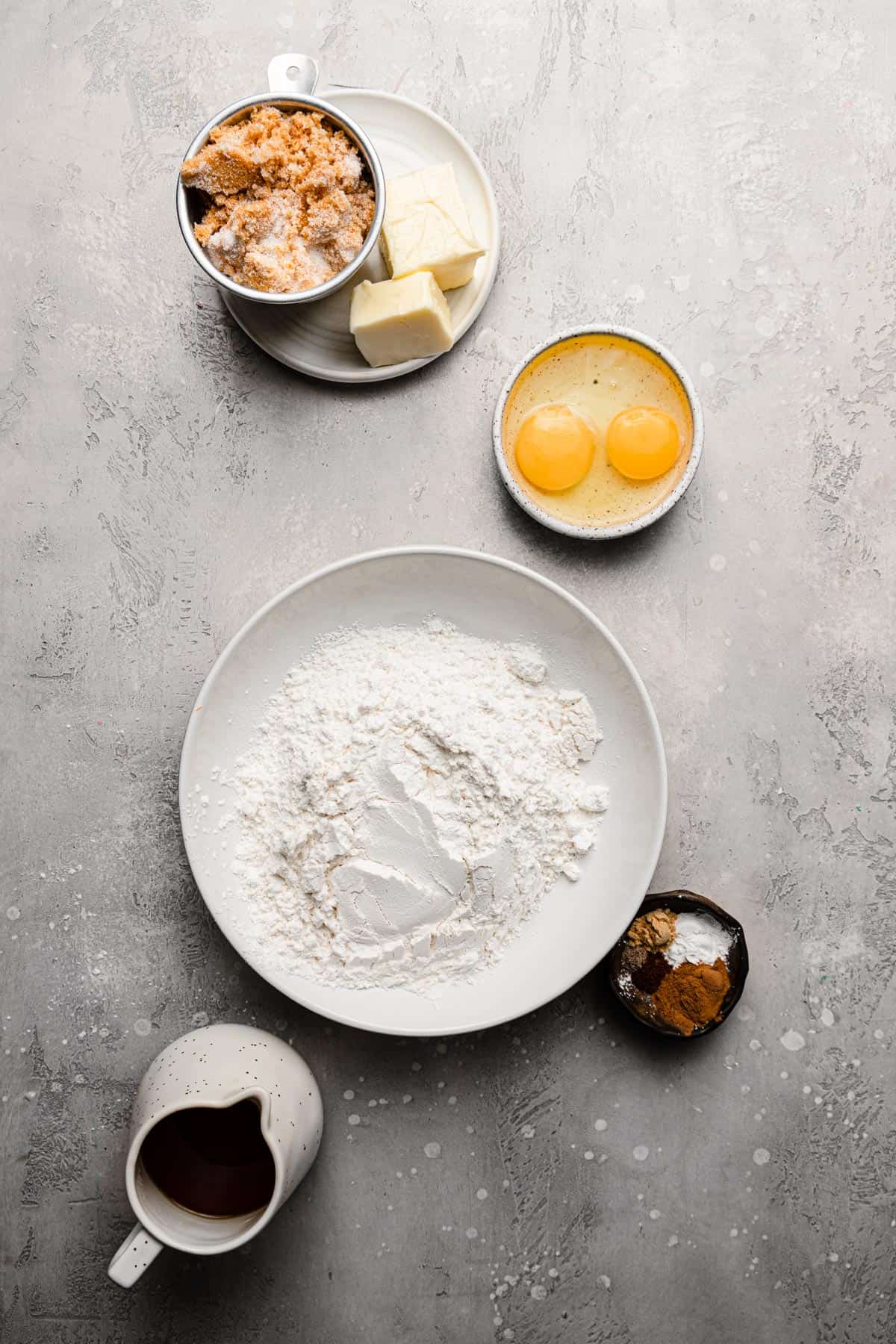 Cake flour is the best way to achieve light and tender cupcakes. You can use AP flour but please know that the cupcakes might turn out a bit dense. (still super delicious though)
Baking powder
Cinnamon
Ground ginger
Cardamom
Clove
Butter
Eggs
Chai tea, I use 1 chai tea teabag and soaked it in a 6″ boiling water and left it to get to room temperature. (Once you remove the bag you might have to add a tsp or so.
How To make the cupcakes?
Firstly, we will get the ingredients ready by mixing in a large bowl the flour, baking powder and spices.
Pour boiling water in a cup over a chai tea bag and let the water cool to room temperature.
Place the soft butter, light brown sugar, and sugar in the bowl of a standing mixer. Once the chai has reached room temperature beat the butter and sugars on medium for about 4-5 minutes. Make sure to scrape the sides and bottom of the bowl.
Add the first egg, waiting for it to completely incorporate before adding the next. Once the second egg has incorporated stop the mixer and scrape the bottom and sides of the bowl.
Next, add the flour in three addition starting and finishing with the flour mix. Don't take your time with this one, once the flour is added to the mixer gluten strands are starting to form. The longer we will mix the stronger/longer thread will form which will result in a dense and chewy cupcake.
It is a personal preference, but I like my cupcakes to rise high and have a round top. Another way to achieve that is by allowing the batter to rest for 15-20 minutes before baking it. Turn the oven on once the batter is ready. The batter will rest while the oven is warming up.
Frosting
For the frosting use THIS cream cheese frosting and added 1 tsp of cinnamon to it.
THIS is the caramel recipe I recommend. It is solid once cold, so warm up about 1/4 in the microwave for 15 seconds to get it to a drizzle consistency.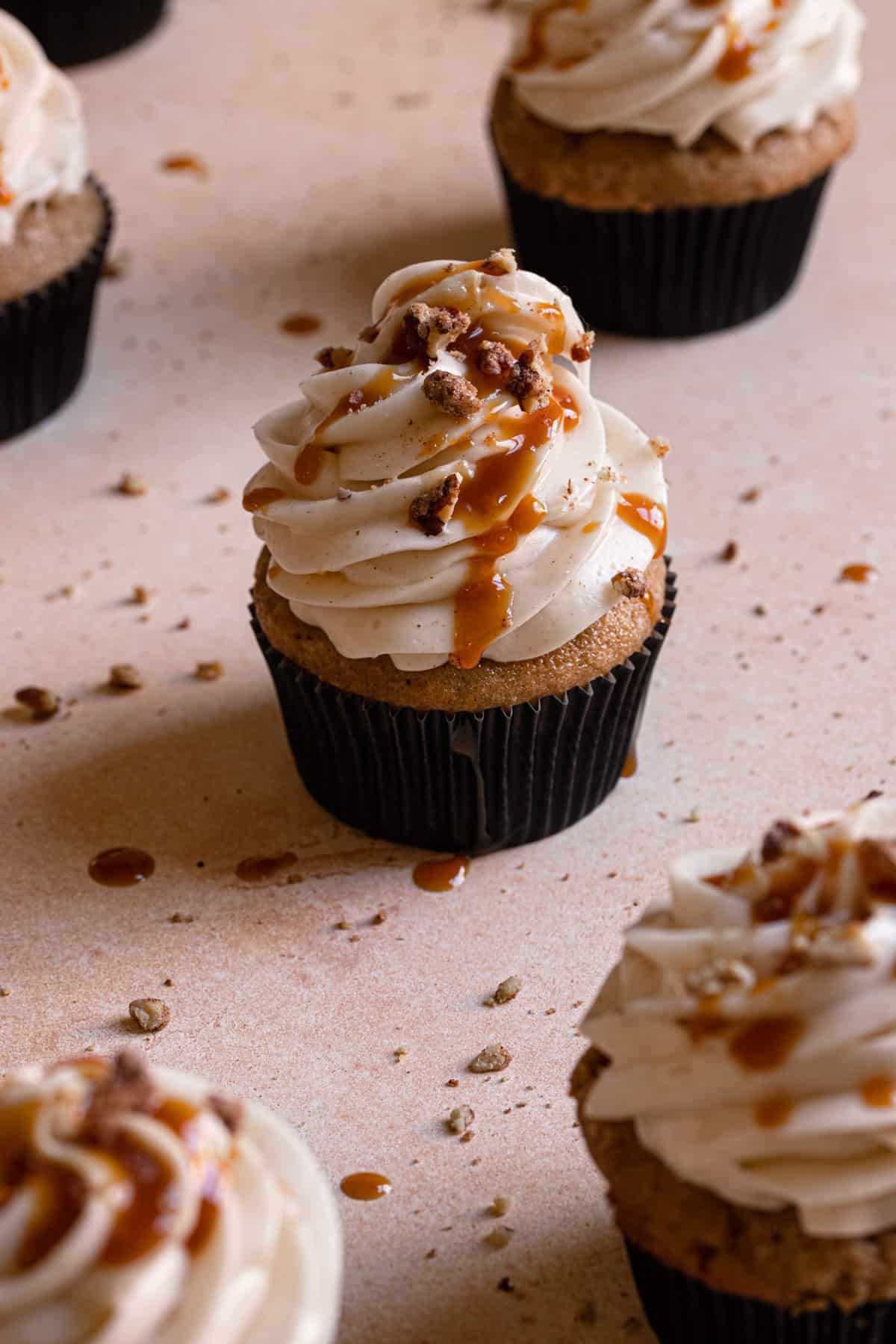 Storing The Chai Cupcakes:
Unfrosted, the cupcakes should be stored at room temperature for up to 2 days, (But they are best eaten within 36 hours). Also, you can freeze the cupcakes for up to 3 weeks. Make sure to wrap and seal the cupcakes to avoid freezer burn.
HAPPY BAKING!!!
Here are some more fun recipes you might enjoy:
Also, don't forget to tag @OneSarcasticBaker on Instagram if you bake this recipe. Would love to see your creations!
Lastly, did you like this recipe and inspiring? Then save THIS PIN to your fall or baking boards.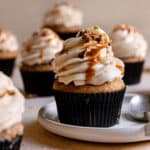 Chai Cupcakes
Tender, moist, full of flavor chai spiced cupcakes frosted with cream-cheese frosting
Ingredients
1 2/3

Cups

Cake Flour

(200 g / 7 oz)

1

tsp

Baking powder

1/4

tsp

Salt

1

tsp

Cinnamon

1/2

tsp

Ground ginger

1/4

tsp

clove

1/4

tsp

cardamom

6

TBS

Unsalted butter softened

(90 g / 3 oz)

3/4

Cup

Light brown sugar

(150 g / 5.5 oz)

1/4

Cup

Sugar

(50 g / 2 oz)

2

Large

Eggs

3/4

Cup

Chai tea, at room temperature

(180 ml / 6 oz)
Instructions
In a medium bowl, sift together the flour, baking powder, salt, and spices. Set aside.

In a bowl of a standing mixer, beat on medium-high the butter, and sugars until light and fluffy about 4-5 minutes. Scrape the bottom and sides of the bowl.

Add the eggs one at a time, waiting for each egg to fully incorporate before adding the next.

Add the flour mix, alternating with the chia tea in three additions starting and ending with the flour.

Allow the batter to rest while you warm up the oven to 350F and line a muffin pan with cupcakes liners.

Once the oven is ready, divide the batter between the liners. (if you fill each 3/4 full it will yield 9 cupcakes)

Bake for 22-25 minutes or just until a toothpick comes out dry from the center of the cupcakes and the top of the cupcakes is no longer shiny,

Remove from the oven and let cool completely before frosting.